She's The Contingent Commander Of The SAF's Fourth Service, Debuting In NDP 2023
In this rapidly advancing digital era, the landscape of threats has transformed dramatically, giving rise to evolving and increasingly complex challenges in the digital domain. To tackle what is termed "hybrid warfare", the Singapore Armed Forces (SAF) set up the Digital and Intelligence Service (DIS) which was inaugurated on 28 Oct 2022, marking a significant development in the evolution of the Next Generation SAF.
The SAF's Fourth Service (which runs alongside the Army, Navy and Air Force) will make its inaugural appearance at this year's National Day Parade (NDP) as one of the Guard of Honour Contingents.
And stepping into the role of Contingent Commander is ME5 Audrey Yong, who is no stranger to being part of NDP.
"I represented the Girl Guides in previous years, but this is my very first participation in NDP as a soldier, and also my first time marching at the Padang – an extremely significant place. It serves as a stark reminder of our history, how we strive for independence, and how we need to continue to guard this especially in today's complex threat environment," she says.
Recently, the 30-year-old who is from the Joint Intelligence Command (JIC), was awarded the Lee Kuan Yew School of Public Policy Medal for the Best Capstone Project as part of her Masters in International Affairs (MIA) at the Lee Kuan Yew School of Public Policy.
"The JIC supports the Ministry of Defence and the SAF's intelligence requirements. We provide accurate, relevant and timely intelligence to aid in early warning and decision-making of the SAF's operations when required," she explains.
We also speak to ME5 Audrey about her NDP 2023 experience, and how this year's NDP theme, "Onward as One", resonates with her.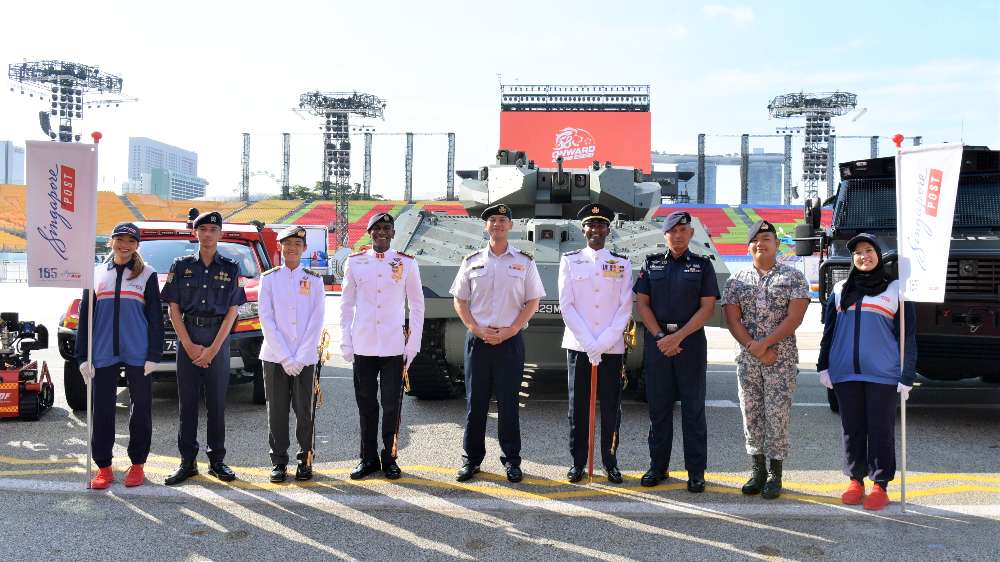 ME5 Audrey (third from left) with others involved in the Parade and Ceremony segment. | IMAGE: NDP 2023 EXCO
You're no stranger to NDP. But how did you feel when you were appointed to lead the DIS GOH contingent for the Fourth Service's inaugural appearance at NDP 2023?
It is definitely an honour, and I am grateful for this opportunity. However, this opportunity comes with a responsibility – not just to put up a good show on 9 Aug, but also to ensure that the men and women I am marching with understand the importance of why we are doing this together.
What significance does this year's NDP theme "Onward As One" hold for you - as a soldier, and as a Singaporean?
As a Singaporean, the theme reminds me of how our people came together as one to overcome adversities over the years, and especially when COVID hit. We have emerged stronger after each setback, and it is important for us to always remember this unity as we continue to progress as a nation.
And as a soldier, the theme is even more significant now that we officially have the DIS – a service that emphasises the importance of being forward-looking, adaptive, and having a growth mindset to embrace the complex and uncertain challenges that will continue to come our way.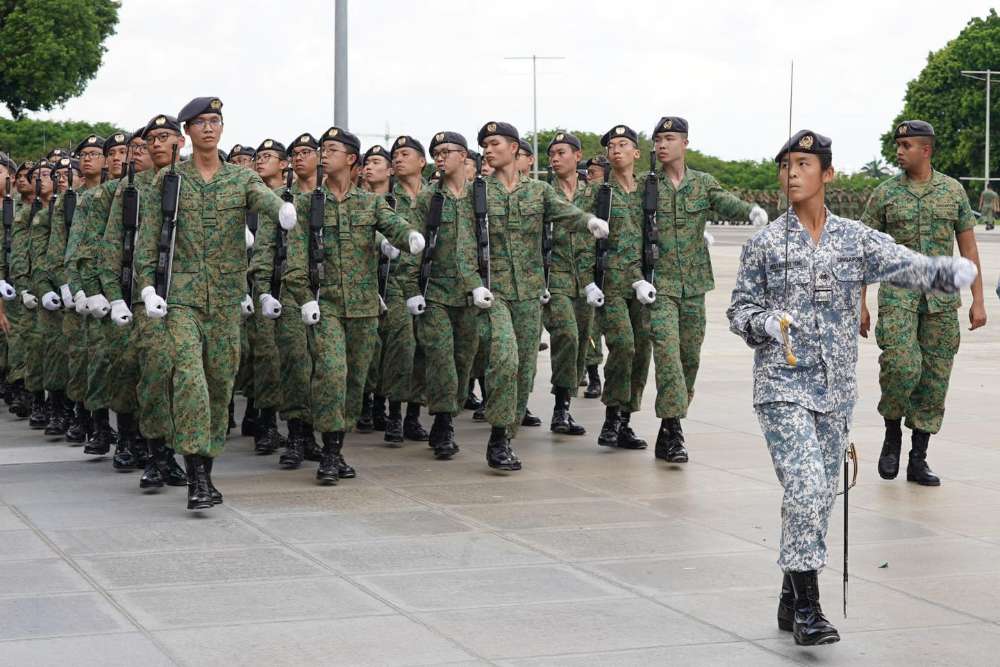 ME5 Audrey (foreground) leads the DIS contingent during a rehearsal. | IMAGE: FACEBOOK/@THESINGAPOREDIS
We're fast approaching National Day. What's your biggest takeaway from all the training and the general NDP2023 experience so far?
The time spent with my people, and the friendships that I have forged with the other participants who all have a common goal of wanting to come together to put up a good show for all Singaporeans.
Awesome! One final kaypoh question: what do you like to do for fun?
I enjoy reading about culture, systems thinking. I also enjoy sports – swimming, running, tennis.
For the latest updates on Wonderwall.sg, be sure to follow us on TikTok, Telegram, Instagram, and Facebook. If you have a story idea for us, email us at [email protected].