NDP2020: Wet Blankets And Party Poopers Not Needed
Picture this: It's Ah Ma's 70th birthday this year, but thanks - or rather, no thanks - to COVID-19 and the Circuit Breaker, the entire extended clan can't be together under one roof to eat, drink, and make IG stories.
So, you take the trouble to coordinate everyone's schedules for a Zoom gathering, and order cakes and bubble tea online to be delivered to all your uncles' and aunties' homes, so that everyone can still have a semblance of Ah Ma's usual birthday celebrations.

Then, two of your cousins (the irritating ones you've never liked) kick up a fuss and go all Eco Warrior on you and start flooding the family WhatsApp group chat with a barrage of comments that start off with "Why are you wasting money on all this food and delivery?!" and escalate to "Zoom is not secure!" "I hate parties! So fake!" and eventually, "CANCEL THE PARTY LAH!! NO MOOD LIAO "

So, yah. This year's NDP is like that lor. Haters gonna hate and party poopers gonna poop.

COVID-19 upended many of the dreams and plans we had for 2020. Lives have been affected, infected and lost. Yet, the Singapore spirit, true to its nature, is resilient. And since the fight against COVID-19 in Singapore began in late January, there have been more than a few triumphs to celebrate.
So, back to Ah Ma.
Are you going to cancel everyone's tribute to her just because of a couple of annoying cousins? Don't like, don't attend lor! Simple as that. As with wedding invitations, friend and follow requests, and, hey, even the collection of this year's "Singapore Together Pack" - don't want, don't go; don't want, don't friend; don't want, don't collect.
But guess what? There are those of us who do, and who want to celebrate being Singaporean, and being survivors, just like Lee Kuan Yew said in his 1966 National Day Rally speech:
"This capacity to face up to situations, however intractable, however unpleasant, is one of the great qualities for survival. A people able to look facts squarely in the face, able to calculate the odds, to weigh the chances and then to decide to go it, are a people not likely to go under...
"Every year, on this 9th of August for many years ahead - how many, I do not know - we will dedicate ourselves anew to consolidate ourselves to survive; and, most important of all, to find an enduring future for what we have built and what our forebears will build up."
If anything, at a time like this, a celebration (albeit a scaled-down one) is even more significant and meaningful, and a must-have - for Ah Ma, and for our nation.
---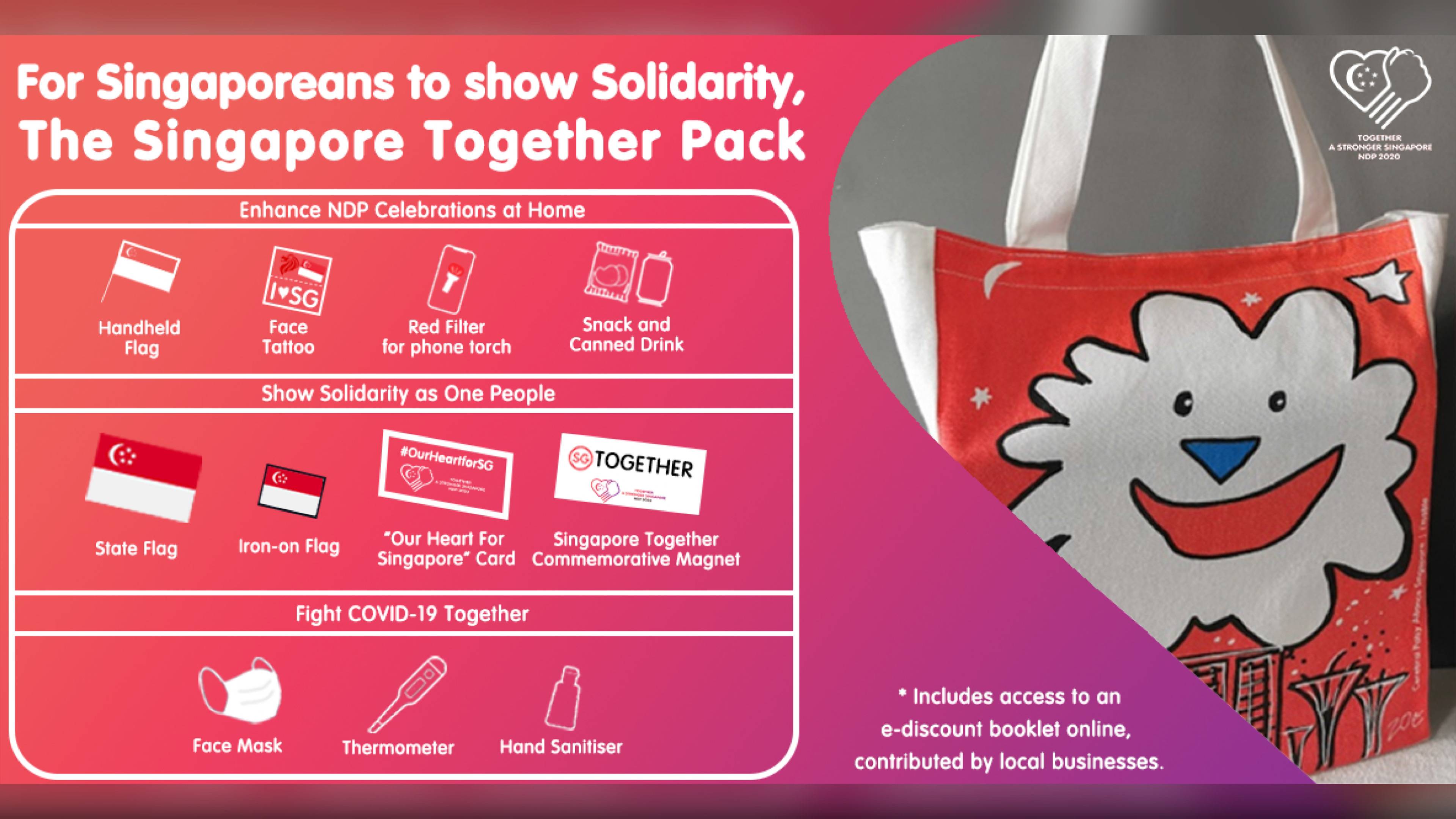 Collection of Singapore Together Pack
The Singapore Together Pack will be available for collection at your nearest Community Clubs (CCs) or Residents' Committee (RCs) centres from 20 July to 2 August if you choose to collect it.
The number of packs produced is catered to only 80% of Singapore and PR households and collection points will also be set up where the public can return selected items for re-distribution or re-use.
For the latest updates on Wonderwall.sg, be sure to follow us on Facebook and Instagram. If you have a story idea for us, email us at [email protected].