This Eco Warrior's Popular Telegram Channel, Sharetings, Is Now An App
Doing major spring cleaning and faced with stuff you no longer use or want? Yes, we know it's sian AF and sometimes you just wanna TRASH EVERYTHING!!!
But before you decide to chuck that mountain of garbage in a fit of New Year's Resolution-intiated rage, one Singaporean might have a better, more sustainable solution for you. Jonathan How - the founder of Sharetings (a colloquial portmanteau of "share" and "things") whom we spoke to last year - has developed an app to help us recycle our "rubbish".

No stranger to waste, Jonathan - who created Singapore Freebies by Sharetings in 2018, a Telegram channel that now has over 12,000 users, 157,000 items, and 1.2 million monthly impressions - saw enormous amounts of it generated during his university days and while fulfilling national service as a security trooper.
"I have always been passionate about sustainability and reducing waste. When I was a student at Nanyang Technological University (NTU), I observed that many people in my school were wasteful and threw away perfectly good items. The same applied to my housing estate where I saw perfectly good items being disposed of," says Jonathan.
"This inspired me to start a digital initiative, and I created a Telegram channel where people could give away items they no longer needed."
We catch up with the 26-year-old, and find out more about the challenges he faced developing the Sharetings app, which is available on the App Store and Google Play.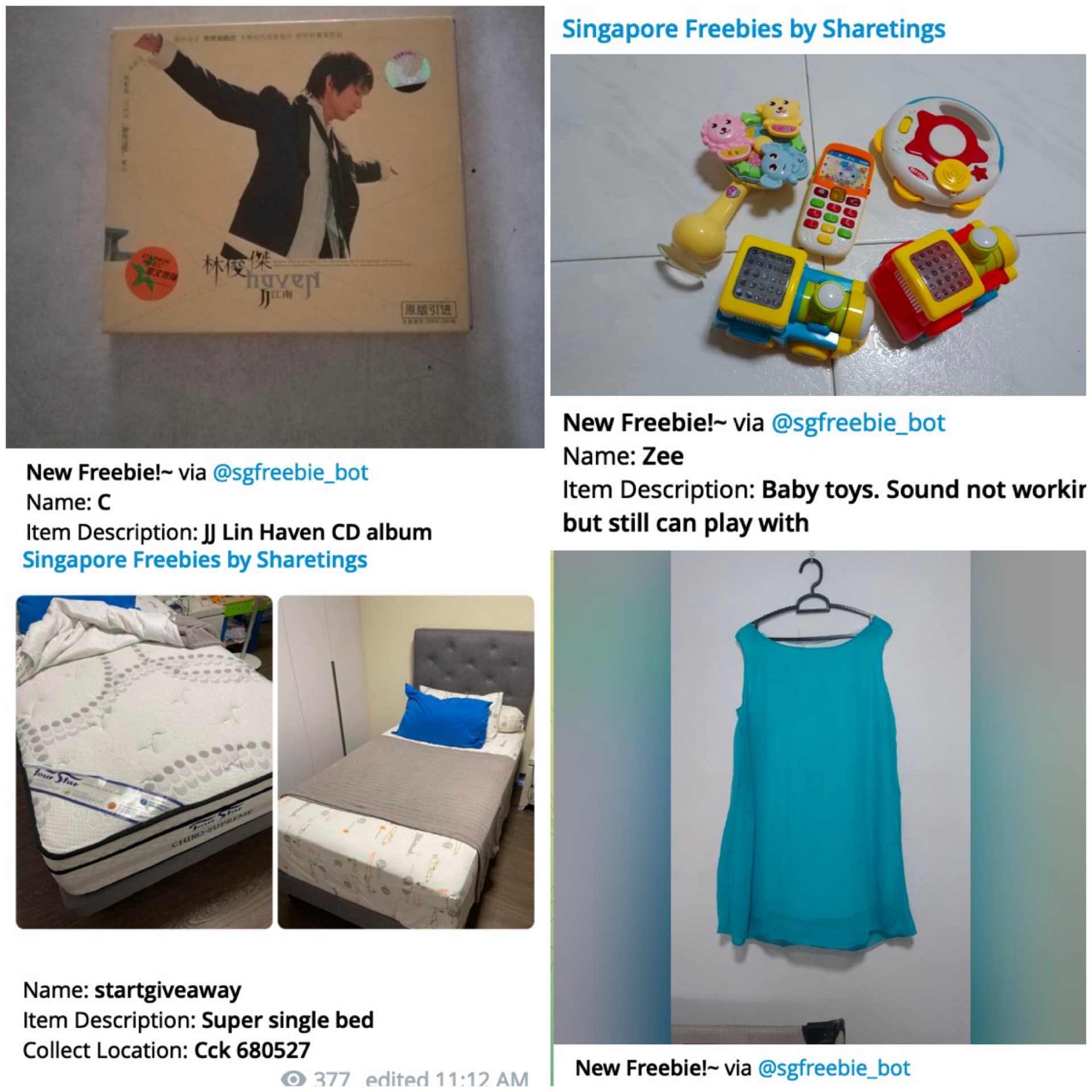 Tell us about your journey from successful Telegram Channel to awesome app!
The Telegram channel quickly gained traction, and people began using it as a way to share and exchange all kinds of items. Seeing the success of the channel and the positive impact it was having, I decided to apply for a grant to scale the solution into a mobile app. In 2019/20, Sharetings received a grant [from the National Environment Agency and South West Community Development Council] and I began work on the app.
However, upon the app's launch in 2021, the app was not a perfect fit for the market. It was too similar to Telegram, and there were already other apps that offered similar services. Recognising the need to differentiate it from the competition, we engaged a pro bono consulting team to do a deep dive into the project and identify ways to stand out in the market.
In 2022, we launched "Share Your Book", a partnership with the South West Community Development Council. The programme was a success, and we received another tranche of funding to continue our development. This time, instead of hiring a software vendor, we decided to work with passionate freelancers to bring the app to life.
Although I did manage to find a talented UI designer for the app, the project was delayed when two developers left the project halfway and were unable to complete the project. It was a difficult time, but I refused to give up on my vision for Sharetings. I spent hours in the rabbit hole searching for the right developer and eventually found a talented individual who helped bring the app to fruition.
What were some challenges you faced developing the app?
A non-tech person founding and building a tech initiative will never be an easy journey. I have faced numerous obstacles in building Sharetings from the ground up with limited resources. But through hard work and a willingness to learn and adapt, I was able to overcome these challenges and create a platform that is making a difference in the world. I hope that my story will inspire others to pursue their own visions and make a positive impact in their own communities.
Despite the challenges and setbacks, Sharetings is now "live" and available for use, and more features are in the pipeline. I am pleased with what we have accomplished and grateful for the opportunity to make a positive impact on the environment and our communities.
While there are certainly challenges ahead such as driving user adoption, I am determined to keep going and to continue building Sharetings into a local youth-led homegrown go-to platform for sustainable consumption. We are on a better path today than we were two years ago, and I am ready for the challenges ahead.
How has the app been received?
So far responses have been great. We are in the midst of getting more publicity and partnership with the public and private sectors. I certainly do foresee people adopting this habit. We aspire to be the place to reduce waste where everyone can come together to share and swap.
---
Some key features in Sharetings
Sharing: Sharetings' flagship feature that allows users to share unwanted items with one another.
Hyperlocalisation: Items displayed on the home page are sorted based on location (and not listing time).
Swap: Singapore's first fashion peer-to-peer mobile swapping feature where you can swap fashion items with one another.
Recycling & Cash for trash module: Get to know Government initiatives and be part of the nationwide recycling programme.
If you're interested in donating pre-loved items on Sharetings, click here for a list of FAQs about what you can and cannot list on the group - and please ah, no listing of pets.
For the latest updates on Wonderwall.sg, be sure to follow us on TikTok, Telegram, Instagram, and Facebook. If you have a story idea for us, email us at [email protected].