Give Adam Tie 3 Words And 5 Minutes, And He'll Write You A Customised Poem
Here are three things you should know about Adam Tie:
1. He's a poet. You might have spied him at live typewritten poetry sessions pre-Covid days. Give him three words and a bit of backstory, and he'll write a poem for you in five minutes using his vintage typewriter.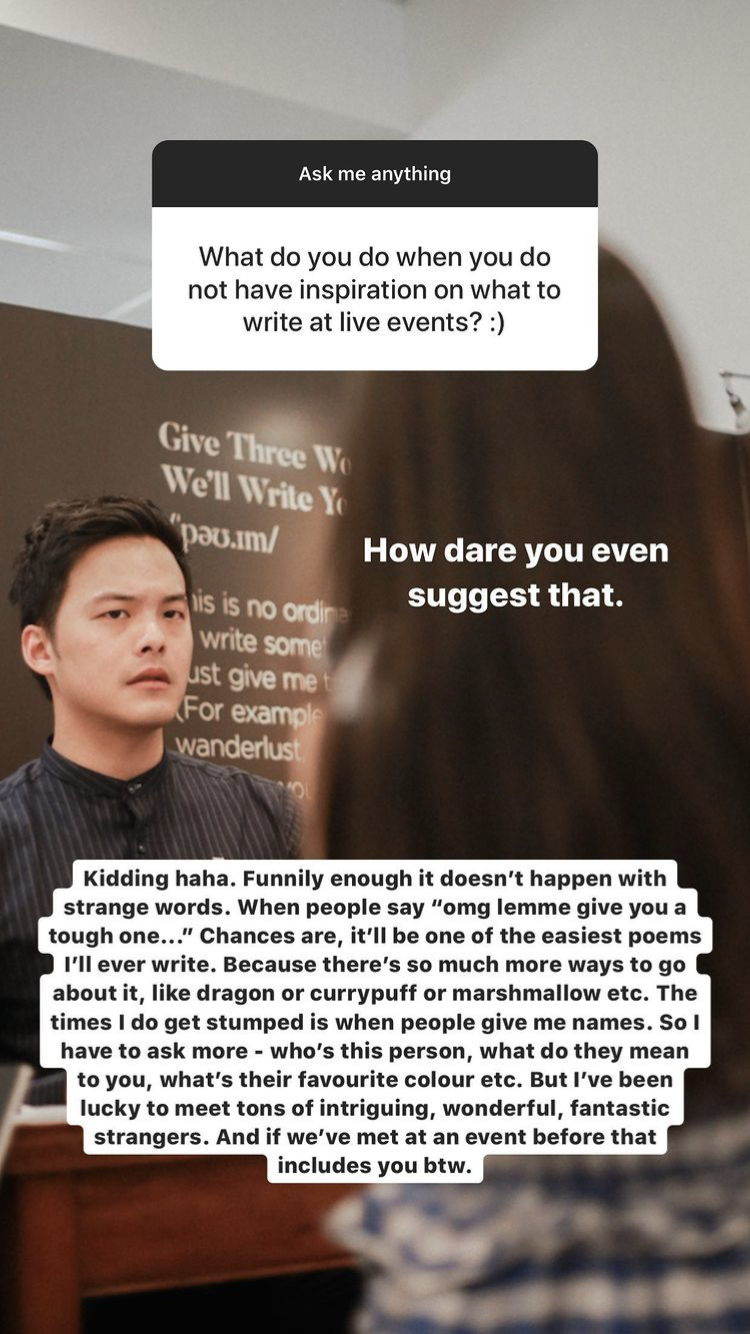 As stressful as it sounds, Tie, who just turned 30, is a lifelong writer and isn't easily stumped. The joy (and perhaps thrill) of connecting with strangers gives him more than enough inspiration to churn out a customised piece of literature for them.
2. He founded The Novel Encounter, a curated mystery wrapped book business, four years ago. He was invited to sell books at an event where, serendipitously enough, there was a booth across from him selling vintage typewriters. Tie went over to check them out and was mistaken for the owner of the booth. A girl asked him to write her a poem, and from there, he started writing customised poetry – a service he offers through his websites, as well as at events.
3. His favourite book is The Great Gatsby. In fact, his debut novel, This Life Electric, transplants elements from F. Scott Fitzgerald's classic work to Singapore.
In addition to writing, Tie also manages creative agency Grimm & Co while doing marketing for other small enterprises. In between all his commitments, we were lucky enough to nab Tie for a short chat about his literary endeavours.
He also promised Wonderwall.sg a customised poem, so stay tuned for that. But in the meantime…
Congratulations on the release of This Life Electric! And any chance you'll go into writing full-time now that you've published your first novel?

As much as I'd love to write full-time, I still have my business commitments so for the time being I'll be balancing creativity and commerce. But yes, the end goal is to one day be able to write full-time on the front porch of a beach house somewhere, coffee in hand and sunset ahead of me. One can dream, right?
At your typewritten poem sessions, you ask for 3 words and a backstory. What are 3 words you would use to describe yourself? And what is the backstory behind them?
I remember once there was a woman who asked me to give 3 words and write her a poem about myself. It felt very much like a contemporary art exhibition, haha. I was genuinely stumped. For the longest time I enjoyed writing poems for others because it was a shared intimacy - a poem that came completely from myself felt too much like dancing solo under a spotlight in front of a live audience with no accompanying music. Weirdly enough after the publishing of my debut novel, I've become more comfortable with myself and the thought about talking or exploring my thoughts is less terrifying.
Sorry for the long-winded answer - to bring it back and explain in a nutshell, if I had to pick 3 words, I'd go with - Overthinker. Dreamer. Storyteller.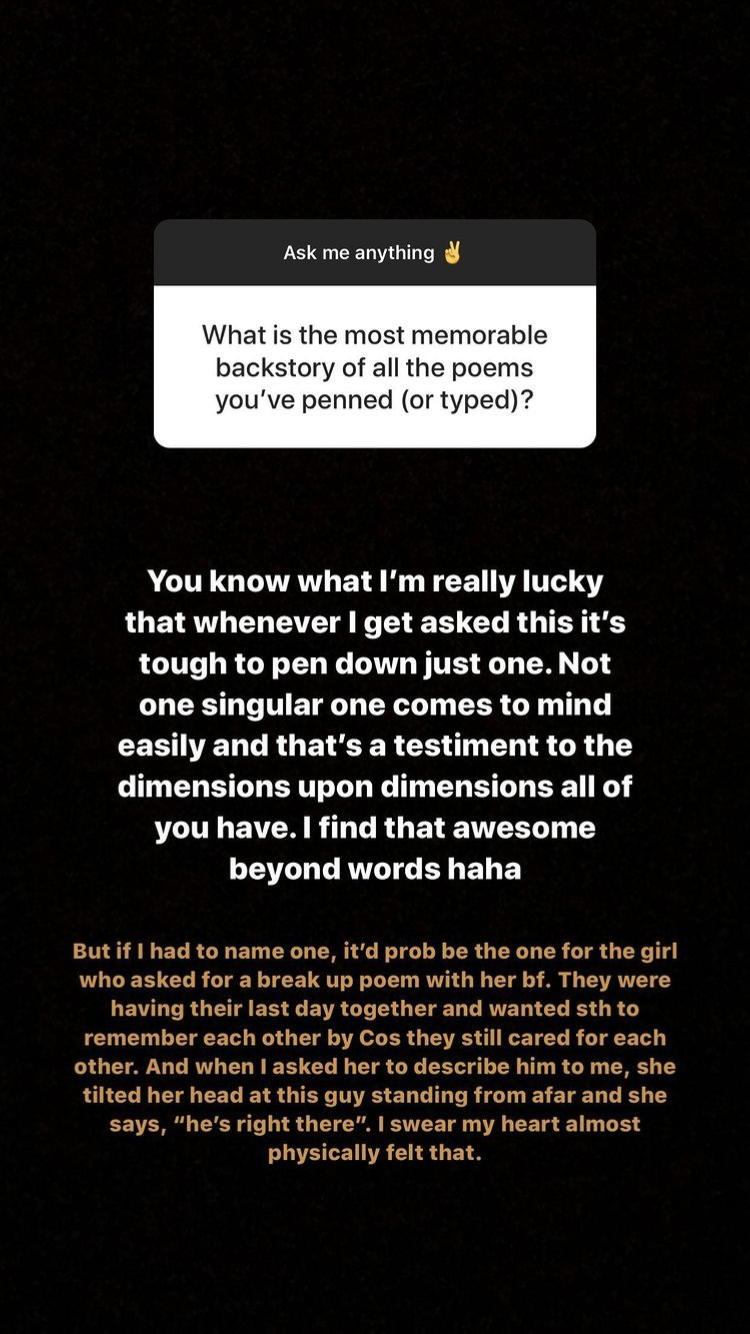 We love how you make it a point to connect with people at your typewritten poem sessions! Can you share about an encounter that completely floored or touched you?
Aw thank you! Honestly, I've really missed live typewritten poem sessions. It's one of the things that I missed the most during Covid. I'm doing my first live typewritten poem event of 2020 this weekend and next weekend for Uniqlo so I'm quite excited about that.
I don't know if this is a non-answer, but anyone who sits in front of me and is willing to share their life story with me, share their heartbreak, their triumph, their desires and their flaws, is someone who completely moves me without even getting me out of my chair. It's such a raw human experience and I love it to bits.
When did you start writing your novel? How long had you been ruminating on the idea (like how did you go from loving The Great Gatsby to realizing that you could write something inspired by it, and set it in Singapore)?
In November 2018, my debut poetry collection entitled Finders & Keepers was published by Landmark Books. I still remember my editor patting me on the back and saying, "I think now it's time for you to write a novel."
The very next day I went down to my favourite cafe, ordered an iced latte and mapped out what I wanted to write. I always knew that my first novel would be somewhat of an homage to The Great Gatsby but I didn't want that to be the primary premise. I wanted the essence of my debut novel to be great story. So when I first started, the first character I wrote was the location the book was placed in: The Haven.
It's this shophouse that hosts elaborate parties with celebrated people. That was my protagonist when I started, then the inhabitants of the shophouse began to take form. I just love stories where a location has a personality of its own too. Everything comes to life from there.
All in all, I went through 25 edits of this novel (created characters, deleted some, deleted entire paragraphs, added in entirely new plots, etcetera) before it was finally complete. I told my editor that I'd be done 6 months from Nov 2018. Here we are at the end of 2020, finally publishing This Life Electric. I sincerely overestimated how much effort, catharsis, sacrifice and humility needs to go into coming out with a story. It was a journey.
Do you follow any Singaporean novelists and poets? What are your thoughts on the burgeoning literary scene here?
It's underrated how encouraging and sincere many of the people in the literary scene are. For the longest time I've always felt like somewhat of an outsider, not really belonging - but every person in the literary scene that I've met, from my publisher, to writers, poets, merchandisers, bookstore owners, has been warm, gracious, kind and truly sincere. I am very grateful to the local literary scene.
Want Adam Tie to write you a customised poem? Visit The Novel Encounter or head to UNIQLO Orchard Central on 12, 13, 19 and 20 December (between 2pm-8pm) to commission one from Adam in person
This Life Electric is available here
For the latest updates on Wonderwall.sg, be sure to follow us on Facebook and Instagram. If you have a story idea for us, email us at [email protected].