Artist Behind The Art: How Hafizah Jainal's Bold Illustrations Explore Cultural Identity And Pay Tribute To Malay Fashion
Being gaslighted, ghosted, or rejected can feel extremely isolating. But after the sting has faded, it can also be very funny. Just ask visual artist Hafizah Jainal, also known as HAFI, who illustrated the pain – and absurdity – of defining a relationship with someone who doesn't know what he wants:
While cringeworthy dating scenarios can provide a treasure trove of inspiration, most of Hafizah's art explores the theme of heritage, cultural narratives, and cultural identity.

Just last month, she collaborated with the Malay Heritage Centre (MHC) to create Fesyen Forward, a reimagining of Malay fashion magazine covers from the 1950s and 1960s.
"For me, this was such a meaningful project," Hafizah shared with us in an interview. "I feel that Baju Kurung and traditional garb are often misunderstood and deemed as not progressive. Malay women of the past and present aren't confined to our baju kurungs. We can still honour our tradition without hindering our progress or ambitions. As a Malay woman myself, I am proud that I value my heritage and I am able to incorporate them into my works.
Having the installation stand on the grounds of such a historical monument like the Malay Heritage Centre makes it even more special."
We spoke to Hafizah about her journey as an artist, how she processes her real-life experiences through art, and how she explores womanhood and her cultural heritage through her work: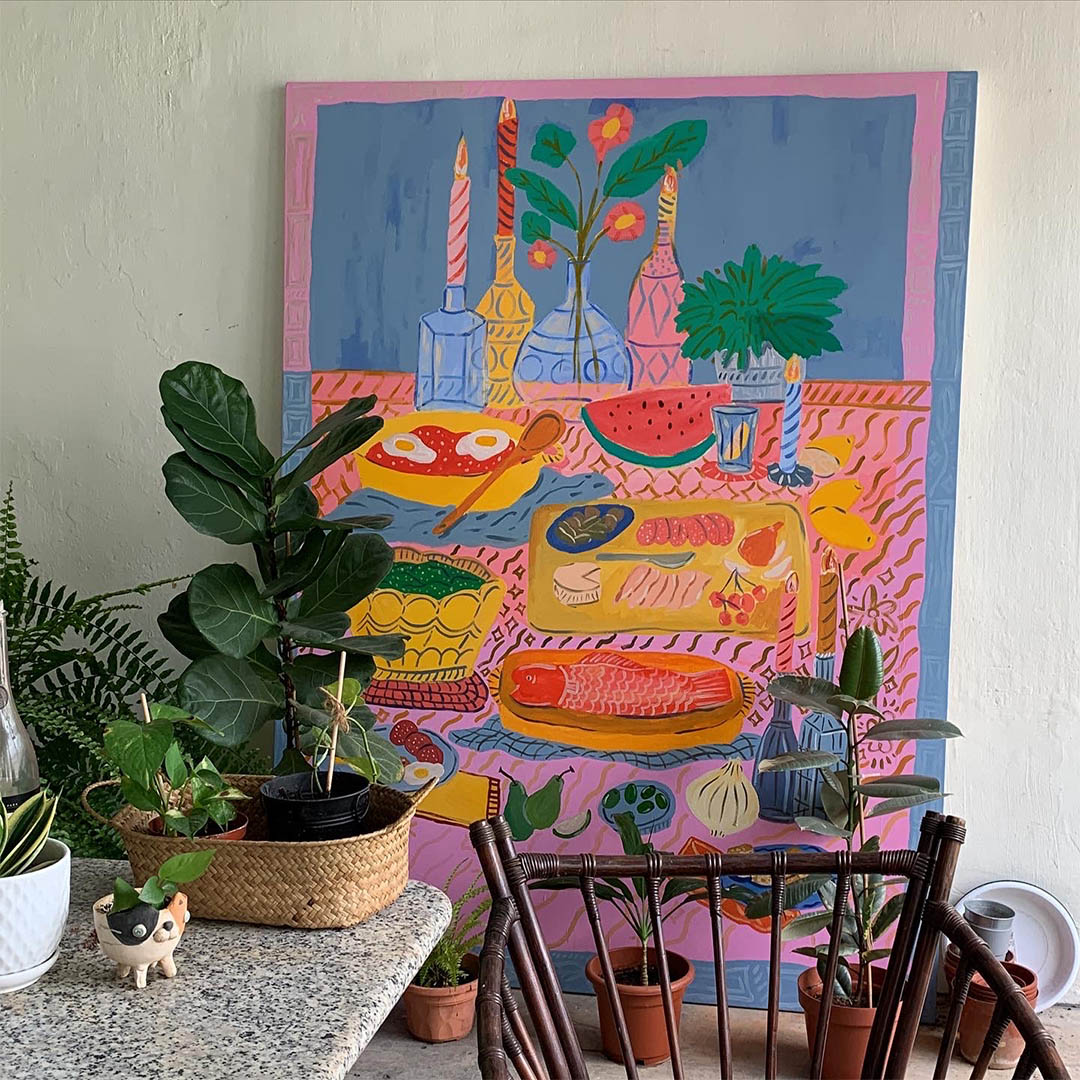 What are some of your favourite things to illustrate, along with women, and why?
I used to hate drawing still life back in school and I dreaded going to drawing classes in uni as I found it so technical and restrictive. It was as though I was forced to relearn how to draw (a skill which I thought I was good at). I now view drawing still life as a challenge and I grew to love the process rather than always freaking out about what the end result would look like. This pushed me to paint a 1.5 x 2m canvas of a still life setting that was inspired by the many dinner parties that I hosted at home. I recently sold the painting - it made my heart so full to know that my art is being appreciated so much that a person wanted to put such a massive work in their own home.
As for why I love illustrating women so much is that I always view it as a process of reclaiming. So many women who are subjected to paintings in art history are made for the male gaze. My intent of painting women figures, especially minority women, including myself, is that I want to be in charge of my own narrative and not let other people dictate it.
Can you share with us what goes into creating the character designs for your work, especially when it comes to the outfits and hairstyles?
My figurative drawing journey started with me drawing self-portraits and it was a tool that I used to learn to love the body that I am in. This somehow expanded to drawing characters that were inspired by real life events and people that I come across in my life. I like to keep everything I draw true to life - but through my lenses.
I also reference a lot of archival photos - mostly from my own family when I draw my characters. Earlier this year, I was part of a group exhibition (Veneer and Visage) where I explored illustrating photographs of my late grandmother and her sisters and friends (The work is titled Nyai-Nyai Ayu (Pretty Grandmas)). I wanted to humanise my late grandmother who used to be such a fierce and distant figure in my life. The illustrations I made of her encapsulated her personality, memories and kept her narratives alive.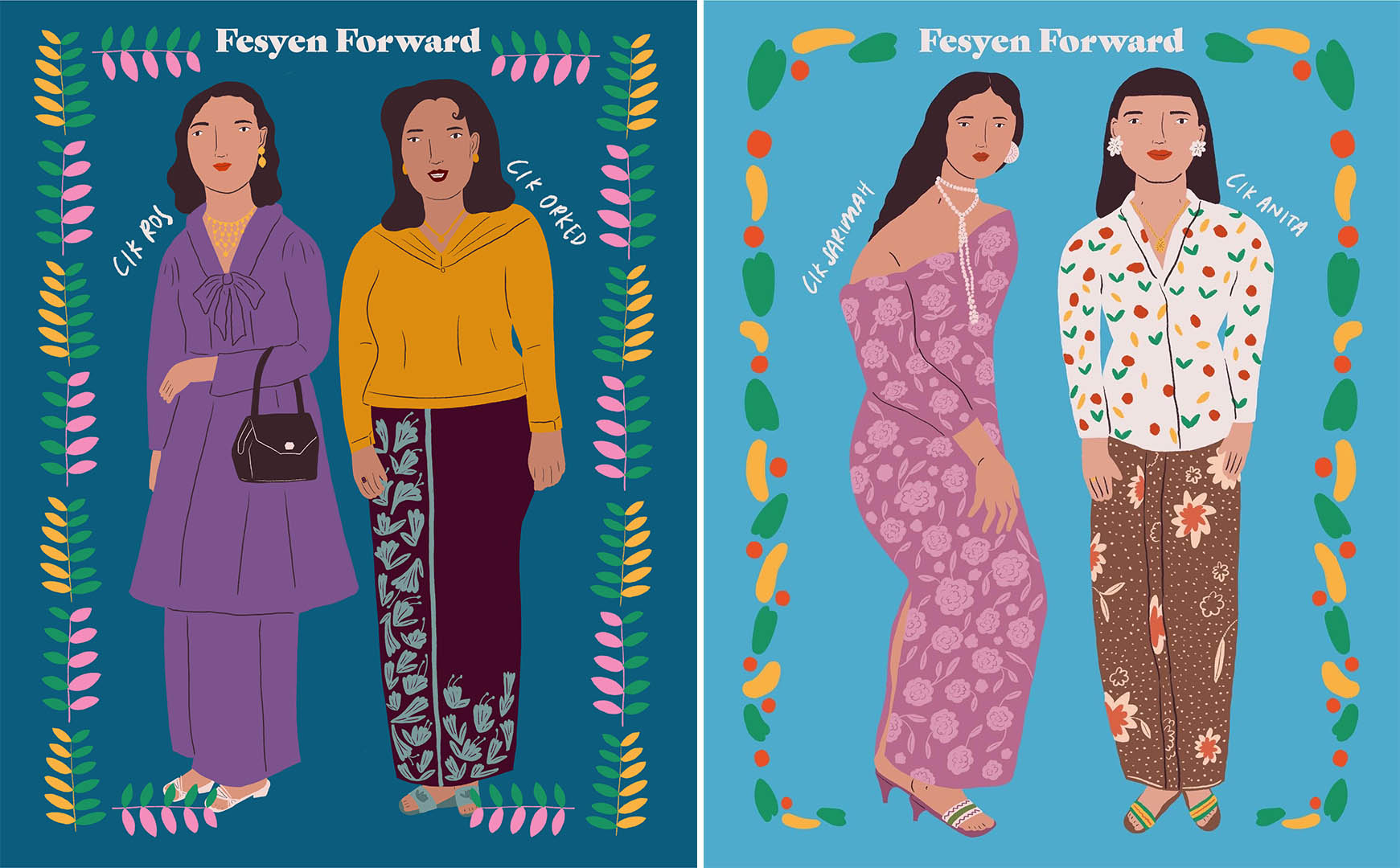 And if you could wear any one of the outfits you illustrated for Fesyen Forward, which one would it be?
This is hard to pick as I would wear every single outfit, especially Cik Ros's purple Baju Kurung kembang payung (umbrella flair) with a cute pussy bow. But if I could wear only one outfit, I would wear Cik Anita's because I personally love mixing prints myself. The batik and kebaya print combination is stunning and her shoes and accessories are on point. I also have baby bangs like Cik Anita so I can picture myself slaying this look.
What is one work that you're especially proud of or fond of right now, and why?
I would say SEASONINGS Magazine as it started from a humble conversation between me and Pamelia Chia. For a self-funded passion project which the both of us started while juggling our full time jobs, and working on it purely remote (Pam is based in Australia), I think we did a pretty awesome job despite the many challenges that we faced as collaborators. SEASONINGS Magazine is very aligned with my fascination with dissecting themes of identity and cultural narratives. I am glad that we are able to give under-represented food a platform and we want home cooks - like our grandmothers and mothers, who are experts in creating food that captures emotions and ancestral memories to be given as much acknowledgement and spotlight as renowned chefs.
Dating is a recurring theme in your work. Have any of the men you've depicted in your illustrations ever recognised themselves, and reached out to you? (And if they haven't yet, what would you do if they did?)
There was a guy who recognised himself from Good Dates Bad Dates (an exhibition I did in 2020 which was based on my dating misadventures). I found it hilarious that he reached out to me via Instagram to confirm if that was him. Overall, he was very amused and he wished that he could attend the exhibition since he was overseas.
For the rest of the men whom I've depicted, recognised themselves and have not reached out, please don't. The ship has sailed!
What's next for you, and what's your dream project to work on?
I recently switched to being a freelance creative since my role was made redundant at my previous workplace last year (yes, tragic but life do be like that). It was and still is a scary transition but I have more autonomy on choosing the types of projects that I want to work on. I felt that last year made me think about what I wanted to prioritise in my creative journey and I wanted to do more work that is meaningful to me. Drawing made me so happy as a child, and even till now creating art and illustrating makes my heart full.
My dream project to work on would be one that I would be able to explore my illustrations onto more tactile mediums like batik and block printing.
For the latest updates on Wonderwall.sg, be sure to follow us on Facebook, Instagram and Telegram. If you have a story idea for us, email us at [email protected].