Artist Behind The Art: This "Tree Nerd" Uses VR To Reconnect Us With Nature
When Ersin Han Ersin strides into the ArtScience Cinema for the media conference of the Asian premiere of the VR installation "We Live In An Ocean Of Air" - dressed head to toe in billowy black garments, black Balenciaga knit trainers on his feet, and sporting a top knot and massive beard - the last phrase you'd associate with this decidedly stylish artist is "tree nerd". But, hey, he ownself say ownself "tree nerd" ya.
In fact, the 38-year-old (one third of London-based experiential studio Marshmallow Laser Feast or MLF) loves trees so much, he has a long list of them, and makes it a point to bring a new friend each week to sit with one - and talk or listen to it. Hold up, listen? Yes, a tree's "heartbeat" is the sound of sap, water, and other nutrients rushing around inside it.
It is this fondness for flora that inspired MLF to create their ground-breaking VR installation "We Live In An Ocean of Air", an immersive multisensory experience that was first showcased at the Saatchi Gallery in London in 2018 (the sold-out show was extended twice), and now makes its Asian premiere at ArtScience Museum's new permanent VR Gallery, and runs till 2 Oct 2022.
The virtual experience transports you not only to the base of a giant sequoia (the world's largest and tallest redwood tree), but also into it, allowing you to interact with the tree and observe what happens to your breath particles.
We sit down with this in-tree-guing individual to talk about conflating art, science, technology and nature to create works that are thought-provoking, profound and, well, sibei wow.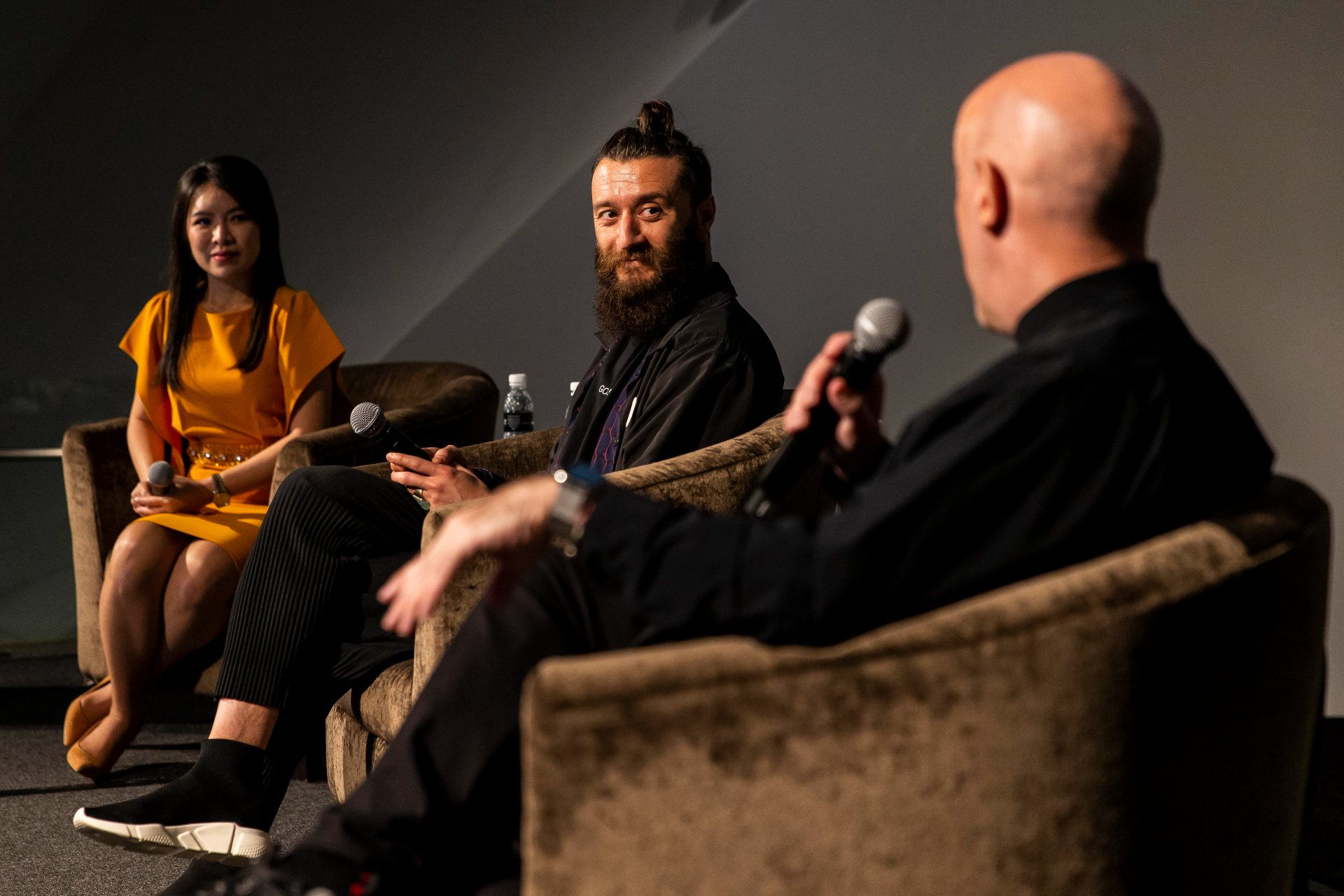 There's so much research and complex technology that goes into the works that you and your team create. Are you an artist, a technologist, a scientist? How would you answer if someone asked you "what do you do"?
I'm an artist and director. Obviously that confuses everyone. My parents don't know exactly what I do - my dad thinks I'm working in forestry, just because I go and see trees every week! (But he's just taking the piss!)
But yeah, I describe what I do as artist and director. There's a craft process of finessing something, but then for a work like "We Live In An Ocean Of Air", 50, 60 people worked on this project. It involves a number of departments doing things in unison in a collaborative process, and that needs direction.
So I work as an artist to create the concepts, but then manage larger teams and direct those teams to realise those ideas.
No spoilers, but the experience can be thrilling, magical, eye-opening, psychedelic or even extremely profound. What are some of the most powerful reactions participants have had with "We Live In An Ocean Of Air"?
We had some people coming off headsets crying, deeply moved by joy - not out of fear or because they were disturbed, but by the joy that they feel of realising something that they either knew but never saw, or they never knew, but the moment they saw it, it became evident.
I love hanging around the gallery space and talking to people afterwards, and we did this for many days because it was running for months at Saatchi. People often comment "I never thought this was what was happening inside of a tree - this vibrancy and animism" and "I always knew, but never saw [it like] this - this is incredible!"
We study things like biology and botany and photosynthesis by the age of nine, 10. You know all the concepts, but you've never actually seen it this close, because it's impossible to see it with human eyes. But now, you can actually witness it up close and it's a magical revelation for people. And, somehow, they are also a little bit more receptive towards nature from that point on.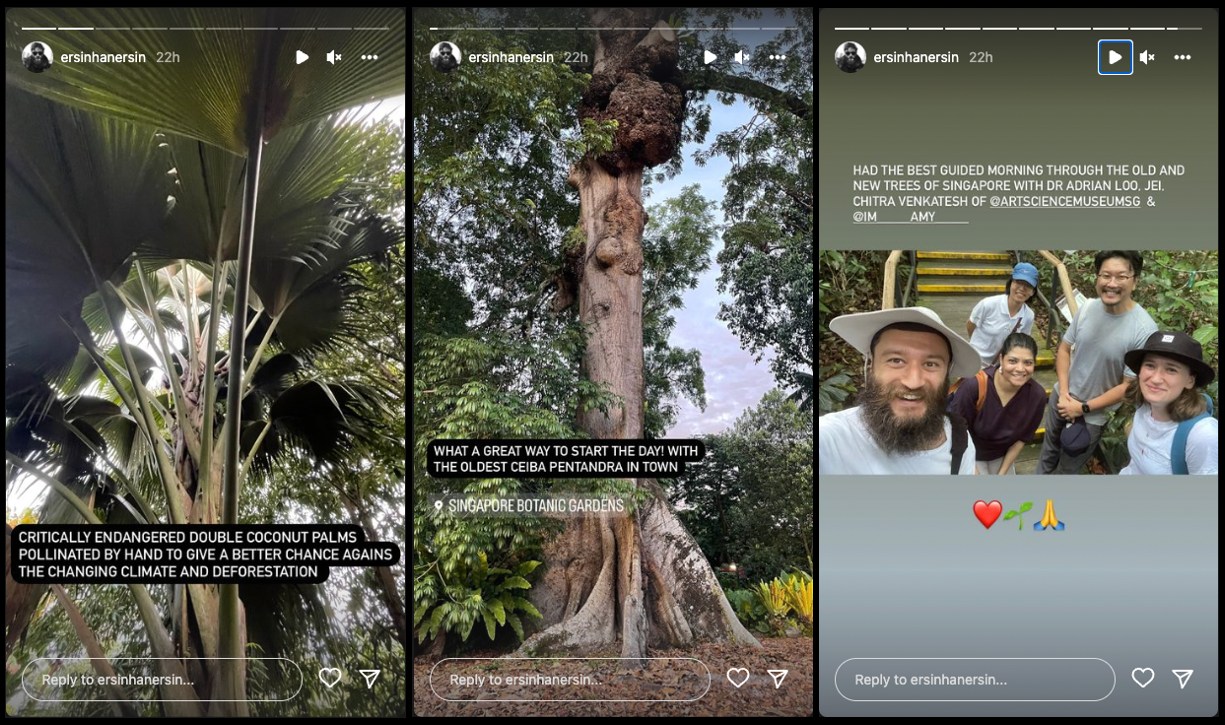 As an urban dweller for most of your life - like many of us are - how and in what way has nature inspired you and your works?
Up until doing research for "In the Eyes of the Animal" when we were first commissioned in 2015, my relationship with nature was distant. I had lived on this Earth by that point for more than 30 years, but then realised I didn't actually know anything about it. Ever since then, I've been getting more and more interested in nature, and building a better relationship with it.
These days, I take a different friend to see a tree - I've got a very long list of trees! It's a nice way of connecting with your friends but also engaging with a species that is so different. Wherever I travel to, there is definitely a tree trip involved.
We're also doing something called The Bio-Leadership Fellowship [a nature-led ecosystem supporting people and projects for the better of all life on this planet]. It is a programme run by Andres Roberts in the UK. They create a space for people like me to integrate nature practices into our practice - for me, this takes centrestage, and goes right back into the work we do.
Going back to your childhood, do you remember the first piece of art you created?
At the age of 10 or 11, I would build strange, robotic structures that would work with computers. I was very preoccupied with taking things apart and putting them together. I actually always wanted to be an inventor. I haven't invented anything yet, but I guess this is the closest I can get for now!
For the latest updates on Wonderwall.sg, be sure to follow us on Facebook, Instagram and Telegram. If you have a story idea for us, email us at [email protected].