After Escaping Abuse, Single Mum Advocates For Cleaners' Safety
Meet Aisyah (Jenny) Choo, mother of two. At just 28 years old, Jenny not only has a home-based lactation cookie business under her belt, but she also co-founded her own cleaning business, VKleen, whose mission it is to create a safe environment for cleaners.
All this, in spite of a background fraught with difficulties. Her parents separated while she was growing up, so Jenny and her younger brother fended for themselves since her mother worked long hours. But this kindled an independent and entrepreneurial spirit within Jenny, who is originally from Malaysia.

"It's been my dream to have my own business since I was young," Jenny says. "My mother actually runs her own hairstyling salon, so when she started that, it gave me the encouragement to have my own business as well."
In 2015, Jenny began her lactation cookie and brownie business. As a new mother, she wanted to sell something that she herself enjoyed and found useful; however, when her ex-husband began hitting her in 2016, Jenny had to stop the business and flee from Johor to Singapore with her five-month-old son.
At the time, Jenny's only connection to Singapore was through a Facebook group for mothers of babies born in 2015. She posted a plea for help, grabbed her passport, and made her way to the checkpoint.
"I don't know where to go, but thank God because of that post to the Facebook group," she says. "They [the group members] went into FBI mode and they actually saved us. One of these mummies managed to contact my friend in my Facebook friend list, who was actually staying in Singapore…when I reached the checkpoint, my friend met us and she brought us for a check-up."
Suffering from a concussion, Jenny ended up in the hospital, and later, at a women's shelter.
"I am very impressed by the groups of people in here Singapore," she says. "They [from the Facebook group] were really meaning to help someone they don't really know. There were a few families that actually came forward to visit us in the hospital and give us the necessities we needed."
Shortly after being admitted to the women's shelter, she found out that she was pregnant with her second child. "This got even more complicated and difficult because I couldn't go to work, and I had to seek for help."
Getting from there to where she is today was no easy feat, but Jenny managed with the help of friends, social service agencies, and initiatives like Daughters Of Tomorrow, a female empowerment initiative that recently awarded Jenny with a spot in their Twenty One Daughters campaign. This campaign spotlights "journeys that are earmarked with bravery, resilience, strength and all other mind blowing traits that make this world a lot more amazing by just having these women in it."
Jenny stands tall amongst the other Changemakers, a title conferred to trailblazing women who started new jobs or businesses during a challenging season or their lives.
We spoke to Jenny recently about her journey as a single mother, an abuse survivor, and as an entrepreneur advocating for the wellbeing of underprivileged people. Here's what she had to share: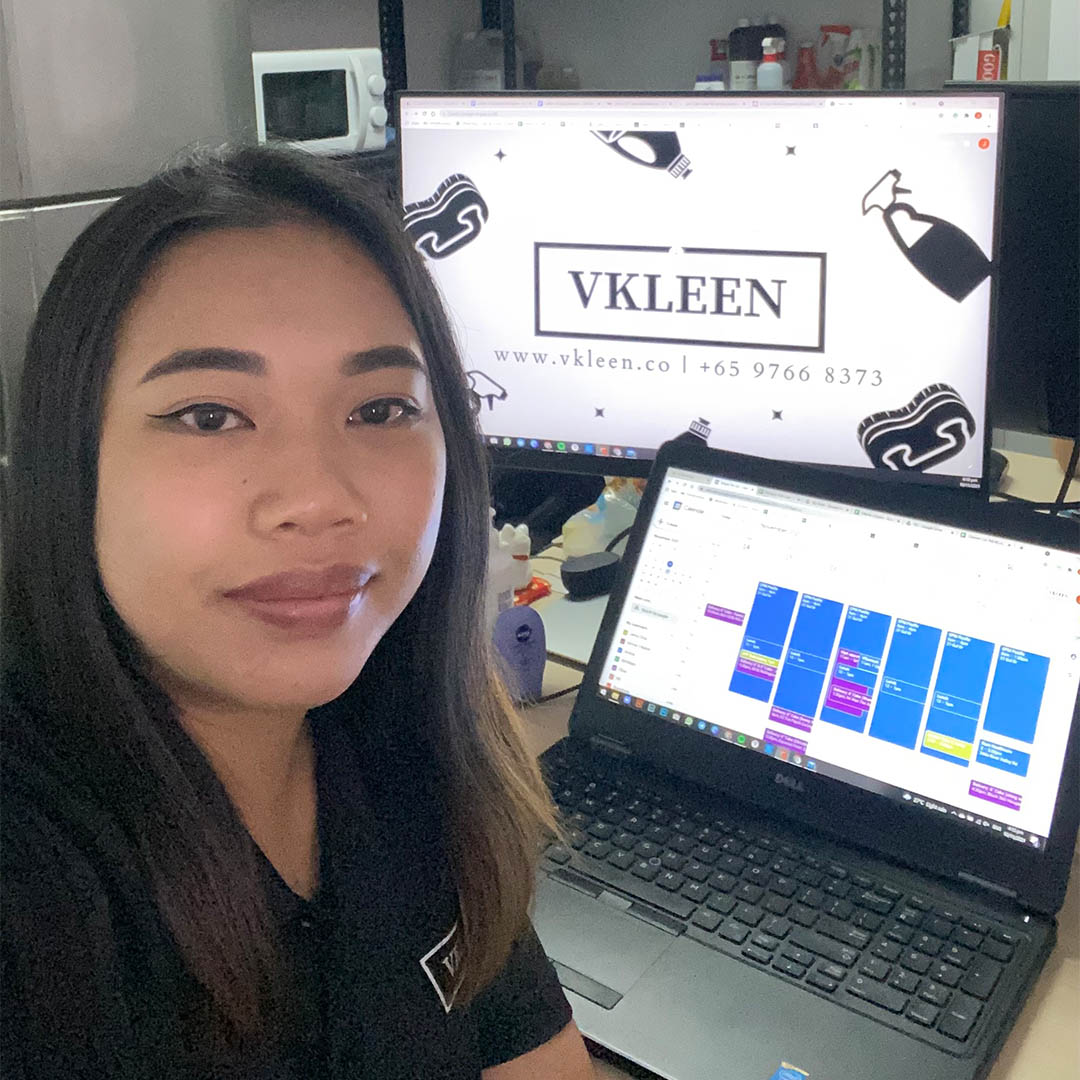 What challenges did you face when co-founding your company, and how did you get through them?
I had to stay at the shelter for a while [after finding out I was pregnant] without having any job because no one was willing to hire me. I finally managed to go back to work in 2017, when I started my F&B career in one of the hotels in Singapore. From there, I I tried to find more opportunities to upskill myself. In 2020, I managed to secure a business diploma so I started to explore more career opportunities and grow from working from F&B hotelier to working in an office at an executive level. I worked as an HR manager before I decided to start VKleen.
There were a few challenges we had to encounter when we started this business. First of all, me and my co-founder, well, we're not from a rich background. So all the funds were from our pocket money. So, we started small and we have to keep on working from one project to another project to keep on upgrading ourselves and the company to buy more machineries and proper equipment.
A challenge we still encounter now is the hiring process because maybe cleaning is not something that people want to do, especially during this pandemic. But we managed to get a few cleaners in and we hope that we can get more and more people to join us.
Tell us about your journey with Daughters Of Tomorrow and what impact you hope to make after being selected for Twenty One Daughters
I found out about Daughters Of Tomorrow when I was admitted to the women's shelter. Unfortunately, I didn't have the chance to work with them at the time. I was interested in the childminding because I was working at the time but I managed to sort that out myself.
I managed to contact Daughters Of Tomorrow again when I started VKleen because because I needed help to improve marketing my social media. They referred me to Her Rise Above, where they have this mentorship programme for women who want to have their own startups or home-based business. It really helped! And they also gave us some grants to help with the business funding.
What I hope for after being selected for Twenty One Daughters is to share my story with the women out there who are still doubting themselves. You can make a change, don't limit yourself. Go explore when you're ready, go and get some knowledge.
There are quite a few cleaning businesses in Singapore – what is VKleen's mission and what makes it different from the rest?

We officially launched VKleen in January 2021. The team is not that big yet, but it is efficient! And the idea came about because the other co-founder has past experience working in a cleaning company.
One of VKleen's missions is to make sure that we create a safe environment for our cleaners. Meaning they are comfortable working with us and are open to share their feedback, what they have in mind, how to improve the work. If they want to take ownership, we are open.
At VKleen, we treat everyone equally. It doesn't matter whether you're a supervisor, a cleaner, or the management team – even for myself as the co-founder of the company, I will go down to the site if there's a need for me to do the cleaning myself or be more hands-on. We just want everyone that comes on to enjoy the experience of cleaning.
One of VKleen's priorities is to be a company that respects cleaners – can you share more about this and how you ensure that they are treated fairly?
We don't want our cleaners to feel scared or threatened to have a discussion with the higher management. In my past experience with other companies, they have limits when it comes to treating their workers [with respect]. Well, to me, everyone is equal, everyone is safe. You know, without these cleaners, we are nothing. Honestly, we are nothing without these cleaners because they are the ones who made sure that our clients are attended to accordingly. They are the ones who monitor what are the necessary things that need to be clean at the workplace or unit that that they are assigned to. We can be the boss, but without all these people that are actually moving for us, we are not going anywhere.
How old are your children? Any tips for being a full-time parent, solo caregiver, and running a business concurrently? How do you handle it all?
My kids are still quite young. I don't know how to give parenting tips because I myself am still learning!
People think that now that I have my own business, I can have more time for my kids, but actually they're wrong. I don't get to spend much time with them, but I do get the flexibility to attend to my kids. That's also one of the reasons why I started VKleen – I wanted to have that flexibility to attend to them without having to worry that I have to ask my employer. So my tip is just to be there for your kids.
I understand that being a parent is hard and tiring. Sometimes you just want to have time for yourself, it's not wrong, and being a parent doesn't mean that you stop being human. So if you want to have some time for yourself, don't feel guilty about it.
If there's one thing you would like your children to remember you for, what would it be?
I want my children to know that their mummy is not one that gives up easily. I will try and try and try to find new solutions. I have the determination to make sure that whatever I want, I will get it in a good way.
And one other thing that I want them to remember is to always be grateful. Be grateful for what you have to do and for what you have in your life.
Can you share more about your belief that one person can make a difference?
One person can make a difference, because when that one person shares [their story], it can influence others, and that's one of the reasons why I like to share my story around people and I don't feel ashamed. It doesn't matter how hard your life is, you will find the answer at the end, you will find a solution at the end. No matter how hard you fall, believe it and one day you will be able to stand up again.
Learn more about VKleen here
Daughters Of Tomorrow is currently raising funds to help empower more women and families in Singapore. Visit their Giving.sg site to learn more
For the latest updates on Wonderwall.sg, be sure to follow us on Facebook, Instagram and Telegram. If you have a story idea for us, email us at [email protected].