Singapore Sportstar Spotlight: Here Are The Bonafide MVPs Of 2021
What a monumental year it has been for Singapore sports. While 2020 put a pause to most sporting events during the height of the pandemic, 2021 saw our athletes return with guns blazing and gunning for glory.
As the fans poured back into the various arenas, so did the major tournaments such as the Tokyo Olympics and Paralympics, and AFF Suzuki Cup. Whether it was table tennis, badminton, boccia, swimming, football or even pro wrestling (it might be sports entertainment but it counts), our sports stars showed up and showed out.
In 2021, Team Singapore broke records, won championships, and most importantly, did the nation proud.
Here, we take a look at some of the local sporting figures who achieved MVP status this year with their accomplishments:
Loh Kean Yew | Badminton
2021 highlight: Loh Kean Yew is officially the best badminton player on the planet. He was crowned world champion after clinching the men's singles title at the Badminton World Federation World Championships in Huelva, Spain.
Winning words: "I'm honoured to deliver this first gold for Singapore. I know many Singaporeans have been staying up to follow my progress, and I want to thank everyone for their support and for being a huge motivation," Kean Yew told The Straits Times, moments after his victory.
MVP cred: Most fans don't realise that the 24-year-old actually rolled his right ankle during his quarter-finals match. Not only did Kean Yew overcome the pain threshold for two more gruelling rounds, he beat a more fancied opponent en route to the title. What a badass.
---
Yip Pin Xiu | Para-swimming
2021 highlight: What an astounding show from the 29-year-old who bagged two gold medals at the Tokyo 2020 Paralympics.
Winning words: "This year is a bit different in the sense that it is a five-year cycle, and the past two years have been so uncertain. I am really grateful that the Games happened and very grateful that I am sitting here at the end of the day with two gold medals. To me, it feels very special because we've learnt to adapt in the face of uncertainty and I think with the [whole of] Singapore cheering me on, it's been really amazing," said Pin Xiu.
MVP cred: The now five-time Paralympic gold medallist came in first in the 100m backstroke S2 in 2:16:61, and picked up her second Gold medal in the Women's 50m Backstroke S2 final. She finished 1st out of 8 with a time of 1:02.04, setting a new Season Best record and successfully defending her Gold medal from Rio 2016.
---
Aloysius Yapp | Cue Sports
2021 highlight: Aloysius Yapp became the first Singaporean pool player to reach world No. 1 ranking in the sport.
Winning words: "She had to sacrifice a lot for me," said Aloysius in an interview with Channel News Asia, paying tribute to the unwavering support of his mother Angie.
"It was something that pushed me to continue to do my best. Through hard times and good times, I'm very thankful for my mum's support."
MVP cred: It is a culmination of an inspiring journey for Aloysius who actually dropped out of St. Patrick's school to turn professional, the first Singaporean to do so in cue sports. Yapp even won the World Junior (Under-19) 9-Ball Championships in Shanghai, China in November 2014. And now as a 25-year-old, he has finally reached the pinnacle of the spot.
---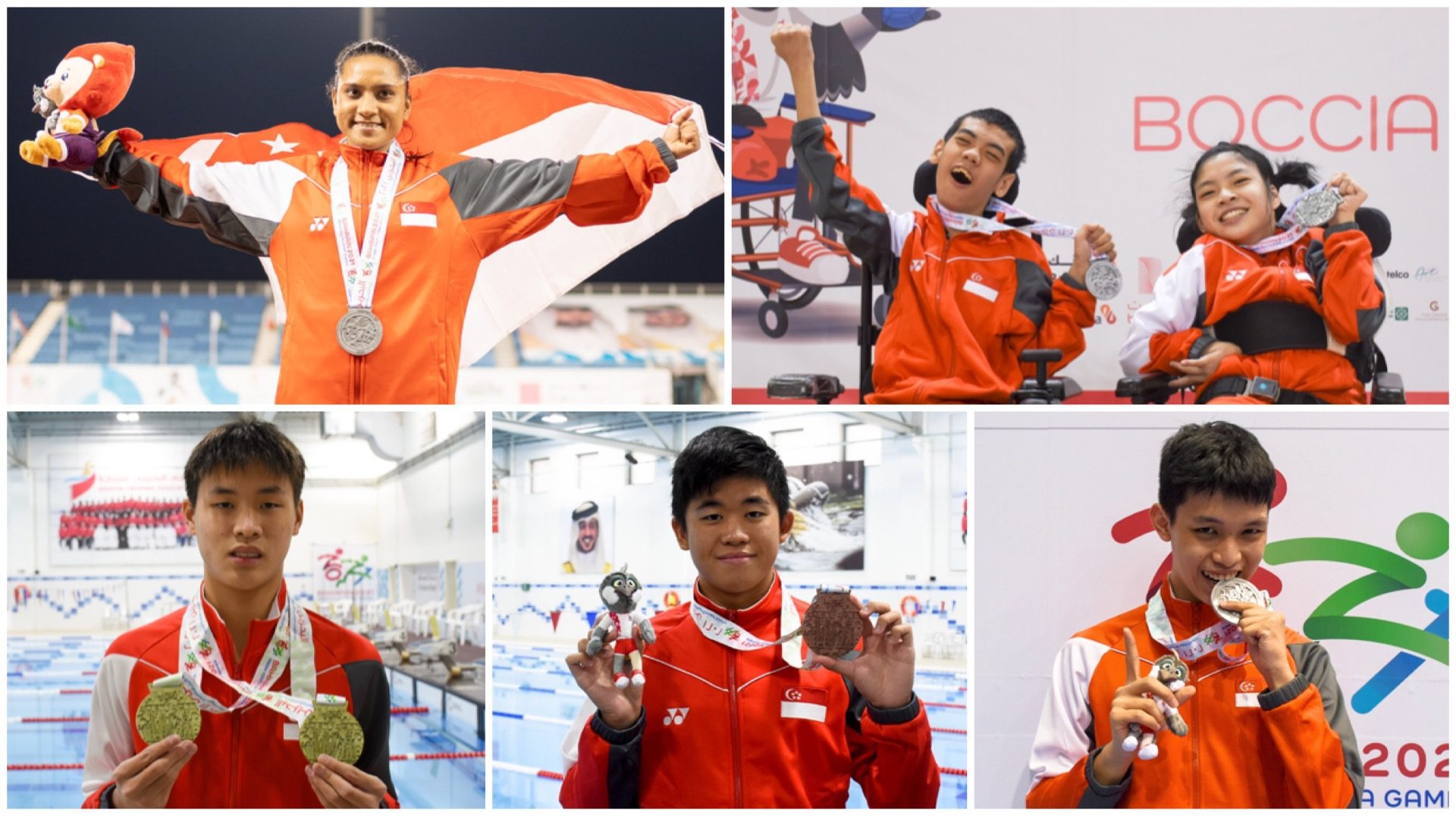 Team Singapore | Bahrain 2021 Asia Youth Para Games
2021 highlight: Team Singapore's performance at the Bahrain 2021 Asian Youth Para Games (AYPG) was so awesome that it became Singapore's second-best showing at the AYPG ever. This is the fourth edition of the quadrennial games. Altogether, our amazing athletes brought home 10 medals: 5 Gold, 3 Silver, and 2 Bronze.
Winning words:
"I am so happy to win Singapore's first ever Boccia medal at the AYPG. It was a very close match, but I concentrated on what I could do and did my best. It is a wonderful moment for my family and me," said Boccia athlete Aloysius Gan, who clinched not only the Gold in the BC3 men's individual event, but also the Silver with fellow Boccia athlete Yan Jia Yi in the mixed pairs BC3 event.
"Getting four gold medals in four events was possible, but not entirely expected. There were a lot of surprises and things to adapt to and I'm glad I managed to do so and make Singapore proud," said swimmer Colin Soon.
MVP cred: Siti Nurhayati Bte Ali Aksar Khan, the fastest Singaporean athlete in the Intellectual Impairment category, took home the Silver medal in the women's U20 T20 400m. In swimming, in addition to winning two Bronze medals, Darren Chan also broke five of his personal best records at the pool. Meanwhile, paddler Caleb Lee, who teamed up with Kuwaiti Mohammad Alrashidi and Filipino Linadr Sultan in the men's mixed team T6-8 event, secured a Silver.
---
Yu Mengyu | Table Tennis
2021 highlight: National paddler Yu Mengyu won the hearts and minds of many on her way to finishing fourth place at the Tokyo Olympics.
Winning words: "It was the support of my family that kept me going, and also the guidance and help of STTA (Singapore Table Tennis Association), that gave me the hope to go on," said the 31-year-old in an interview with Channel NewsAsia. "When I arrived here, my mindset was very simple - to be able to compete at the Olympic Games was already a win."
MVP cred: Before the tournament, Mengyu had already decided that this would be her last Olympics appearance due to injuries taking a toll on her body. But if this really is the end of the road, what a way to go out! Mengyu put in scintillating performances against some of the best table tennis players in the world and nearly had their number. The fighting spirit she showed throughout the competition makes her an MVP in our eyes.
---
Singapore National Team | Football
2021 highlight: Our team reached the semi-finals of the AFF Suzuki Cup, Southeast Asia's biggest football tournament for the first time in nearly a decade. At the time of writing, Singapore will face Indonesia in a two-legged round to determine who will make it to the finals.
Winning words: "We are always on the way to improvement, and we need the fans to be on our side," said Lions head coach Tatsuma Yoshida at a post-match conference during their latest game against Thailand after their spot was assured. "We haven't qualified for the semi-finals for nine years, and this is good progress for the team. I am always proud of this team's efforts."
MVP cred: Expectations were low for Singapore going into the tournament. The national team had underperformed at recent editions of the AFF Suzuki Cup but with the competition taking place at home soil this time round, the Lions had a major point to prove. The new look squad now boasts a great mixture of youth and experience. Stalwarts like midfield captain Hariss Harun hold the fort while youngsters such as Ikhsan Fandi have gone on to impress, scoring two goals thus far and leading the side with aplomb. This is Singapore's biggest chance in years to go all the way. Regardless what happens, the Lions have brought back the Kallang Roar with their excellent performances. Now it's time for the fans to support the team!
---
Shayna Ng | Bowling
2021 highlight: Shayna won the women's singles event at the International Bowling Federation (IBF) Super World Championships in Dubai, beating compatriot Cherie Tan in the finals.
Winning words: "This title, being a world title, would definitely mean the world to me. But more importantly, I'm just glad I didn't lose my competitive touch since we took quite a break during Covid," Shayna said in an interview with Yahoo News after her emotional victory.
"It's never easy to face your own teammate in the finals. I believe Cherie made really good shots and we were both giving all that we had. Lucky for me, the pins fell. But if you look on the bright side, we secured a definite gold for Singapore and that's ultimately all that matters."
MVP cred: We had not one, but two pro bowlers putting Singapore on the world map. It's a historic achievement for the sport and will definitely inspire a whole generation of aspiring keglers. Don't be surprised to see your neighbourhood SAFRA bowling alleys full after this.
---
Dante Chen | Pro Wrestling
2021 highlight: Becoming the first Singaporean wrestler in history to sign with WWE.
Winning words: "To the believers, thank you and don't stop supporting the dreamers," Dante wrote on Instagram soon after his signing was made official, "To the doubters, thank you and it's never too late to start."
MVP cred: Dante is literally a wrestling fan who made his dreams come true through pure drive and determination. With it, he made history for Singapore and paved the way for other WWE fans to believe that competing at the biggest stage in wrestling is possible. Particularly for this writer - as a wrestling fan all my life! - it was surreal to hear the announcer bellow, "From Singaporeeee" as Dante made his debut live on television. From Toa Payoh to Orlando, Florida, it is a journey that has taken Dante to the other side of the world. But it's only just the beginning. We're rooting for you Dante! No matter what, the 25-year-old has already done us proud.
---
Quah Zheng Wen - Swimming
2021 highlight: National swimmer Quah Zheng Wen represented Singapore at the Tokyo Olympics and completed his Basic Military Training at Pulau Tekong with the army in the same calendar year. What did the rest of us actually achieve in 2021 compared to this guy?
Winning words: "Enlisting and serving National Service has always been a part of my plan. I'm grateful to MINDEF and MCCY for the privilege of a deferment earlier, where I was able to train and prepare for the Olympics in 2016 and 2020 as well as the other major competitions like the Asian Games and SEA Games." Zheng Wen wrote in an Instagram post shortly before enlisting for National Service. "I am always thankful for the opportunity to represent Singapore – whether it is through enlisting or swimming."
MVP cred: Zheng Wen's story goes to show that you can pursue your dreams and do your part to defend the nation at the same time. It's kind of heartening to see a high-level athlete don the green uniform just like rest of us mere mortals. And look at the grin on him. IPPT? What is IPPT. Jokes aside, Zheng Wen certainly wins brownie points for bouncing back from the disappointment that he suffered at the Olympics straight into army life. His positive attitude is an admirable trait that will do him a world of good as he aims to compete in the pool once more in 2022.
For the latest updates on Wonderwall.sg, be sure to follow us on Facebook and Instagram. If you have a story idea for us, email us at [email protected].