Singapore Sportstar Spotlight: The Wind Is In Ryan Lo's Sails
The apple doesn't fall far from the tree. And in the Lo household of accomplished sailors, Ryan Lo didn't just follow in his family members' footsteps, he also racked up some impressive wins along the way, and even competed at the 2020 Summer Olympics in Tokyo.
Today, the 25-year-old is the highest-rated Asian Laser sailor on World Sailing's rankings (with a World Ranking of 10). Ryan competes in the Laser class - Laser referring to a class of single-handed, one-design sailing dinghies. They are tough, physical boats to sail, and require a lot of physical as well as mental strength.
Read on as we sail-ebrate the achievements of this Laser-focused lad.
Character bio: Growing up, Ryan had the great fortune of having two older sailing siblings to look up to: Lo Man Yi, Ryan's half-sister, who won gold in the Laser Radial event at the 2005 SEA Games; and Ryan's half-brother Jun Hao, who clinched silver at the 2007 SEA Games. They inspired Ryan to believe that he could one day turn his dream of competing in the top leagues into a reality.
Since Ryan picked up sailing at the age of seven, he's gone on to showcase his immense potential: In 2009, at the age of 12, Ryan, along with three other junior sailors, set a world record in junior sailing by winning a fourth straight medal in the team racing event at the IODA Optimist World Sailing Championship - a feat never achieved before by any country.
Oh, and add Olympian to that list of accomplishments.
Achievement unlocked: Ryan's won two Gold medals (Individual and Team) at the 2017 SEA Games. A month later, he finished 36th - as the top Asian sailor - at the Laser Standard World Championships. It's sibei wow because he was also doing national service while training.
A couple of years later, Ryan went on to bag another two Gold medals at the 2019 SEA Games.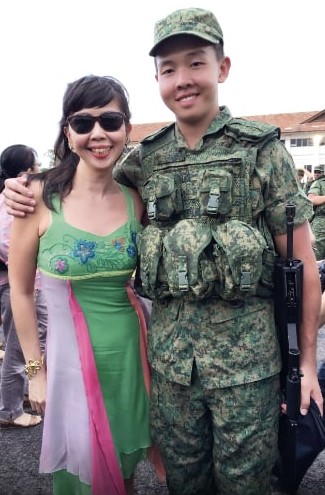 Serving the nation: When it comes to balancing sports and serving the nation, Ryan is candid about there being "no secret formula". Serving as an amphibious vehicle technician in the Singapore Army during NS, Ryan found the time every day during his two-year NS stint to train while juggling his military duties.
On weekdays, after completing NS duties, he would head to the gym and do cardio training in the evening. His only "rest day" was Tuesday when he went for mental strength training with a sports psychologist. Are you surprised this bro is an Olympian at the age of 25? Really hats off to his hard work and perseverance!
In an interview with PIONEER, Ryan confessed that he was concerned his sailing career could be adversely impacted by his NS commitments when he enlisted in July 2016. However, having handled both aspects successfully, he said: "All the other international sailors are constantly training and competing and I was afraid the gap between me and them would gradually widen. But I told myself to do my best for these two years, and make the best use of my time to improve as much as I could."
He added that while it was challenging to balance NS duties with sailing, it was "also important for me to leave the Army with no regrets". Upz lah!
Level up: Ryan is working hard on seizing the day when Paris 2024 arrives. Till then, in the same way he's keeping his eye on the horizon, we'll be keeping an eye on this promising talent from our Little Red Dot.
For the latest updates on Wonderwall.sg, be sure to follow us on Facebook, Instagram and Telegram. If you have a story idea for us, email us at [email protected].