Japan In SG: If You're Sakura-Starved, These Will Help
Have you been getting withdrawal symptoms from visiting your fave (and honestly, almost every Singaporean's fave) travel destination? And konnichiwa-ing everyone from your colleague to your cousin, and even your cat?
We feel you.
And we bet the craving is even worse now, considering it's sakura season in Japan, pretty pink petals in full bloom everywhere.
Well, guess what? You can have your cherry blossoms, and, in some cases, eat them too. We show you how:
Sakura featuring Hello Kitty
Gardens By The Bay has extended its display of sakura in the Flower Dome until 11 Apr 2021.
While previous editions of this popular showcase ran for only three weeks (cuz these flowers are fragile and short-lived AF), we get to view them this time for another three weeks because the shipment of cherry blossom trees from Europe was delayed due to disruptions in the shipping industry (no no, not that recent Suez Canal affair).
Pre-book your timed-entry tickets to the Flower Dome, which is open from 9am to 9pm daily.
Sakura Berry Mille Crêpes from Lady M
This heavenly confection is made of sakura-flavoured white chocolate ganache and dehydrated strawberries atop handmade crêpes layered with strawberry infused pastry cream. It is as pretty as it is delicious, and serves as a light, refreshing and fragrant afternoon treat. Japan on a plate!
The best part: In the month of March, you can join Lady M to do your part for charity. For every slice of Sakura Berry Mille Crêpes sold, $1 will be donated to Daughters Of Tomorrow, a charity that supports low-income women in Singapore. For every whole Sakura Berry Mille Crêpes sold, Lady M will donate $10.
Lady M is located at Jewel, Orchard Central, Scotts Square, South Beach and Westgate.
Brown Butter
This café at Forum the Shopping Mall has been converted into a cherry blossom dream and fulfils every pink fantasy you could possibly have.
Ok, so the blooms aren't real, but, boy (or girl), do they make a pretty picture, while you're savouring items from their menu, such as an indulgent Lobster Mayo Toastie (you get a whole lobster and prawns) or an Avo-Carbo Pasta (featuring the joint's housemade creamy avocado carbonara).
The sakura décor stays till June 2021, and you can view the full menu here.
Spring Sakura Pastry Box
What's safer or more indulgent or more #SupportLocal in these times than having a package of well-crafted goodies by Janice Wong (dubbed "Singapore's pastry queen") delivered to your doorstep.
Until 25 Apr 2021, this limited-edition set ($51.40) will be available for order on her website, and comprises:
a Strawberry Basque Cheese Cake (with Chantilly cream and a fresh strawberry)
a Strawberry Almond Tart (with almond cream, custard, strawberry mousse and strawberry compote)
a Strawberry Caramel Rice Pudding Tart (an almond tart featuring strawberry ganache, rice pudding and caramel mousse), and
a limited-edition strawberry yoghurt bon-bon
Perfect as a perk-me-up present for that Japanophile friend of yours (ok, you) who's wallowing in wanderlust.
Sakura Blossom Strawberry Frappuccino
This is probably Starbucks' excuse to make something with a pastel pop of colour amid all the boring brown and black beverages on their menu. But who can blame them? It's sooo... pwetty!
And, if you hate coffee, you're in luck! This drink has no coffee. Instead, it's a blend of sweet strawberry sauce, fresh milk and ice, crowned with whipped cream and white chocolate pink petal sprinkles.
If your sakura moment is over in a few gulps, maybe something from their Starbucks collection will help extend your ephemeral experience a little longer:
And last, but not least...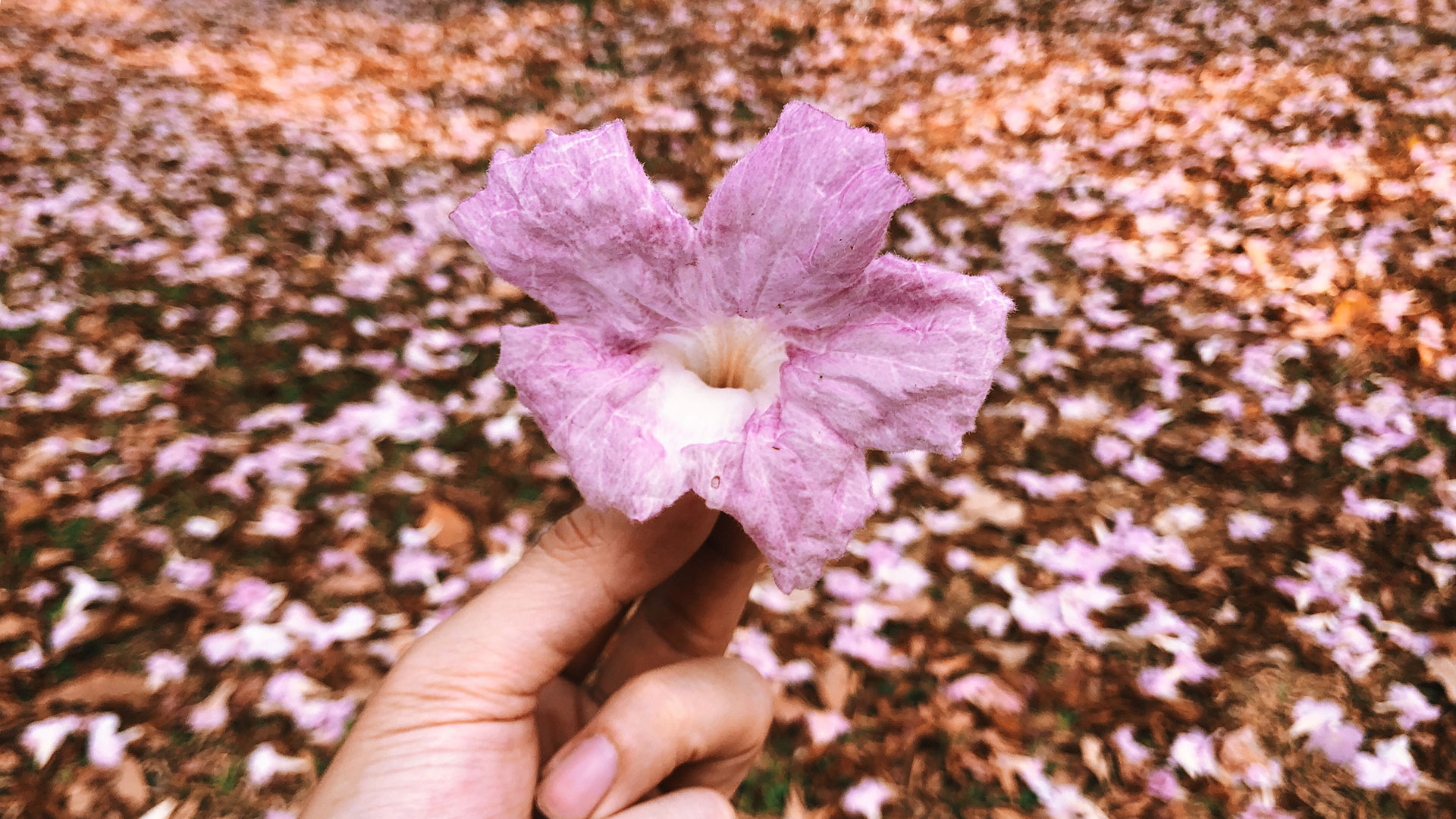 Singapore's own "cherry blossoms" - free some more!
There's been a flurry of Singapore's own "cherry blossoms" on social media recently. Tabebuia rosea, more commonly known in Singapore as the Trumpet Tree, usually blooms in April and August in Singapore, even when there's a bad case of haze.
According to the National Parks Board, there are about 15,000 Trumpet Trees across Singapore! Native to South America (from Mexico to Venezuela and Ecuador), these trees provide shelter by the roadside and add to the verdancy of our Garden City, but only stand out when they flower.
For the latest updates on Wonderwall.sg, be sure to follow us on TikTok, Telegram, Instagram, and Facebook. If you have a story idea for us, email us at [email protected].