A Different Beat: STB And Local DJ MYRNE Show Us A Reimagined Singapore
Sian right, nowadays cannot dumzi dumzi at clubs or festivals, nor can we travel abroad easily.
Happily, there's a very cool alternative: We can kinda dumzi dumzi all we want in the safety of home, and have the "local tourist" feels while watching spectacular drone shots of, well, home.
The Singapore Tourism Board (STB), together with independent music media company Bandwagon, has launched a three-part series to reimagine Singapore by combining a bird's-eye view of iconic spots with on-site sets by local DJ-producer MYRNE's music.
All three videos feature Singapore's iconic attractions, to reignite the spirit of travel and keep Singapore top of mind among international audiences (and in case people start thinking that Singapore is in Tennessee).
Each video features MYRNE performing an extended version of his latest single "Wandering", in three different locations, namely, Chinatown, Henderson Waves and the Singapore River:
1. Chinatown
The first video was shot in the heart of Chinatown at night on the open-air rooftop of People's Park Complex.
Duration: 43:41
Best part: 15:15, when a group of B-boys vibe along to the music and show off their sick moves. Incidentally, did you know that breakdancing made its debut at the 2019 SEA Games and Singapore had our very own sole representative in Jeremy Sim? Watch our video on him here.
2. Henderson Waves
The second video was filmed at the iconic bridge that connects Mount Faber Park to Telok Blangah Hill Park and towers 36m (almost 14 storeys) above the ground.
Duration: 52:16
Best part: 30:09, when two ladies attempt yoga moves that look super cheem and tough. Speaking of yoga, read our piece on "How Yoga Can Help You Combat All The Ill Effects Of Staying Home All Day".
3. Singapore River
The third video was done on board the Singapore River Cruise.
Duration: 47:15
Best part: 33:54 - such a stunning view of Singapore's skyline at night! Here's another great way of seeing Singapore after dark (while blasting this track in your ear): try some of our suggestions in our piece on "Best Night Cycling Routes In Singapore".
---
Artist Behind The Art
MYRNE aka Manfred Lim, has played to thousands at regional major music festivals (pre-Covid of course), and became the first Asian artist signed to Grammy Award-winning Diplo's Mad Decent label in 2015.
Fun fact: The moniker MYRNE is a combination of two names: his own (Manfred) and that of his music idol, David Byrne, a new wave pioneer and the frontman of influential American art-rock group Talking Heads.

We speak to the 26-year-old self-taught producer-artist about this project with STB and the feeling of performing a DJ set to... no one.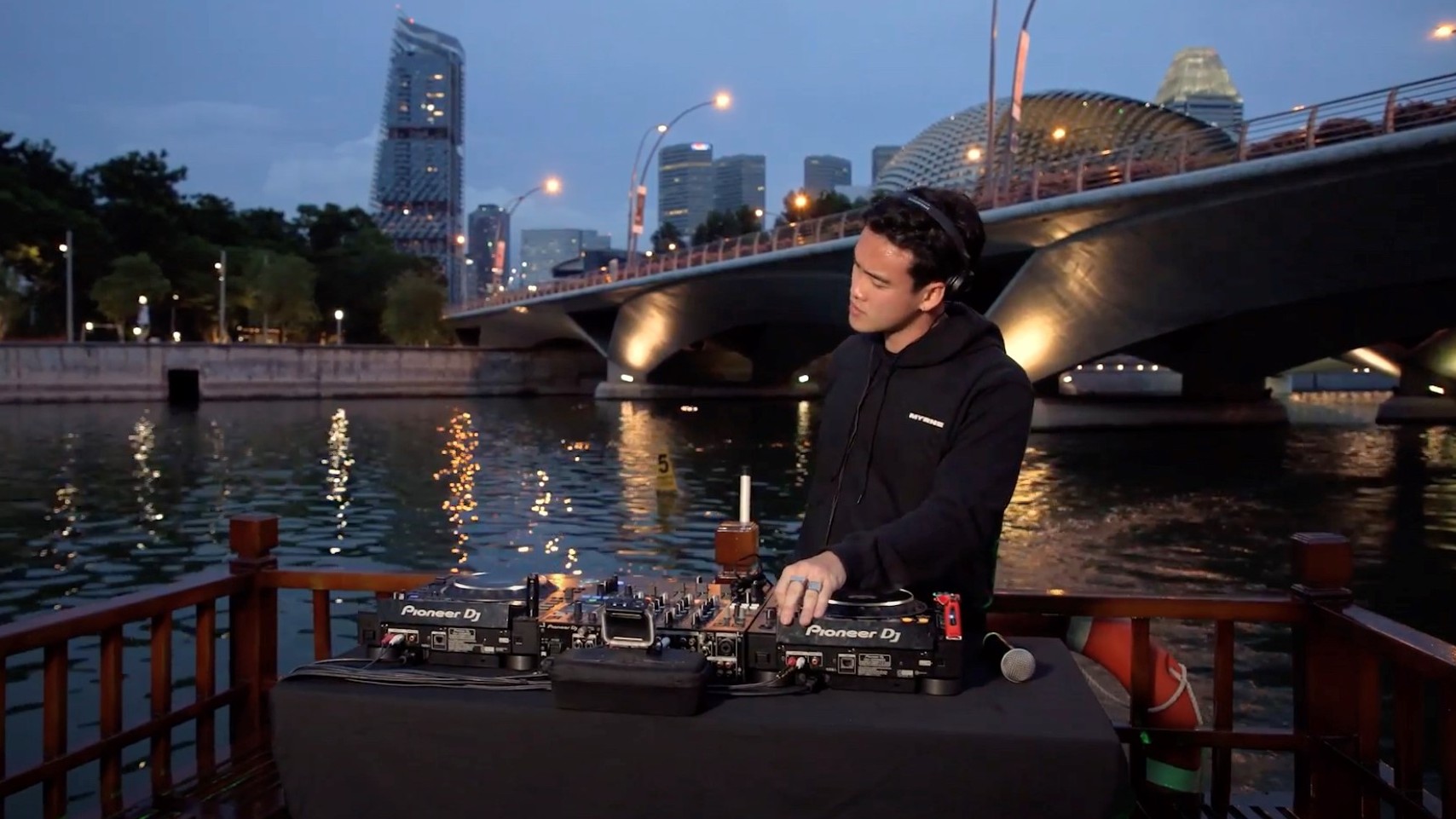 Waseh, this project with STB let you DJ on a rooftop and even cruise down a river. How did this collab come about, and tell us more about the creative process.
Originally it started as an initiative with Bandwagon, to put on a series of live shows for fans in Singapore around the last album release. Then, COVID-19 happened, and we found a way to do something else with STB, who helped us plan some really cool shoot locations.
My team and I worked fully on the concepts of the shoot and how we wanted the look and feel to be, as well as the choice of each location. I was quite involved in the entire process including the "storyboarding" that some of the videos involved.
Each video is roughly 45min long, but we can't imagine how long the entire production was! Any favourite moments?
It took a lot more preparation time! But yes, it was filmed in real time, so around 45min of filming each. Sometimes, the video crew would stay an extra hour to get more B-roll footage, so it's safe to say that I had the easiest job there!
Favourite moment? It'd have to be waking up at 5am, and recording a DJ set in the early morning at Henderson Waves - expecting the bridge to be dead quiet on a Tuesday morning. Surprisingly it was very popular, and some uncles who were exercising stopped by to check out the music - you can even see me waving to some of them!
Was it awkward standing there and mixing music without a crowd? And not hot meh?!
To be honest when you are having fun with the music and surrounded by beautiful locations, it's really not hard. Although, it definitely feels stranger without a crowd to vibe off of.

Funnily enough I had actually got sunburnt earlier that day, so the hoodie was covering my red arms. The weather definitely takes a toll, you never get used to it - just drink a lot more water.
How has COVID-19 impacted you as a DJ?
It's definitely been a bit rough the past two years, especially as touring is a major source of income for many artists. I've transitioned to focusing a lot more on music, so I'm grateful for that!
The restrictions on air travel also encouraged me to explore places in Singapore I wouldn't ordinarily be exposed to.
What has this collab taught you and will you do more of these video-based DJ sets?
I'm pretty grateful for the entire opportunity, and I'm glad these videos are out there for everyone across the world to enjoy.
I think video is an often overlooked medium when it comes to appreciating music. It's definitely opened some doors in terms of collaborations for the future.
We have some other locations in mind but we will have to see what the future holds for those!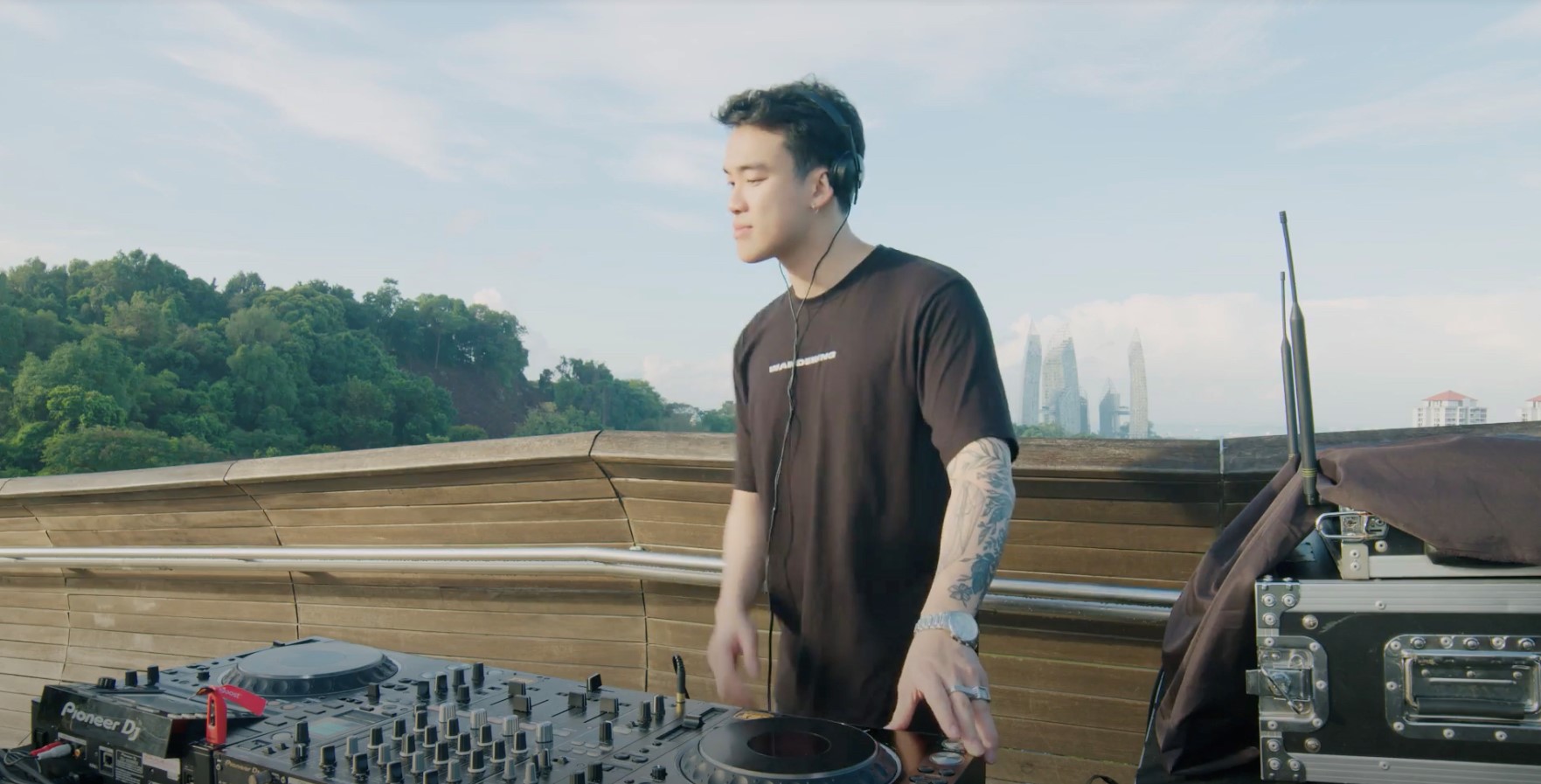 For the latest updates on Wonderwall.sg, be sure to follow us on TikTok, Telegram, Instagram, and Facebook. If you have a story idea for us, email us at [email protected].