Adventures At Home: Let's Rediscover Toa Payoh
Speaking for myself, Toa Payoh is the place I'm headed once bae agrees to BTO with me.
But TIL that this town is also a place of many firsts:
TPY was the first town designed and developed entirely by HDB – no wonder the HDB Hub is here.
The first NTUC supermarket (which was called NTUC Welcome at the time) opened here, at Block 192, Toa Payoh Lorong 4.
The first Resident's Association was formed here, way before the RCs of today.
TPY was the first town to have a neighbourhood police post system.
TPY is home to the first mosque built under the Mosque Building Fund.
In August 1985, Toa Payoh was the first MRT station to have its concrete structure completed, and it was part of Phase 1 of the MRT system.
But did you know that Toa Payoh is also the perfect place for an Insta-walk as well as a way of rediscovering Singapore's heritage?
Charge your phones, pack a powerbank, and come along as we follow the National Heritage Board's Toa Payoh Heritage Trail to find the most interesting and photo-tastic spots in this heartland.
[Wake Up to Nature] Toa Payoh Town Park is certainly a scenic spot when its trees are in bloom! Want to know where else...

Posted by NParks on Sunday, 26 July 2020
Paktor day out at Toa Payoh Town Park
Check with your, ahem, young-at-heart loved ones if they took their wedding photos here ‍♂️ ‍♀️, especially if they tied the knot in the '70s and '80s. This was also a popular paktor spot for lovebirds. In fact, this "dating park", as it used to be called, was so well liked that HDB decided to have green spaces in all housing estates. Thank you, Toa Payoh!
Photo tips: The park has stone arch bridges, a landscaped pond, and rustic-looking gazebos for the perfect Insta-story. In the past, you could get a bird's-eye view from the 25m Observation Tower. Unfortunately, it's closed now, but it makes a pretty cool backdrop.
Relive your shaolin kungfu fantasies at Lian Shan Shuang Lin Monastery
The oldest Buddhist monastery in Singapore looks likes the set of a shaolin kungfu movie. The design of this temple was modelled after the 5th century Xi Chan Monastery in Fuzhou, China.
Must see: Hall of Celestial Kings and Mahavira Hall with its three Buddha statues and wishing well, both gazetted as National Monuments.
Photo tips: Switch to your wide-angle lens to get these massive structures in frame, and look out for some hidden nook and crannies for out-of-the-box photo ideas. Btw this is a place of worship, so be respectful.
Get your game on at Toa Payoh Sports Complex
Toa Payoh Sports Complex was built to host the 1973 Southeast Asian Peninsular Games (the precursor to the SEA Games), and was also the venue for the Asian Swimming Championships in 2006 and Youth Olympic Games in 2010.
Photo tips: Support local football – watch a Balestier Khalsa FC game and photograph the players in action representing the oldest football club in the Singapore Premier League. Or show off your pool skills at the swimming complex – see if you can beat the times of our awesome Olympians.
---
Makan break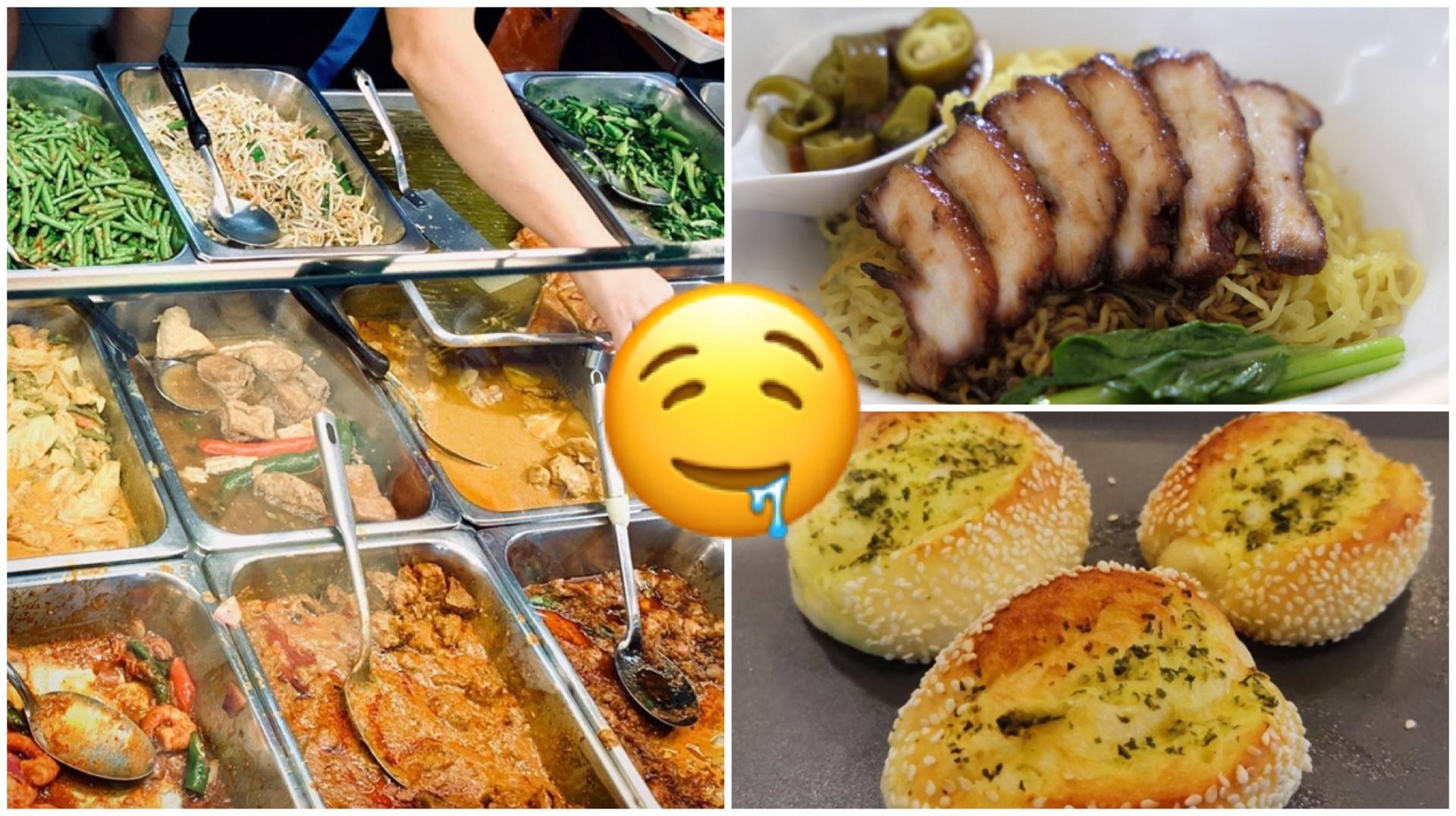 If you're looking for good food in the area, check out these must-eat recommendations from a long-time Toa Payoh resident.
---
More places on your Insta-walk checklist: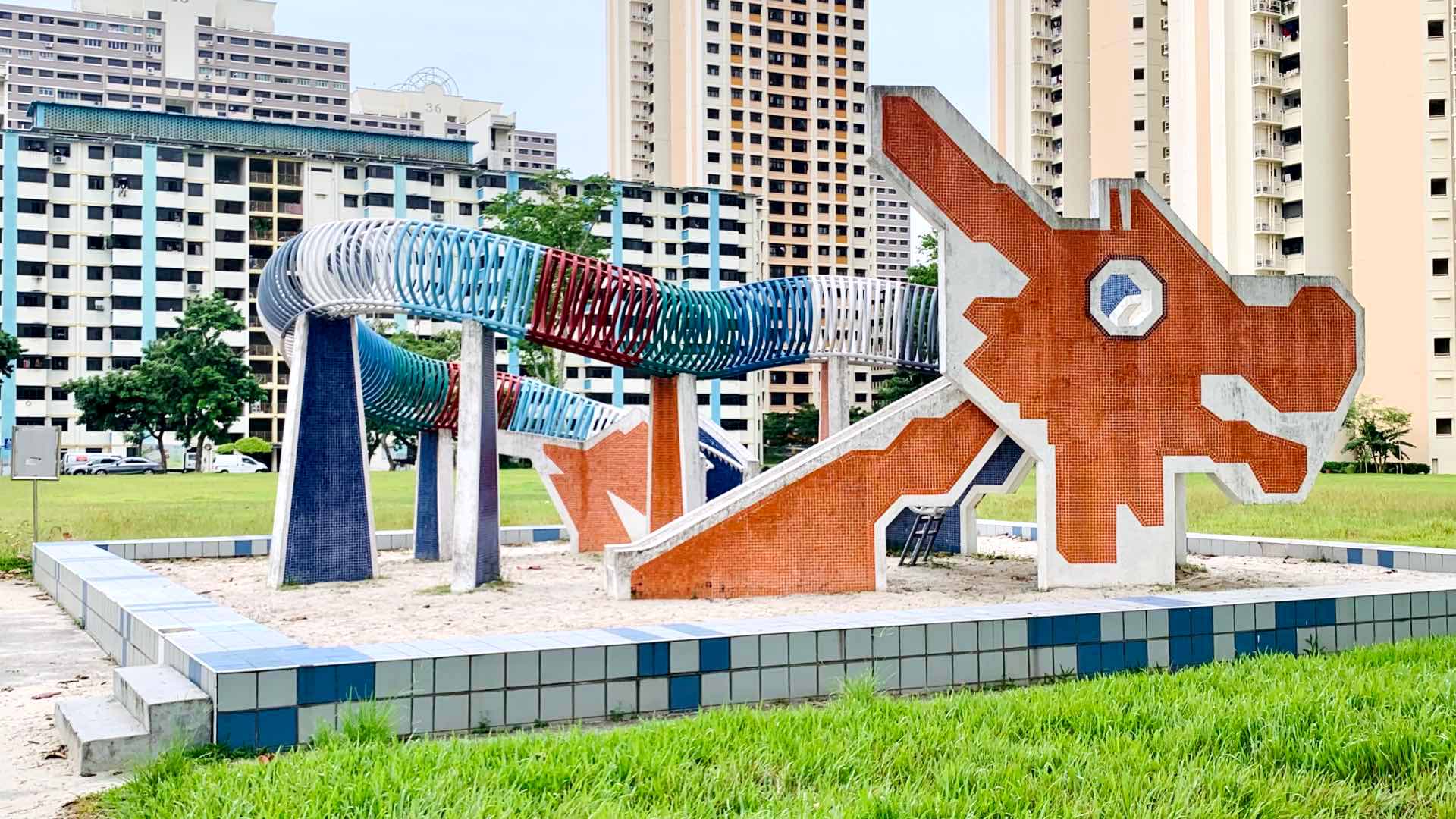 Toa Payoh dragon playground
There's nothing more synonymous to Toa Payoh then this legendary playground. What many dunno is that there's another smaller dragon playground at Lorong 1 (near Blk 240). The iconic design by Khor Ean Ghee features the terrazzo tiles on the dragon's head and a body of colourful steel rings which kids can make their way through.
Photo tips: You can get a symmterical shot with a photo between the dragon's head, or strike a pose sitting inside the dragon's body (the steel rings).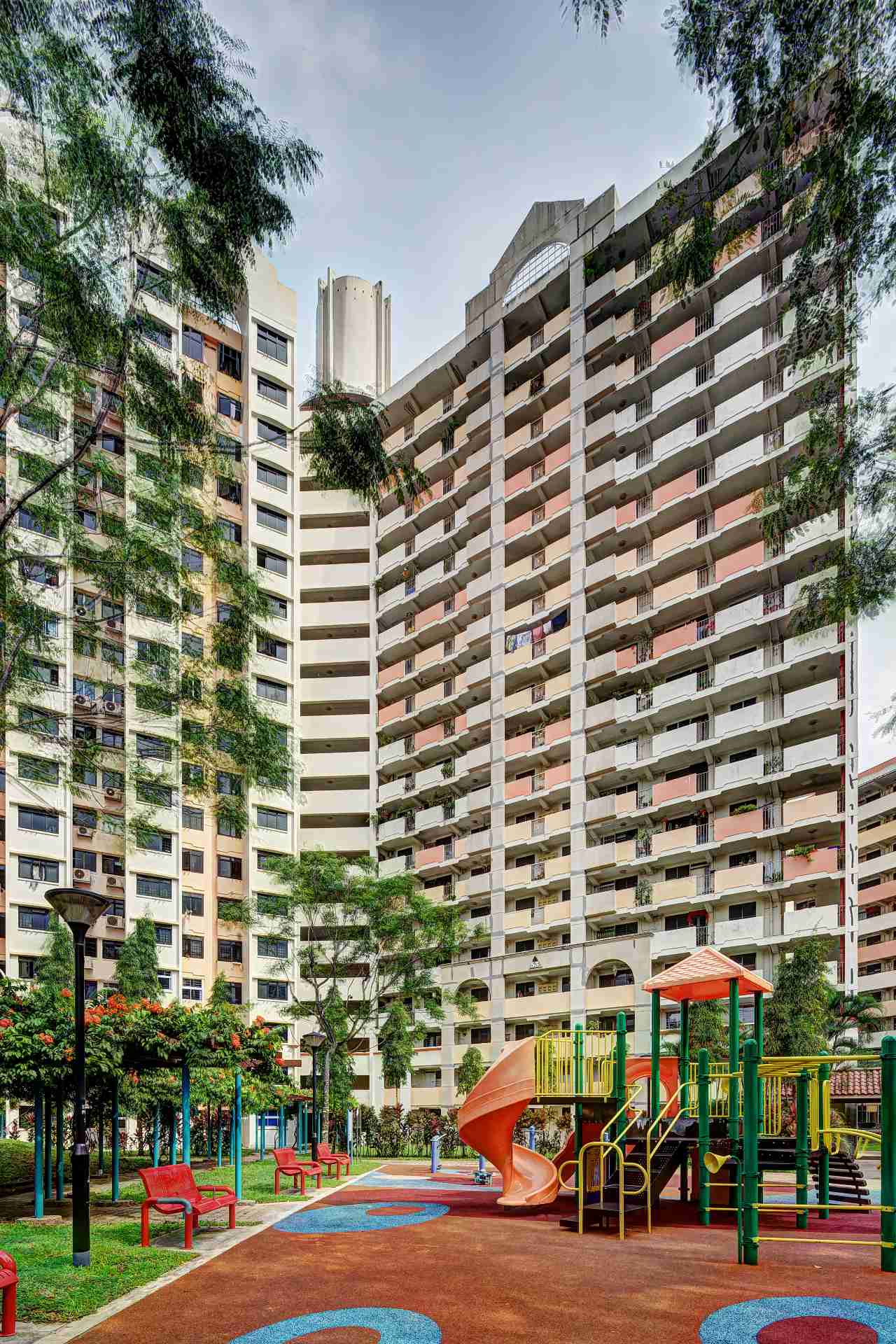 Block 53, the VIP Block
Of course there's always a cool HDB block to tell you about in our "Adventures At Home" series (like here, here, and here), don't say bojio. Block 53 is the only block of flats in Toa Payoh with a prominent Y-shape design, and has been called "the VIP block" for hosting foreign dignitaries (like Queen Elizabeth!) at its rooftop viewing gallery. Bring bae here and tell her you're treating her like royalty lol.
Photo tips: You can get a clear upward view of the imposing and symmetrical building architecture from the flat's playground. Apart from heading up to the rooftop, the stairwell at the top floor makes for an interesting photo too.
Masjid Muhajirin
This mosque is the first in Singapore built with the help of the Mosque Building Fund scheme (which saw contributions from every Muslim employee in Singapore), and is home to the Islamic Religious Council of Singapore (MUIS) as well as a religious school, Al-Irsyad Al-Islamiah madrasah.
Photo tips: The exterior wall claddings and arabesque geometric designs on the structure's barricades make beautiful abstract snapshots, especially when you zoom in on the details.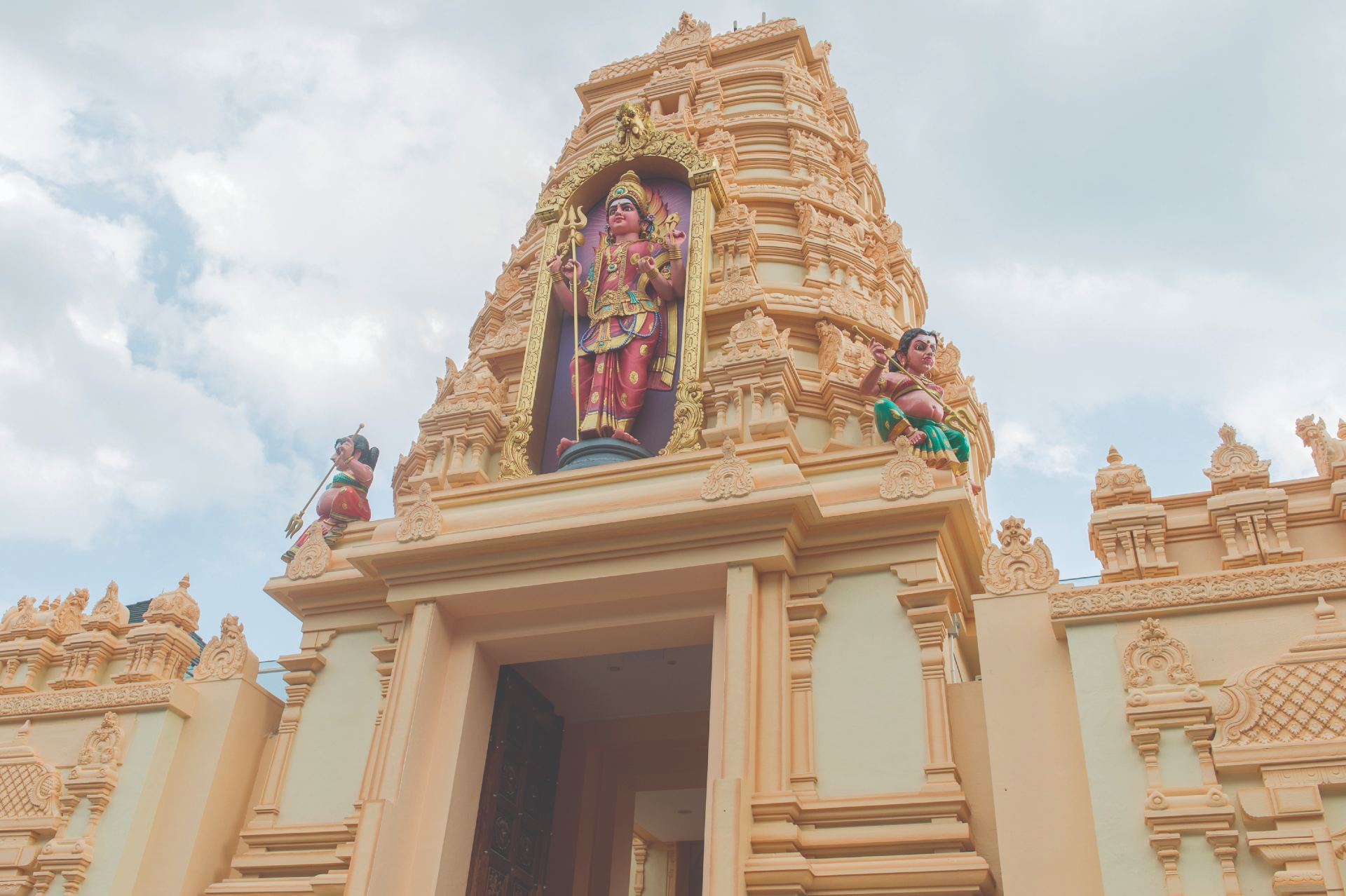 Sri Vairavimada Kaliamman Temple
This is one of the oldest temples in Singapore, and has been relocated a few times. In fact, its origins can be traced as far back as 1860 when it was a former choultree (rest area) in Orchard for the Indian plantation workers and dhobis (washer men).
Photo tips: Snap a shot of the majestic entrance, with its intricate design and prominent statue of the goddess Kali.
Chung Hwa Medical Institution
The Chung Hwa Medical Institution is a branch of the original Chung Hwa Free Clinic at Telok Ayer, offering free medicine and herbs – patients only needed to pay 50 cents as a registration fee. When this building first opened its doors in 1978, it served 400 patients of different races, and has remained affordable till today: $3 for registration and treatment!
Photo tips: Look out for the small mirrored tiles around the entrance for a cool reflection shot. You can also get creative with a photo of bae at the stairs.
---
Happening history sia
If you're interested to explore the rich history of Toa Payoh, you can follow NHB's Toa Payoh Heritage Trail. Get your trail map and guide here.
For the latest updates on Wonderwall.sg, be sure to follow us on TikTok, Telegram, Instagram, and Facebook. If you have a story idea for us, email us at [email protected].