Adventures At Home: Rediscovering Art In North-South Line MRT Stations
Happy anniversary, North-South Line (NSL)!
On this day (7 Nov) in 1987, the NSL became Singapore's very first MRT line, with just five stations connecting Yio Chu Kang to Toa Payoh. Over the years, it has grown to include 27 stations, with Canberra (which started welcoming passengers on 2 Nov 2019) being the latest addition.
While the NSL might be the oldest train line in our city-state, it still stands as one of the busiest. But here's a secret that many daily commuters might not know: much like the North-East Line, the NSL also doubles as an unconventional art gallery. So, next time you hop on the red line, take a moment to explore these incredible artworks that surround you.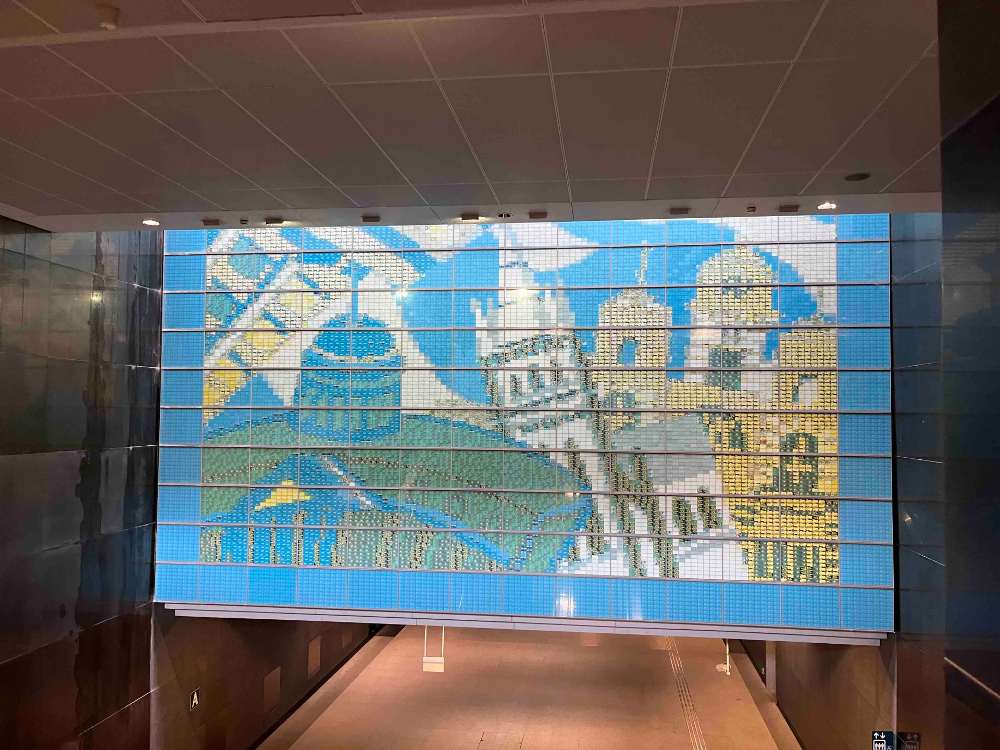 IMAGE: NICHOLAS YONG
Marina South Pier

"Past.Transition.Present" by Singapore Contemporary Young Artists (SCYA)
Your art journey begins at the southernmost MRT station, Marina South Pier. At the escalators at Exit A, you'll be greeted by a striking art piece created from 27,000 phased-out EZ-Link cards, offering a window into Singapore's past and present (and ever-changing) landscape. The SCYA meticulously designed this artwork by mapping out a sketch that mirrored the colours of the cards, arranged in nine columns of 10 rows per panel.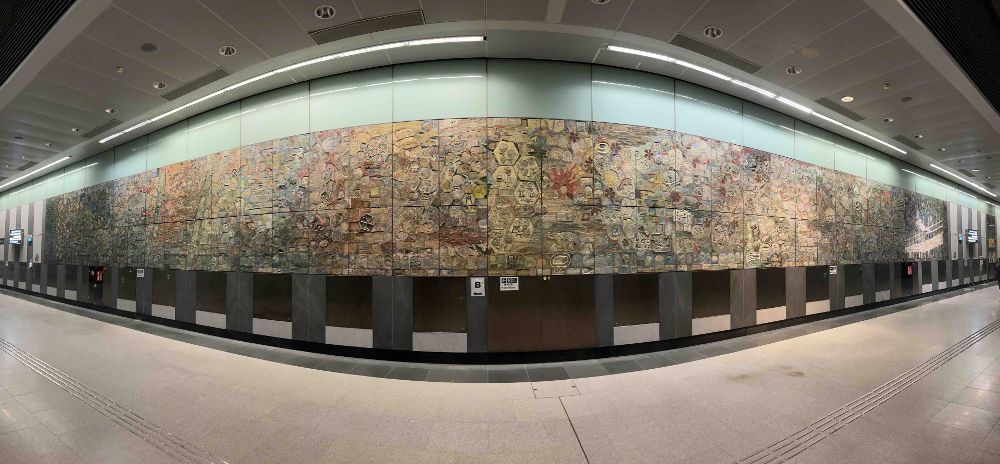 IMAGE: NICHOLAS YONG
"Singapore Tapestry" by Delia Prvacki
Before heading down to the platform, take a moment to appreciate the 31m long mural constructed from oven-fired clay tiles. This composite piece was a collaborative effort involving 1,500 participants. They were tasked with crafting clay representations that depicted their vision of the Singapore story under the artist's guidance. Look closely, and you might spot familiar birds, trees, the Singapore flag, and even driverless cars.
IMAGES: NICHOLAS YONG
Marina Bay

"National Day Babies in 2015" by Tay Kay Chin
Continuing your art expedition, make your way towards the station's gantry, where you'll discover a captivating photo gallery created for SG50. The artist artfully photographed 53 Singaporeans born on 9 Aug from 1965 to 2014. This collection reflects our nation's demographics in terms of gender, ethnicity, and occupation. The artist's aspiration is to inspire passersby with the belief that they too can achieve something extraordinary for the benefit of our beloved country.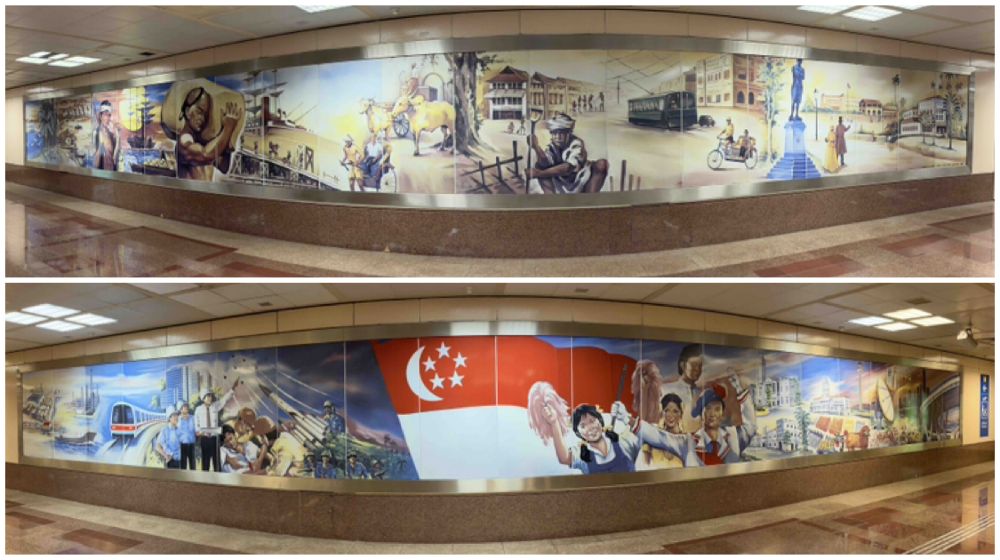 IMAGES: NICHOLAS YONG
Raffles Place

"Pageant of Singapore's History" by Than Kiang How & Lim Sew Yong
Raffles Place, the bustling heart of Singapore's financial district, houses not one but two expansive murals. Measuring 41m in length, these artworks chronicle the nation's history. The narrative commences with our origins as a humble fishing village, through the industrial revolution, and culminates in present-day Singapore.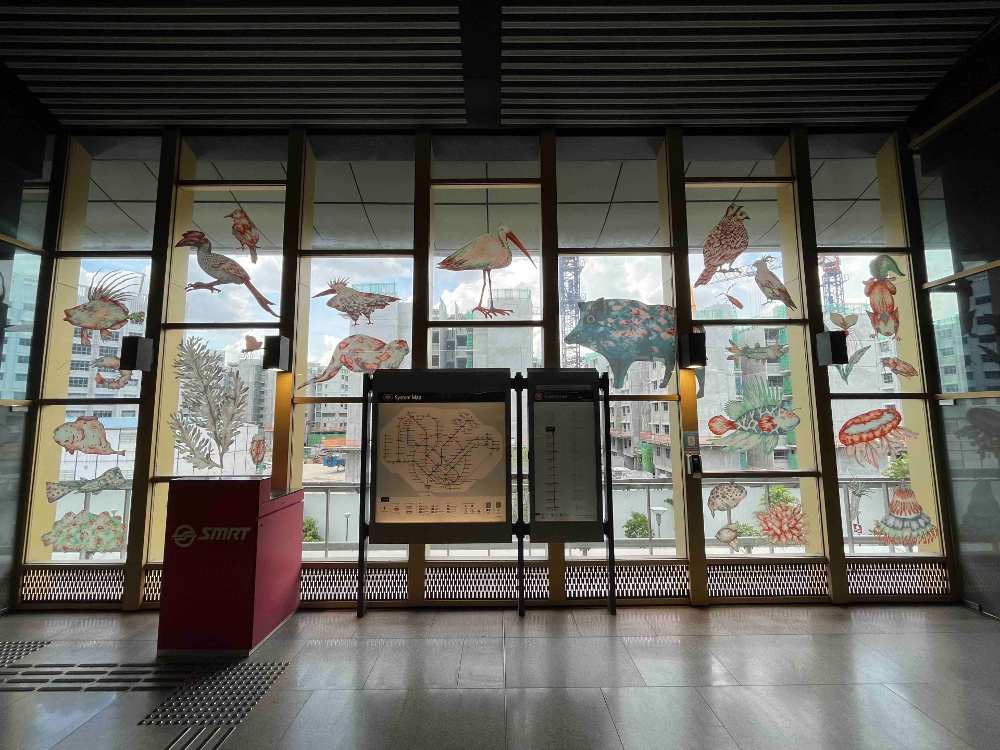 IMAGE: NICHOLAS YONG
Canberra

"Symbiosis" by Tan Zi Xi
Heading further north, towards Jurong East station, you won't need to search long to find this captivating artwork. It stands prominently in the middle of the platform. A result of artist Tan Zi Xi's collaboration with the Canberra community, the work reinterprets people's sketches of the flora and fauna from their trip to Sungei Buloh Wetland Reserve, and showcases the profound connection between flora and fauna.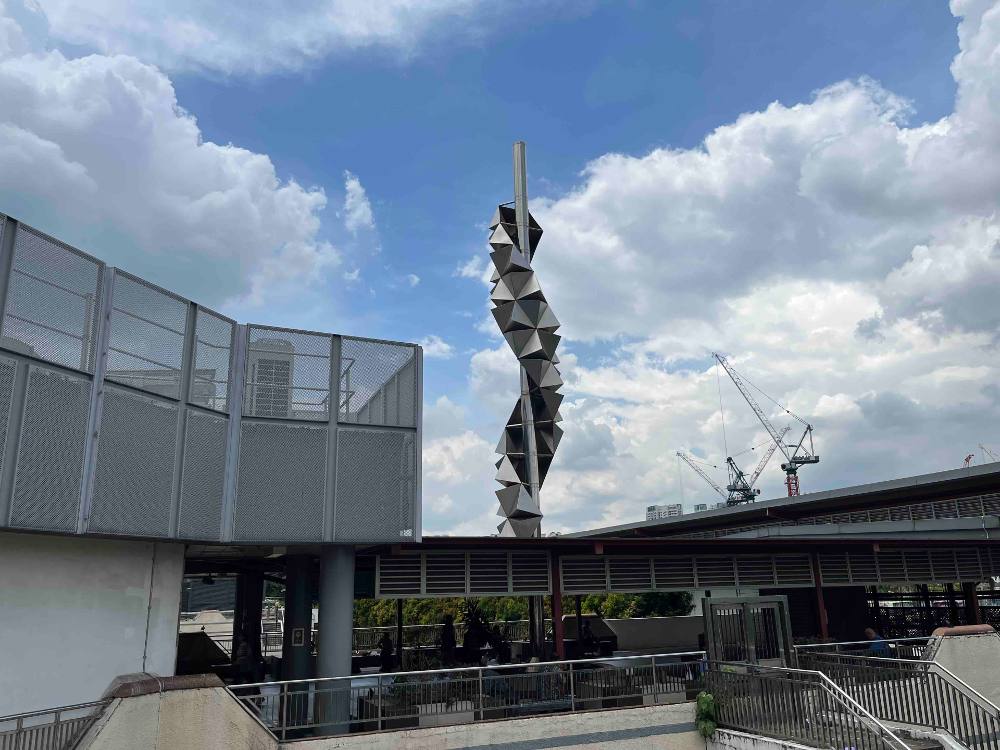 IMAGE: NICHOLAS YONG
Woodlands

"Faces II" by Min Chen
To locate this artistic gem, exit the station, and head behind where the bicycles are parked (you can look out for Gong Cha). Here, you'll be treated to a full view of a majestic 15m tall, 4,000kg sculpture by Min Chen. Inspired by the artist's exploration of origami, each cluster of its triangular geometric surface represents a human face. These faces symbolise various expressions and messages observed by the people who pass through this MRT station.
For the latest updates on Wonderwall.sg, be sure to follow us on TikTok, Telegram, Instagram, and Facebook. If you have a story idea for us, email us at [email protected].