Let's Go Jalan Jalan: Rediscovering Bedok
In this series, we help you (re)discover gems in your own backyard with the help of JalanJalan.me, a community project spearheaded by the people behind the #savefnbsg movement, and supported by Enterprise Singapore and Singapore Tourism Board.
ICYMI, we (re)introduced Ang Mo Kio last week. This week, we're heading east to a neighbourhood that will make even non-hood residents' hearts go bedok-bedok.
---
SEE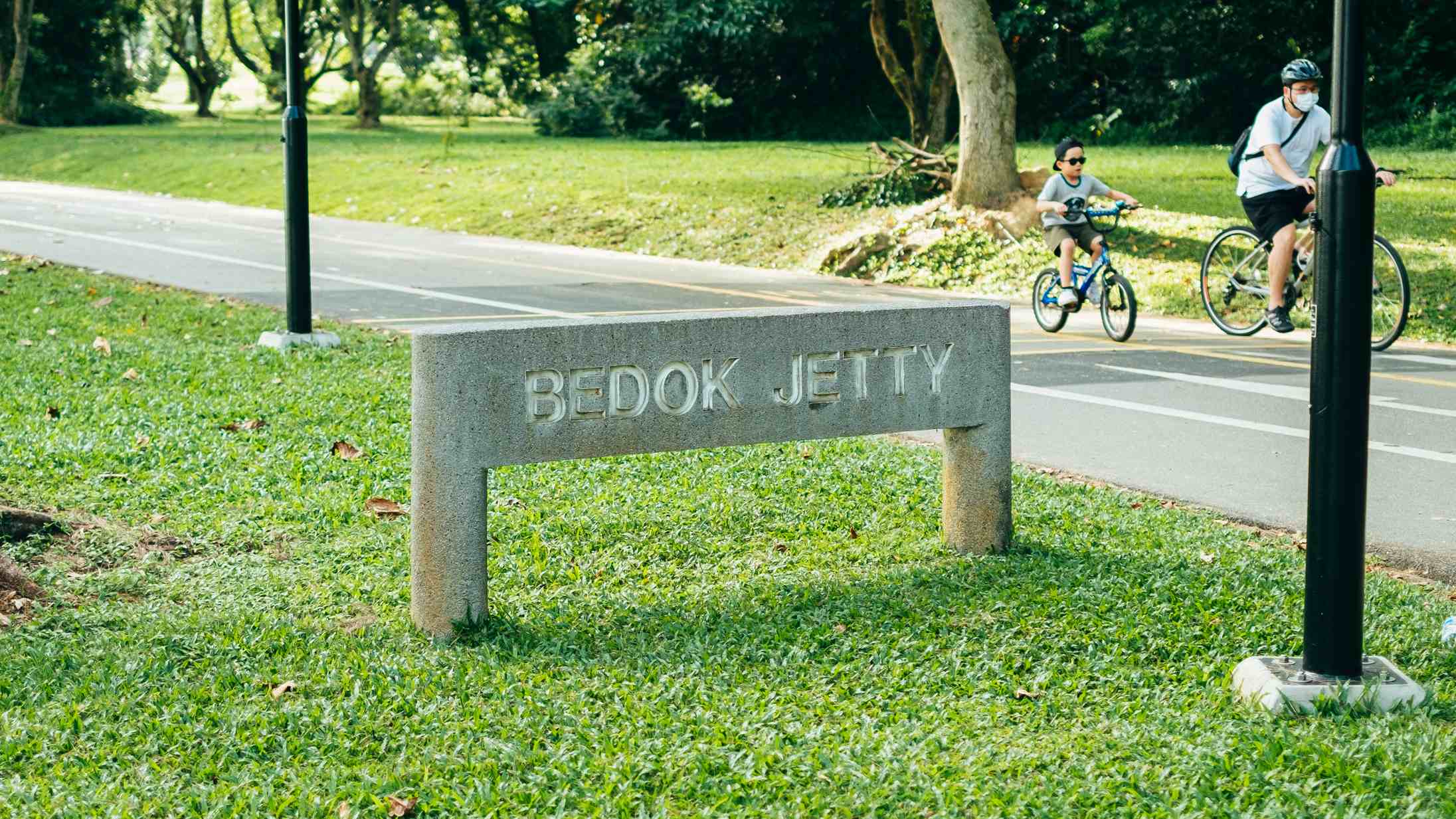 1. 'Tis the sea-son for some fun

One of Singapore's longest jetties, Bedok Jetty is one of the most popular fishing spots in the country. That said, you'll find all manner of people gathered here, from cyclists taking a break along their 42km long Eastern Coastal Park Connector Network (ECPCN) Cycling Trail, to families looking for a scenic backdrop for a family-portrait location-shoot.
Fun fact: The best time of the day to be here is the evening to watch the sunset and the horizon come alive with the lights from tankers that line our shores. And though it's rare, there have been sightings of dolphins here (like this tragic one).
Located at: East Coast Park Service Road, Singapore 449876 (map)
2. Heaven for green thumbs
Among the nurseries of Bedok South, Chin Ling is a personalised one, known for its friendly staff who are very knowledgeable about the plants they sell and offer solid post-purchase service if you discover you're not much of a green thumb. It's not just a place to find a trending potted plant - here, you'll be able to find gardening tools, decorations and outdoor furniture too.
Fun fact: If you're looking to build yourself a garden, Chin Ling offers landscaping consultancy - especially useful when you're first looking to design a new home.
Located at: 10, Bedok South Road, Singapore 469274 (map)
---
EAT
1. Authentic Teochew food
You don't have to be Teochew to love the authentic Teochew fare served up by Chin Lee since 1973. Started by the father of current chef and owner, Eric Chua, Chin Lee has been a heartland favourite for those who love good ol' traditional Teochew dishes. Think chye poh kway teow, orh-luak (Teochew oyster omelette) and orh nee (sweet yam paste).
Fun fact: One of Chef Eric's signature dishes is his coffee pork ribs, which he created more than 20 years ago. Till today, it's a recommended favourite and must-have for many Chin Lee regulars.
Located at: 115, Bedok North Road, #01-285, Singapore 460115 (map)
2. Old-school pastries
If you're looking for traditional handmade kuehs (cakes) and pastries, then Borobudur Snacks Shop is the place to head to. Their ang ku kueh (red tortoise cake) has its own loyal following because its makers are not shy about really stuffing these little kuehs with a variety of fillings, including mung bean (what you find in tau suan), yam and peanut. You'll also find other traditional snacks like ondeh ondeh, durian ambon, and kueh lapis.
Fun fact: With old favourites enjoyed by both young and the young at heart, you're bound to score some brownie – or kosui – points if you swing by Borobudur before visiting elderly relatives.
Located at: 537, Bedok North Street 3, #01-523, Singapore 460537 (map)
3. Some beautiful buns
If you judge the quality of a place by its queue, then you'll want to make time to stand in line for the fresh daily bakes at Boms & Buns. Insta-worthy boms (creamy choux puffs) and buns fly off the shelves of this halal bakery. Each bom is beautifully crusted and decorated to reflect its filling, which can be anything from Nutella, Matcha, Salted Caramel and Biscoff Cheesecake to S'mores and even Passionfruit Mango.
Fun fact: As for the buns part of the equation, fans have said Boms & Buns make some of the most sinful cinnamon rolls in town.
Located at: 430, Upper Changi Road, #01-54 East Village, Singapore 487048 (map)
4. Fusion ice-cream
From the people who started Brine Singapore, a contemporary restaurant that uses French and Japanese techniques, comes a new gelato spot, Hay, Gelato. The joint just opened its doors on 6 Nov 2020. It also happens to be the R&D kitchen of Brine, so you can expect some pretty surprising gelato flavours from this kitchen: banana burnt butter, smoked hay (real hay is smoked and infused into the milk base), yuzu ginger and even truffle-infused gelato. Hoseh sedap!
Fun fact: The shop closes at 2am, and serves up their scoops on fresh, warm waffles all night long. So if you're a night owl and like a hot waffle supper, then you need to visit Hay, Gelato stat.
Located at: 136, Bedok North Ave 3, #01-148, Singapore 460136 (map)
---
SHOP
1. Peranakan garments
Experience a one-stop location to get all your Peranakan dressing needs. Rosetta Trading started out as a simple garment shop in 2001 and has since become a house of sarong kebayas and all the accessories you'd want to match. They proudly display beaded bags, shoes, kerongsangs, samfoos and of course, sarong kebayas in every colour imaginable.
Fun fact: If you're willing to shell out more, you can also request for a made-to-measure outfit.
Located at: 136, Bedok North Ave 3, #01-152, Singapore 460136 (map)

2. DE frame
Art and photography lovers who are on the lookout for the right people to delicately handle their artwork and images will want to visit DE Frame. The family-owned business in the heart of Bedok has been around since the 1980s. They have grown to specialise in museum-quality moulding and framing for fine art and photography.
Fun fact: More than just selling frames, these guys know how to preserve your artwork as well, offering conservation framing and acrylic displays for sculptures.
Located at: 3016, Bedok North Ave 4, #05-20, Singapore 489947 (map)
---
DO
1. Fitspo stuff
Conceptually, Heartbeat@Bedok is a place designed to meet the changing lifestyle needs of over 290,000 Bedok residents. The building is located at the intersection of major pedestrian nodes in the heart of Bedok Town Centre and offers barrier-free access, linkways to the Mass Rapid Transit (MRT) station and bus interchange, as well as nearby commercial malls. It's especially convenient for residents to come by to enjoy the facilities and participate in community programmes. The #kampungspirit never dies.
Fun fact: Besides housing a swimming complex, a sheltered tennis centre, a sports hall, a gym, a public library, a senior care centre and numerous retail outlets, Heartbeat@Bedok is also the proud recipient of the Good Design Award.
Located at: 11, Bedok North St 1, Singapore 469662 (map)


2. Bedok in the past
While the Bedok we know today is a mix of HDB heartland, small but intimate condos, hidden sprawling properties and a reclaimed beachfront, you can still explore the Bedok of old through the Bedok Heritage Trail. The trail, curated by the National Heritage Board, includes 10 points that cover the architecture and lifestyle of old Bedok. While the area is undergoing redevelopment again, in preparation for the Thomson-East Coast MRT line, you can still explore each point on foot or bicycle.
Fun fact: Although much of Bedok has been redeveloped to cater to modern lifestyle demands, Bedok and the East Coast are steeped in a history of life by the beach - think fishing, beach parties, and even pirates on the high seas.
For the latest updates on Wonderwall.sg, be sure to follow us on TikTok, Telegram, Instagram, and Facebook. If you have a story idea for us, email us at [email protected].