Malls of Singapore: Rooftop Parks Bring Nature Closer To Retail
We're on a mission to uncover what makes shopping malls in Singapore truly one-of-a-kind. Forget the typical weekend bargain hunting run, these places are packed with exciting experiences that'll keep you coming back for more.
When you think of shopping malls, lush greenery and fresh air might not be the first things that come to mind. But in our bustling garden city-state, malls are taking a leaf out of Mother Nature's book and bringing the great outdoors closer to retail therapy.
Picture this: You step out of an elevator on the top floor of a shopping mall, and suddenly, you find yourself in a lush oasis high above the city streets. On our Little Red Dot where green spaces can be limited, rooftop parks offer a breath of fresh air. Unwind and take a take a leisurely stroll among the foliage at these urban green escapes: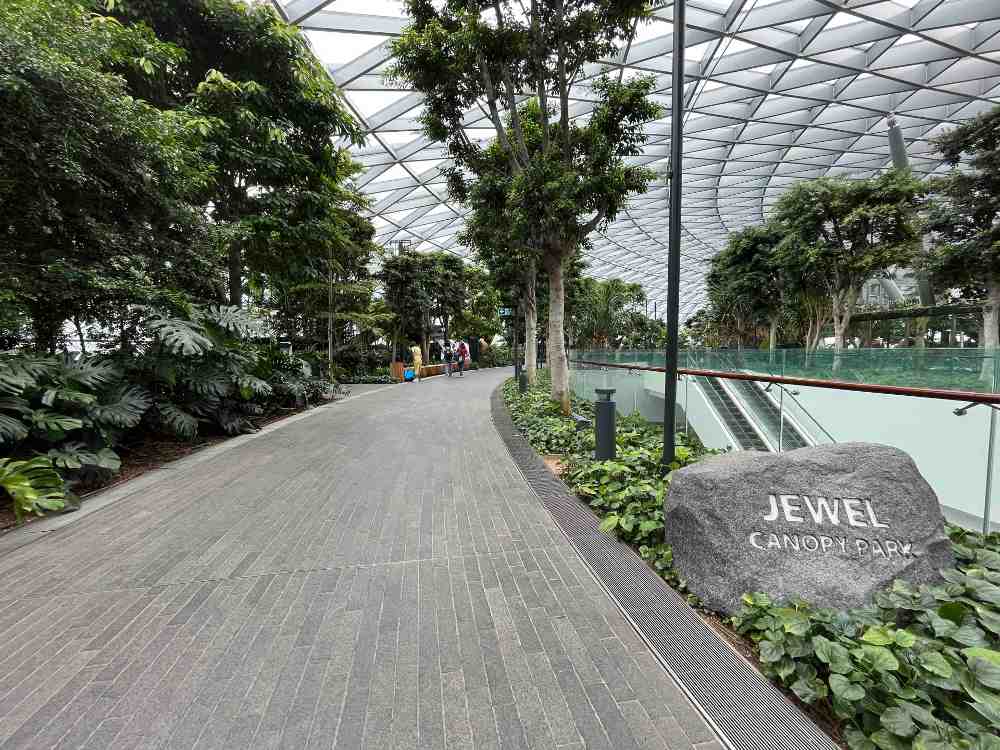 IMAGE: NICHOLAS YONG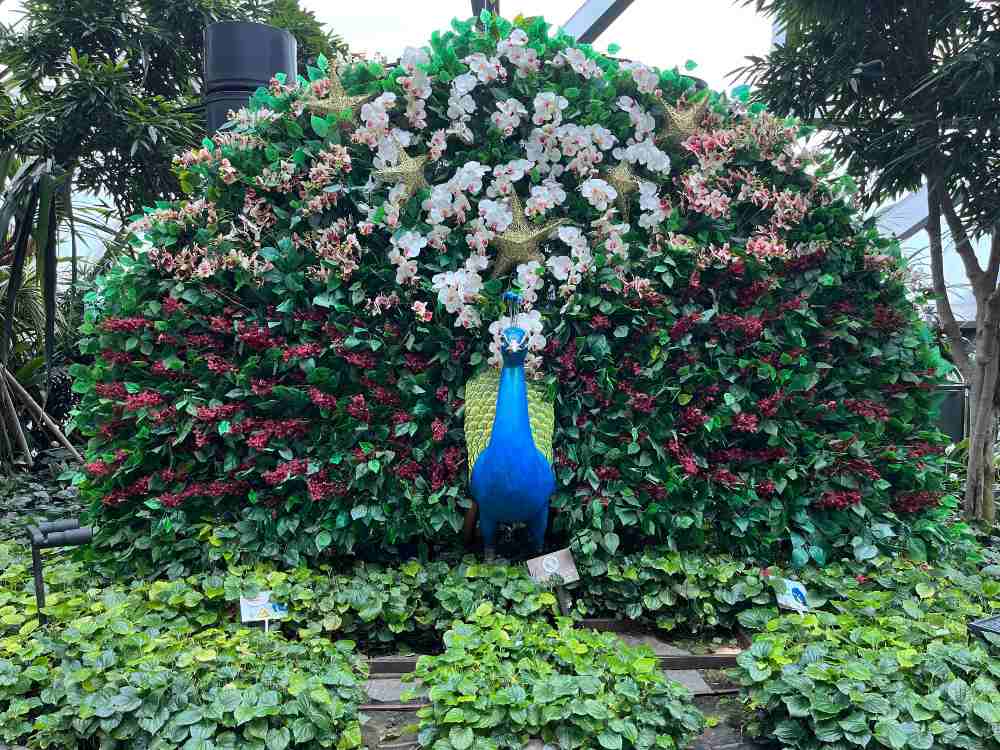 IMAGE: NICHOLAS YONG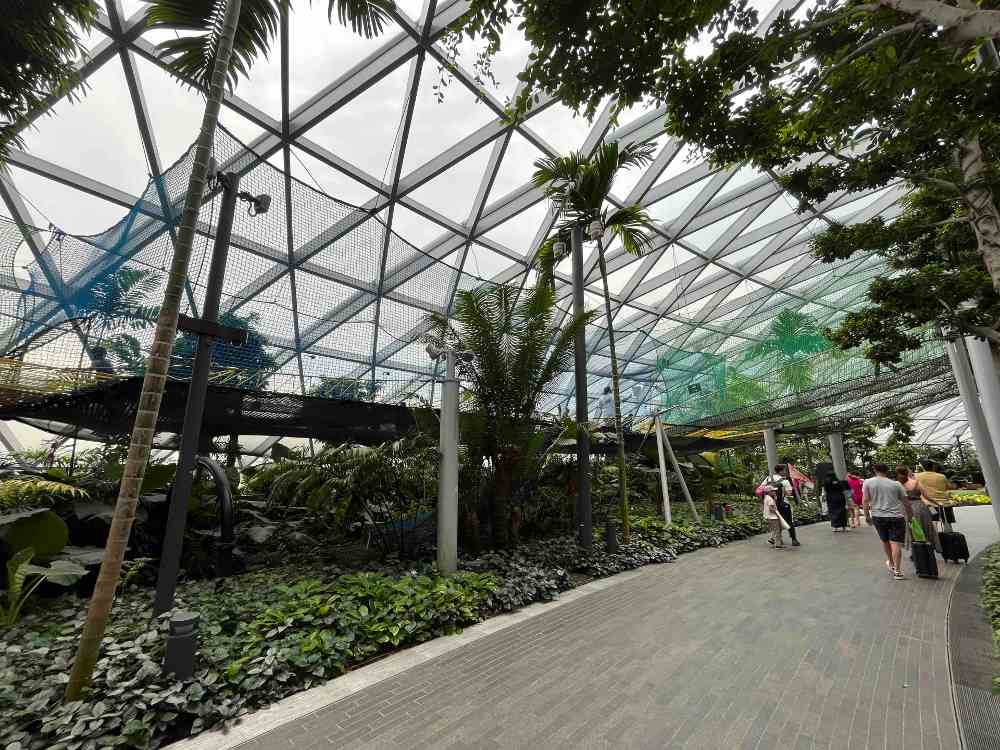 IMAGE: NICHOLAS YONG
1. JEWEL CHANGI AIRPORT
Canopy Park, level 5
Beyond the awe-inspiring "Rain Vortex," at the very top of this shopping mall is the Canopy Park, a sprawling 14,000sqm recreational wonderland. This rooftop gardens costs $8 ($6 for Singapore residents) to enter. It's a verdant haven if you're looking to immerse yourself (and your kids) in nature while shopping or waiting for your next flight.
Stroll along the enchanting Topiary Walk and take a picture with whimsical animal figures as your backdrop. For the little adventurers in your group, the Foggy Bowls is an artificial lawn adorned with sunken bowls that intermittently release a cool mist, creating an illusion of walking among the clouds. It's the ideal setting for games like hide and seek. Nearby, the Petal Garden beckons with a kaleidoscope of seasonal flowers from around the world, each with a unique colour and shape. It's a visual feast for flower enthusiasts and photographers alike.
If you're up for a bit more excitement and willing to splurge a little extra, the Canopy Park has a range of thrilling play attractions to offer. Challenge your wits in Singapore's largest hedge maze, spring and leap on the thrilling bouncing net, or test your balance on the daring walking net suspended 25m above ground. The package deal grants access to all these attractions for just $54 for adults and $39 for children. Alternatively, you can pick and choose your preferred attraction if you're after a specific thrill.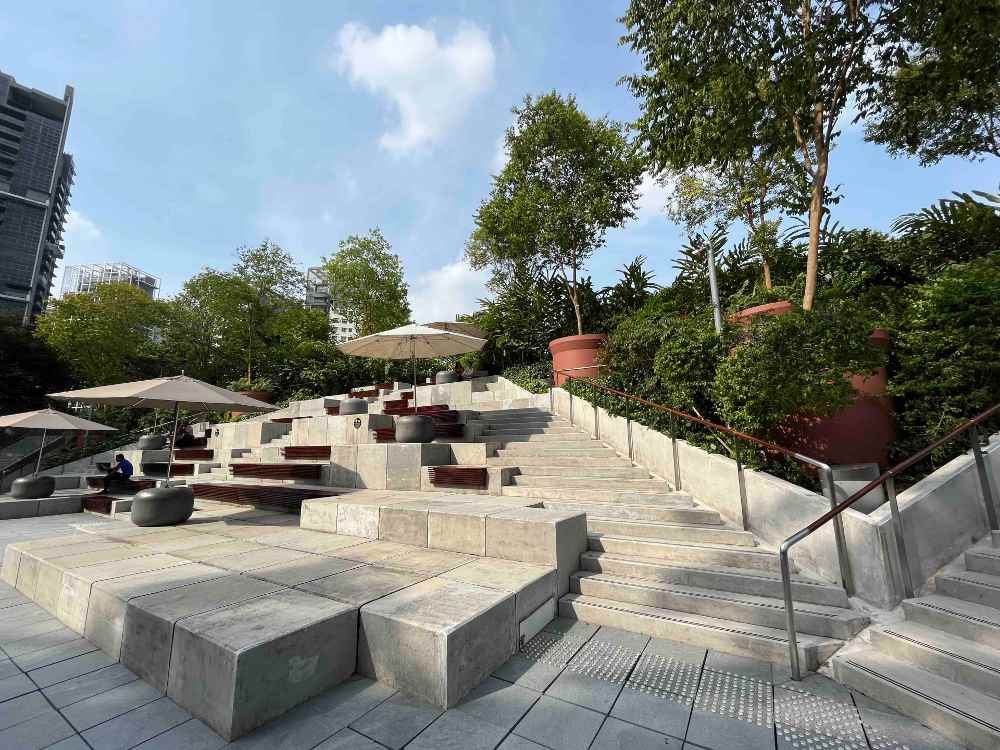 IMAGE: NICHOLAS YONG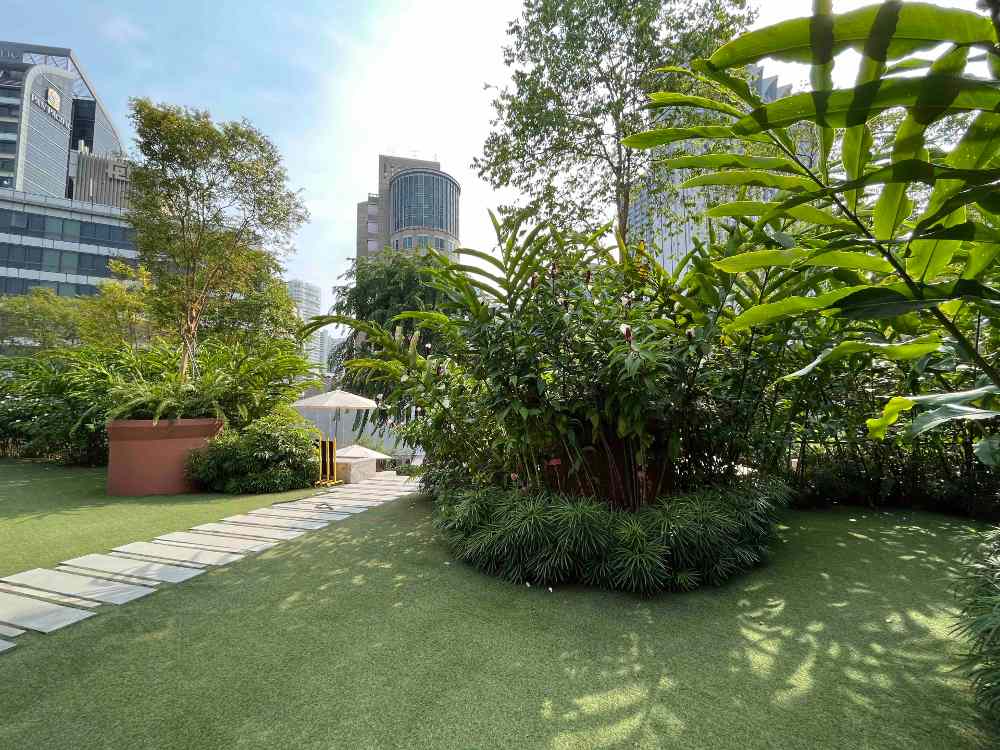 IMAGE: NICHOLAS YONG
2. DESIGN ORCHARD
Open amphitheatre and rooftop garden
Design Orchard is a treasure trove for fashionistas and design enthusiasts. Located in the heart of Orchard Road, this 2.5-storey mall showcases Singaporean fashion brands and up-and-coming local designers. But what makes this place extra special is its rooftop garden.
To get directly to the rooftop (and add to your recommended daily 10,000 steps), ascend the staircase, conveniently located near the entrance, and prepare to be captivated by an amazing view of Orchard Road. As you step onto the rooftop garden, you'll discover a sprawling open amphitheatre designed for events, with numerous comfortable seats to relax and chill out.
If you enjoy a good cuppa, head to the top of the park to find NOWAFTER, a charming Korean-themed coffee shop. We recommend you order their Uji Matcha and Black Cocoa Vanilla Latte, paired with their Charkey Bun or the Blackmisu.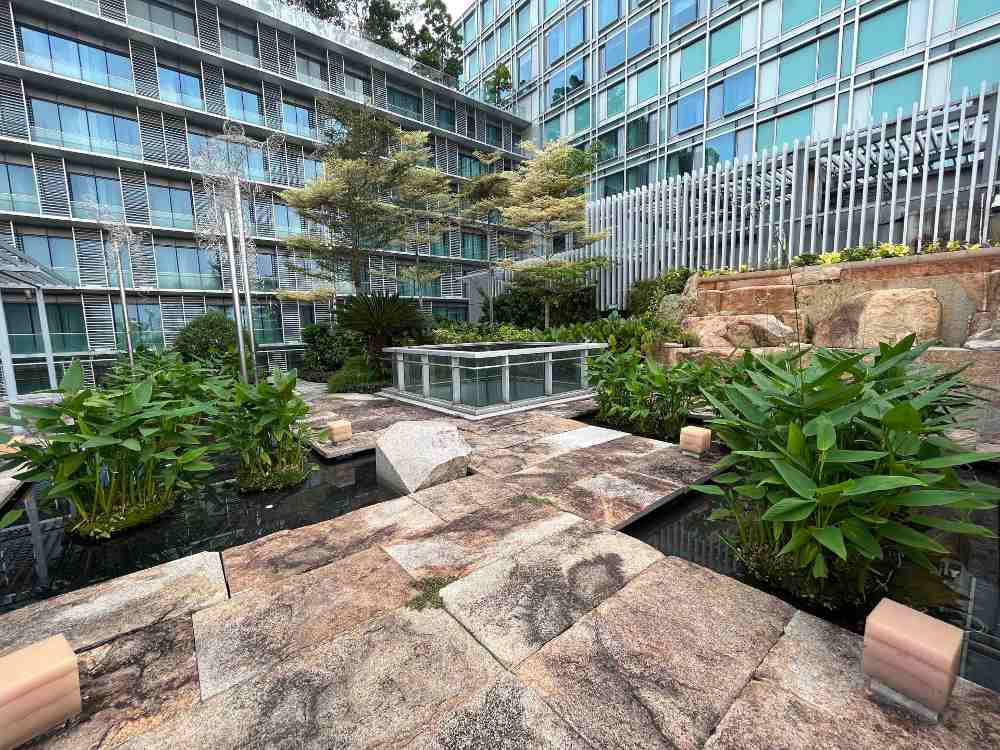 IMAGE: NICHOLAS YONG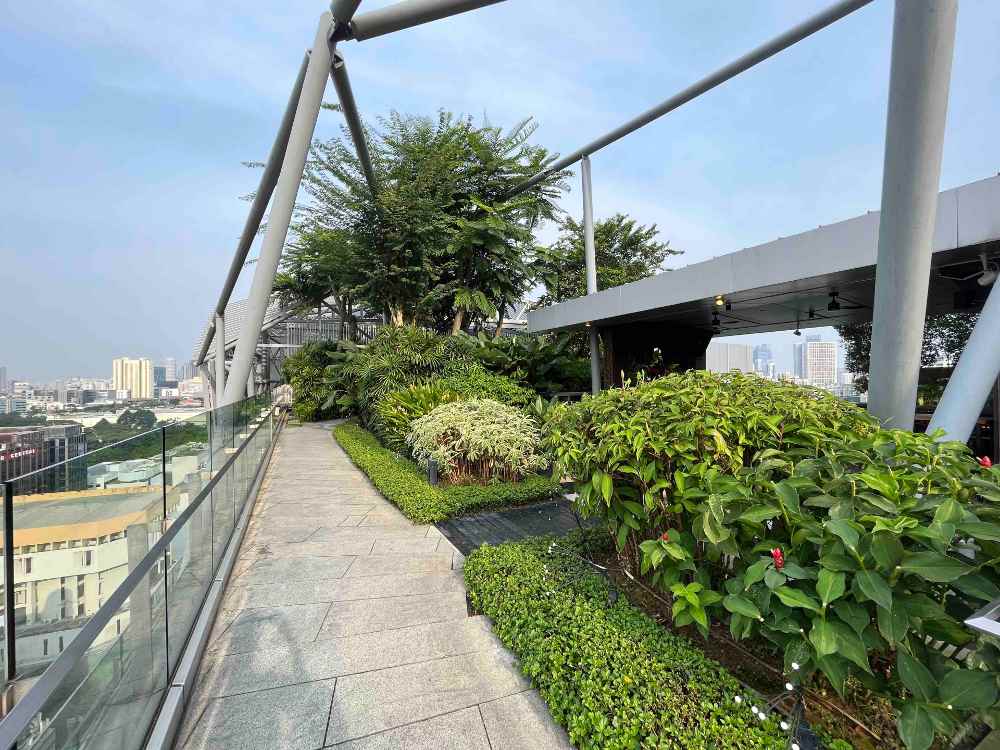 IMAGE: NICHOLAS YONG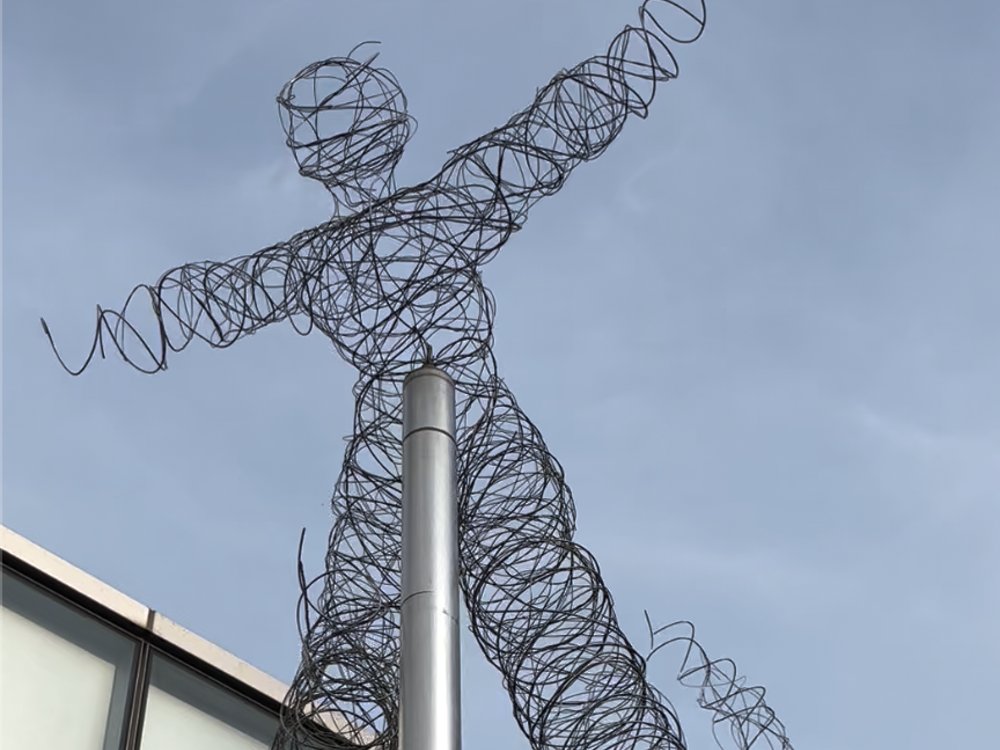 IMAGE: NICHOLAS YONG

3. ORCHARD CENTRAL
Rooftop garden, level 11 and 12
Orchard Central is home to exciting additions like the first-ever Van Leeuwen Ice Cream shop in Singapore, but did you know it has a rooftop garden? Simply hop on the elevator to the 11th floor, then take the escalator up.
Enveloped by lush foliage and accompanied by soothing water features, Orchard Central's rooftop garden is an idyllic refuge and the perfect place to recharge during your shopping spree. While you explore, keep an eye out for a series of striking steel art sculptures crafted by Victor Tan, aptly titled "The Stair, The Clouds, and The Sky". These captivating human-shaped sculptures are thoughtfully placed throughout the park.
There are two makan spots here: book a table at Joie for delicious meatless cuisine with a rooftop garden view, or jio your friends for drinks at Helen's, the first Singapore outlet of China's largest pub chain.
For the latest updates on Wonderwall.sg, be sure to follow us on TikTok, Telegram, Instagram, and Facebook. If you have a story idea for us, email us at [email protected].