Malls Of Singapore: These Places Double As Book Havens
We're on a mission to uncover what makes shopping malls in Singapore truly one-of-a-kind. Forget the typical weekend bargain hunting run, these places are packed with exciting experiences that'll keep you coming back for more.
Beyond the rows of fashion boutiques, dining spots, and endless entertainment, some of our shopping malls have havens for bookworms and literature enthusiasts. These mall libraries are not just quiet nooks but vibrant hubs of knowledge for everyone, waiting to be explored. Join us on a journey through some of Singapore's malls that house these literary gems. Who knows, you might just discover your new favourite book!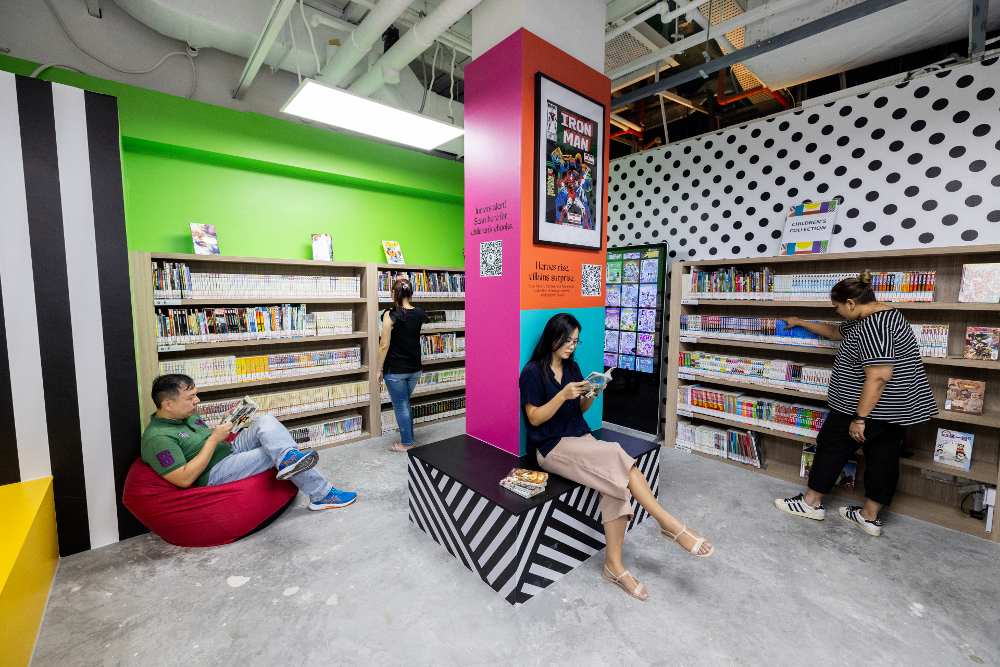 IMAGE: NATIONAL LIBRARY BOARD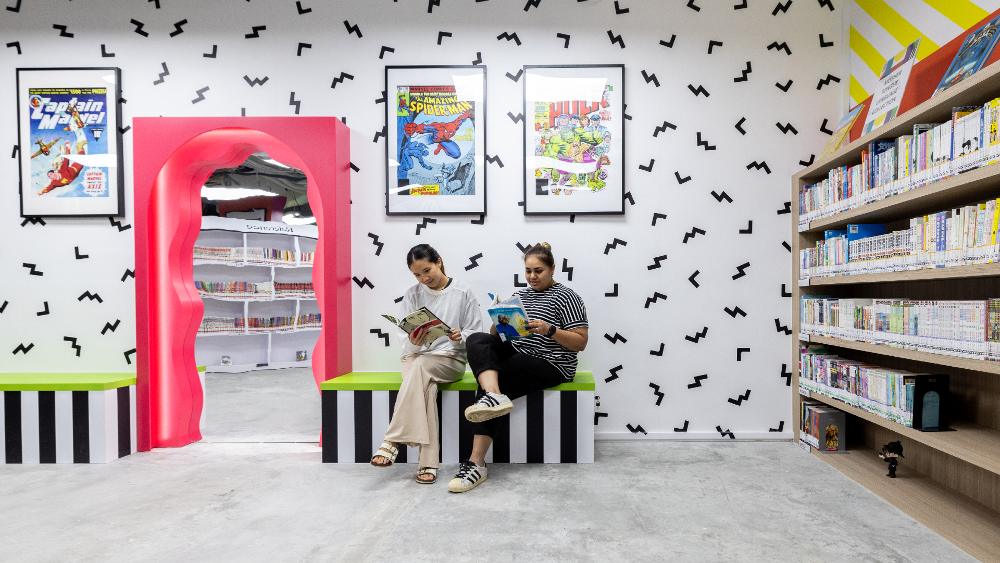 IMAGE: NATIONAL LIBRARY BOARD
Anchorpoint
The Comics Library
A must-visit for comic aficionados! This new pop-up Comics Library, opened on 22 Sep and located on the first floor of Anchorpoint near the mall's main entrance, is home to 7,500 comics and manga. National Library Board (NLB) aims to expand this number to over 11,000 titles by early 2024 – this diverse assortment will include 9,500 books in English, 800 in Chinese, 400 in Malay, and 400 in Tamil, catering to readers of all ages and backgrounds.
The library boasts not only the books from the original pop-up Manga Library in City Square Mall (which opened in February and closed in August), but also a vast collection of renowned comics and graphic novels, including your favourite Marvel and DC heroes.
Beyond physical books, the Comics Library offers a Wallpaper Library equipped with QR codes for accessing e-book collections in comics, graphic novels, and manga genres, along with two e-Read screens for instant access to popular manga and comic e-titles.
Faster! Visit it before it closes in a year.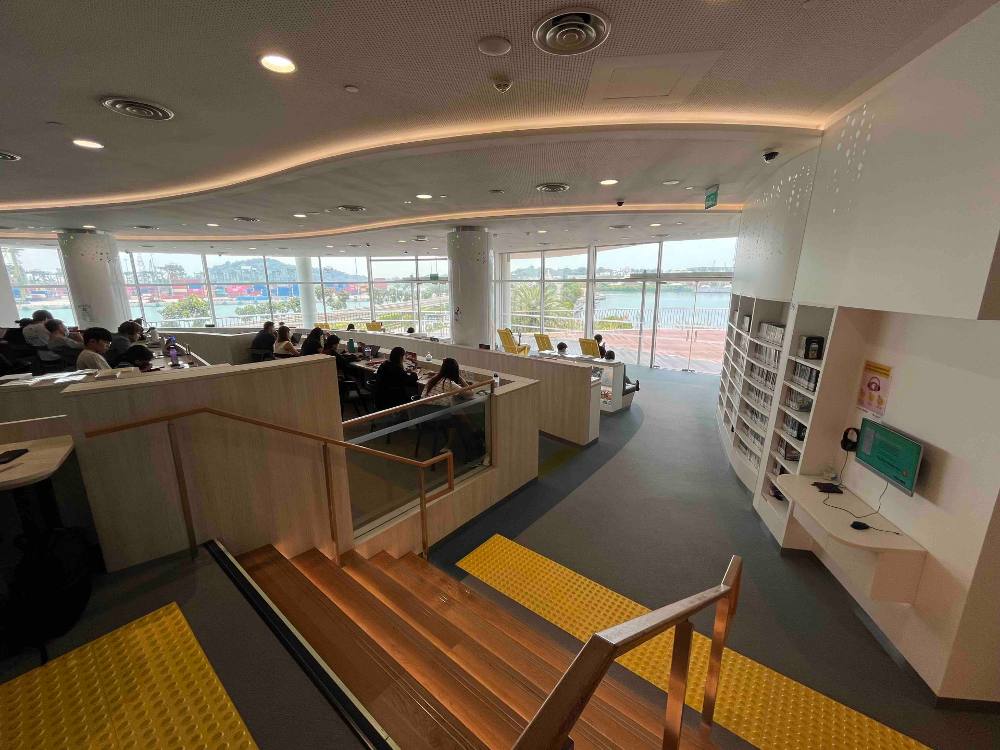 IMAGE: NICHOLAS YONG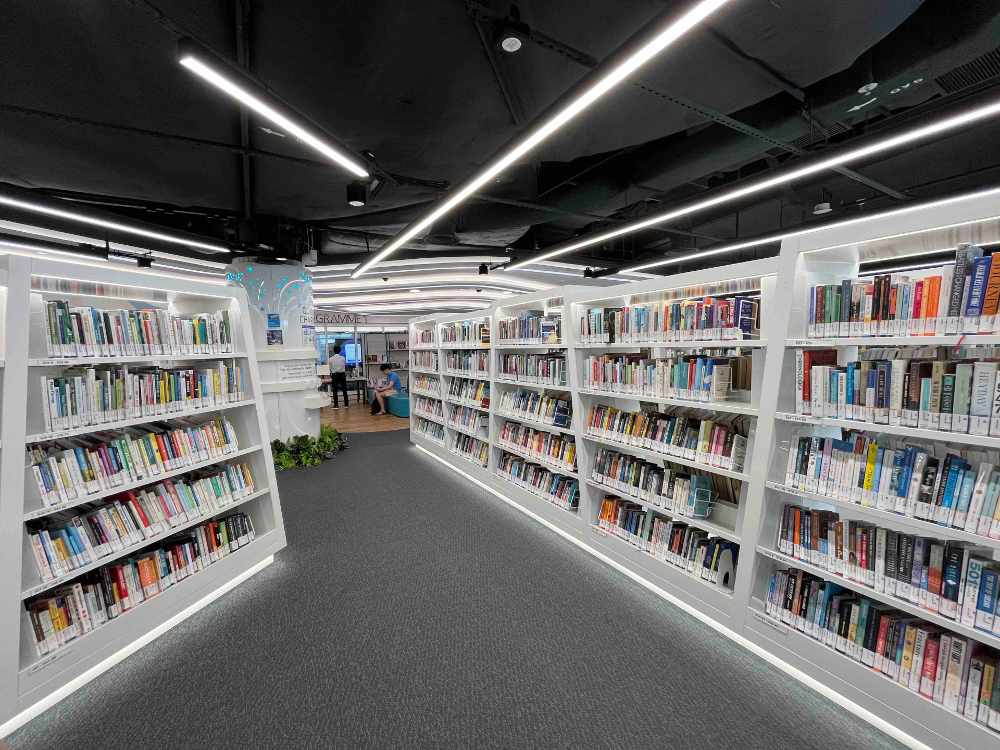 IMAGE: NICHOLAS YONG
VivoCity
library@harbourfront
Overlooking Sentosa, library@harbourfront was officially opened on 12 Jan 2019 by Mr S Iswaran, then-Minister for Communications and Information. This library houses over 200,000 books across two distinct zones – one for adults and teens, and the other for children. The collections are managed by volunteers who regularly assist with book shelving and various activities.
This is the only library in Singapore where you can unwind with a good book on a bright yellow deck chair while gazing out at the breathtaking sea view – just like reading on the beach (but with air con and no annoying sand).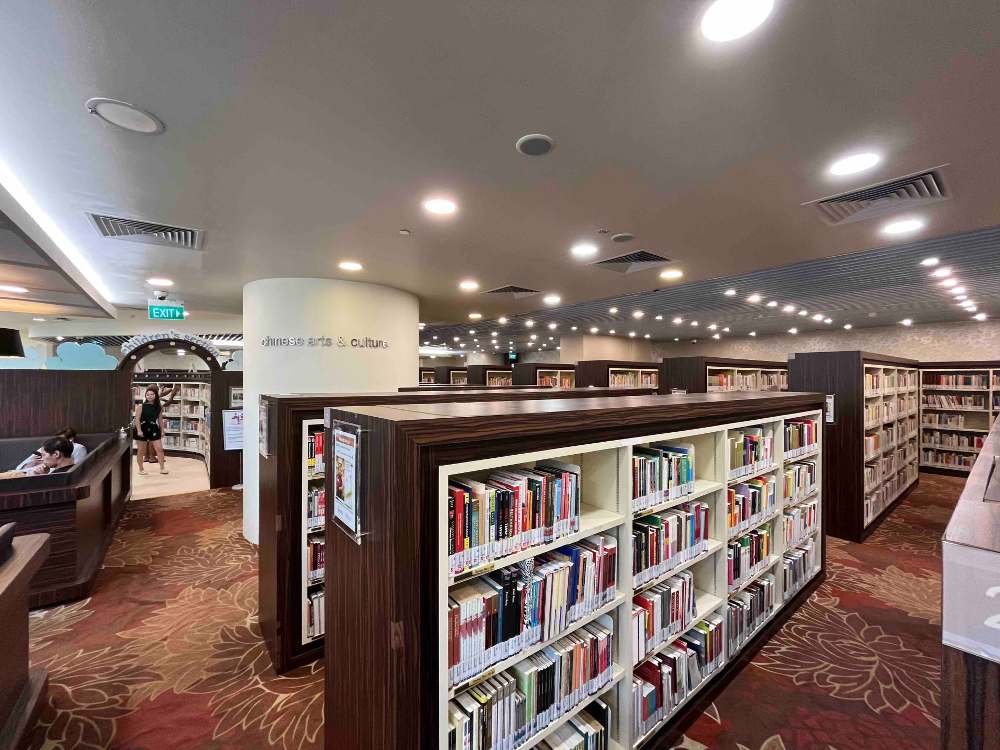 IMAGE: NICHOLAS YONG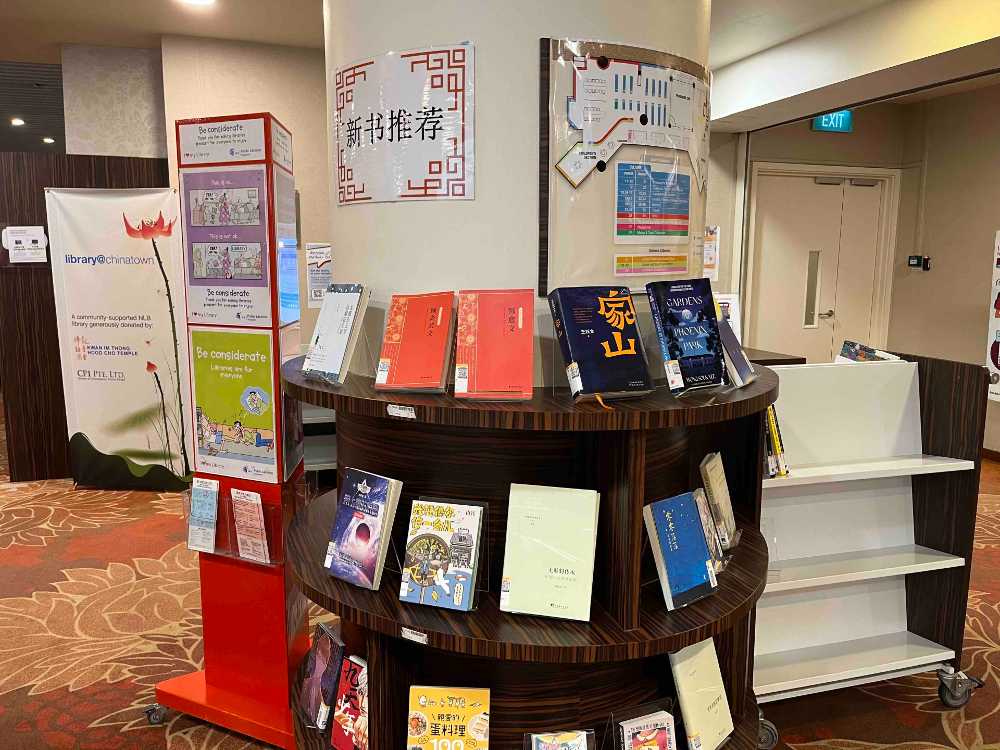 IMAGE: NICHOLAS YONG
Chinatown Point Shopping Centre
library@chinatown
For those intrigued by Chinese arts and culture, a visit to library@chinatown on Level 4 is a must. This volunteer-run library, officially opened on 31 Jan 2013, owes its existence to the generous sponsorship of CP1 Pte Ltd and Kwan Im Thong Hood Cho Temple.
The temple's annual contributions continue to enrich the library's collection with fresh materials, offering a diverse array of cultural, heritage, and literary programmes. You'll even find materials in commonly spoken Chinese dialects like Hokkien, Teochew, and Cantonese.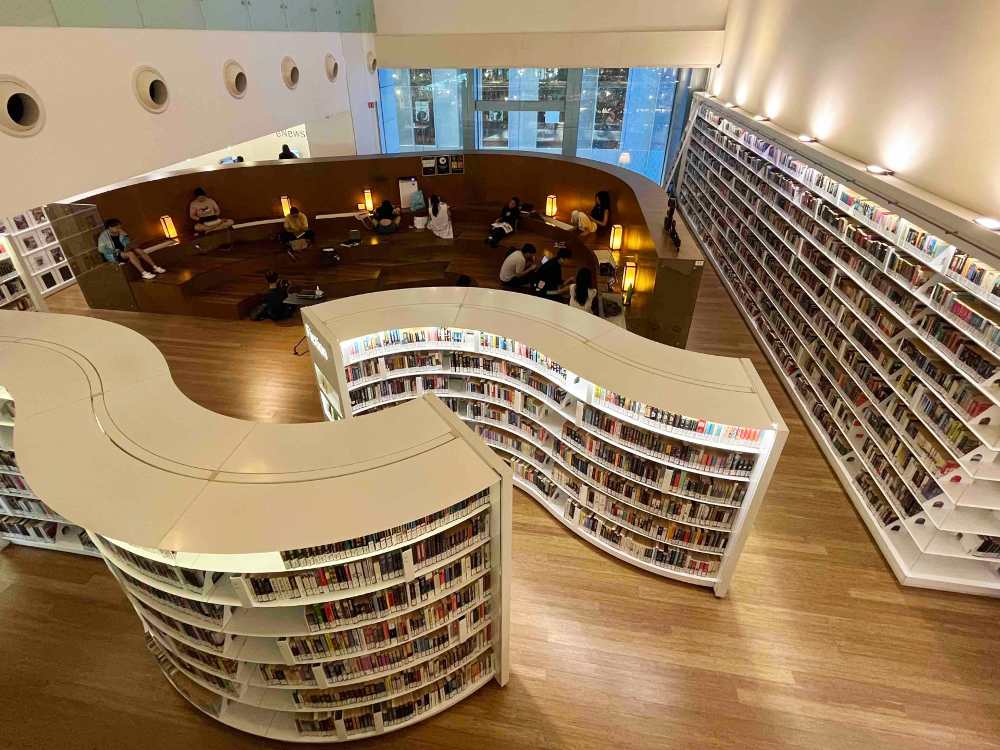 IMAGE: NICHOLAS YONG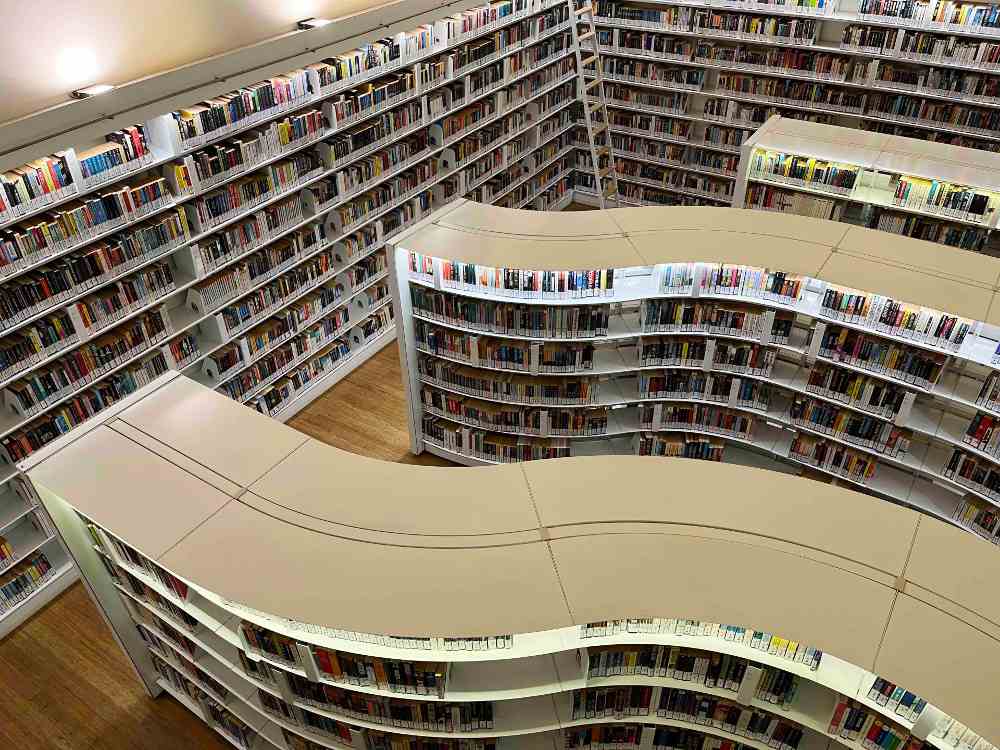 IMAGE: NICHOLAS YONG
Orchard Gateway
library@orchard
Arguably one of the most Instagram-worthy libraries in Singapore, library@orchard is a design-focused public library. Launched on 23 Oct 2014 by then-Minister for Communications and Information Dr Yaacob Ibrahim, this library received the Design of the Year award under the President's Design Award Singapore 2015. It was also the first double-storey library located within a shopping mall.
The library's concept was born from a Design Thinking framework, with the Studio (located on L3) designed for co-creation and community learning, and the Loft (on L4) for inspiration, reflection, and contemplation. See if you can snag one of the private enclosed seats for an uninterrupted reading experience.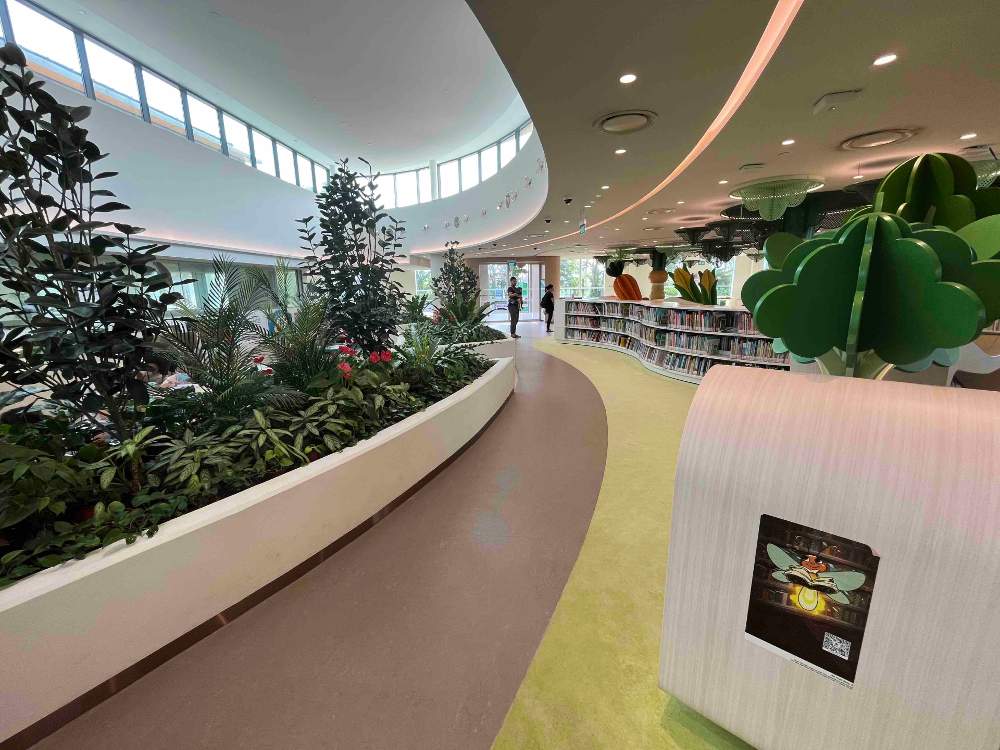 IMAGE: NICHOLAS YONG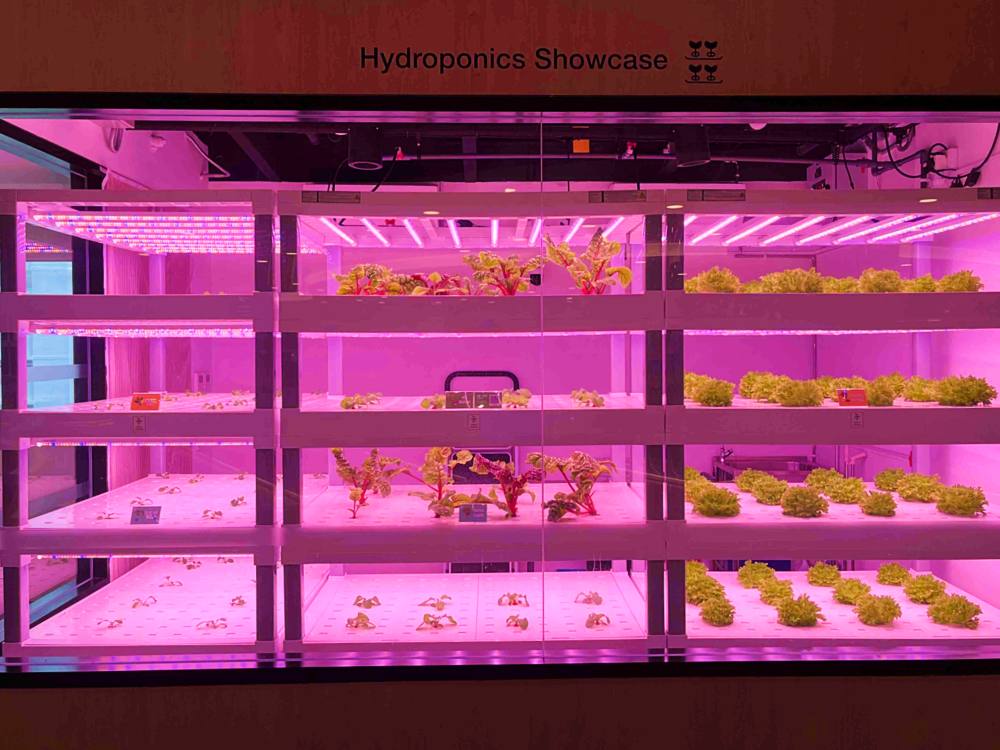 IMAGE: NICHOLAS YONG
Lot One
Choa Chu Kang Public Library
Choa Chu Kang Public Library is NLB's first sustainability-themed library. While it initially opened its doors on 22 Feb 1997, the library underwent extensive renovations in 2019. It was officially reopened on 27 Oct 2021 by Mrs Josephine Teo, Minister for Communications and Information.
The revamped library is approximately 30% larger than before and draws inspiration from the nearby farming communities. It boasts an indoor garden and a hydroponics showcase, growing real veggies. The library also hosts urban farming workshops and offers sustainability-related programmes covering topics like global warming and recycling.
IMAGE: NICHOLAS YONG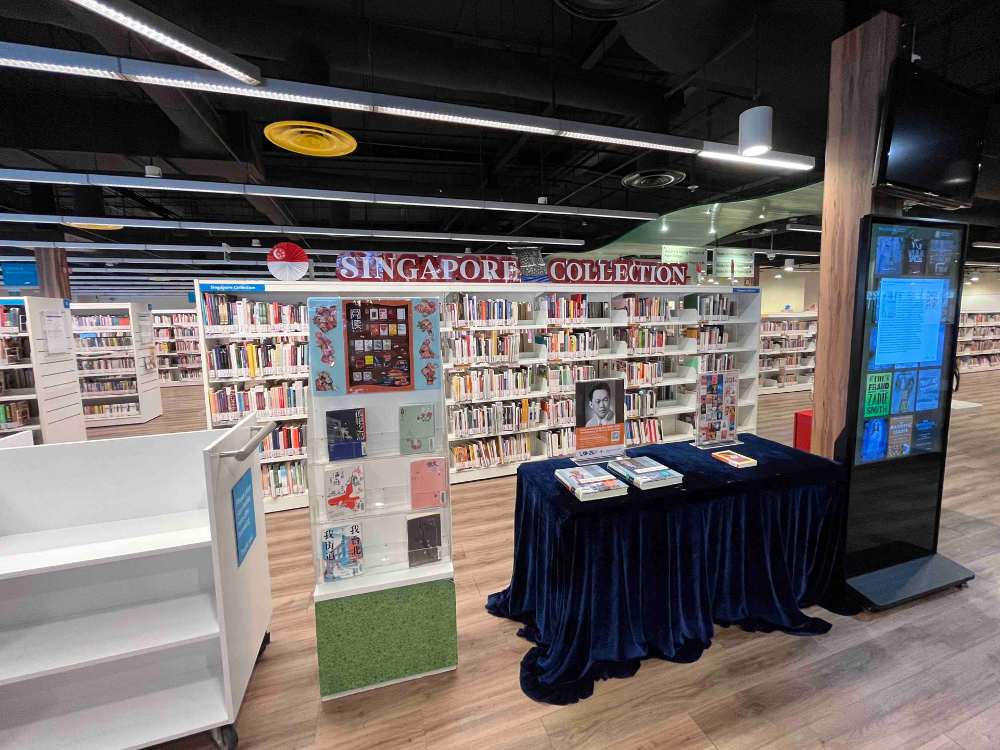 IMAGE: NICHOLAS YONG
NEX
Serangoon Public Library
The first public library in Singapore on a rooftop, Serangoon Public Library opened its doors on 11 Mar 2011. To get to this library, use the escalators on L4 near Food Junction.
Among the quieter libraries in Singapore, Serangoon Library boasts a fine collection of comic books and Singlit books, plush and comfortable chairs, and even a convenient charging station. It's the perfect spot for peaceful reading. Visit in the evening for a scenic view of the Serangoon neighbourhood.
For the latest updates on Wonderwall.sg, be sure to follow us on TikTok, Telegram, Instagram, and Facebook. If you have a story idea for us, email us at [email protected].