Paws And Relax: 6 Tips For Staying In An Airbnb That Has Pets
When you travel to a foreign country, searching for the ideal type of accommodation is crucial. And nowadays, Airbnbs are all the rage because they usually have a few advantages over hotels - think: more space, better amenities, kitchens, lower cost, a washer & dryer, and more.
Sometimes, if your choice Airbnb comes with pets, things can get a little tricky. Of course, if you're an animal lover, there's a good chance that living with pets is an added bonus. But if you're neutral about them, or even dislike them, then you may need a bit more help in learning how to share a space with all sorts of non-human companions.
Having stayed in an Airbnb apartment in San Francisco for two months - slightly smaller than a modern 3 room HDB - with not just one, but two dogs, I can safely say that I've gained some valuable insights into sharing a living space with pets. Here are 6 tips that would be beneficial to anyone deciding whether to book an Airbnb with pets.
Tip #1: Communication is key
After you've found your top Airbnb pick, drop the host a message to ask and clarify any questions you may have that have not been answered in their listing details. Don't be afraid to ask as many questions as needed, and be clear about your preferences. Some examples include:
"Are there certain areas your pets are not allowed in?"
"Are they potty trained?"
"Are they allowed to be eat anything other than their given meals?"
"I am okay with your pets, but I would prefer if they be kept in a separate area of the house. Is that possible?"
Keeping an open channel of communication between both parties ensures that a positive relationship is built from the get go, and there's a higher chance you'll have a comfortable experience there. Circumstances may always evolve, so being able to discuss and compromise with your host will definitely help in resolving any hiccups along the way.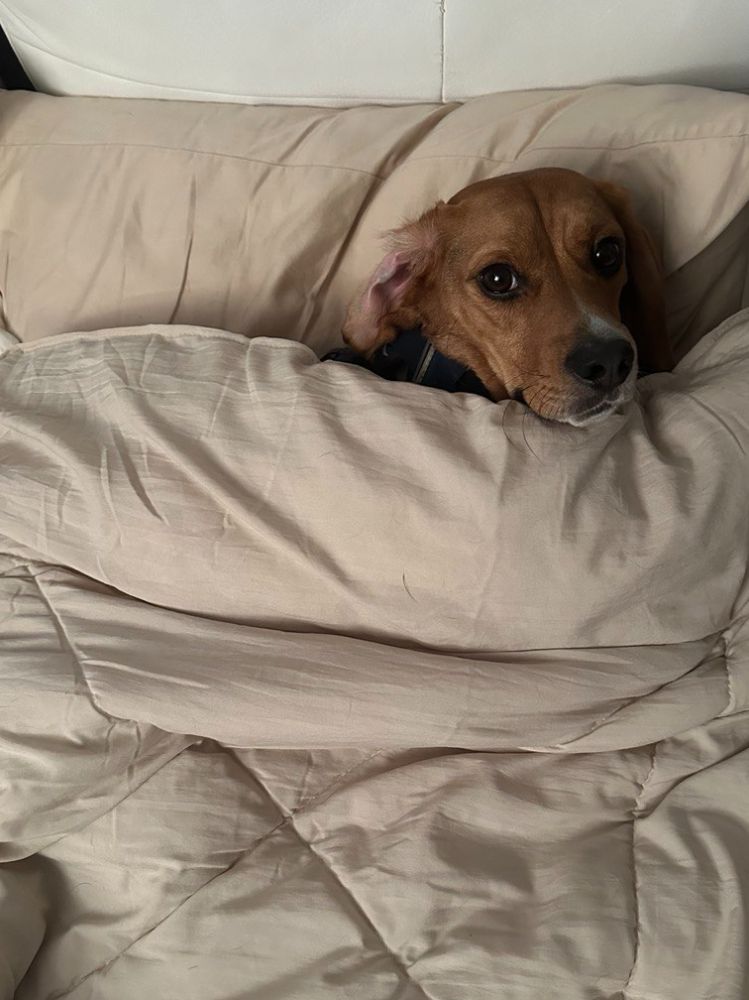 The male beagle, Oscar, settling in comfortably where I sleep. | IMAGE: NG KAI
For my stay, the dogs - both were beagles - were well-trained, so they did not enter my room without permission. However, they were irresistibly cute, so I not only let them into my room, but even on the bed. I even spent some nights sleeping with them on the bed - yep, we got that comfortable.
All that happened only after I asked for their owner's permission of course, because remember, communication is 🔑
Tip #2: Go the extra mile if you can
As a guest, no way would you be expected to be responsible for taking care of the pets. But if you're an animal lover like me, and the opportunity presents itself, why not?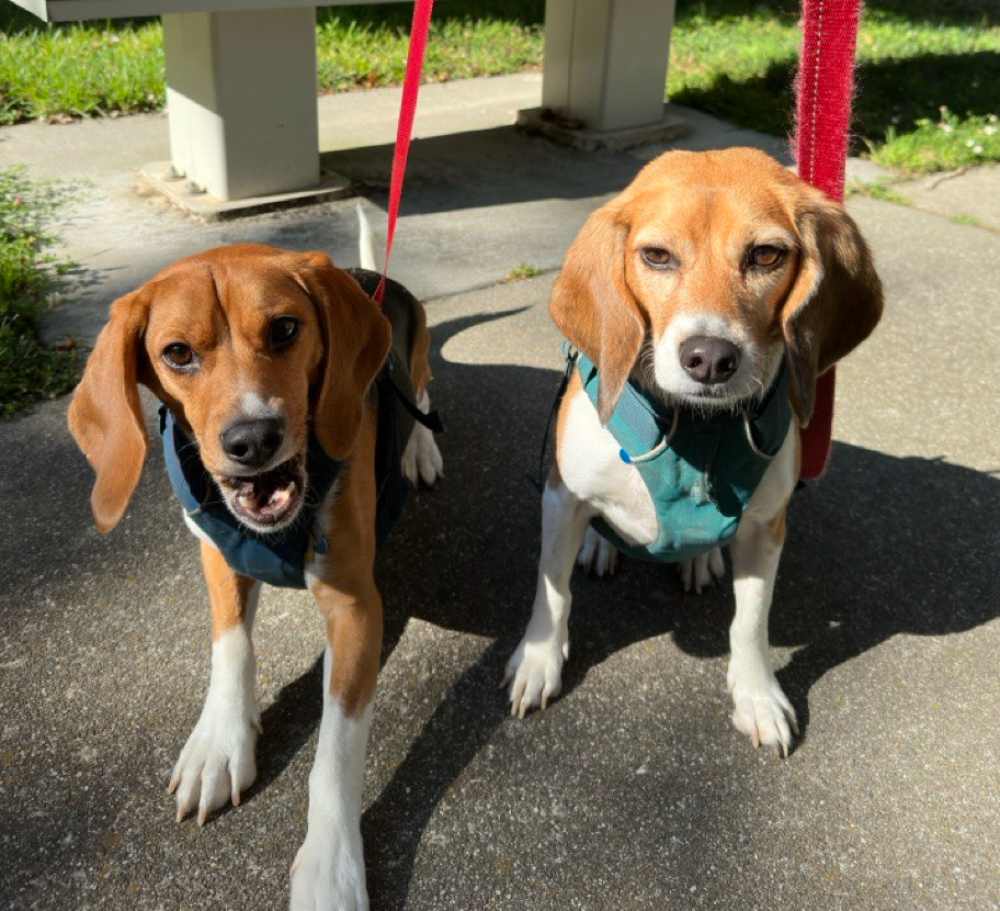 IMAGE: NG KAI
I happened to be home one day when my host's usual dog sitter was unavailable at the last minute, and my host was at work. She very kindly asked I was home and free to help her this once, and of course I jumped at the opportunity to take her beagles out for their midday walk.
Since then, I would always initiate (very willingly) to help her walk them if she was at work and I had the time to do so. Seeing her dogs so well taken care of definitely scored some brownie points, and we became good friends by the end of my stay. And months later, we still text via Whatsapp to send each other updates about our lives!
Tip #3: Respecting the house rules
As a guest in someone else's home, following (reasonable) rules laid down by the homeowner will make the stay a much more smooth sailing one. They may have specific rules to protect their pets, and to protect you as well.
For example, you should not leave food unattended within reach of their pets. After all, most human foods can be toxic to most pets (chocolates are a dog's kryptonite), and you would not want to be responsible for endangering the lives of your host's treasured fur babies. The rules are there for a reason, so it's best just to follow them, or feel free to clarify with your host.
Tip #4: What if the pets dislike you?
If the pets don't take well to your presence, then you should avoid interacting with them. There's no need to be a ninja around the house, but just leave them to their business. And if you need to go into a shared space with them, try and make sure the host is there as well to keep the peace if needed.
Tip #5: Thank the host for their hospitality
Thanking your host is not just courteous; it's a way of expressing appreciation for their hospitality and the effort they have put into making your stay comfortable. It can also contribute to a favourable review - Airbnb allows guests and hosts to rate each other - which is beneficial for both parties.
It could be something as simple as a handwritten note, or a small gift for the host (and their pets!). I purchased a ceramic key holder in a gift shop for my host (since she was always losing her keys) as a "thank you" gift, and of course, gave her beagles plenty of love. She loved it!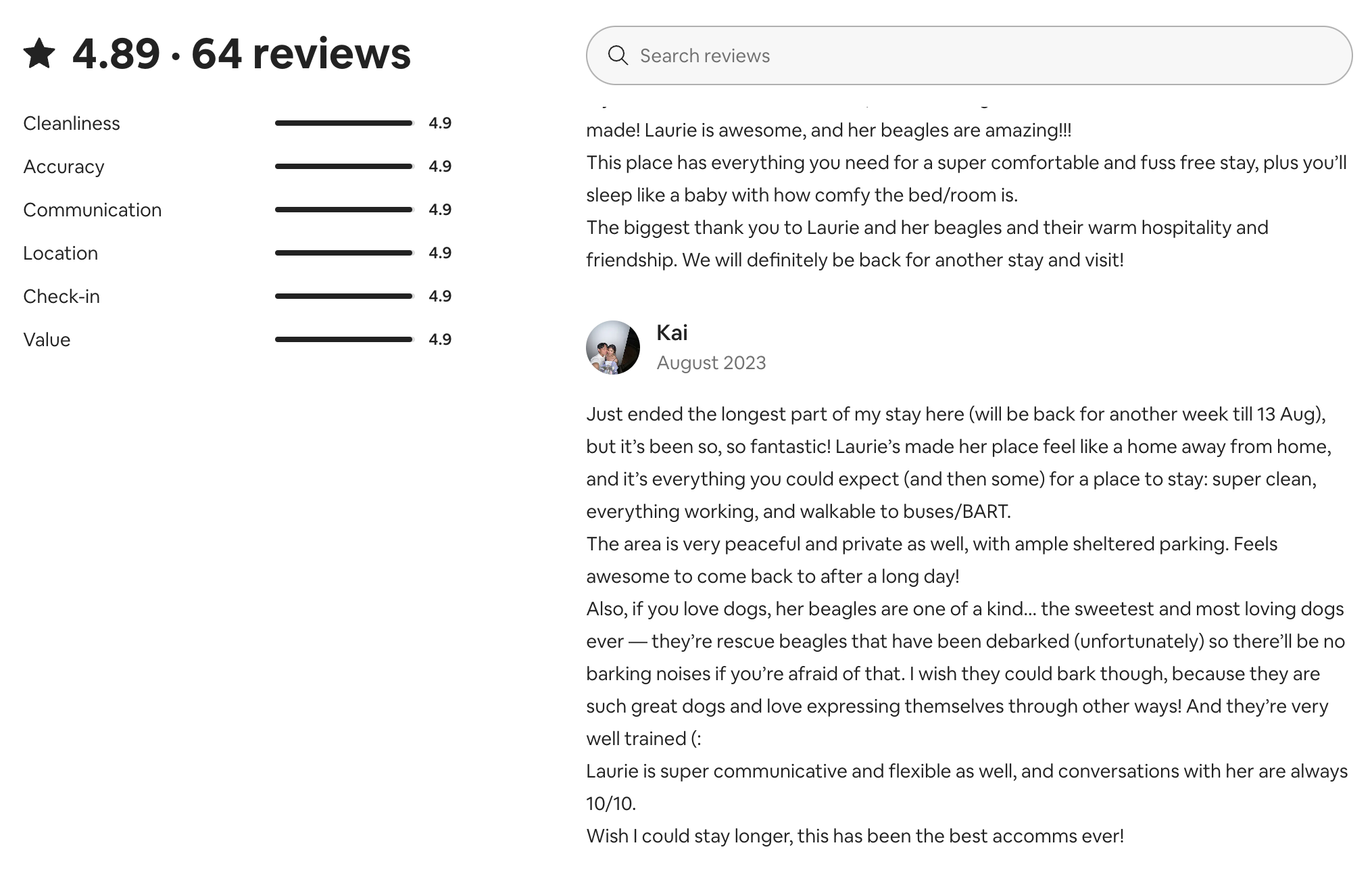 If you had a pleasant experience (like I did), take the time to leave a glowing review. | IMAGE: SCREENSHOT FROM AIRBNB
Tip #6: Leave a positive review
A good review goes a long way - for both you and your host. Future travellers can read the experiences of past guests and have a better understanding if the Airbnb is ideal for them. This helped me immensely because after reading the reviews of people who have stayed at my host's place before, they answered most of the questions I had for my host, and solidified my decision to pick her Airbnb.
For yourself, accumulating favourable reviews from hosts means other homeowners know you are a polite and respectful guest. It'a a win-win situation for everyone.
For the latest updates on Wonderwall.sg, be sure to follow us on TikTok, Telegram, Instagram, and Facebook. If you have a story idea for us, email us at [email protected].