8 Singapore Things From The 1990s That Will Make You Think WTF If You Are 25 And Younger
Can you guess what these are… without reading on? And no cheating the modern way by asking Google.
What it is not: A periscope that lets you finally see which neighbour keeps dropping cigarette butts onto your bedroom window ledge.
What it is: An overhead projector, also once lovingly known across classrooms by its acronym OHP. If you had to do presentations in class, you would write down your points (in stinky and probably very toxic-for-your-lungs marker pen ink) on transparency paper, place it on the OHP and "flash" it on the pull-down white screen at the front of the classroom.
And, oh yes, switch off the lights before you do so.
In fact, OHPs were so popular and important that some teachers would even appoint an OHP monitor whose lofty job was to wheel the machine into class, clean finger smudges off the screen and turn it on.

What it is not: Tonight's confirm-strike 4D first prize number.
What it is: A free service (though a 10-cent fee was charged per call later on) with a robotic voice that read you the time. We tried calling 1711 on our 2019 iPhones and the call failed. Well, thank goodness we have the clock function on our phones now!
What it is not: The latest credit cards that let you chalk up instant air miles.
What it is: Public phone cards. Before we had smartphones, we had to scout for a public phone (which usually came with a really smelly, overused receiver that had been infused with the saliva and ear grease of, like, 156,953 people) to call home if we were going to pop by a Sparks tea dance and bust our 5pm Saturday curfew.
Older, uncool people fumbled for coins – and had to keep slotting more in if they were making a really cheong hei call – but the young, hip ones had telephone cards, some of which can now fetch a pretty price on Carousell. Each time you made a call with these cards, a tiny prick would be punched on their back.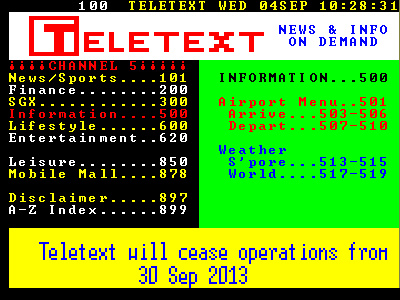 What it is not: Your app coding screen. Or your laptop getting a virus from that free video streaming site you visited last night.
What it is: Teletext. This analogue information service by MediaCorp was discontinued in 2013 but we have a suspicion that nobody except retirees timing the stock market used this very much after the 1990s. You could check your share prices, catch up on breaking news, look at flight schedules and even tally Toto numbers. Yes, pretty much like the Internet but on a very limited scale and in retro, primary-colour, pixelated fonts.
What it is not: True Singapore ghost stories.
What it is: True Singapore Ghost Stories. While these bestselling books spooked us a lot when we read them as young kids (and for some time, made us stay home after 7pm), we now think that the tales sound a lot like the urban legends that we always hear happened too to our neighbour's nephew's girlfriend's uncle's grandmother.
What the ghost-writing team did extremely well: producing localised content because while we don't give a damn about angmoh vampires in 500-year-old castles or flesh-eating zombies in Texas, we still get goosebumps thinking about mysterious long-haired Chinese women in HDB lifts at 3am or industrial estates that are rumoured to house lost coffins.
What it is not: The latest G.O.T sequel blockbuster tome by George R. R. Martin.
What it is: Yellow Pages. Every home in the 1990s had this and you would also find dog-earred copies of it at public phone booths. Inside, you could find the addresses and phone numbers, in alphabetical order, of almost any service you needed – from T-shirt printing manufacturers to florists, hair salons to kindergartens. Naturally, each book weighed a lot and could cause some serious injury if it fell onto your foot. We are so grateful that Google weighs a lot less now.
What it is not: The world's thinnest drone (and with a hologram effect at that!).
What it is: A laser disc. These supersized frisbee-like circles elevated your humble home entertainment system in the 1990s and were particularly popular for movies and karaoke warbling (the latter often came with dodgy, pirated music videos of scantily clad ladies holding onto tree branches or running along empty beaches). They were HUGE which meant you had to handle them with a lot of care because there was just so much more surface area to scratch (with your long pinkie nail)… and damage.
What it is not: The name of an Asian buffet restaurant chain.
What it is: Asia Bagus was the title of a 1990s Asian talent show on TV hosted by the effervescent Najip Ali and Tomoko Kadowaki and broadcast on Channel 5 (during an era when families actually fought over what to watch on TV in the living room). Something like a predecessor of Singapore Idol or The Voice Asia. A couple of the more famous names from it included Nisa Lin from Taiwan and Singapore's Construction Sight featuring Sheikh Haikel and Ashidiq Ghazali.
For the latest updates on Wonderwall.sg, be sure to follow us on TikTok, Telegram, Instagram, and Facebook. If you have a story idea for us, email us at [email protected].