Here's Your Chance To Get Your Hands On NHB's Rabbit Hongbaos - Hop To It Now!
After last year's roaringly adorbs tiger hongbaos, the National Heritage Board (NHB) is back with another set of red packets just in time for this Lunar New Year of the Rabbit. The 39 different designs represent museums, heritage institutions and galleries all over our Little Red Dot.
Being spoilt for choice can lead to option paralysis. So, in line with our New Year's resolution to be more decisive and organised, we've grouped them into fun categories, so that we can appreciate this year's hongbao designs 兔-gether in a more easily digestible and systematic way.
Huat ah!
---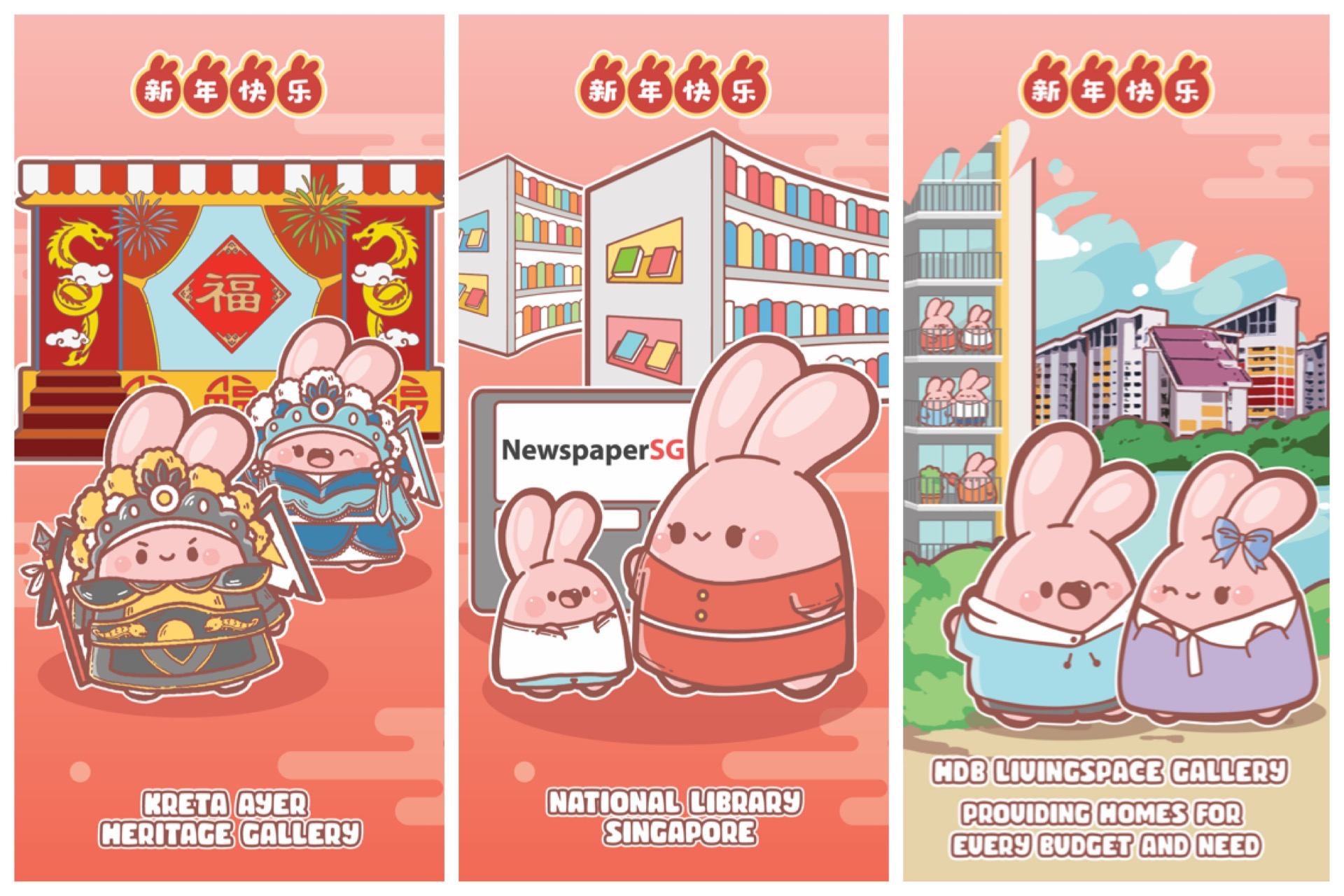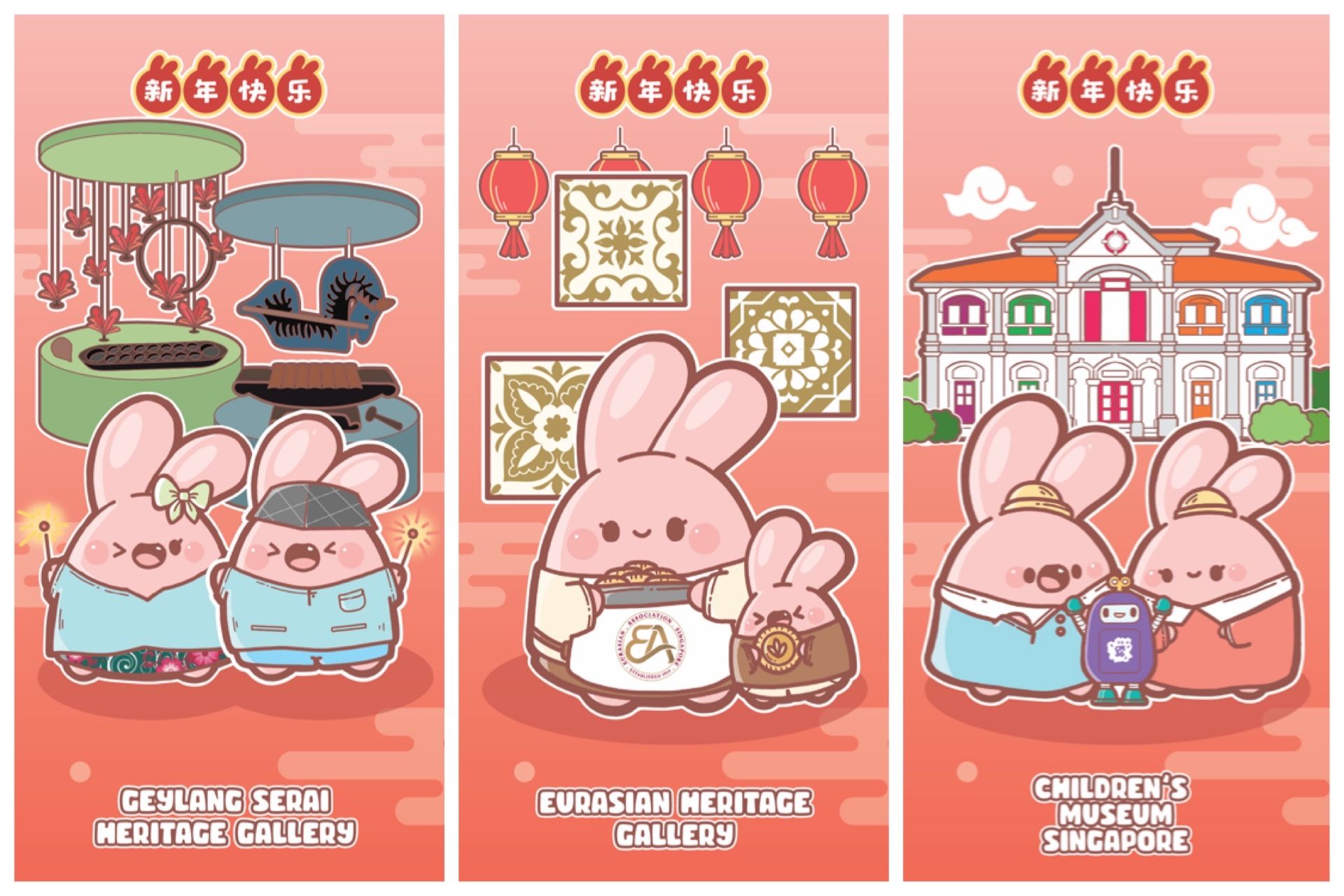 Cute couples
These adorable pairs of bunnies make us want to go on a date too! The award for the most kawaii duo has to go to the Chinese Opera rabbits from the Kreta Ayer Heritage Gallery - which we visited last year! This is also the debut of the Children's Museum Singapore hongbao, as the venue just opened its doors last month.
---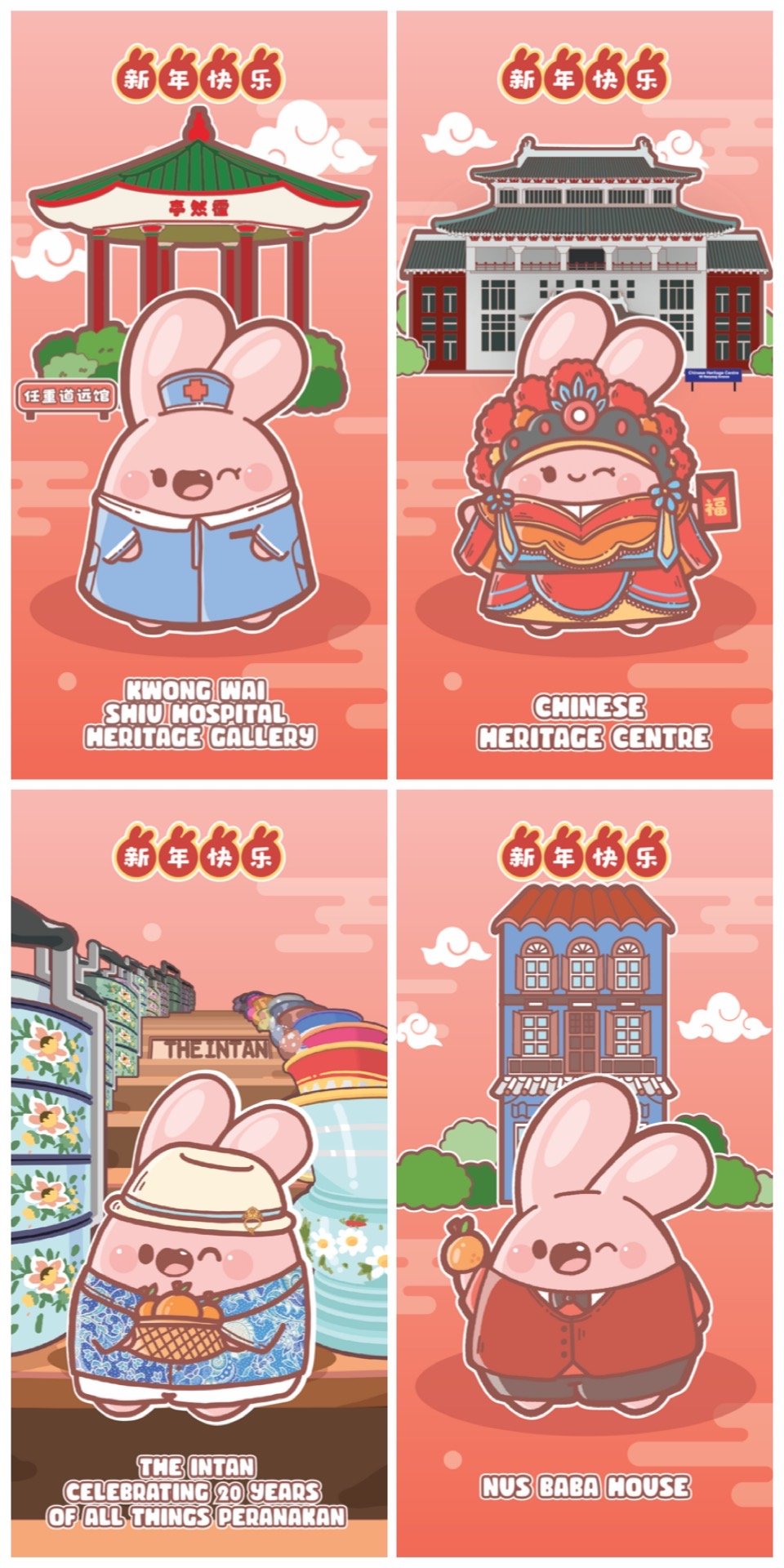 Happening heritage
Our favourite here is the Chinese Heritage Centre rabbit - we simply love the detailed and ang ang kee kee Chinese traditional costume. Super huat! Also, we lowkey really want the peranakan batik top worn by The Intan rabbit ❤️.
---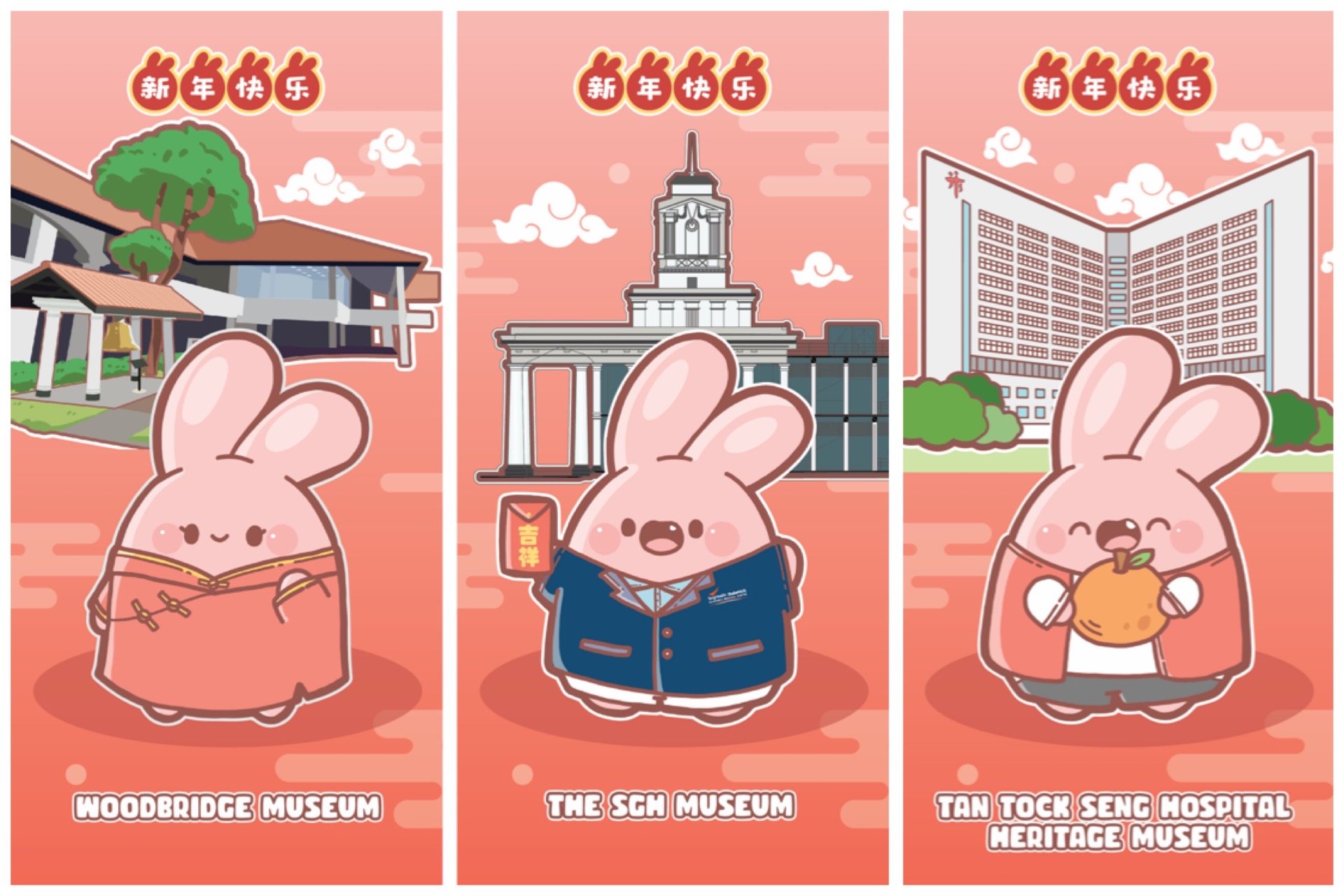 Health matters
Wishing you happiness and good health in the year ahead! Indeed, when we're faced with health concerns, it is a blessing to be taken care of so well by Singapore's numerous and efficient healthcare institutions and workers. Fun fact: Did you know that Tan Tock Seng Hospital was founded in 1944! Learn more about this bedrock of Singapore's healthcare system here.
---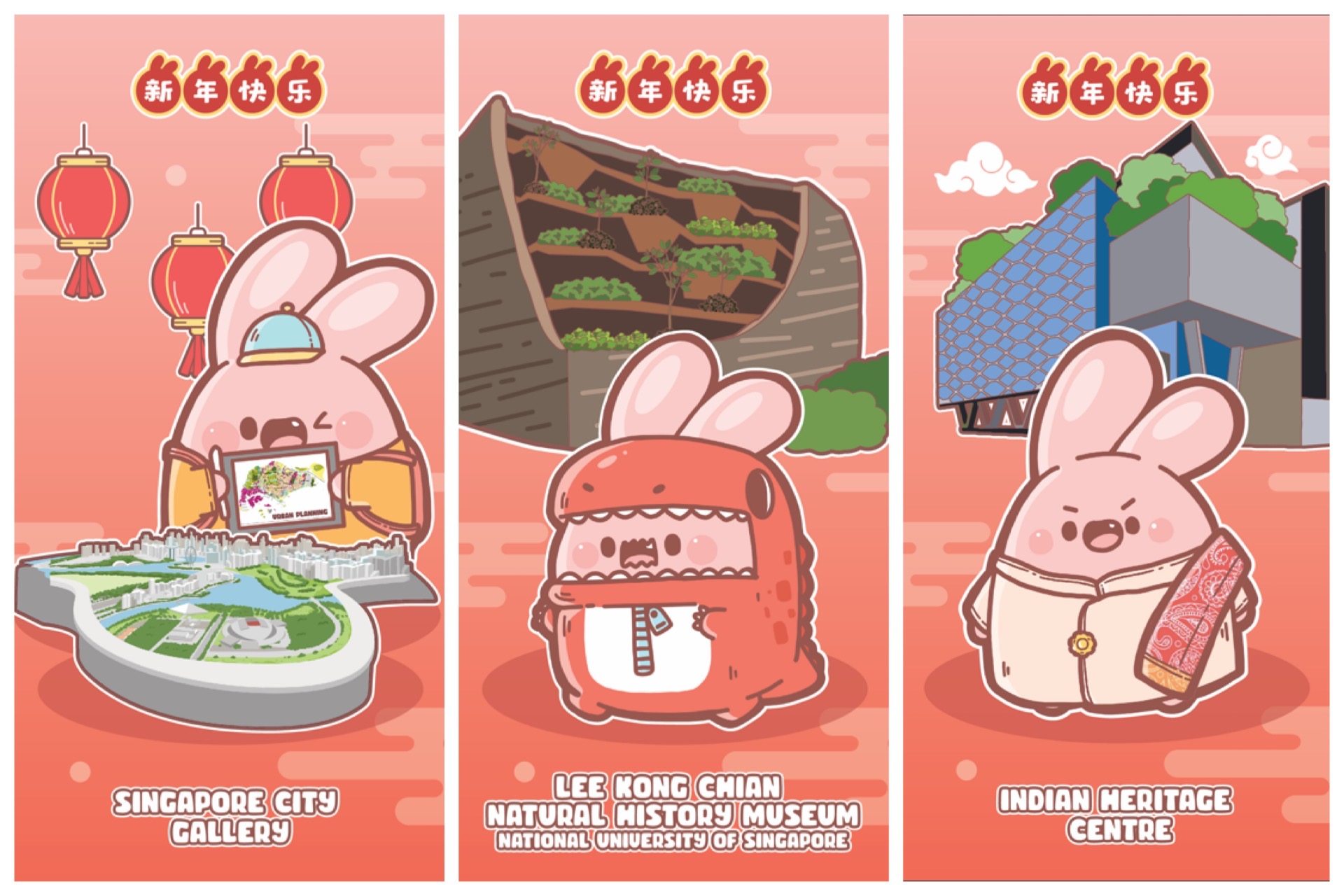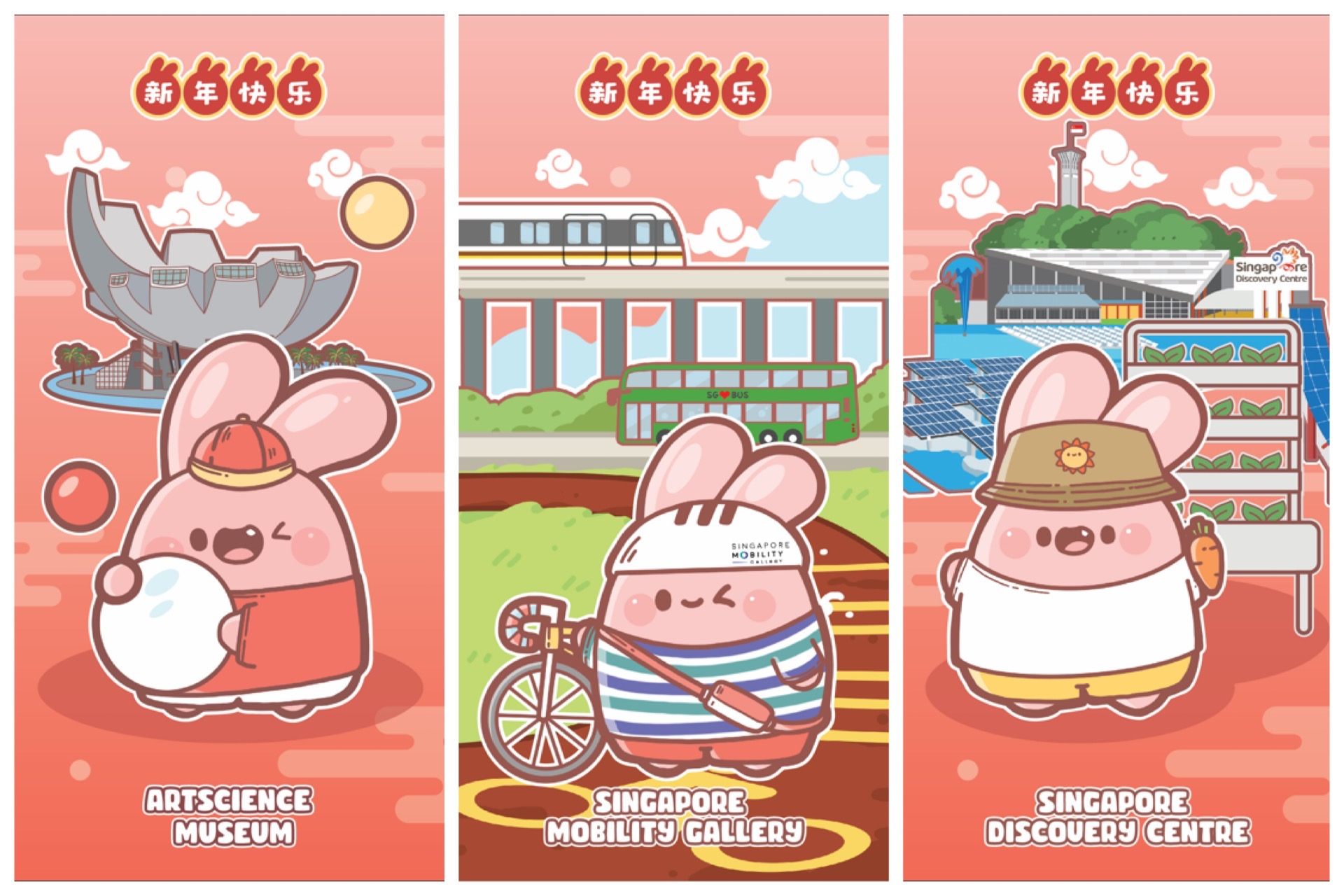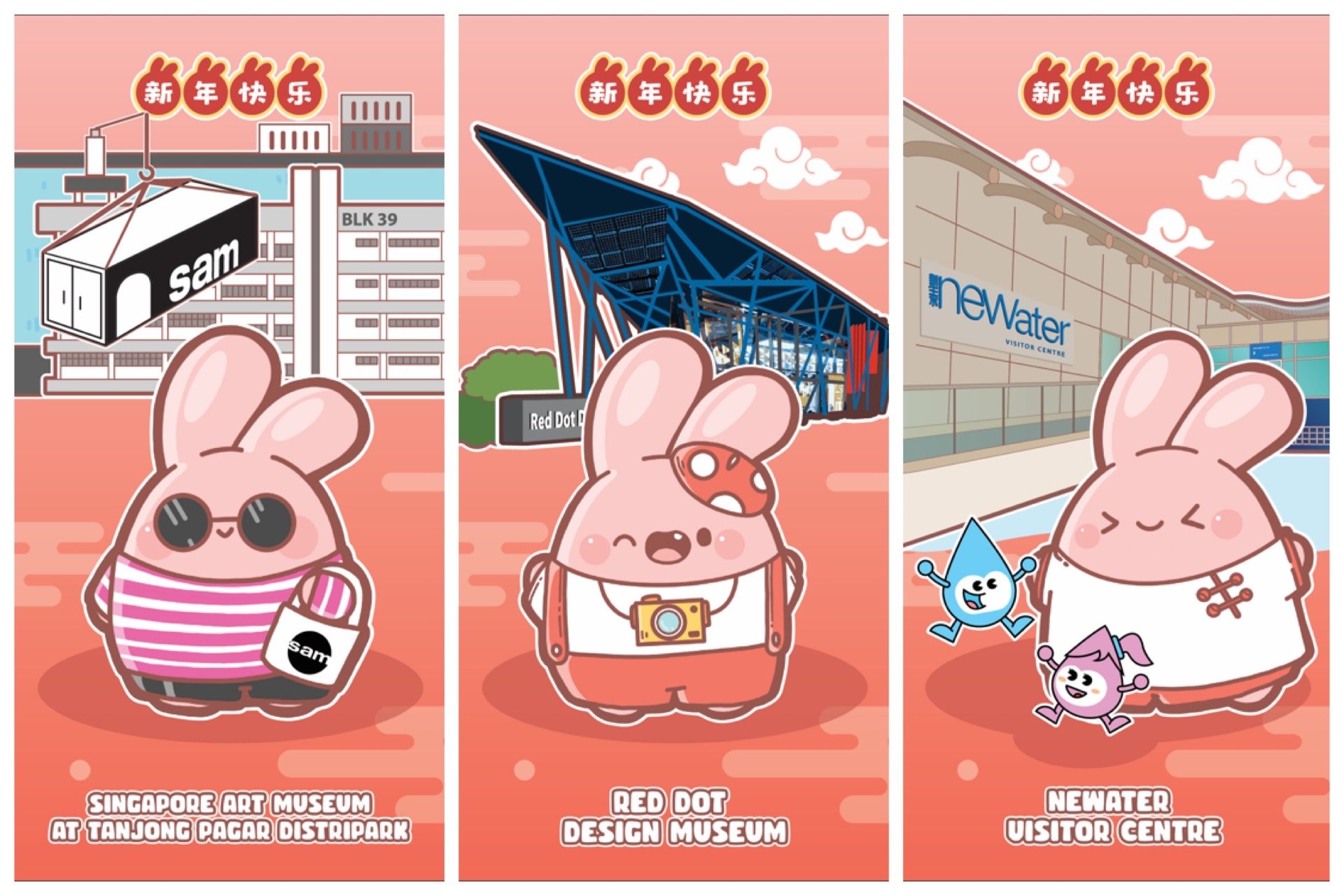 Modern metropolis
This category celebrates the prosperity and progress of our Garden City, and modern wonders of architecture like the ArtScience Museum, which is one of our favourite places to visit for its cool exhibitions. Remember the Star Wars and Attack on Titan exhibits? The haunting yet mesmerising "Patricia Piccinini: We Are Connected" exhibition is still happening now if you're planning to visit.
---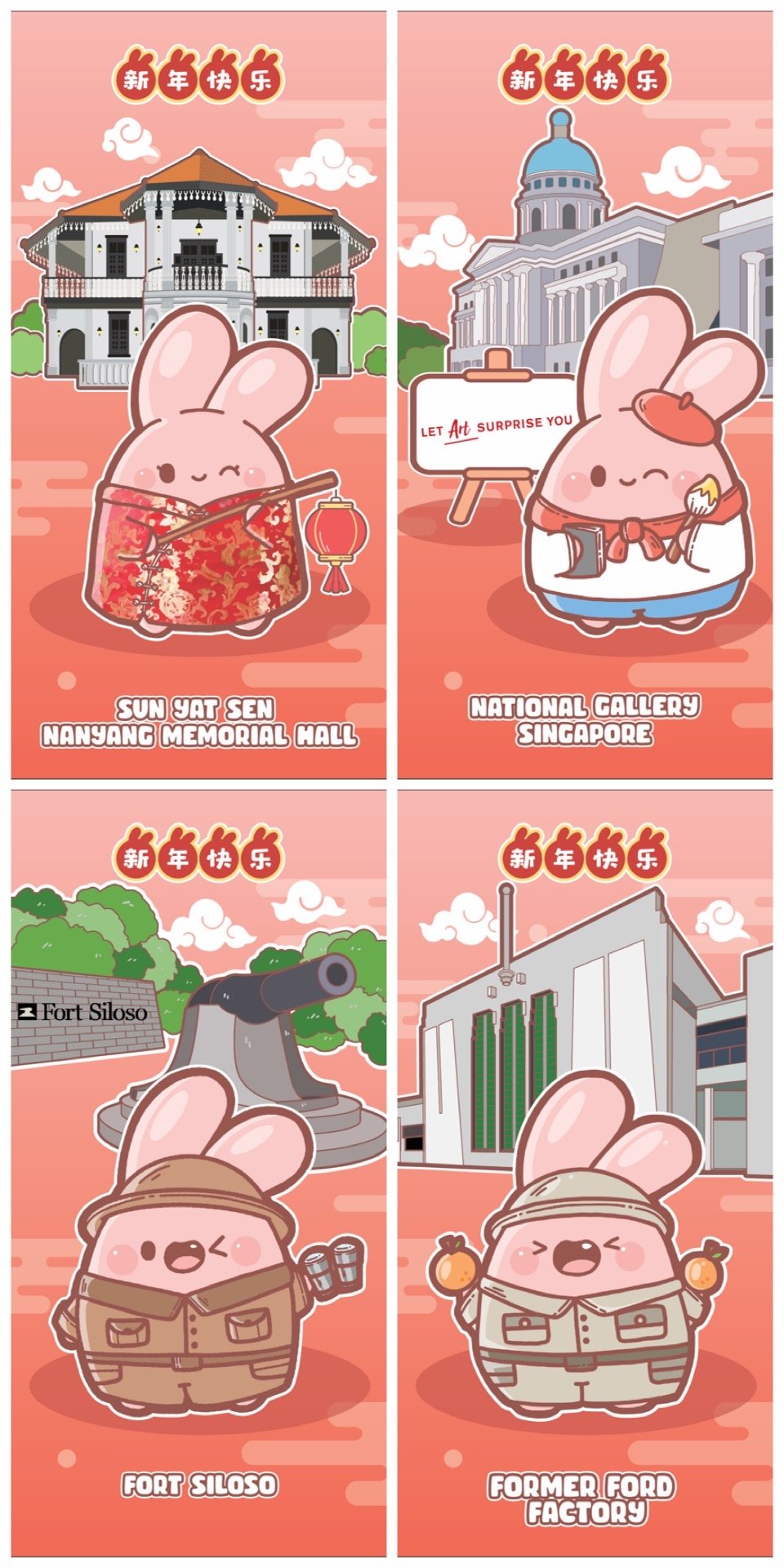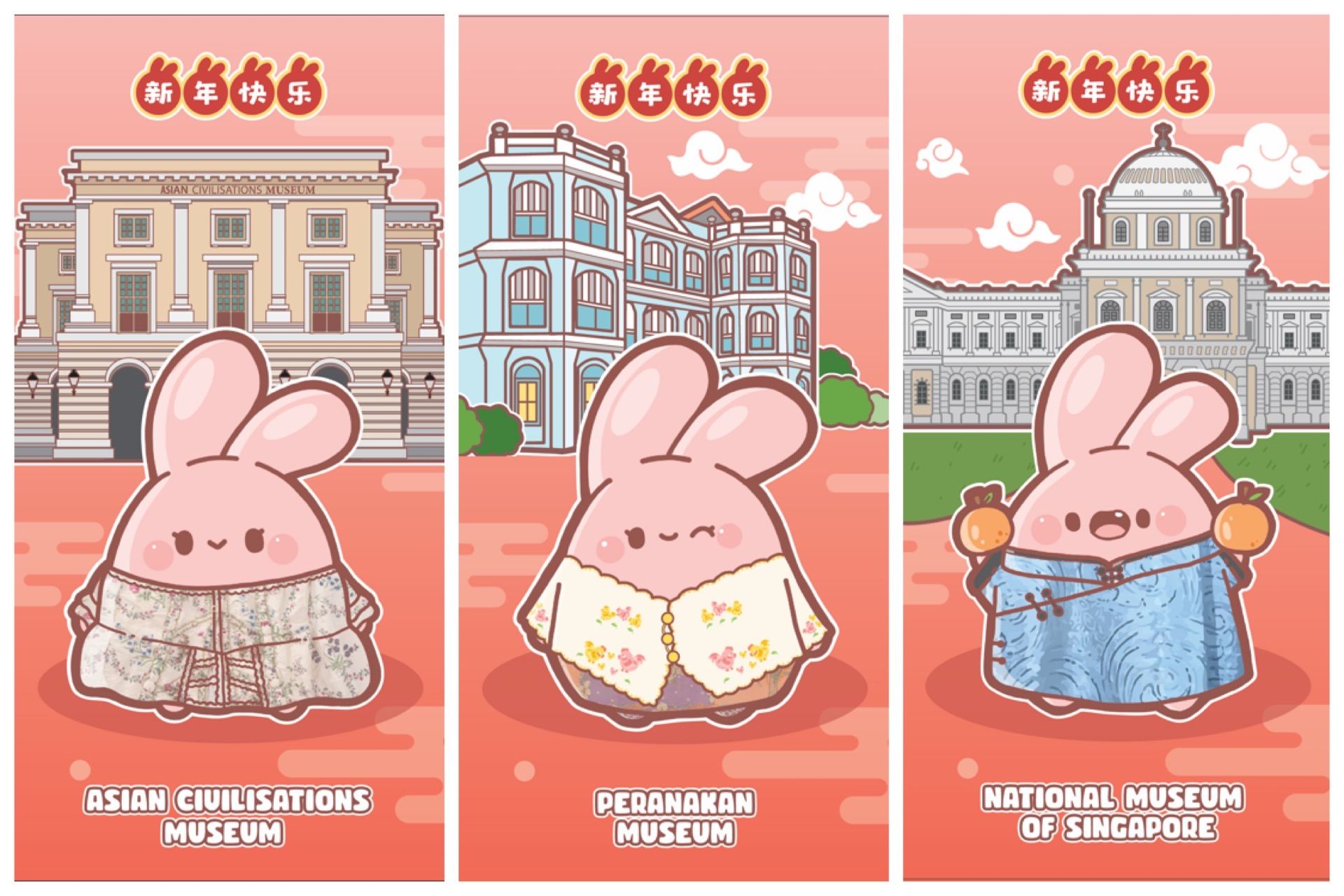 National monuments
A salute to our history! These rabbits rep our National Monuments (Singapore has 75!), which are preserved historic buildings, sites, or structures afforded the highest level of protection in Singapore. These cute critters also remind us about our trips rediscovering these iconic landmarks on NHB's Jubilee Walk trail, exploring Fort Siloso, and how we cracked our heads for Monumental Hunt in the Civic District.
---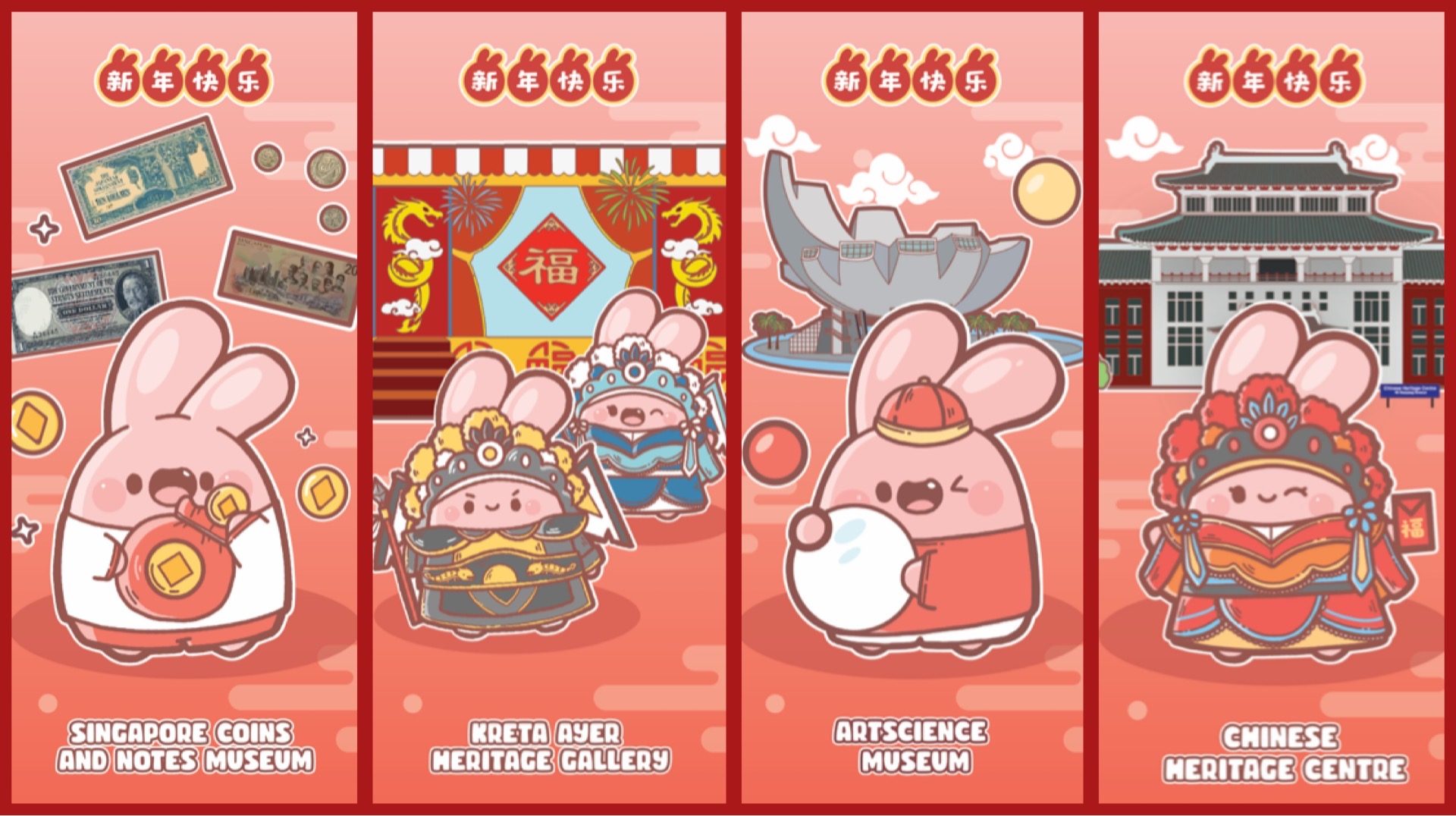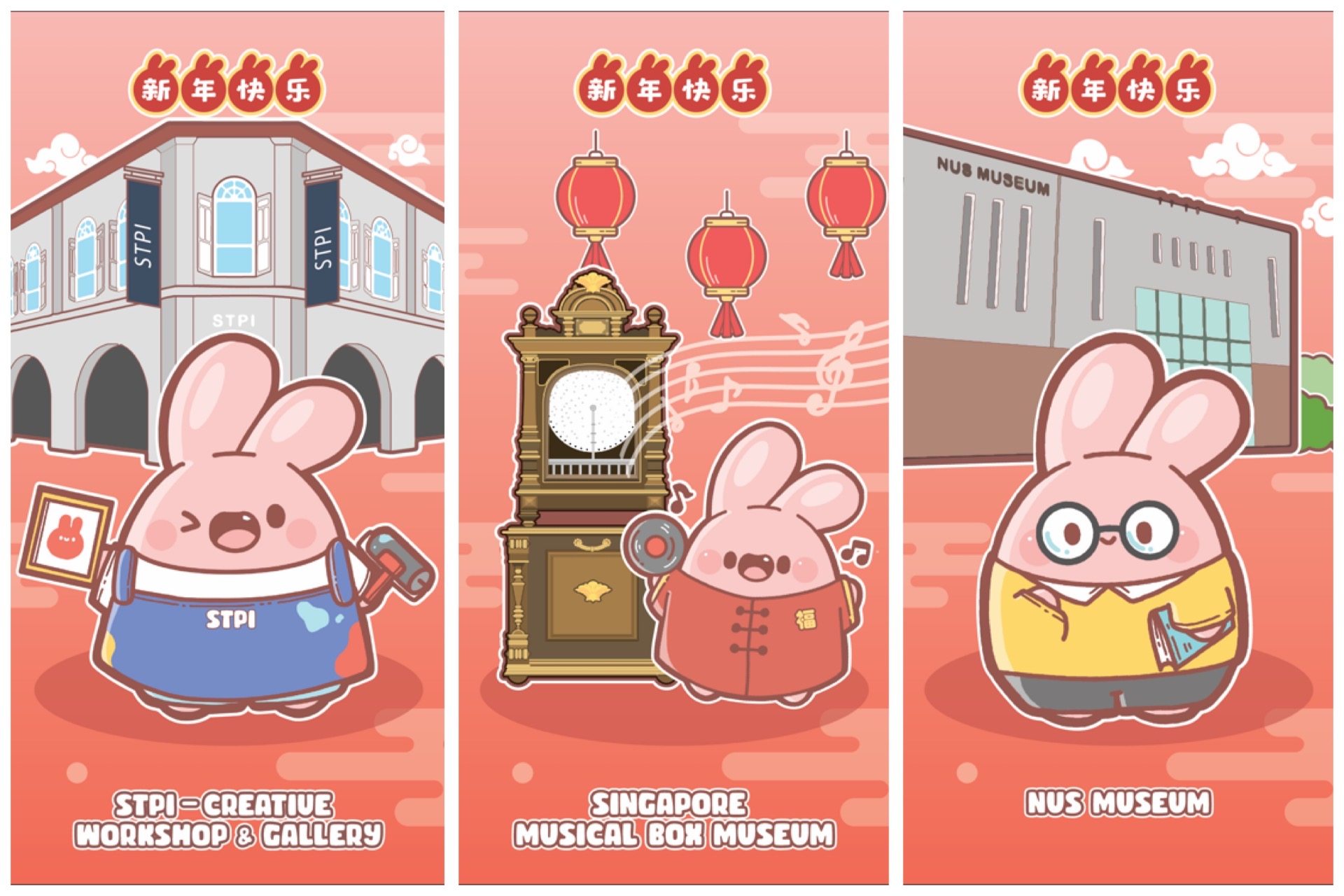 Retro memories
In this fast-changing world, it's always good to know and remember our roots - whether it's learning more about the past or stepping back in time to our childhood days. Doesn't the rabbit on the hongbao for the NUS Museum kinda look like Nobita from Doraemon? It definitely reminds us of the Doraemon exhibition at the National Museum of Singapore.
---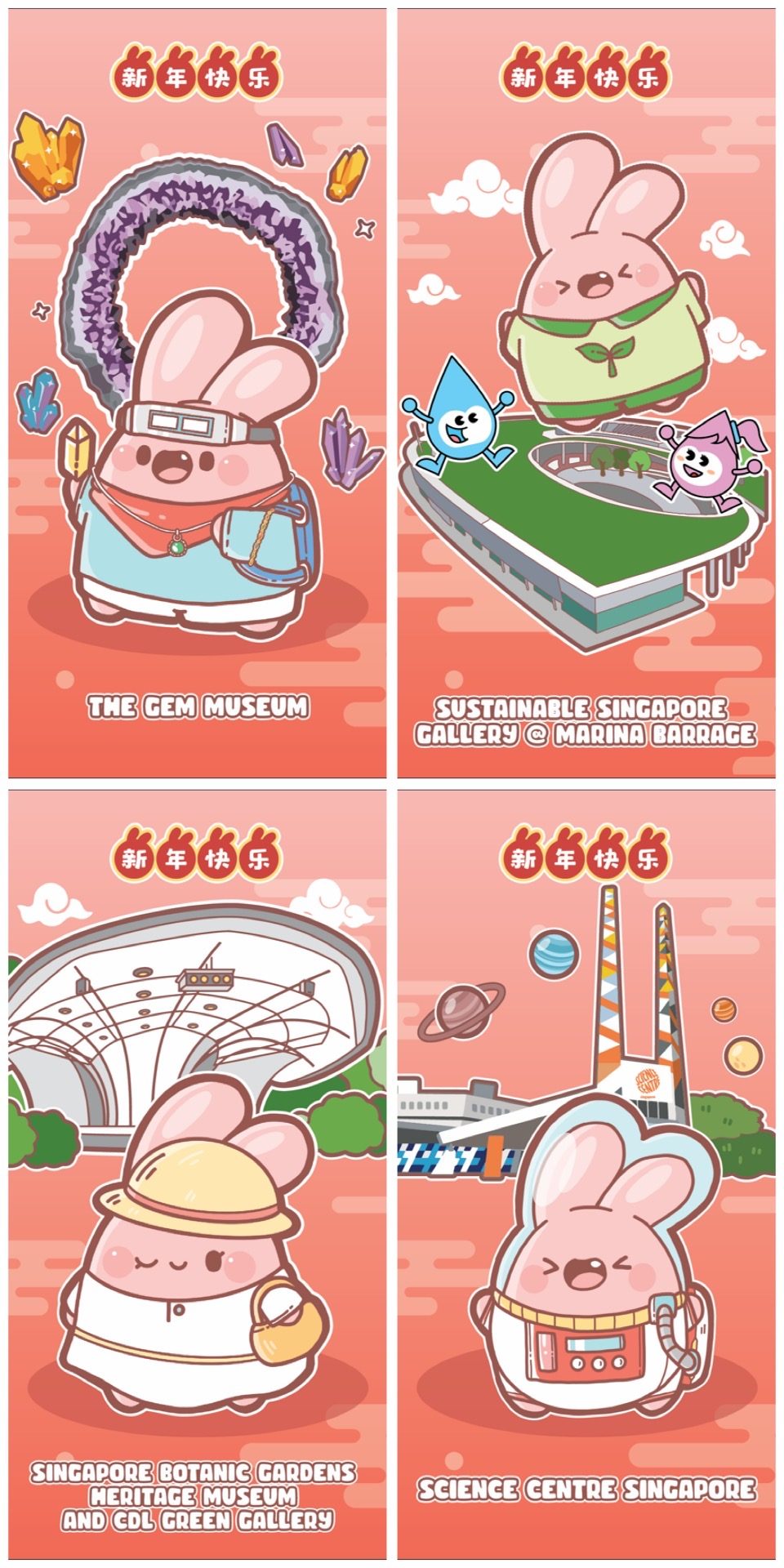 Natural wonders
This quartet of hongbaos pays tribute to the wonders of science and nature. Confirm your kids will have a blast at the Sustainable Singapore Gallery, where they will learn about climate change and our nation's sustainability efforts in a fun and interactive way. And speaking of interactive, the Science Centre has plenty of cool activities not only for the little ones but the curious, young-at-heart, too.
---
These hongbaos will be available from 6 January to 3 February 2023, and are limited to one pack per visitor (each pack contains 8 red packets).
If you FOMO and want to collect them all, NHB will be offering a limited-edition collector's album containing all the red packets plus one special-edition design to celebrate NHB's 30th anniversary. You can get this online here from 9 January, 10am.
For the latest updates on Wonderwall.sg, be sure to follow us on TikTok, Telegram, Instagram, and Facebook. If you have a story idea for us, email us at [email protected].