Zoom + Murder + NS + You = A First For Singapore Theatre
Host
Local theatre company Sight Lines Entertainment is hosting Singapore's first-ever live and interactive Zoom-based theatre production with a show entitled "Murder At Mandai Camp: A Supernatural Murder Mystery".
Meeting description
Panic and doubt ensues as a routine outfield exercise at Mandai Camp goes awry due to the discovery of Recruit Rozells' disembowelled corpse.
Who could have committed such a diabolical crime? Could it have been Lieutenant Haziq who had had a public dispute with Rozells? Or could it have been Tan who suspiciously went missing during the exercise? Or worse, could there be supernatural forces at play?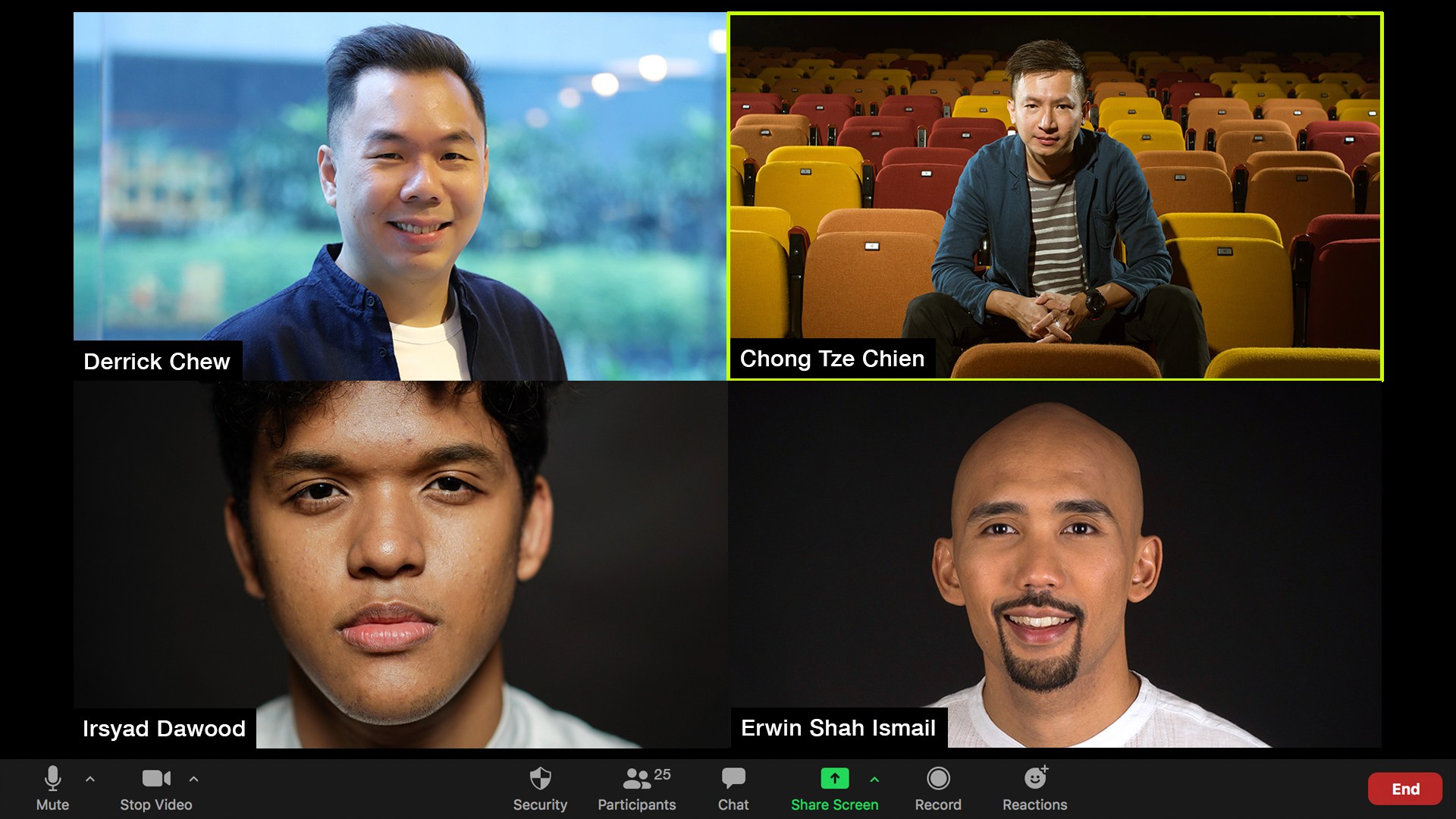 Participants
Cast and crew: "Murder At Mandai Camp" is written and directed by award-winning playwright Chong Tze Chien, and features an impressive cast led by veteran actor Erwin Shah Ismail, along with Singapore Repertory Theatre alumni scholar Bright Ong, and "Army Daze 2"'s Irsyad Dawood.

The audience: You - yes, you - will play the role of investigator as you lead your team to uncover the mysteries and solve this murder. But, be warned, this mission is not for the faint of heart. On your quest to solve this murder, you will face sinister events and fears from your past as you recall urban myths and stories that haunted your NS days. Solve this mystery as quickly as you can - you never know if another victim is on the cards!
Reactions and Chats
Ticket holders (aged 18 and above) will receive a Zoom link via email 2 hours before the event starts (at 8pm on show night).
You will enter virtual rooms and scenes where you will find actors in visually captivating and immersive backgrounds as they do their part to help you solve the mystery.
Live chats and messages will convert your phone into your own Crime-Solving Notebook that you can use to gather evidence, bring it all together and unveil the truth.
What's murder without a cocktail?
Sight Lines Entertainment has collaborated with local cocktail bar Laut (Bahasa Melayu for "sea"), with the goal of jazzing up the "Murder At Mandai Camp" experience for all participants by providing the option for viewers to purchase and indulge in its signature Grass and Dragonfruit cocktails.
Grass features an irresistible combination of local distillery Compendium's Rojak Gin, notes of torch-ginger, malty rice vinegar, pickle brine and homemade grass kombucha, while Dragonfruit (shown above) is a gently spiced blend of Straits spiced vodka, smoked longan, sour plum cordial and red dragon fruit juice.
When? What Time? How to get tickets?
Professionals in Singapore's Arts Community (Media, Arts, Design, Entertainment): Exclusive preview on 24 Jun 2020 (Wed). 10pm. $5 per ticket. RSVP by clicking here.

General Public: 26, 27 and 28 Jun 2020. 10pm. $15 per ticket from SISTIC (where you can also purchase your Laut cocktails). You can further support the play through SISTIC's "Pay As You Wish" programme by opting to pay $20, $30 or $50 (excluding booking fees).
For the latest updates on Wonderwall.sg, be sure to follow us on TikTok, Telegram, Instagram, and Facebook. If you have a story idea for us, email us at [email protected].