Can You Believe That These Advent Calendars Actually Exist?
Preparing just one present for the whole of Christmas is for giam siap Scrooges.
But you, being in a gifted/gifting league of your own, will be giving your loved ones one pressie for every day until it's Dec 25.
And how do you do that? With an advent calendar, of course! These are specially designed gift boxes that hide away one little surprise for each day (though there's no stopping a gian png person from opening everything at once) so your recipient can count down to Christmas in the most fun way.
In fact, there are sooooo many types of advent calendars out there, from Playmobil toy figurine ones to Cadbury chocolate ones… but these are the really special and crazy ones that we have picked for you.
Tiffany & Co. The Ultimate Advent Calendar
For USD$112,000 (that's about S$153,000), you could get an Audi sedan or a two-room BTO flat in Sengkang. Or you could spend it all on a Tiffany & Co. The Ultimate Advent Calendar. And what do you get for all that moolah? Twenty-four of the luxury brand's jewellery and trinket items, each wrapped in an iconic robin egg-blue gift box. These come to you in a specially designed miniature replica of the Tiffany & Co. flagship store on Fifth Avenue in New York. But you'd better hurry: there are only four of these advent calendars in the world. If not, how to call it ultimate, right.
Trader Joe's Advent Calendar for Dogs With Treats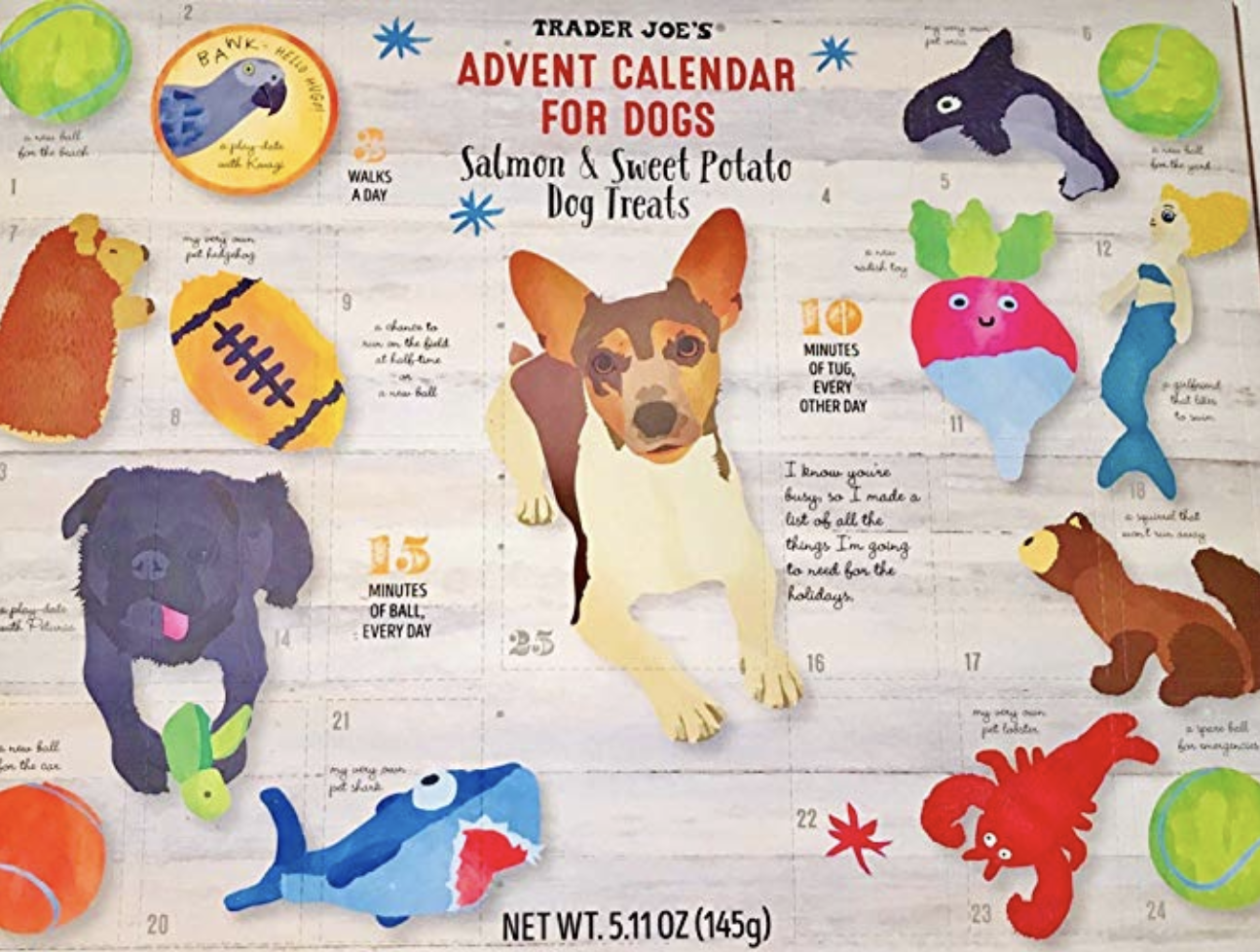 Advent calendars have gone to the dogs… literally. Different salmon and sweet potato doggy treats for 24 days until it's Christmas? Sounds like a really paw-fect gift idea until you realise that you'll have to be the one opening the different slots every day and that your furkid doesn't really care what day it is. Or whether it's Christmas. From Amazon.com
Twelve Days of Hot Sauce Gift Set 12 Pack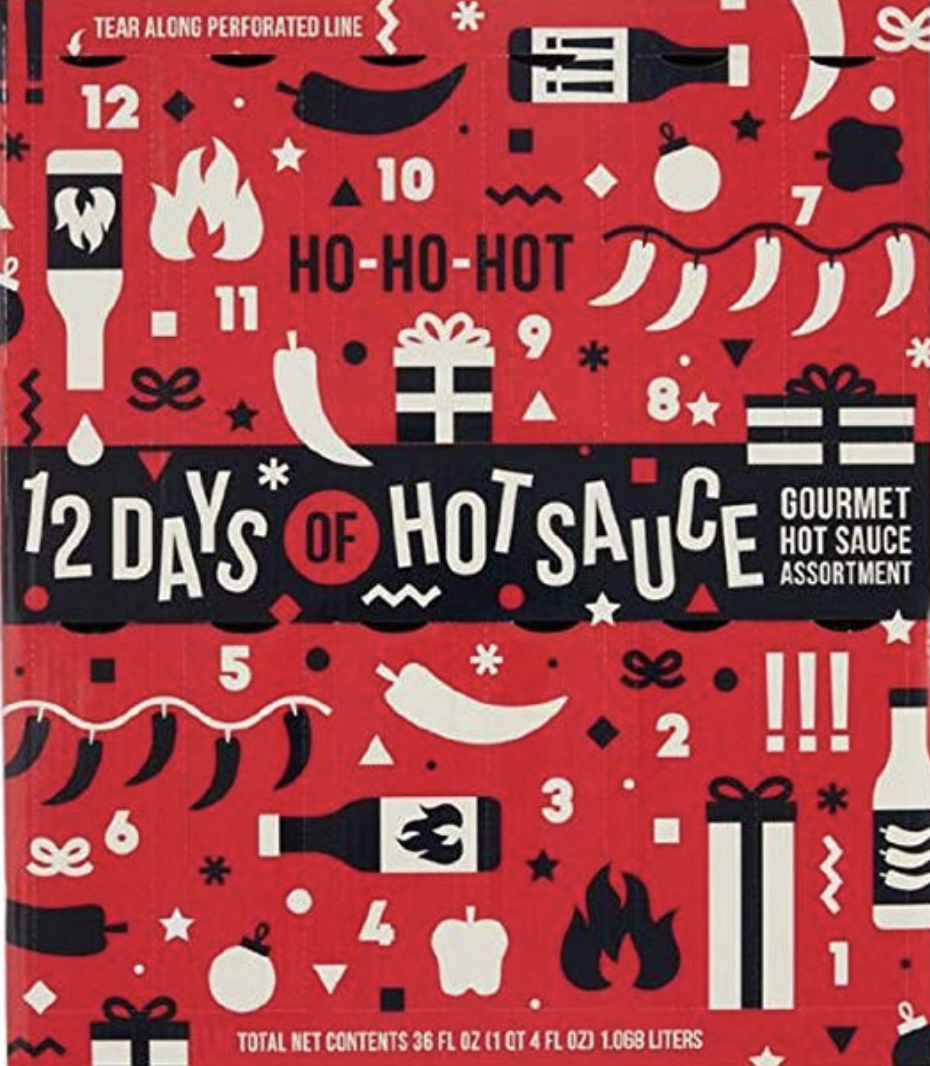 People living on the other side of the world can have Christmas their frosty way. For us, it's always a 30 deg C December season. How to make it even hotter? Give the spice girl on your list this 12-sampler hot sauce set that comprises anything from Jalapeno to Sriracha Green. And maybe throw in a pack of charcoal pills too. From Amazon.com
Better Love Adult Advent Calendar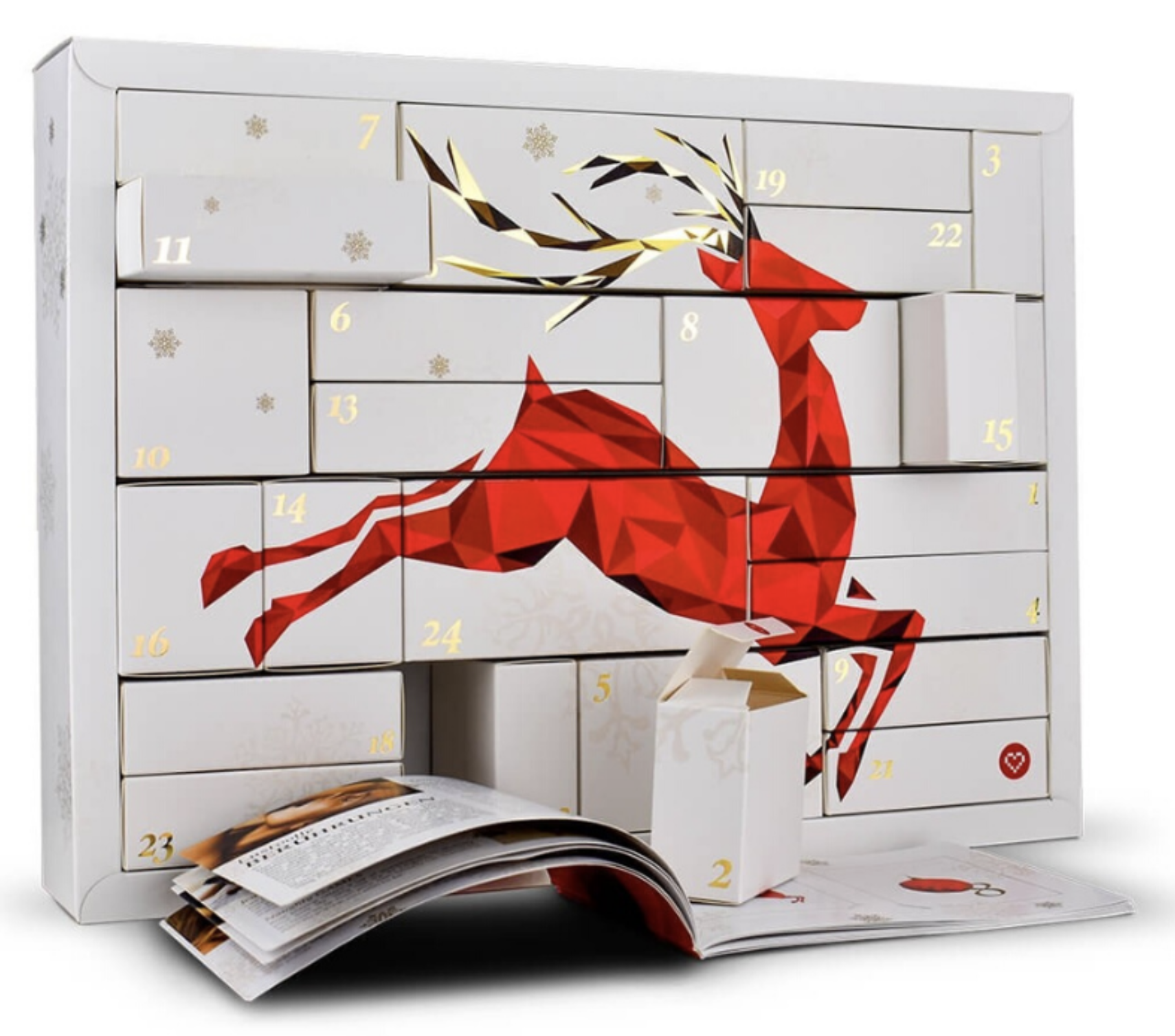 There's the stomach-churning type of hot Christmas (for that, you have the hot sauce advent calendar) and then there's the blood-arousing type of hot Christmas, for which you can get this adults-only advent calendar. It contains 24 "sexy gifts and accessories" of the feathery, rubbery and leathery nature. Just make sure you label the recipient's name very clearly so that this does not accidentally get routed to your father-in-law or your five-year-old niece. From ellaparadis.com
Christmas Beard Oil Advent Calendar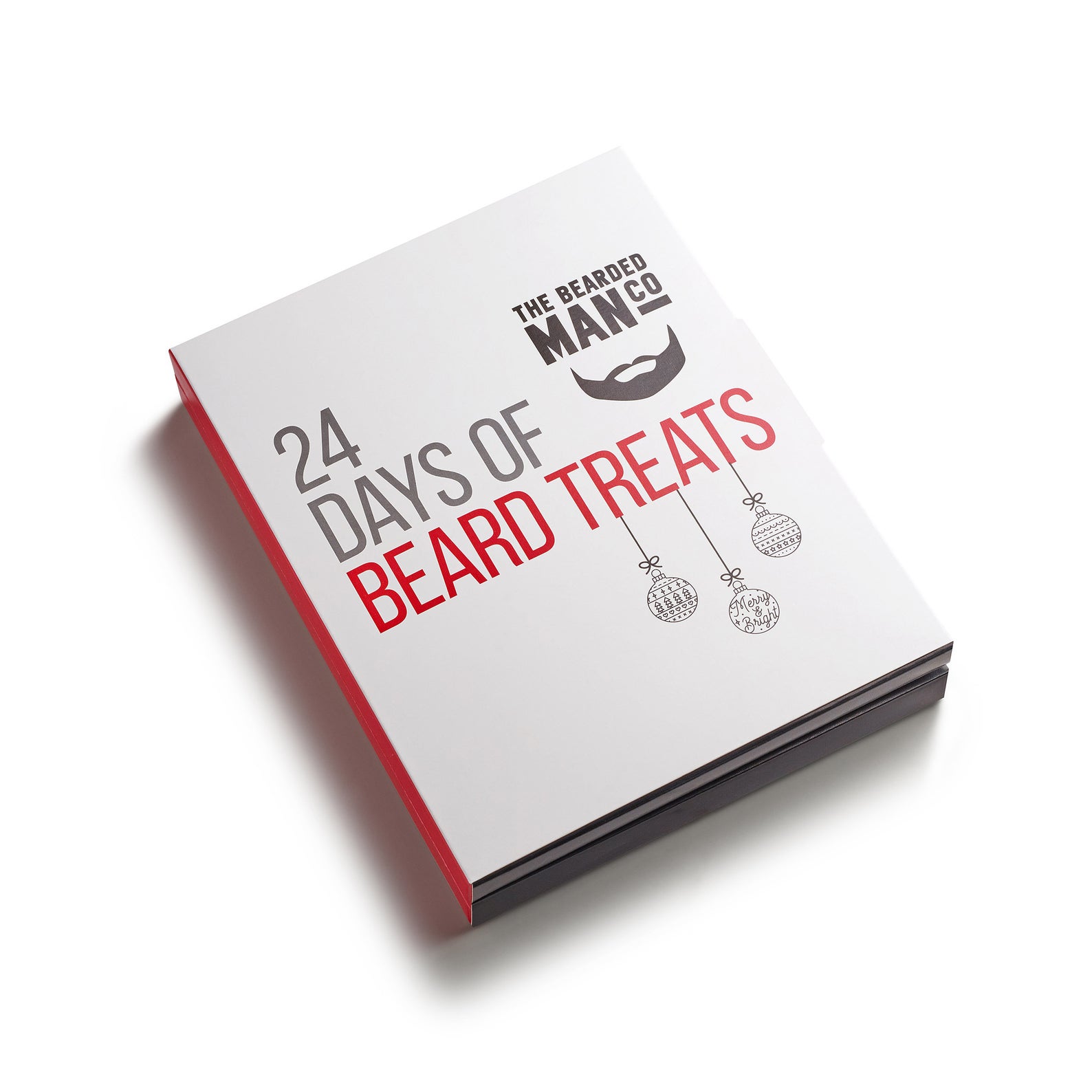 We bet Mrs Claus invented this for Santa's beard. This super niche gift idea holds 24 scented beard oils to moisturise and perfume beards, because apparently, they can get tangled and wiry, and smell bad (now, where did all that char kway teow grease disappear into?). Now we have beard, oops, heard, it all. From etsy.com
12 Days of Scrunchies Christmas Color Set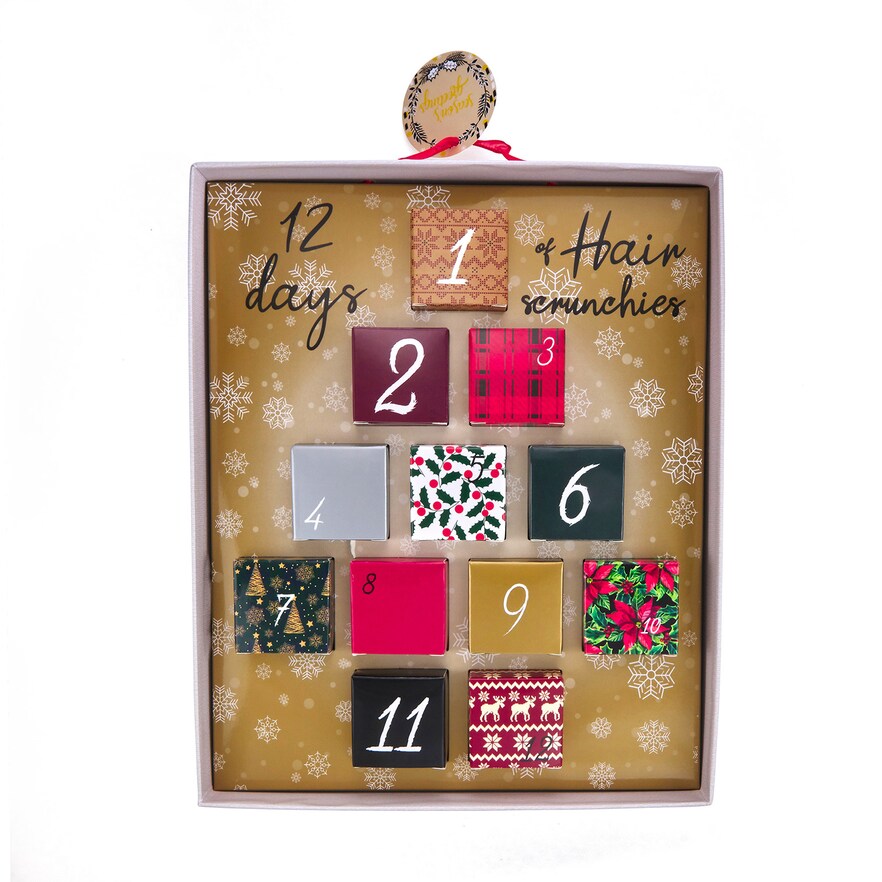 For that one rare person in your group who probably came from the 1990s to 2019 in a time-travel capsule and who still wears scrunchies, here are a dozen Christmas-themed scrunchies. We feel it liao: Christmas is in the (h)air! From kohls.com
Happy Socks Sock Advent Calendar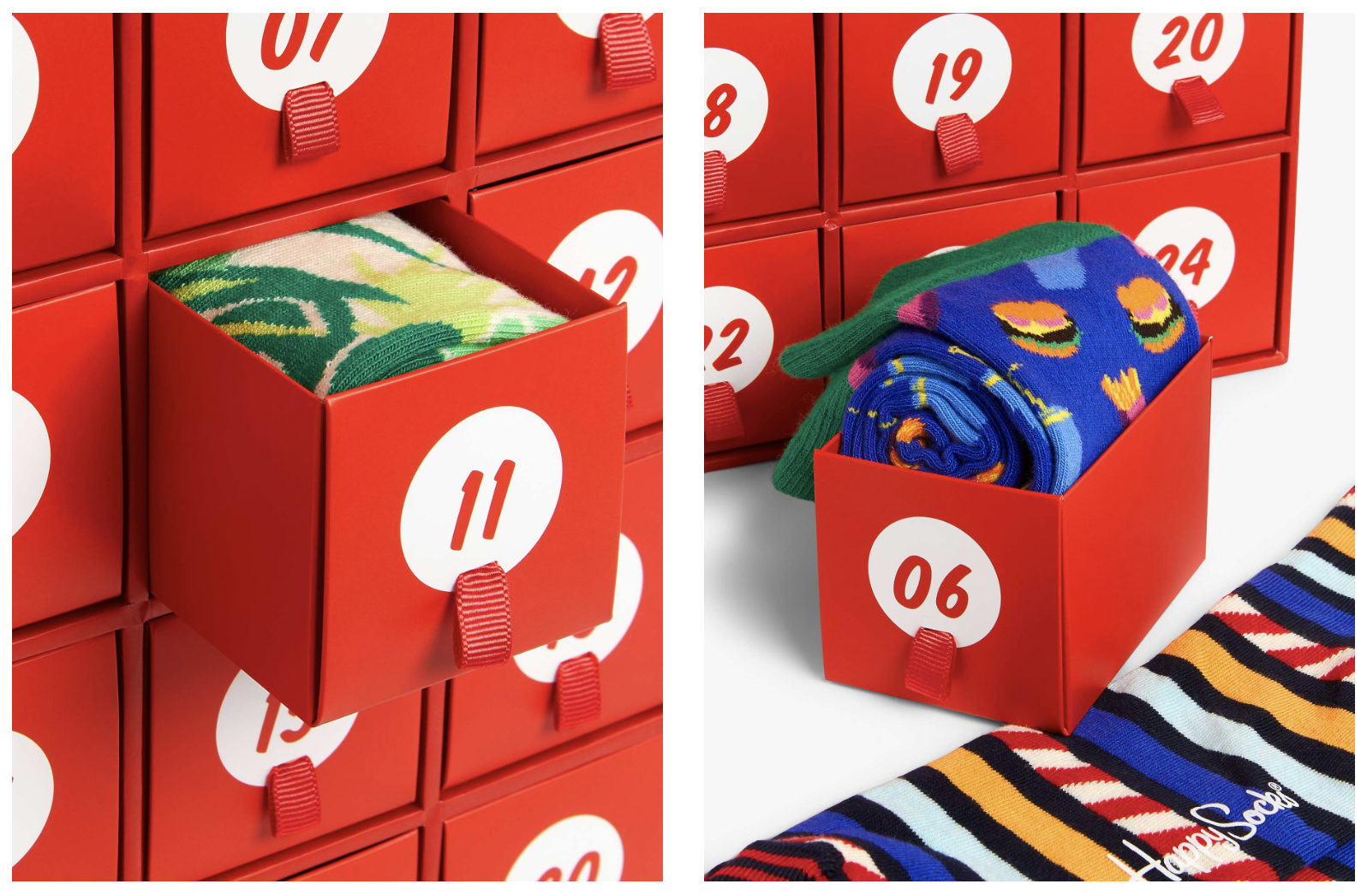 Forget the Christmas stocking. It's the Christmas sock that really counts. This sock-value gift idea has 24 of the most colourful socks in a box that we think works wonderfully as a permanent sock storage holder! No more frantic searching for matching pairs in the back of your drawer three minutes before ERP starts! From johnlewis.com
Make Your Own Singapore Snacks Advent Calendar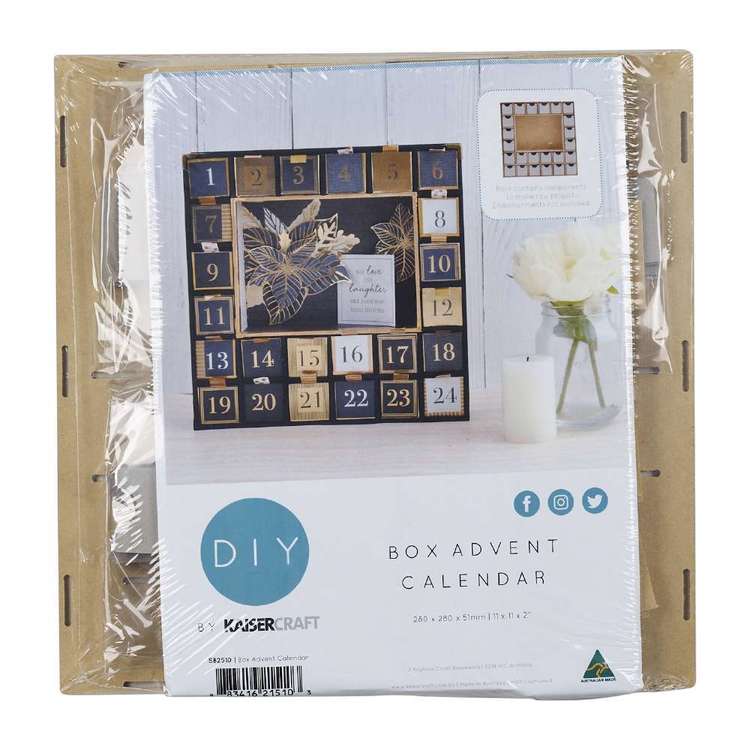 Get a DIY advent calendar set from stores like Ikea or Spotlight and customise it. For instance, in every box, you can slot in a little SG tidbit like a packet of gem biscuits, some sng buay, a mini roll of Haw Flakes and BeBe crackers. It's like a pantry in miniature form.
Make Your Own "I Promise To…" Advent Calendar
There are brands and websites that sell these for couples. In every box, a "voucher" lets the recipient claim a hug, a kiss, a foot massage or help with the housework (our fave) every day. But why pay other people $30 and more for something that you can easily rustle up yourself? Get a DIY advent calendar and simply slot in handwritten vouchers.
For the latest updates on Wonderwall.sg, be sure to follow us on TikTok, Telegram, Instagram, and Facebook. If you have a story idea for us, email us at [email protected].