SkillsFuture: Wah! Got Free Lobang To Upgrade And Earn More Money Next Time
Don't worry lah. This isn't one of those cruel clickbait articles that promise you can make millions of dollars in a day if you invest in some random llama farm in New Zealand. Or if you attend a free Zoom seminar on learning to curse your boss in 258 languages.
We are talking about Skillsfuture, the national initiative that actually pays you to upgrade, reskill and <insert latest corporate jargon on making yourself smarter and more relevant to the economy> yourself so you can get a better job, have a higher chance of being promoted and humblebrag about your CV at the next wedding banquet you are invited to.
Ironically, while Skillsfuture is about you learning new things, very few of us actually bother to learn more about it.
So, here's what you need to know in one sentence: since 2016, all Singaporeans aged 25 and above would have received a Skillsfuture Credit of $500.
And unlike the Grabfood promo code that you always forget to key in, this does not expire. Sometimes, depending on your age group, you may even get surprise top-ups to bulk up your credits.
If you don't know how many credits you have got – please, some of us can't/won't even remember our age after our 26th birthday – just log into the My Skillsfuture website to find out.
Until then, we did some of the homework for you. Here are some interesting SkillsFuture courses that we would want to steal your credits for.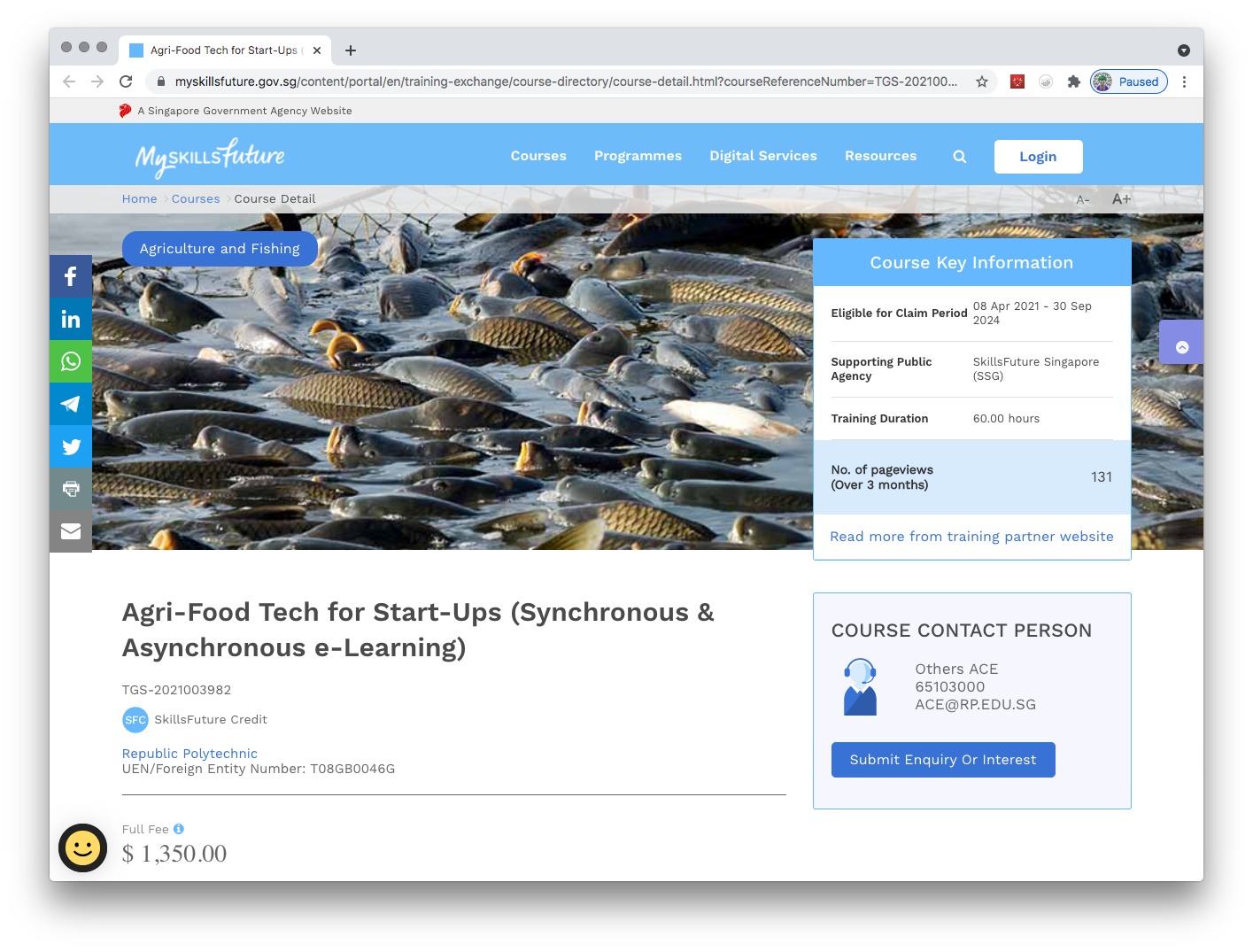 If you want to feed your fellow Singaporeans sustainably
In the near future, urban farmers will be the new investment bankers. This is because by 2030, Singapore hopes to produce 30 per cent of our food sources – a good thing when you recall how you queued outside Fairprice for two hours last year and still didn't manage to get that last crate of eggs.
Sign up for: Agri-Food Tech for Start-Ups (Synchronous & Asynchronous e-Learning). We didn't google those cheem words, TBH, but this course is made up of bootcamp-styled workshops and e-learning sessions. You will learn about urban farming, agribusiness in food production and supply chains, ethics and patent law, and even delivering business pitches because after you grow your hydroponic durians, you need to know how to sell them to supermarkets, no?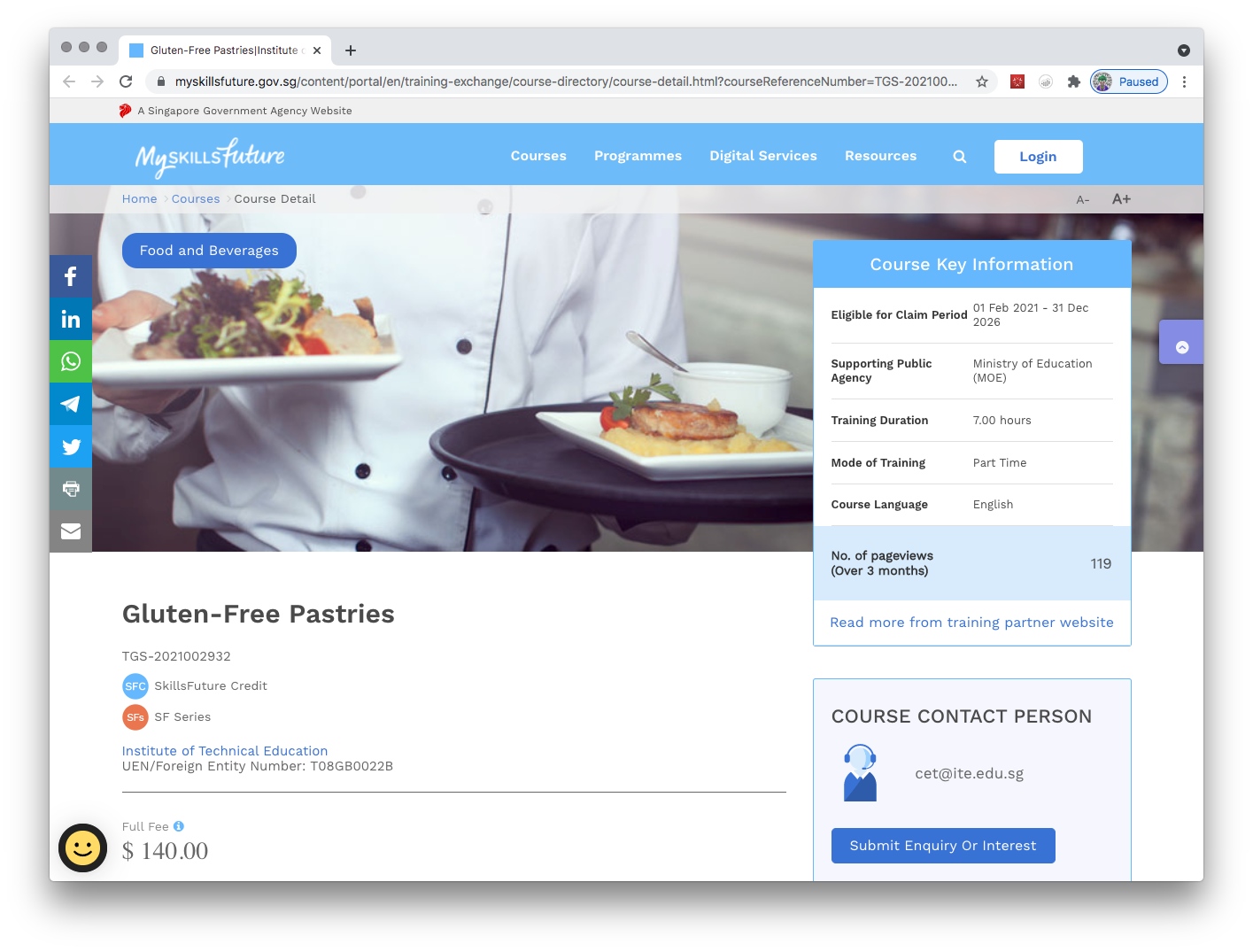 If you want to feed your fellow Singaporeans in every possible way
Whether you want to impress your friends at potluck gatherings, become a home baker or be the towkay of a cute little cat café, the Skillsfuture website is full of appetising culinary courses.
Sign up for: Very niche courses like Gluten Free Pastries where you can make almond cake, fruit tart and cream puffs, Make Café-Style Breads which will teach you to churn out sourdough and buns (so you will never need to pay $4.50 for one small designer bakery an pan ever again), and Malay Heritage Cooking Workshop Sedap which will let you wow your parents.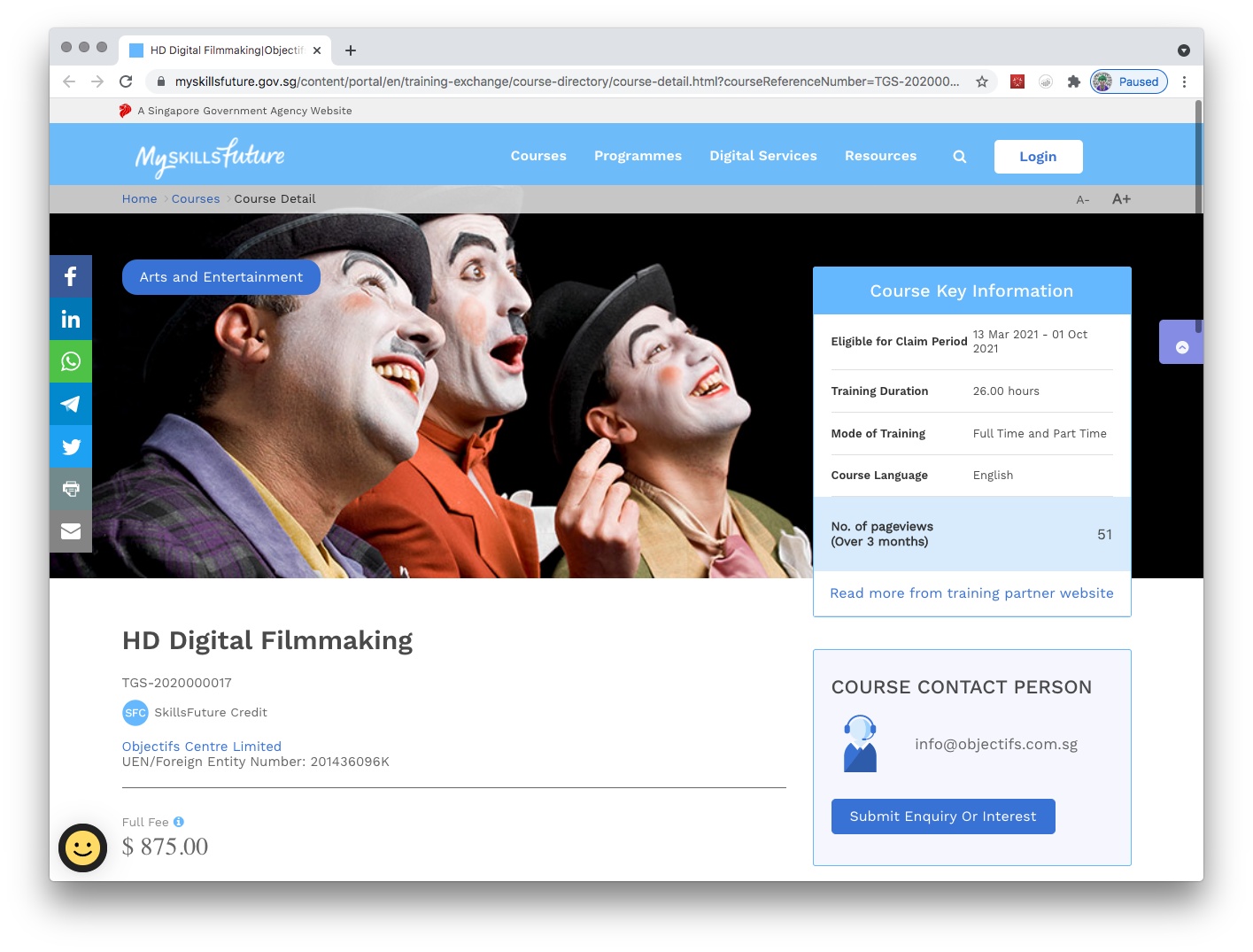 So you can hao lian and volunteer when your bosses ask for a short film
These days, it's not enough to use Microsoft Office. If you can DI photos, create moodboards and shoot a short narrative on your smartphone, your bosses may luff you just a little bit more.
Sign up for: HD Digital Filmmaking. This course is designed for almost anyone and everyone, from marketers to small business owners. As long as you have a target audience, you need a video. You will be taught the whole gig, including pre-production and editing. Also, you can now officially charge your cousin for being his wedding videographer too.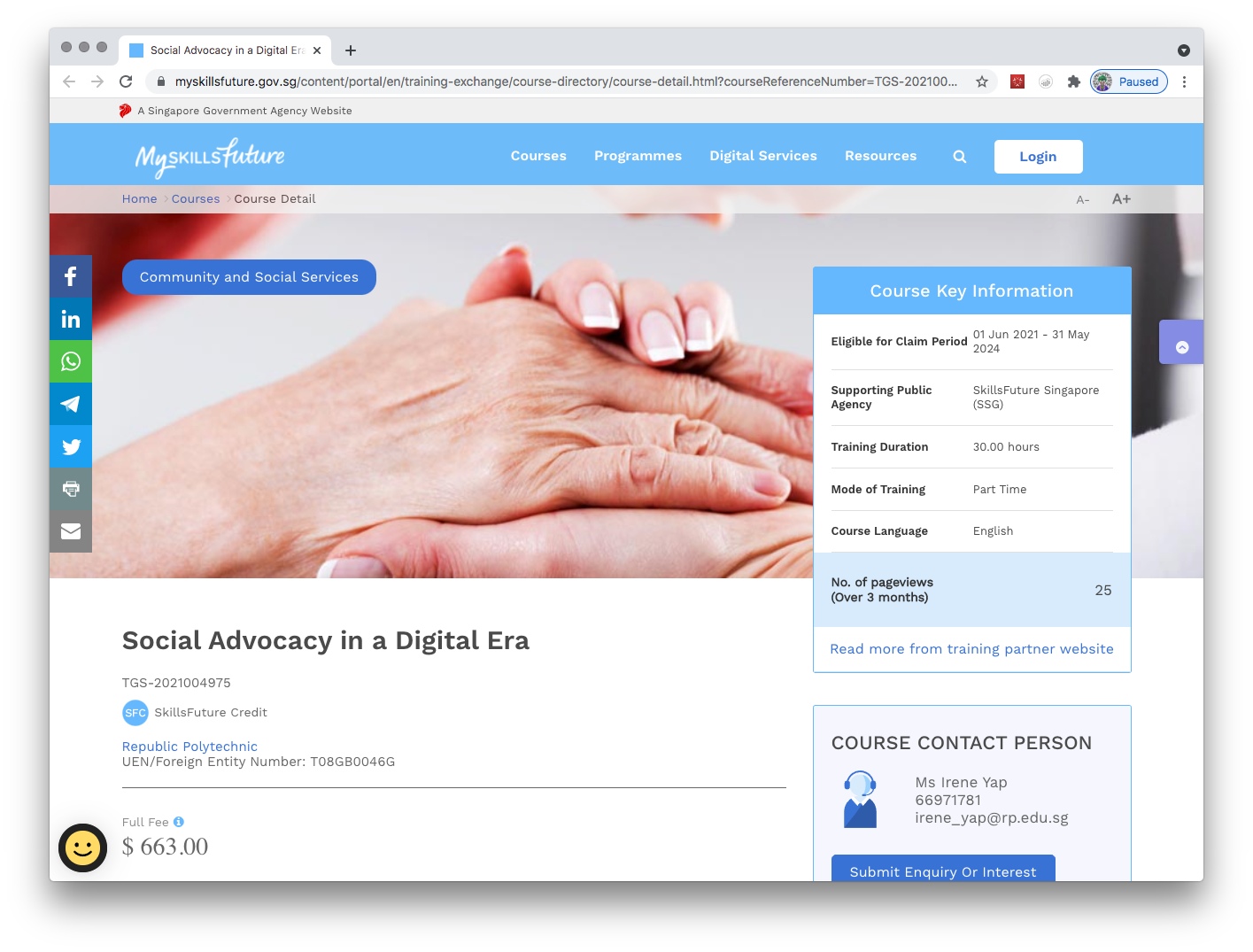 Because you are all woke and want to make a difference in society
Don't just be an (Secret Lab) armchair advocate and troll Instagram accounts with your views on important issues in life. Take a formal course in social advocacy.
Sign up for: Social Advocacy in a Digital Era. You will see how far social advocacy has come about, from the days when you sold sticky little flags from a giant tin can at the MRT station for your school. This course caters to those working (or hoping to work) in social purpose businesses and organisations by showing them how digital tools can help to target volunteers, funders and beneficiaries better.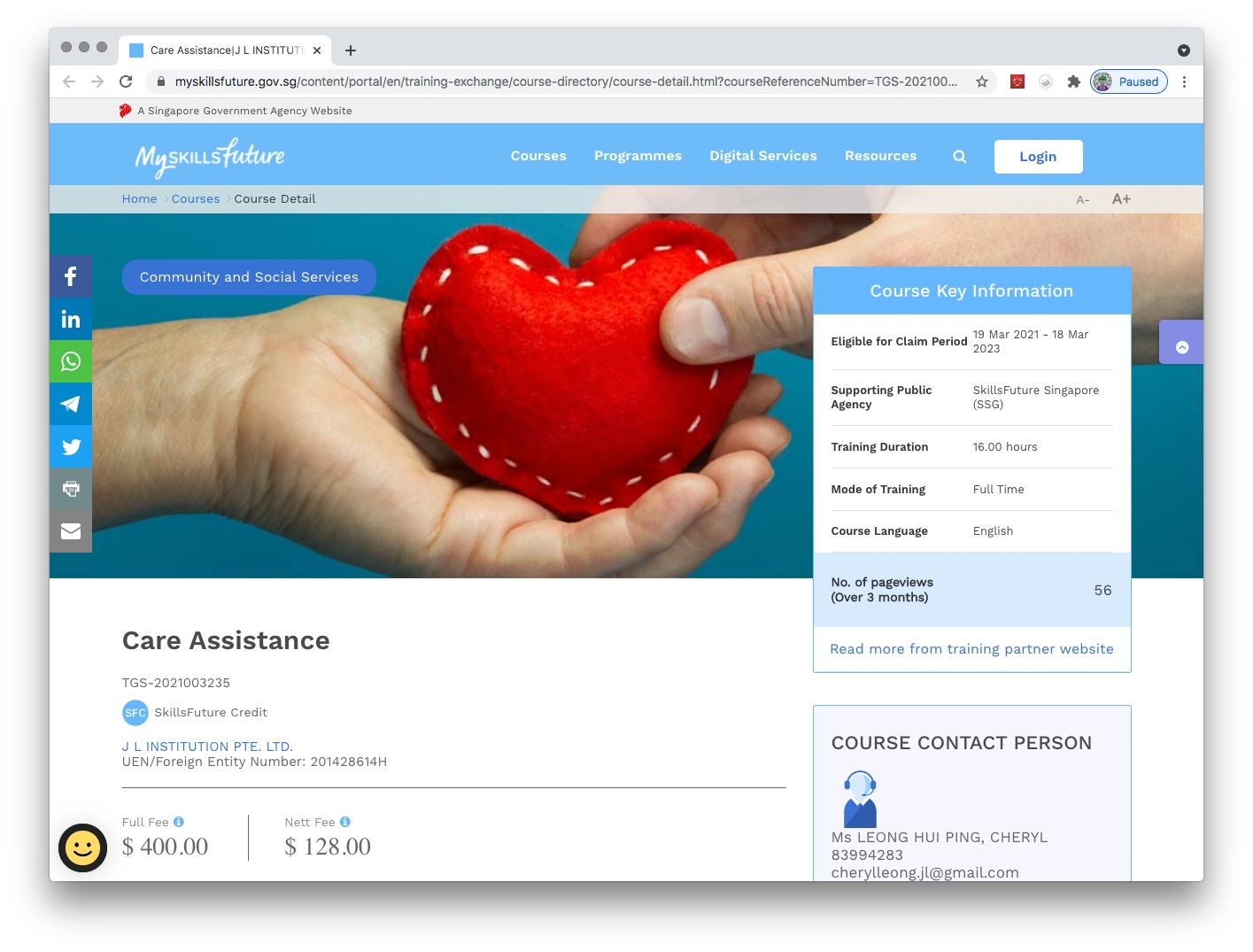 You want to take better care of your ageing parents or grandparents
While you may be in the prime of your life now, your family members may rely on you for daily care. And because of your heart-warming and enriching experiences interacting with them, you may want to do a career switch to the eldercare sector.
Sign up for: Care Assistance which teaches you to recognise common chronic health conditions that the elderly are prone to. You will also learn to assist them with daily toileting and feeding activities while maintaining their sense of dignity.
For the latest updates on Wonderwall.sg, be sure to follow us on TikTok, Telegram, Instagram, and Facebook. If you have a story idea for us, email us at [email protected].