Want To Hit Your "10,000 A Day" Step Count? Explore The Singapore Night Festival On Foot
If you're desk-bound five days a week like me, chances are, you don't often make your 10,000-a-day step count. Walks in the park, getting off the bus one stop early, or going to a physical grocery store instead of shopping online are great ways to get some steps in, but if you'd like to do it in a way that's less mundane, might I suggest exploring the Singapore Night Festival? I hit an extra 4000 steps exploring it the other night!

The Singapore Night Festival - not to be confused with the Light to Night Festival or I Light Singapore - is a two-week programme highlighting the Bras Basah.Bugis (BBB) precinct's culture and history. Buildings around the area will be illuminated with projection mapping works, while experiential programmes and roving performances will pay homage to our Singaporean heritage.

In the past, I was lazy and would anyhow take photos with the installations if I just so happened to be in the area. But this time, I laced up my sneakers and spent a week night with a small group of people as we attempted to visit as many locations as we could. By the end of the night, my heels and arches were in desperate need of a foot massage, but at least I felt slightly less bad about rewarding myself with a McFlurry at the end of the night.

Want to explore the festival on foot? Here's a brief guide to getting started - we won't cover every attraction (because firstly, spoilers, and secondly, there are more than thirty of them), but you can refer to this as a basic route for getting around: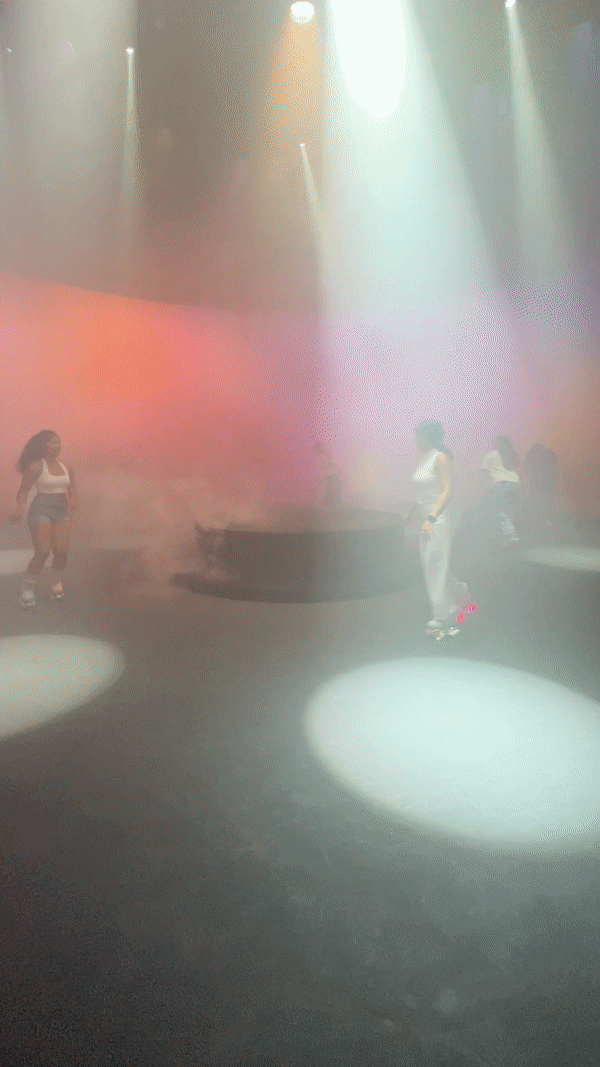 GIF: WONDERWALL.SG

Start at Time Is A Black Circle, by Dawn Ng
📍National Museum of Singapore, Gallery Theatre

Dawn Ng's rockin' roller rink pays homage to the Swinging Sixties and Disco Fever in the BBB district, once the centre of Singapore's discotheque scene. You can visit the artwork without skating, or you can pay $27 to strap on a pair of roller skates and get groovin'.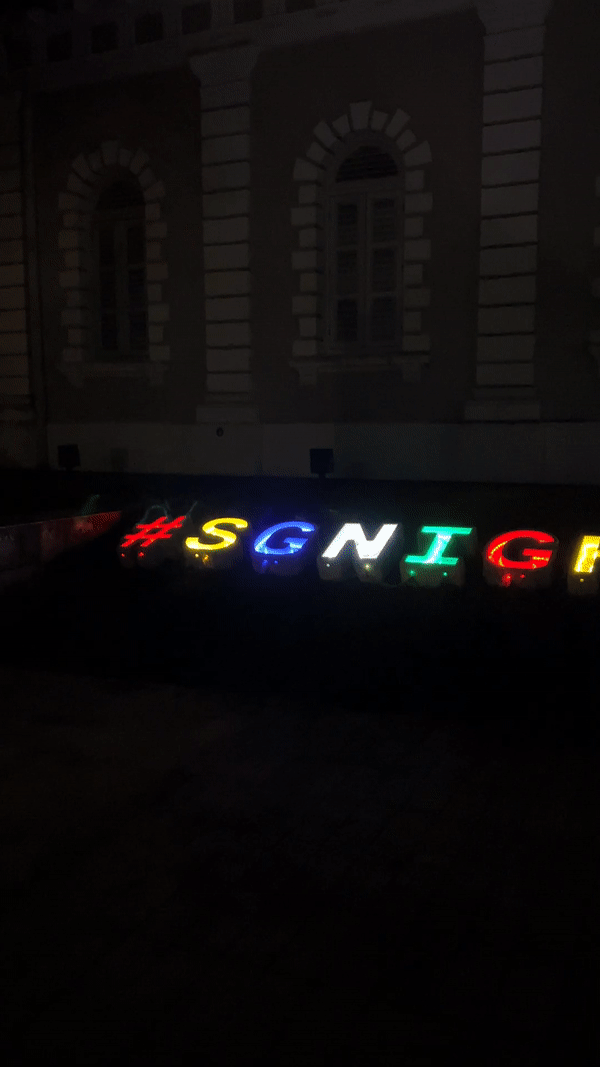 GIF: WONDERWALL.SG

Stroll toward #SGNIGHTFEST by Pan-United Corporation (Location: Lawn of the National Museum of Singapore) and A Stone's Throw (Away) by WY-TO Group (Location: National Museum of Singapore, Banyan Tree)

Snap a photo with your pals at the 7-metre #SGNIGHTFEST sign, which was crafted with sustainable, low-carbon, recycled raw materials using 3D printing technology.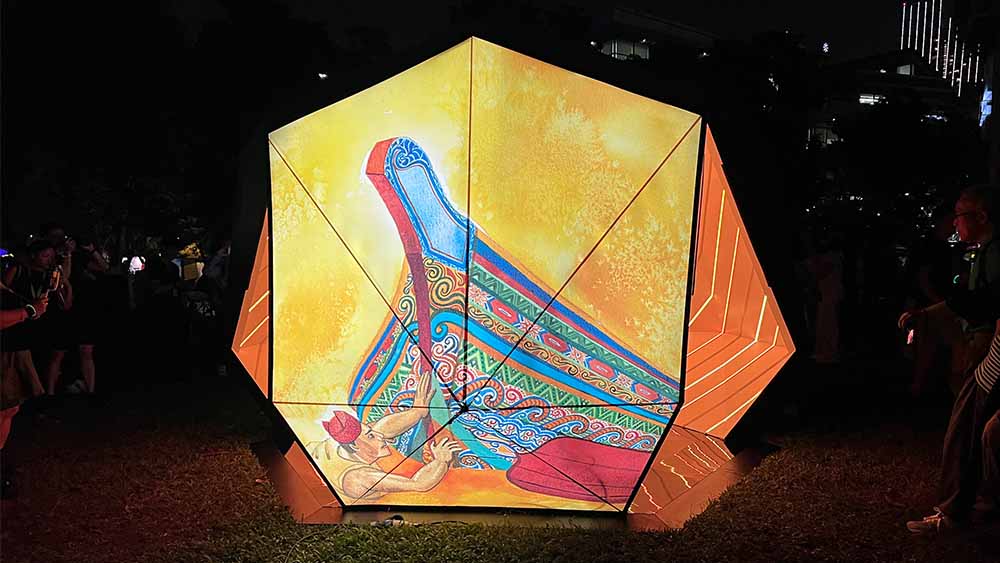 IMAGE: WONDERWALL.SG
Literally just a stone's throw away is an installation inspired by the legend of the Singapore Stone, where 14th-century legend Badang tossed a stone from Fort Canning Hill into the Singapore River.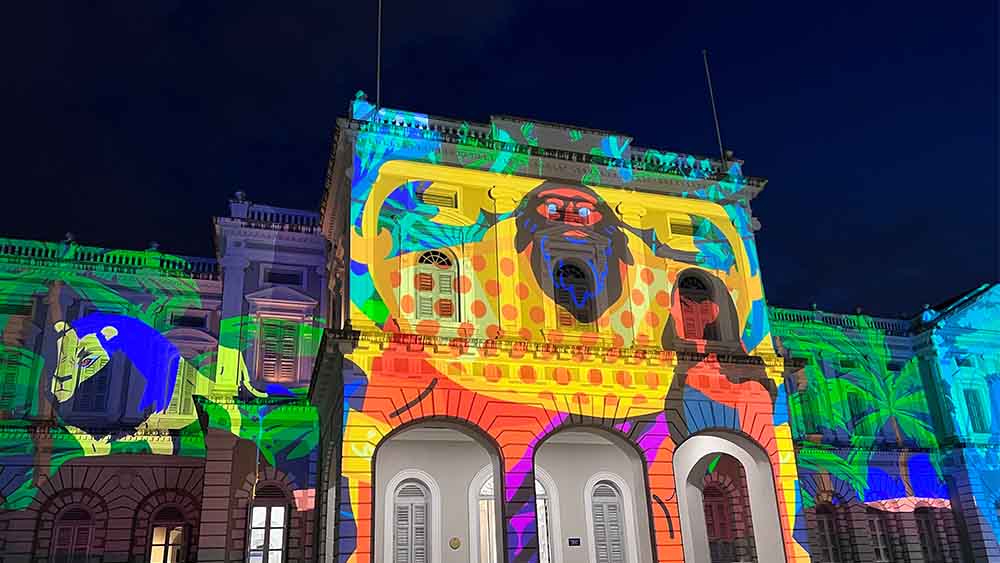 IMAGE: WONDERWALL.SG

Turn a corner to relive 700 Years of Singapore history
📍Facade of the National Museum of Singapore

The National Museum's exterior will become the canvas for an epic 6-minute work of theatrical projection mapping (the first of its kind in SG), which revisits our history all the way from Seri Anggerik in the 14th century to our Smart Nation in 2023.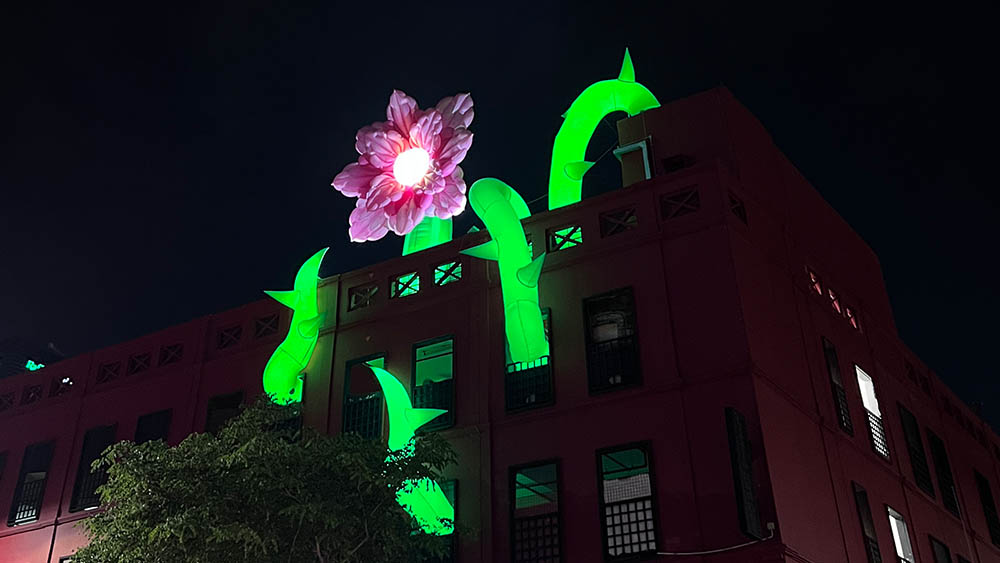 IMAGE: WONDERWALL.SG

Take a long walk to Bugis Street, where you'll find Florescence by Kristal Melson
📍Bugis Street Multi-storey Carpark, facing Queen Street

Talk about taking "city in a garden" to a new level. Kristal Melson's Godzilla-sized periwinkle pays tribute to our resilience as a nation - she sees the flower's knack for growing through cracks in concrete as a parallel to our doggedness amidst the challenges of day-to-day living.

TIP: If you get bored or tired on the way to Bugis, you can stop by the National Design Centre to check out GIFFEST III: Imperfect, an interactive exhibition celebrating - you guessed it! - animated GIFs: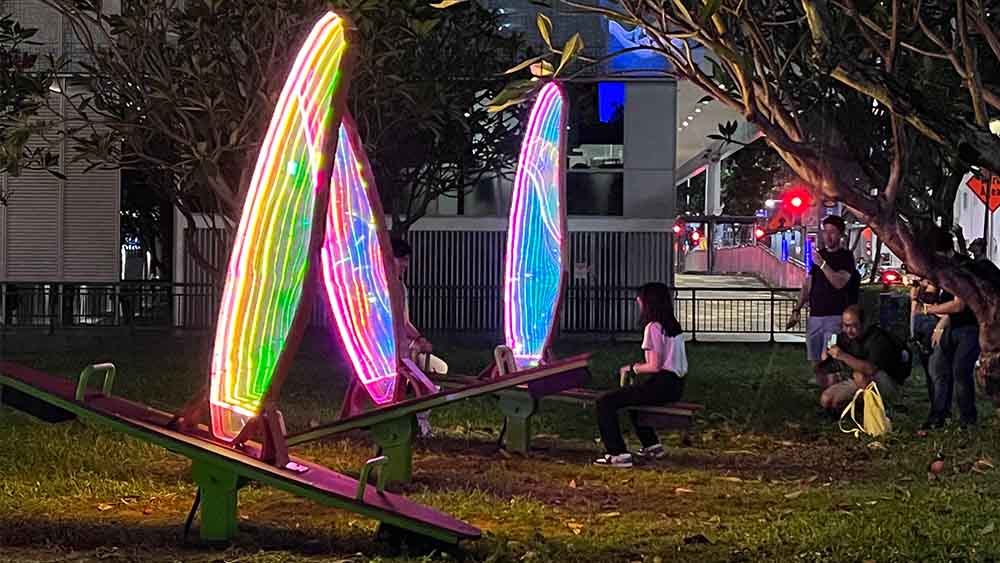 IMAGE: WONDERWALL.SG

Now it's time to get moving again. Make your way to the Stamford Arts Centre, where you'll find X O X (two kisses and a hug) by Critical Craft Collective
📍Outside Stamford Arts Centre

See-saws shaped like glow-in-the-dark dragonfly wings? This definitely goes under the top 10 most delightful things we experienced in 2023.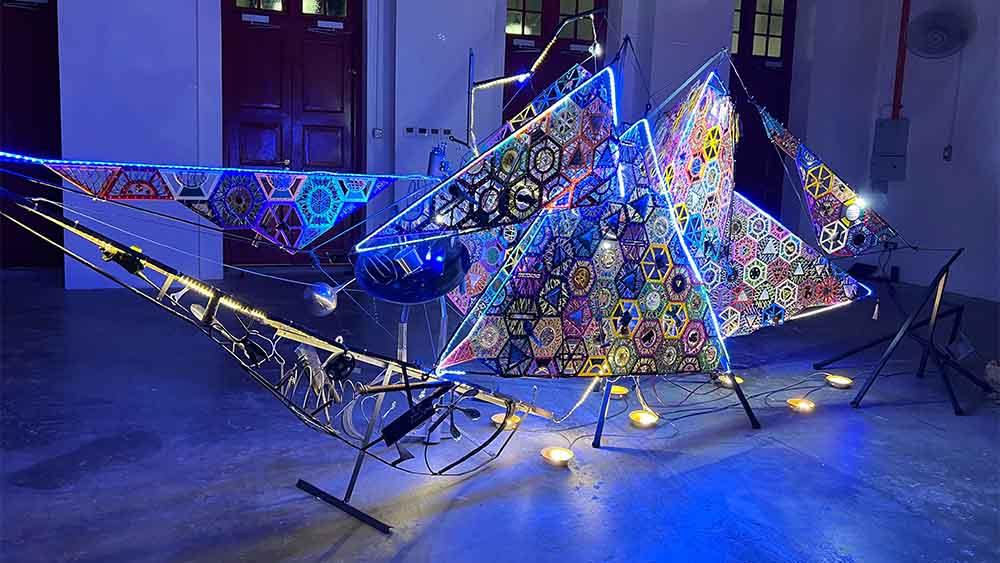 IMAGE: WONDERWALL.SG

Head inside to see (and smell) A Global Bugis Phinisi, by Tay Swee Siong
📍Stamford Arts Centre

This sculpture, inspired by the traditional Buginese (people of southern Celebes, Sulawesi, Indonesia) vessel, weaves in elements of historical boats - quite fitting considering Singapore's history as a port city. Step closer to the sculpture and you'll get a whiff of the herbs and spices that used to come through our waters.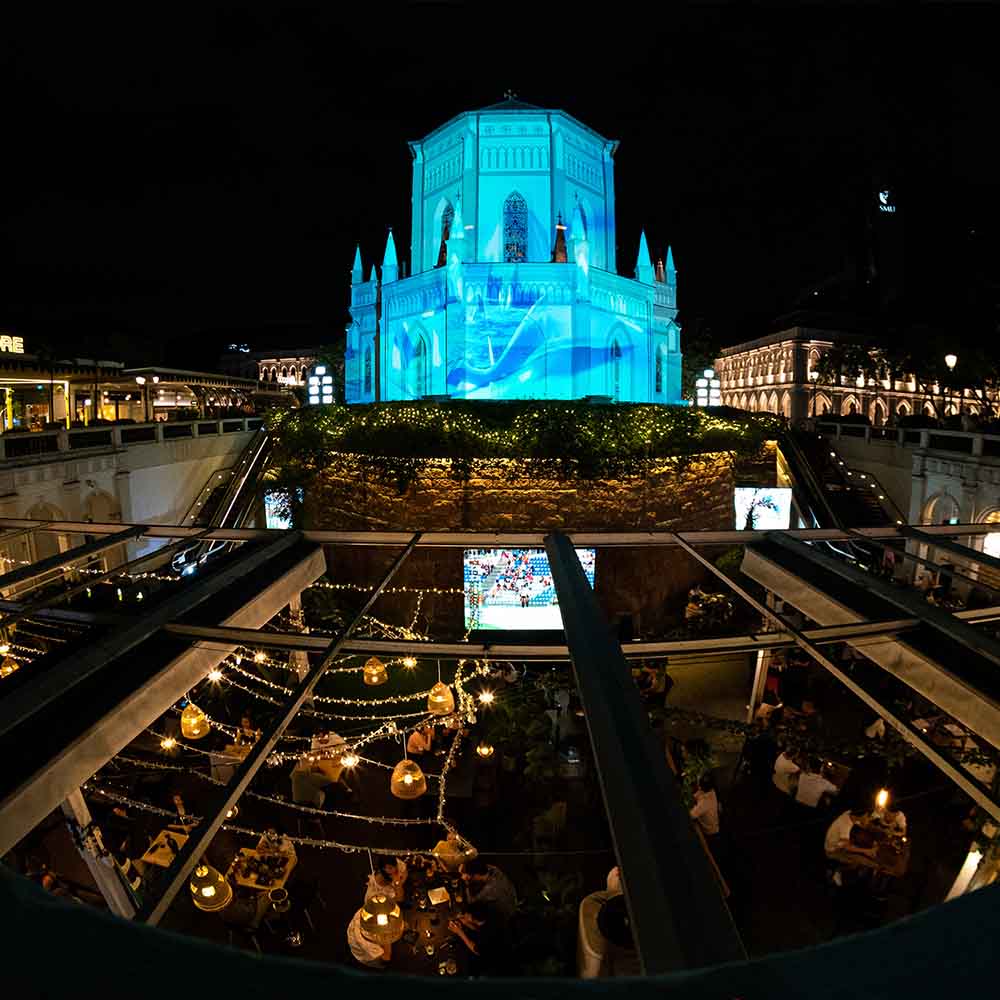 IMAGE: SINGAPORE NIGHT FESTIVAL 2023

Hungry? Hit up the Festival Villages
📍Main Festival Village @ SMU Campus Green
📍Festival Village @ Armenian Street
📍Festival Village @ CHIJMES

The outdoor market vibes are strong at the Festival Villages, where you can load up on treats like ondeh-ondeh churros and praffles, or prata waffles (Intrigued? We got ours at the SMU location).

The Festival Village @ Chijmes will also feature three projection mappings: perfect if you need a vibrant backdrop while you paktor.

That'll help you get a few thousand steps in, especially if you strapped on your skates in Time is a Black Circle. Bonus: If you go over the weekends, you can catch traditional dance performances, jazz nights, and even plays around the area.

Visit the Singapore Night Festival's website to see the full-lineup of programmes

The Singapore Night Festival will be held from 18-26 August 2023, from 7.30pm-12am

Admission is free for most installations
For the latest updates on Wonderwall.sg, be sure to follow us on TikTok, Telegram, Instagram, and Facebook. If you have a story idea for us, email us at [email protected].