GSS Lai Lo! The Best Credit Cards For Online Shopping
In what's surely a sign of the times, 2020 will see the first-ever online Great Singapore Sale (GSS). eGSS: Shop. Win. Experience will run from 9 September to 10 October 2020, with online deals, games and livestreams aplenty.

If you're chomping at the bit for some retail therapy, the question then becomes: What's the best credit card for online shopping? Make no mistake - there's nothing worse than putting all your big-ticket purchases on the wrong card and missing out on a ton of miles and points.
But I already have a credit card…
"Is it really necessary to get a separate credit card for online spending?" some will ask.
After all, you might already have a perfectly decent card, one which earns 1.1-1.4 miles per dollar spent.
Let me put it this way: you wouldn't use a corkscrew to open a beer bottle, nor a tennis racket to play ping pong. Each job has the right tools, and the miles game is no different. With the right cards, you could earn up to 4 miles per dollar on online shopping. Multiply the difference by a year's worth of spending, and that's tens of thousands of miles left on the table with the wrong card.
To illustrate, suppose you spent $24,000 online over the course of a year. If you put all that on the UOB PRVI Miles Card, you'd walk away with 33,600 miles - a decent enough return, and enough for a holiday to Taipei. But had you put that on the DBS Woman's World Card, the same amount of spending would yield 96,000 miles - enough for a round-trip Business Class ticket to Japan.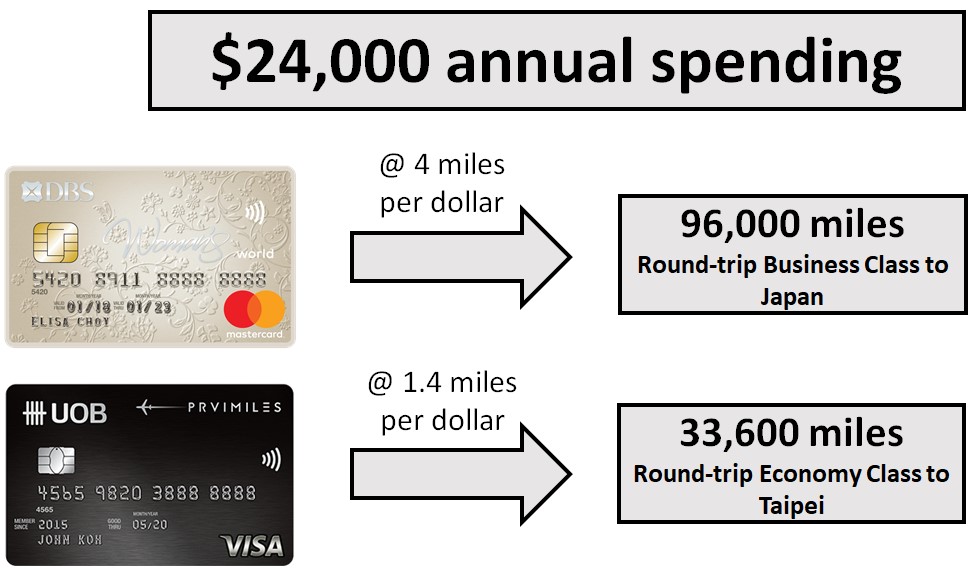 The difference is simply night and day.
Summary: Best cards for online shopping
Here's the tl;dr version for those of you who want a cheat sheet.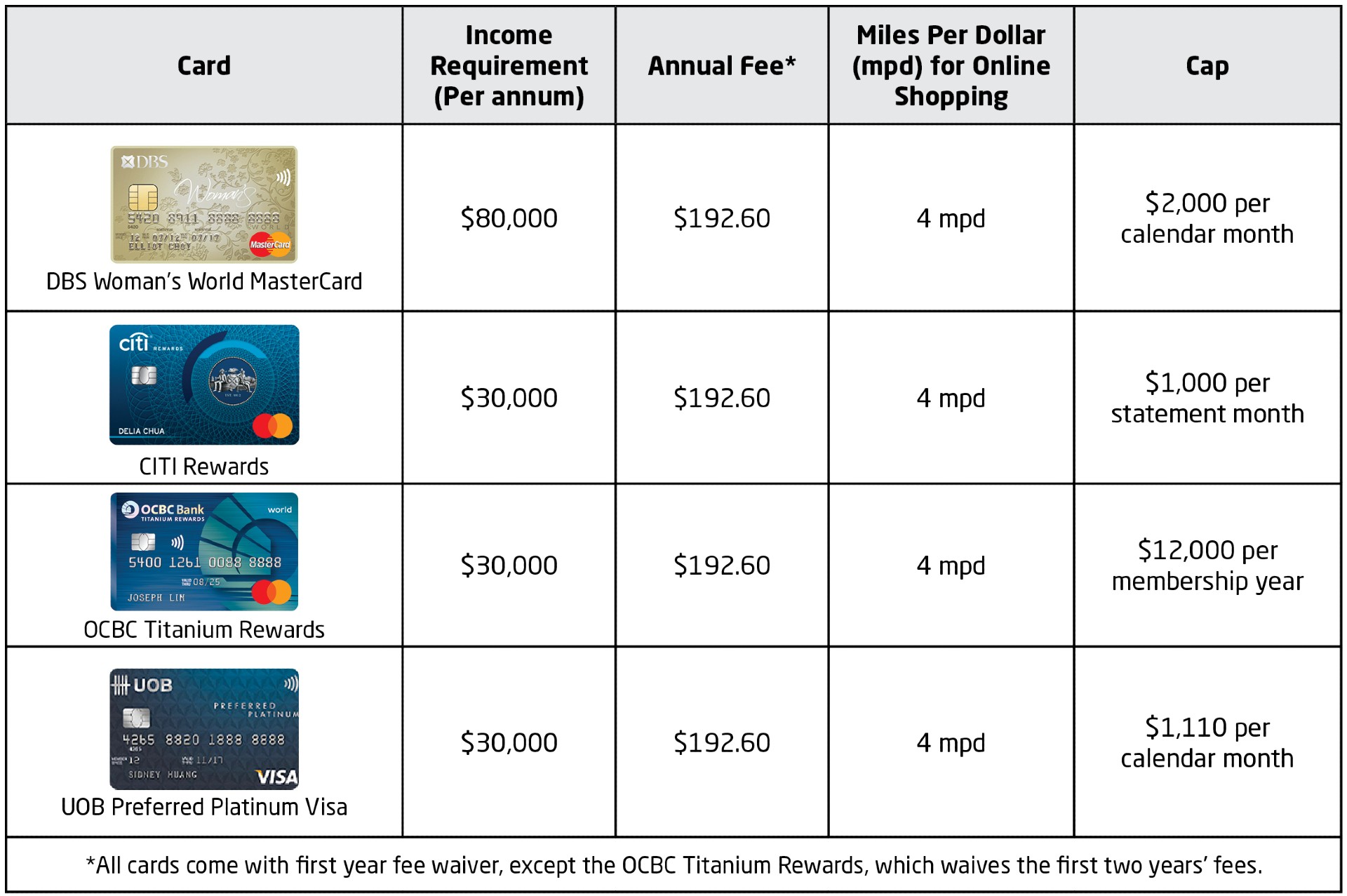 All the cards above are great options for online spending, but they each have their own quirks and limitations. We'll discuss these below.
---
DBS Woman's World Card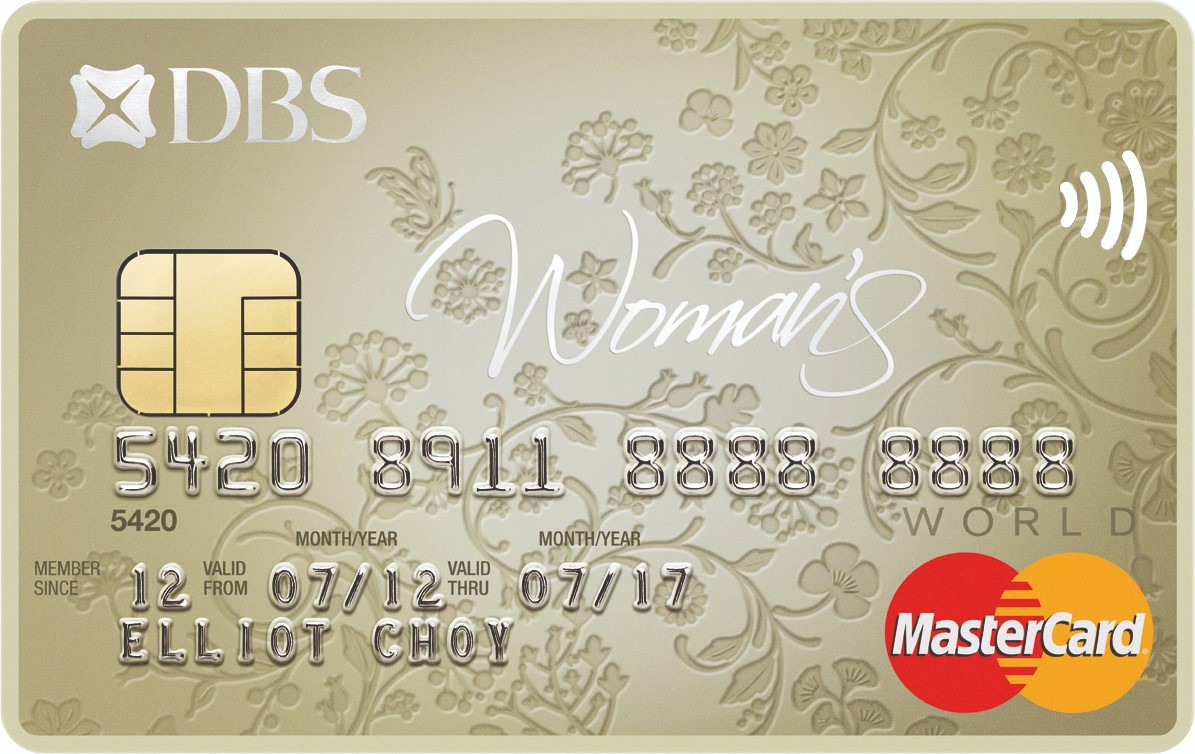 ️ Online Shopping defined as: Any online transaction, except education, hospitals, insurance, utilities and other merchants on this list
Don't scroll away now, guys. Despite the moniker, the DBS Woman's World Card is surprisingly egalitarian, open to applications from both men and women.
"But why would I want a girl's card?" you scoff, frantically pumping iron as if to prove a point. Well, perhaps because it's one of the best options for online spending out there. Cardholders will earn 4 miles per dollar (mpd) on the first $2,000 of online spending per calendar month (subsequent spending earns 0.4 mpd). This includes e-commerce sites like Amazon, Lazada, Qoo10 and Shopee, as well as online clothing and fashion retailers.
Even after the eGSS ends, think of how much day-to-day spending you do online: food delivery, grocery shopping, Grab/gojek rides, movie tickets, entertainment subscriptions...the list goes on. It just makes sense to have a specialised online spending card.
Besides, when all your transactions are done online, you'll never need to show your pretty floral card to the cashier.
---
Citi Rewards Card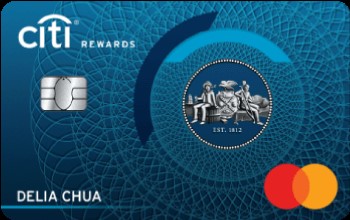 ️ Online Shopping defined as: Any online transaction, except travel, insurance, and other merchants on this list
The Citi Rewards Card is another great option for online shopping, with 4 mpd on the first $1,000 of online spending per statement month (subsequent spending earns 0.4 mpd).
Note that unlike the DBS Woman's World Card, the Citi Rewards applies its cap on a statement month basis. This is not the same as calendar month; a statement month could run from the 13th of each month to the 12th of the following month, for example. Everyone's statement month will differ, so check your online banking.
The other main difference is that the Citi Rewards card does not earn 4 mpd on travel expenses, so if you're planning travel for next year (or looking to buy staycation vouchers), this won't be the right card.
---
OCBC Titanium Rewards Card

️ Online Shopping defined as: Department stores, fashion, electronics, e-commerce platforms and any merchant on this list
The OCBC Titanium Rewards card earns 4 mpd on the first $12,000 of online shopping per membership year (subsequent spending earns 0.4 mpd)
Once again, there's a difference in how the cap is applied. With the OCBC Titanium Rewards, your 4 mpd is capped per membership year. This is the 12-month period that starts from the time you first received approval (e.g 1 April 20 - 31 March 21).
The annual cap means the Titanium Rewards is a great choice for big ticket spending. Imagine you wanted to buy a $4,000 laptop. Had you put this on the DBS Woman's World Card, you'd earn a total of 8,800 miles (2,000 * 4 + 2000 * 0.4), because of the monthly cap.
But with the Titanium Rewards, you'd earn 16,000 miles (4,000 * 4), plain and simple. In other words, you're able to frontload your spending and utilize more of your 4 mpd cap upfront.
Do note that OCBC defines online shopping more narrowly than DBS and Citibank, however. The following MCCs* and merchants qualify for 4 mpd:
● MCC 5311: Department Stores
● MCC 5611: Men's and Boys' Clothing and Accessories Stores
● MCC 5621: Women's Ready to Wear Stores
● MCC 5631: Women's Accessory and Specialty Stores
● MCC 5641: Children's and Infants' Wear Stores
● MCC 5651: Family Clothing Stores
● MCC 5661: Shoe Stores
● MCC 5691: Men's and Women's Clothing Stores
● MCC 5045: Computers, Peripherals, and Software
● MCC 5732: Electronics Stores
● MCC 5699: Miscellaneous Apparel and Accessory Shops
● Alibaba
● AliExpress
● Amazon
● Courts
● Daigou
● Ezbuy
● IKEA
● Lazada
● Mustafa Centre
● Qoo10
● Shopee
● Taobao
*An MCC is a four-digit code used to denote a merchant's principal line of business. For example, Marks & Spencer, Isetan and Takashimaya transactions would code as MCC 5311: Department Stores. Likewise, Apple and Audio House would code as MCC 5732: Electronics Stores
Protip: You'll see that there's a Blue and Pink version of the OCBC Titanium Rewards Card. Each has their own $12,000 cap, so by applying for both, you can earn 4 mpd on up to $24,000 of spending each year.
---
UOB Preferred Platinum Visa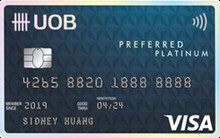 ️ Online Shopping defined as: Department stores, groceries, food delivery, entertainment, and any merchant on this list
The UOB Preferred Platinum Visa earns 4 mpd on the first $1,110 of online spending per calendar month (subsequent spending earns 0.4 mpd). The cap is officially $1,000, but because of how UOB calculates points, it becomes $1,110 in practice - just another perk of knowing the bank rewards systems inside out!
The following MCCs will qualify for this bonus: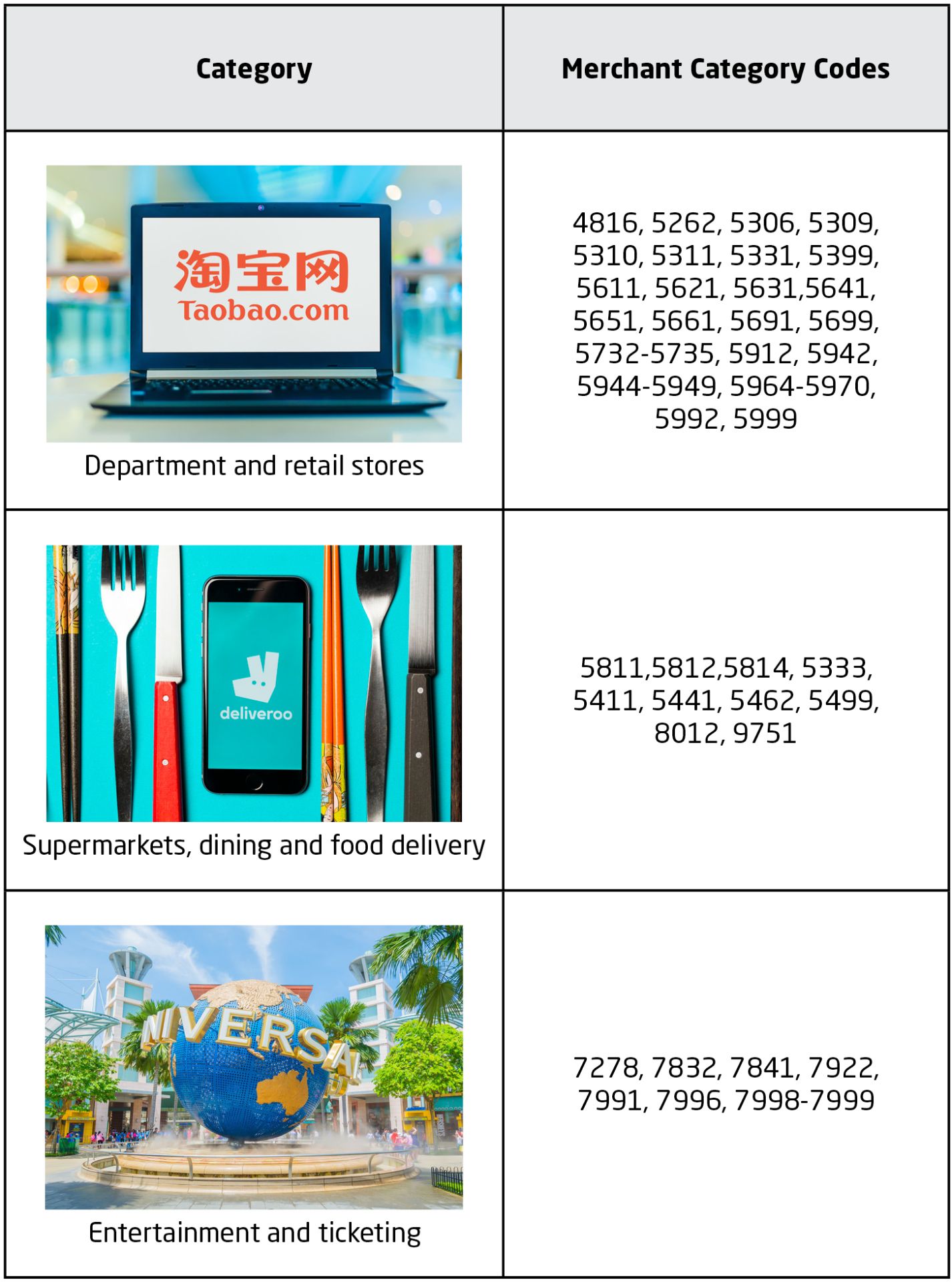 For those of you who don't speak MCC, this would include:
Department and Retail Stores: Amazon, Book Depository, Courts, Harvey Norman, Lazada, Qoo10, Shopee, Taobao
Supermarkets, Dining and Food Delivery: Cold Storage, Deliveroo, FairPrice ON, foodpanda, GrabFood, WhyQ
Entertainment and Ticketing: Cathay Cineplexes, Golden Village, SISTIC, Universal Studios Singapore
---
What else should I be aware of?
1. Don't spend beyond the cap
All the cards in this article are great for online spending, within the caps. Once you exceed the cap, your earn rate drops to a mediocre 0.4 mpd, way less than what you'd get had you stuck to a plain vanilla DBS Altitude or Citi PremierMiles card (1.2 mpd).
In fact, the more you exceed the cap, the lower your weighted average miles per dollar figure. So do yourself a favor and keep track of how much you're spending. Switch to another online spending card after you've busted the 4 mpd cap.
2. Don't spend beyond your means
Credit cards are great servants, but terrible masters. The prospect of earning miles should not be an inducement to spend more than you otherwise might have.
If you're going to buy a new phone anyway, by all means put it on the right card to maximize your rebate. But don't make the mistake of justifying unnecessary spending by saying "well, I'll earn some miles on it anyway".
At the end of the day, the miles game is about not leaving money on the table, not about putting more down.
3. Read the T&Cs for blanket exclusions
No one likes reading T&Cs, but they're a crucial part of the miles game. There are certain transactions which are low-margin by nature (e.g charitable donations, education, insurance, and government payments), and hence excluded from earning rewards.
These will be clearly laid out in the T&Cs, so invest a few minutes to read them:
● DBS Woman's World Card
● Citi Rewards
● OCBC Titanium Rewards
● UOB Preferred Platinum Visa
---
Conclusion
The upcoming eGSS is a great opportunity to kickstart your miles collection, while snagging some deals in the process. However, it doesn't have to end there. After the dust settles, you'll still have your usual grocery, transport and other essential online transactions to make. Putting these on the right card helps you maximise your rebates, and takes you one step closer to your dream vacation.
---
For the latest updates on Wonderwall.sg, be sure to follow us on TikTok, Telegram, Instagram, and Facebook. If you have a story idea for us, email us at [email protected].