Hometown Heroes: Team South/Central Showcase Their Mellow Side With English-Tamil Single
The battle for hometown supremacy continues! Previously, Team East showcased their quirky selves with the indie-pop single "Get To Me". This time, artists from the South Central side of Singapore are out to prove that talent and bromance exist in equal measure down under.
This dynamic all-male quartet have come together as part of the documentary-cum-gameshow miniseries "Hometown Heroes", and comprises acclaimed producer J. Son, artist/entrepreneur Jaye, comedian and frontman of metal band Mucus Mortuary Jaarvis, and singer-songwriter Daniel Sid.
Individually, this unlikely quartet's members represent different musical genres, and have vastly distinct personalities, but, as they say, opposites attract, and they have banded together to release an alternative R&B/Hip-Hop number "Bright City, Grey Skies".
It even features an unexpected Tamil rap verse from metal singer Jaarvis as well as Daniel Sid's trumpet-like vocalisations. We spoke with Daniel about this unlikely collaboration and why these chaotic boys chose to display their more sensitive side on the track.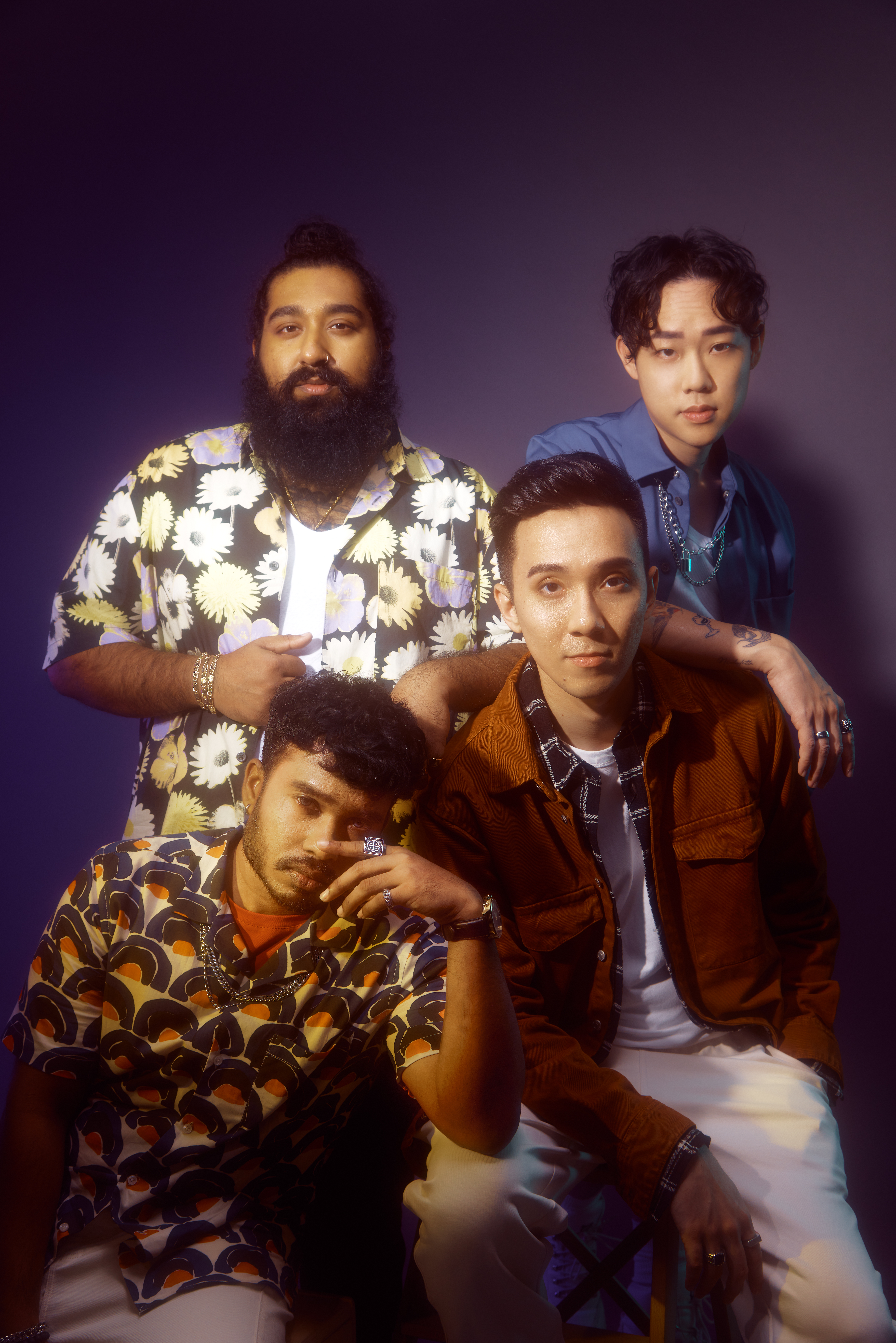 How did you get involved in this project and how do you feel about taking part in the challenges?
I was excited to be a part of "Hometown Heroes"! It's common knowledge that I'm not a person who takes himself too seriously. I was excited to be able to collaborate and just have a really fun experience with such talented musicians around me, and have the added bonus of working on a track together.
Alright, tell us why your team's the best! And how was the experience working with your fellow teammates?
The South-Central boys brought chaos everywhere we went without even trying. We are the same on and off camera. Actually, we had to dial it down on camera to keep the show more PG. Absolute havoc!
Jason, Jaarvis, and Jaye are amazing people and musicians, and we all vibed really well together, and fed off each other's energy even in the studio when making the track.
What's the most memorable thing that happened during filming?
Bungee jumping. What kind of fools just decide after meeting for the first time to do something that ridiculous?
What is your favourite spot or quirk about your side of Singapore?
The South and Central are where the fun is at. We've got great food, drinks, clubs and music venues. We are the common ground where you can meet your friends who stay at the opposite side of the island for a good time.
Tell us about your team's song "Bright City, Grey Skies" and the concept behind the MV.
We decided to create a track about individuality and how that can conflict with what society makes of you. In Singapore, you have that "Crazy Rich Asian" vibe of luxury which the world sees, but we also have our own [unseen] struggles.
Our initial concept for the MV was really cool. Jason was even willing to commit to shaving his hair off as part of the video - to show a submission to conformity. But because of COVID-19 restrictions, we couldn't make that vision come through. We still have a super chill MV, though.
For some laughs: Always watch what we are doing in the background of whoever is singing on camera.
How did you guys manage everyone's unique artistic vision and genre preferences?
Good music is universal, so we were able to find a fair bit of common ground on sounds and styles that we all like. It took a while to cycle through a lot of different tracks and elements we wanted to add into a track that would still suit all of us.
We started off with me playing a simple guitar loop, making some noises, and it started taking shape really quick. I'm really proud of what we did, I think we all killed it on the track.
You've busked all over the world! What was that like and what was your most unforgettable interaction you encountered while busking?
I love busking, and I miss it a lot. My favourite thing about it is that you never know when you are going to make someone's day better, change a life or even save one.
I've received some unforgettable messages and had interactions with strangers who opened up about losing loved ones, dealing with terminal illnesses and their struggles, and how music helps them feel better. Each life touched means the world to me.
For the latest episodes of "Hometown Heroes" and to vote for your favorite song, click here.
For the latest updates on Wonderwall.sg, be sure to follow us on TikTok, Telegram, Instagram, and Facebook. If you have a story idea for us, email us at [email protected].