Let's Go Paktor: Exploring Childhood Haunts With Your Date
If you and bae are young at heart, perhaps it's time to take a trip down memory lane and shake up your next date by revisiting places you used to love going to as kids.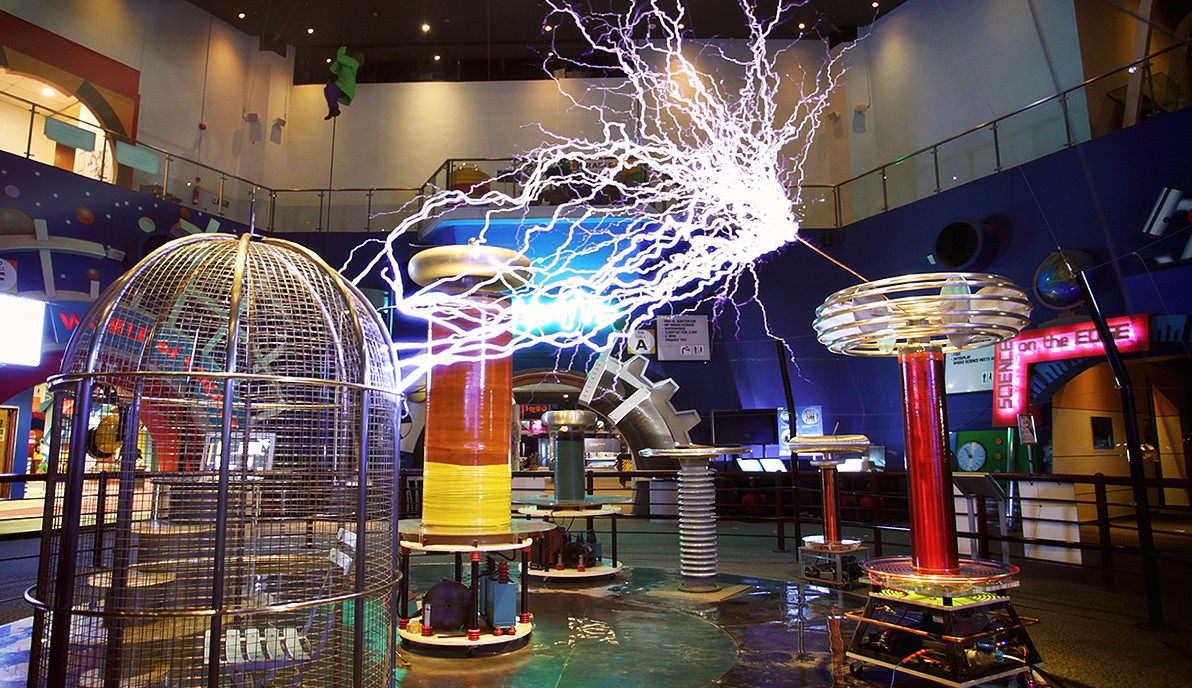 Science Centre Singapore
Why we loved it as kids:
We got to see (and play with!) tons of cool displays with flashing lights, crackling electricity and loud noises, even though we didn't understand a thing about how they worked.
Why we love it now:
We get to see (and play with!) tons of cool displays with flashing lights, crackling electricity and loud noises, while actually understanding about 5% of the science behind how they work.
Jokes aside, Science Centre has plenty to explore and discover, all while providing tons of opportunities for gorgeous IG pics – especially in Professor Crackitt's Light Fantastic Mirror Maze, where you and bae will get lost (hopefully not literally) in each other's eyes while navigating a massive labyrinth of mirrors. Be sure to snap a pic or two of you and bae bathed in the ethereal and constantly changing coloured lights that illuminate this maze.
The Omni-Theatre is always worth a visit as well; perfect excuse to cuddle up with bae in the darkness of the theatre while watching Superpower Dogs, an awesome movie about badass doggos saving lives with their incredible abilities.
15 Science Centre Rd, Singapore 609081
Find out more here
Snow City
Why we loved it as kids:
"Real" snow in sunny Singapore for us to make snow angels, have snowball fights and go sledding? Sign us up!
Why we love it now:
In lieu of travelling to winter countries during this period, you and bae can have a "real" holiday in the snow right here in Singapore. Of course, while we were too impatient to stand still for photos as kids, snow angels are now photo ops (thanks to the professional photographers standing by onsite), snowball fights are an excuse to mess with bae by stuffing snow down their back, and the snow slope is still as thrilling as ever, even though it no longer seems as tall as a mountain like it did when we were kids.
21 Jurong Town Hall Rd, Singapore 609433
Find out more here
WRS Parks (aka Singapore Zoo/Jurong Bird Park/River Safari/Night Safari)
Why we loved it as kids:
We got to actually see with all the cool animals we'd learned about in real life, play with the cute ponies/goats/rabbits at the Kid's Zone, and watch the animals entertain us in quirky ways during adorable yet thrilling animal shows.
Why we love it now:
The animals are as cool as ever, and now that we're the adults, we can cleverly map out our route to ensure we get to visit all of them, and even catch one (or all!) of the animal shows. In other words, you and bae can take cute couple pics with monkeys/pandas/snakes/insert animal here, mugging for the camera and mimicking them as you do - perfect for making hilarious yet precious memories to look back on.
In addition, you can extend your date by embarking upon an (ahem) after-dark adventure... the Night Safari, which we can now visit without parental veto on the grounds of it being after our bedtime. And hey, if you and bae decide to cuddle (or maybe more) in the darkness, who's going to know?
Find out more here
Wild Wild Wet
Why we loved it as kids:
Giant slides that we'd beg our overprotective parents to let us ride, mounted water guns/cannons beside the Shiok River that we'd spray at unsupecting strangers as they floated by while relaxing, and a water playground with a giant Yakult bottle that would tip over every 25 minutes, soaking everyone standing in the splash zone (the Pavlovian sound of the bell from the Yakult playground never failed to bring a mass exodus of gleeful kids eager to get really wet).
Why we love it now:
Getting to see bae in a swimsuit/wet T-shirt. Enough said.
Okay, fine, aside from that, now that we're finally tall enough to go on all the rides (and don't have to bargain with said overprotective parents to do so), we can impress bae by (supposedly) fearlessly taking the plunge on these thrilling rides. After all, the terror/adrenaline rush of going on these high-speed water rides is still nothing compared to the feeling of clinging to bae as the two of you share a raft (and get to sit really close to each other in the process).
1 Pasir Ris Close, Singapore 519599
Find out more here
Sentosa Luge
Why we loved it as kids:
The rush of speeding downhill while accelerating uncontrollably (or so we liked to pretend), zooming right past our panicking parents and their shouts for us to slow down.
Why we love it now:
Sure, we're old enough to have driver's licenses now, but going on the luge means we can go as fast as we want without having to worry about speed limits, traffic jams or getting caught by the police for trying to play Need for Speed in real life. Time to challenge bae to a race as you zip along the course, turning corners as tightly as you dare and playfully taunting each other all the while. For a truly romantic experience, try the Night Luge and watch as the track is illuminated by vibrant LED lights, giving it a magical and almost otherworldly vibe.
45 Siloso Beach Walk, Sentosa, Singapore 099003
Find out more here
BONUS: These places may be gone, but they live on in spirit
Original: Underwater World (Closed in 2016)
Why we loved it as kids:
The giant travellator that took us under the aquarium tunnel made us feel like we were at the bottom of the ocean, looking up at the fish and other marine life as they swam above us.
Replacement: S.E.A. Aquarium (Opened in 2012)
Why we love it now:
The entire aquarium makes us feel like we're at the bottom of the ocean, from the entrance and exits, which consist of huge tunnels through a gargantuan shark exhibit, to the Open Ocean Habitat, a massive ceiling to floor aquarium with a viewing panel that's 36m wide and 8.3m tall, creating the illusion that you're looking up at the world from the depths of the sea. The mesmerising sight of these majestic sea creatures all around us is the perfect backdrop for romance - after all, who else would we want with us at the bottom of the ocean than bae?
If you're willing to shell out a bit of extra cash, you can even take the romance up a notch with an underwater dining experience at the Ocean Restaurant within the Open Ocean Habitat, feasting on mouthwatering seafood dishes while you admire the marine life around you. That's right, you can watch your fish and eat it too.
8 Sentosa Gateway, Sentosa Island, Singapore 098269
Find out more here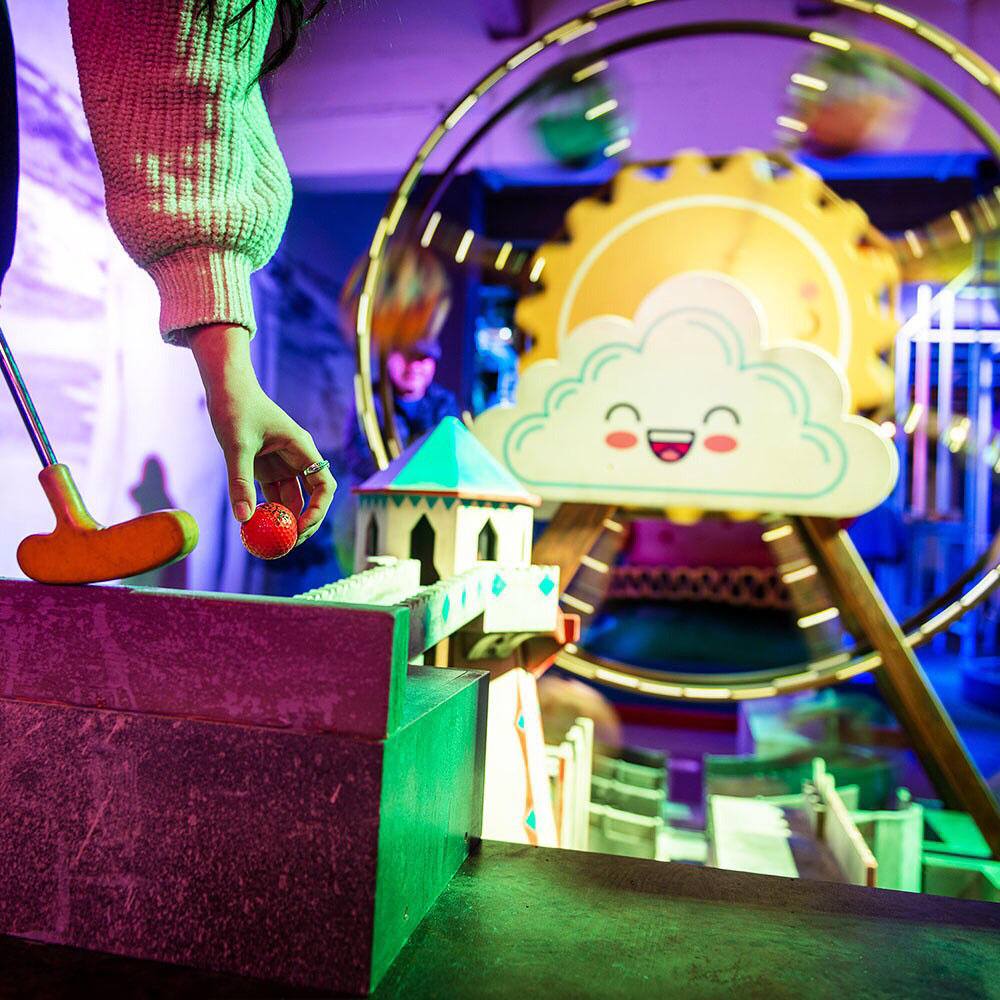 Original: LilliPutt Indoor Mini Golf (Closed in 2016)
Why we loved it as kids:
Basically, it was golf, except with actual fun involved due to the wacky hole designs, many of which were inspired by local landmarks like the Esplanade and the Merlion. Not to mention, the minigolf putters were actually light enough for us to hold, aim and swing with our tiny hands.
Replacement: Holey Moley Golf Club (Opened in 2018)
Why we love it now:
No matter how old you are, minigolf never stops being fun, and Holey Moley's wacky themed holes are the true epitome of fun. From an Iron Throne made of golf clubs to a neon-splattered chessboard, a homage to E.T(ee), an upside-down hawker centre and more, a session at Holey Moley means fun, friendly competition and tons of opportunities for quirky IG pics/couple shots. In addition, Holey Moley isn't just a minigolf course - it's a cocktail bar as well. Once you've finished your game, you and bae can relax, enjoy the groovy atmosphere and celebrate with a fancy drink.
3B River Valley Rd, Clarke Quay, Singapore 179024
Find out more here
For the latest updates on Wonderwall.sg, be sure to follow us on TikTok, Telegram, Instagram, and Facebook. If you have a story idea for us, email us at [email protected].