Local Artists Duke It Out In Musical Battle Royale - First Up, Team East
It's the age-old Singaporean debate: Which side is truly the best side?
"Hometown Heroes", a documentary miniseries cum music challenge, attempts to answer this question by pitting 16 of our favorite local musicians in groups of four in challenges across the island - namely, South Central, East, North and West - for ultimate bragging rights.
Sound like a recipe for a whole lot of craziness? You betcha.
Each team will have to create a song and music video to best represent their hometown. This epic journey is captured across 10 episodes, culminating in a music showcase and awards ceremony where you can vote for your favourite track. Let the Hunger Games, I mean, competition begin!
First up, we have the quirky quartet from the East side, comprising producer Evanturetime (Evan Low), who is fresh off the success of this year's National Day Parade song "The Road Ahead" (which he co-wrote), and singer-songwriters Estelle Fly, Marian Carmel and Shye (one of the four singers in "The Road Ahead").
We catch up with Evanturetime to talk about the group's indie-pop single "Get To Me" and being the thorn among the roses.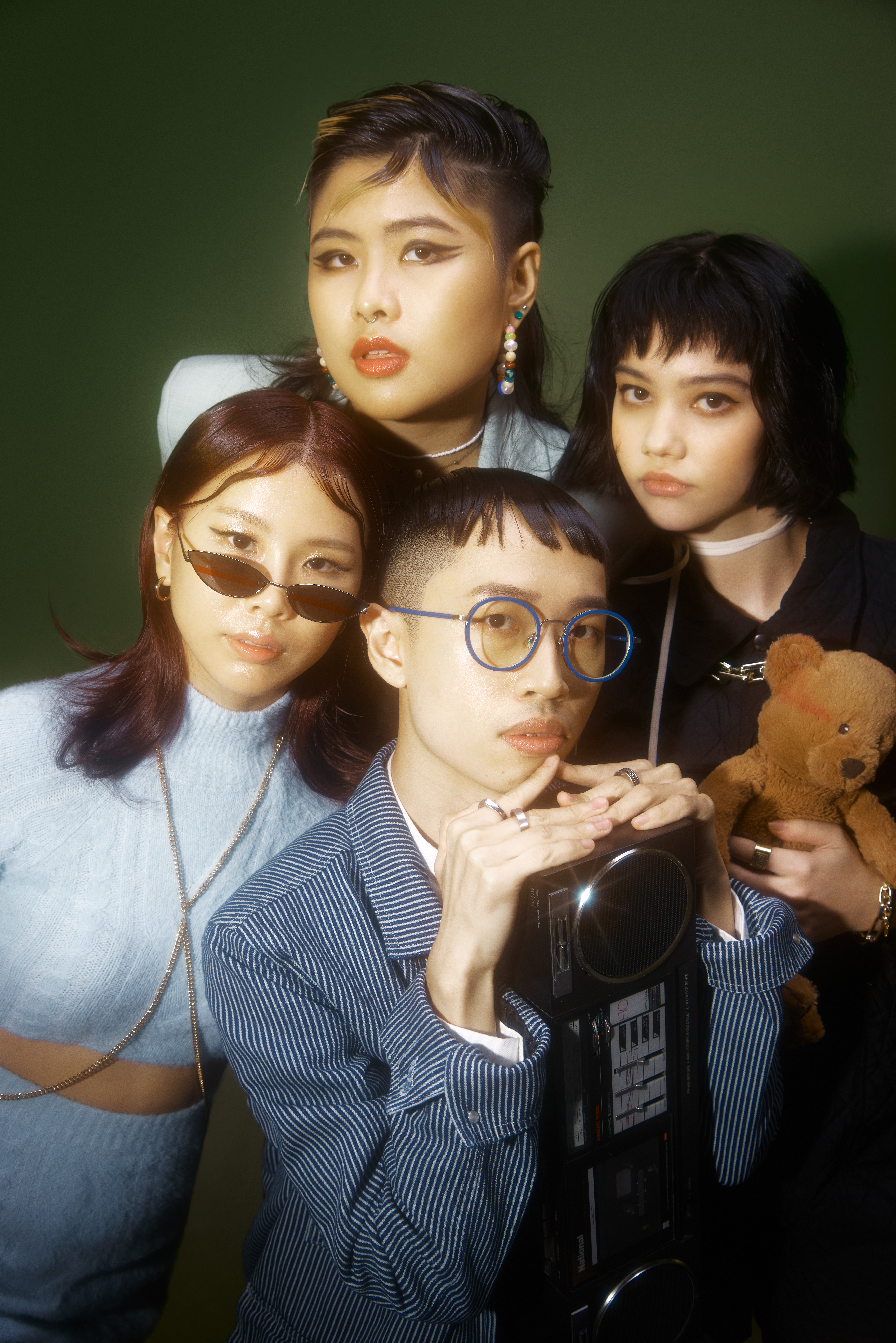 Hey Evan! How did you get involved with "Hometown Heroes"?
Jon (founder of Zendyll) reached out to me with a crazy concept about putting a whole bunch of us zany musicians together in a variety show, selling it as kind of like a musicians' "Running Man".
We have a lot of very interesting musical personalities on this island that aren't necessarily showcased enough on social media, and I loved that the team is trying to celebrate that. So, it was quite an easy "yes" to say to this project!
You know what they say, "East side, best side"! What makes your East team great, and how was the experience working with your fellow East-side artists?
I think the girls and I bonded really well over our easy-going and fairly chaotic personalities. Usually, I'm the overly enthusiastic person in the studio during the writing process, but in this scenario, I was actually the most calm and collected person in the room - a strange twist of things I'd say, but something I welcomed very much, especially with this group. We became fast friends and have even made shirts and pins for each other - how cute is that!
What can you tell us about your track "Get To Me" and the concept behind the MV?
It all started with a picture of this one meme - a dog drinking coffee while everything around him was on fire. All four of us have very different musical influences, so we were thinking how we could glue all of our musical tendencies together. Turns out, the meme was the one thing that became the glue.
Essentially, we were bonding over all of us getting through the chaos in life with as much dignity, grace and fun as possible, and the song kind of fell into place while we were just having fun, goofing around - which, I feel, really shows when you listen to the end product! It was all written in very good fun.
As for the MV, we were looking at how we could make the corniest and funniest edits work in tandem with the spirit of the song. A lot of ideas were thrown around that were hilarious, and after much deliberation (and partially due to Covid-19 constraints as well), we decided to be largely inspired by John Mayer's "New Light".
The story in the MV (shout out to the producers who came up with the idea) is largely inspired by that one photo that Shye took with a cat when she was a child, and the Phua Chu Kang look came from one of the sabotages that one of the teams gave us. We just decided to own it and celebrate the painful creative restrictions imposed upon us both aurally and visually. Haha!

We can't talk to you without mentioning one of your greatest achievements - co-writing and producing this year's NDP theme song "The Road Ahead". How was that experience overall and how did it help you grow as an artist?
Humbling to say the least! I know it sounds corny but it's a huge honour to be writing a song for the nation and I am really, really humbled that the reception for the song so far has been good. Writing with (singer-songwriter) Linying has always been a joy and we really enjoyed this challenge.
It's a very different creative headspace to put ourselves into and there's a lot that you have to be mindful about and be honest with. Honestly, I'm really glad that it has resonated with the public. We are going through some unprecedented times, and I'm glad we were able to provide people some amount of comfort and support.
Before we let you go, tell us, what is your favourite thing about the East side?
It's honestly the red saga tree that we went to in one of the episodes. I grew up in Hong Kong for most of my childhood, so a lot of my earliest emotional connections to the East and this country has to do with me really just picking up the saga seeds below my block. Who would've thought it would've influenced so much of my work as a musician!
For the latest episodes of "Hometown Heroes" and to vote for your favorite song, click here.
For the latest updates on Wonderwall.sg, be sure to follow us on TikTok, Telegram, Instagram, and Facebook. If you have a story idea for us, email us at [email protected].