'MAMMA MIA!': You Will Dance, Jive, And Have The Time Of Your Life
In an era dominated by slick concert production, and, horror of horrors, lip-synching, musical theatre is a genre that is refreshing and emotionally rewarding, and offers a level of authenticity that can only be achieved by the genuine, unadulterated quality of "live" singing and music. Witnessing the cast of "MAMMA MIA!" belt out ABBA's iconic hits with real, raw, and unfiltered voices is nothing short of magical.
Jess Michelmore (left) as Sophie Sheridan, and Sara Poyzer as her mum, Donna. | IMAGE: BASE ENTERTAINMENT ASIA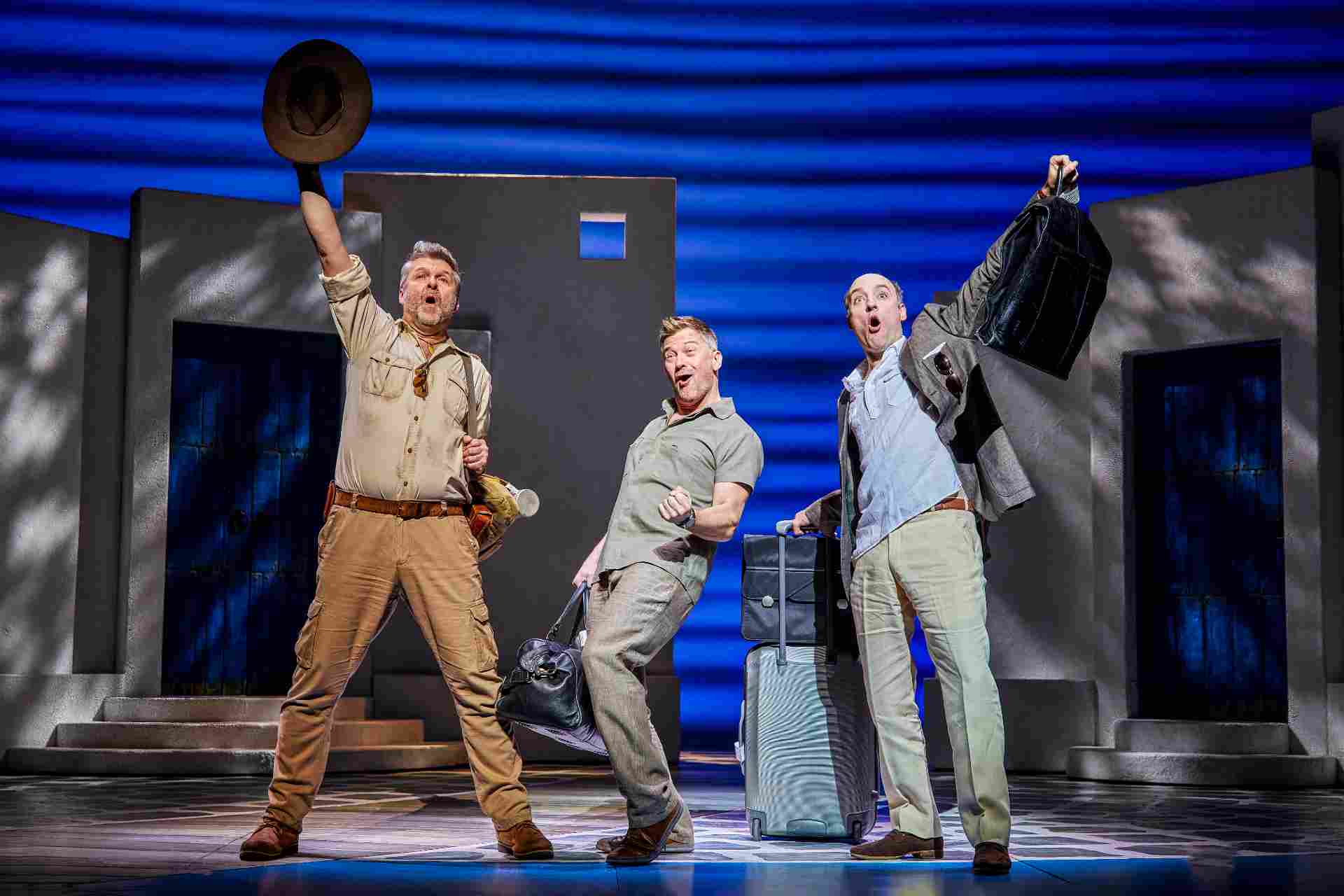 (From left) Phil Corbitt, Richard Standing, and Neal Craig are a riot as the trio of Donna's ex-lovers. | IMAGE: BASE ENTERTAINMENT ASIA
The show, which includes monster hits like "Dancing Queen", "Money, Money, Money" and "Take A Chance On Me", originally opened in London's West End on 6 Apr 1999. It's not hard to see why this feel-good smash hit musical – set on a Greek island and revolving around the quest of a young woman to discover the identity of her father (among three possible dads) right before her wedding – is a global phenomenon.
And the numbers don't lie: With a staggering 65 million viewers across 16 languages, grossing over $4 billion at the box office, and premiering in 450 major cities faster than any other musical in history, the show has captured the hearts of audiences worldwide.
The touring production now in Singapore, and presented by BASE Entertainment Asia, is no exception.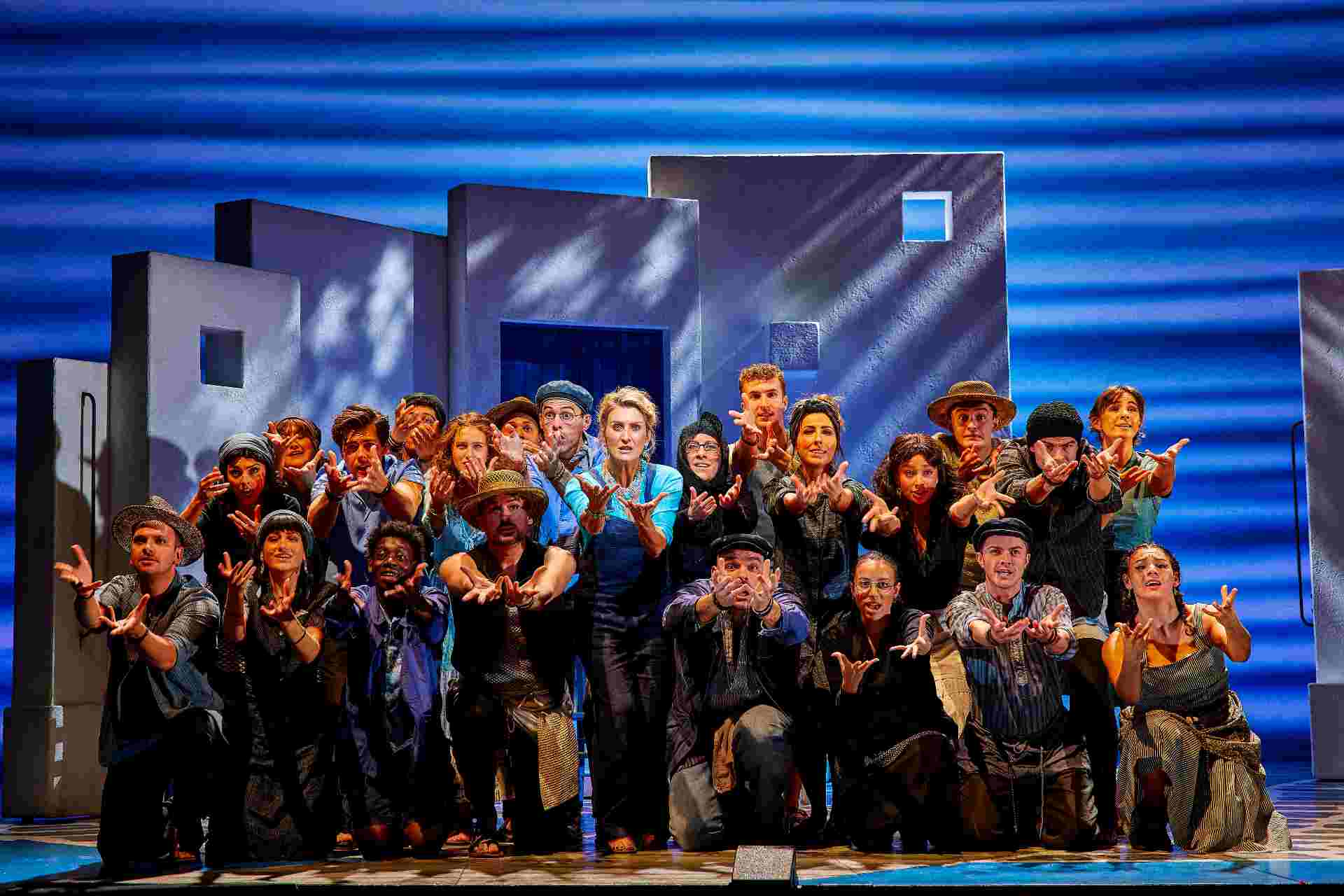 The show features close to 25 of ABBA's greatest hits cleverly interwoven to form an engaging and interesting story. | IMAGE: BASE ENTERTAINMENT
Sara Poyzer is a worthy captain of this cast, and while she took a couple of numbers to warm up and find her groove on Opening Night (19 Oct), her portrayal of Donna Sheridan is heartfelt and emotionally resonant. Richard Standing as Sam Carmichael shines with charisma, believability, and pitch-perfect vocals. The chemistry between Jess Michelmore's Sophie Sheridan and Christopher Foley's Sky is palpable, with their vocal blend adding depth to their characters' love story.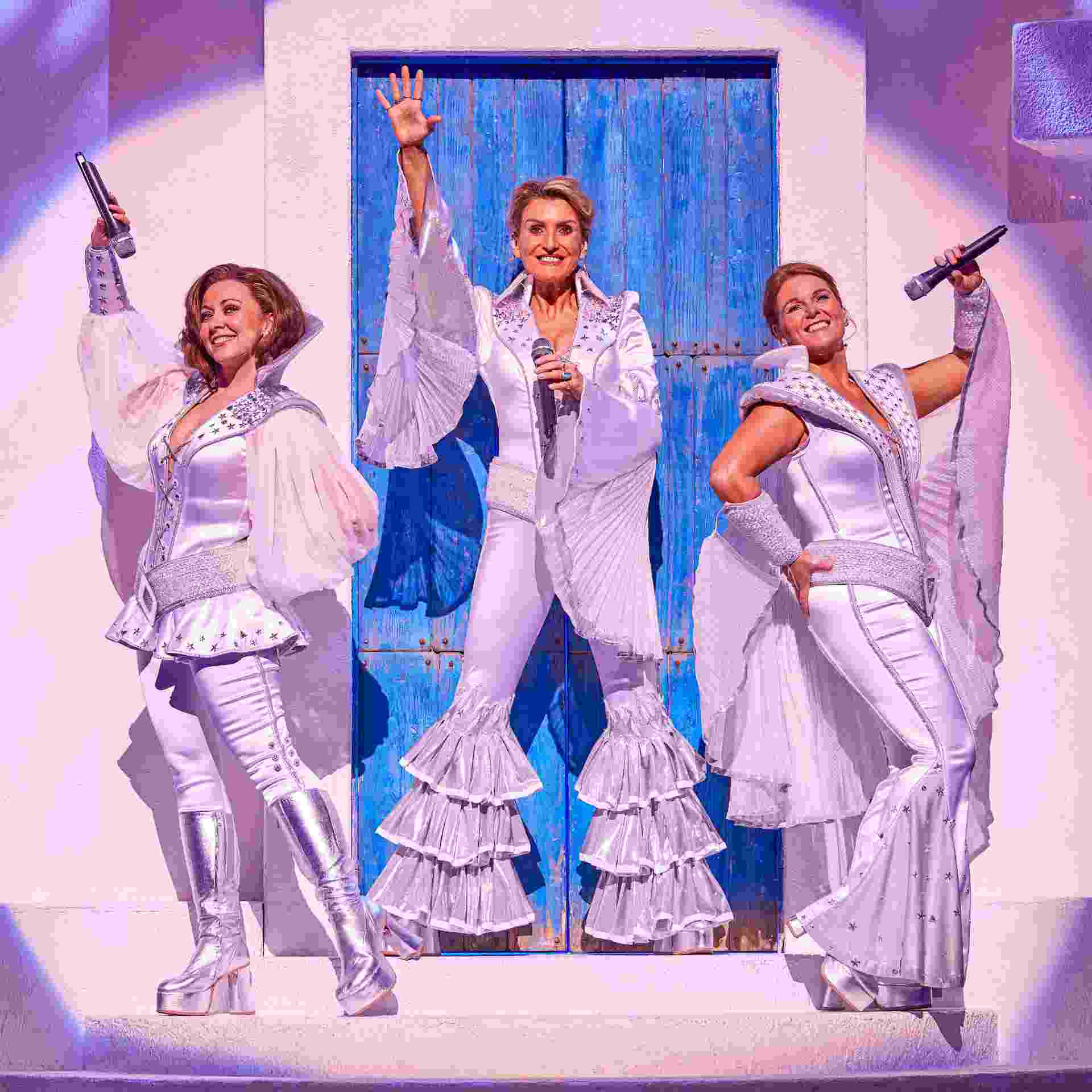 Gimme, gimme, gimme… more stunning costumes, please. | IMAGES: BASE ENTERTAINMENT
One of the show's technical highlights is the clever use of revolving sets, manipulated by the cast, which keeps the transitions seamless and adds dynamism to the stage. The outfits are also a visual delight, with approximately 3,120 items in the theatre at any given time. Fun fact: an astounding 33,000 hand-sewn rhinestones adorn the costumes in "Super-Trouper".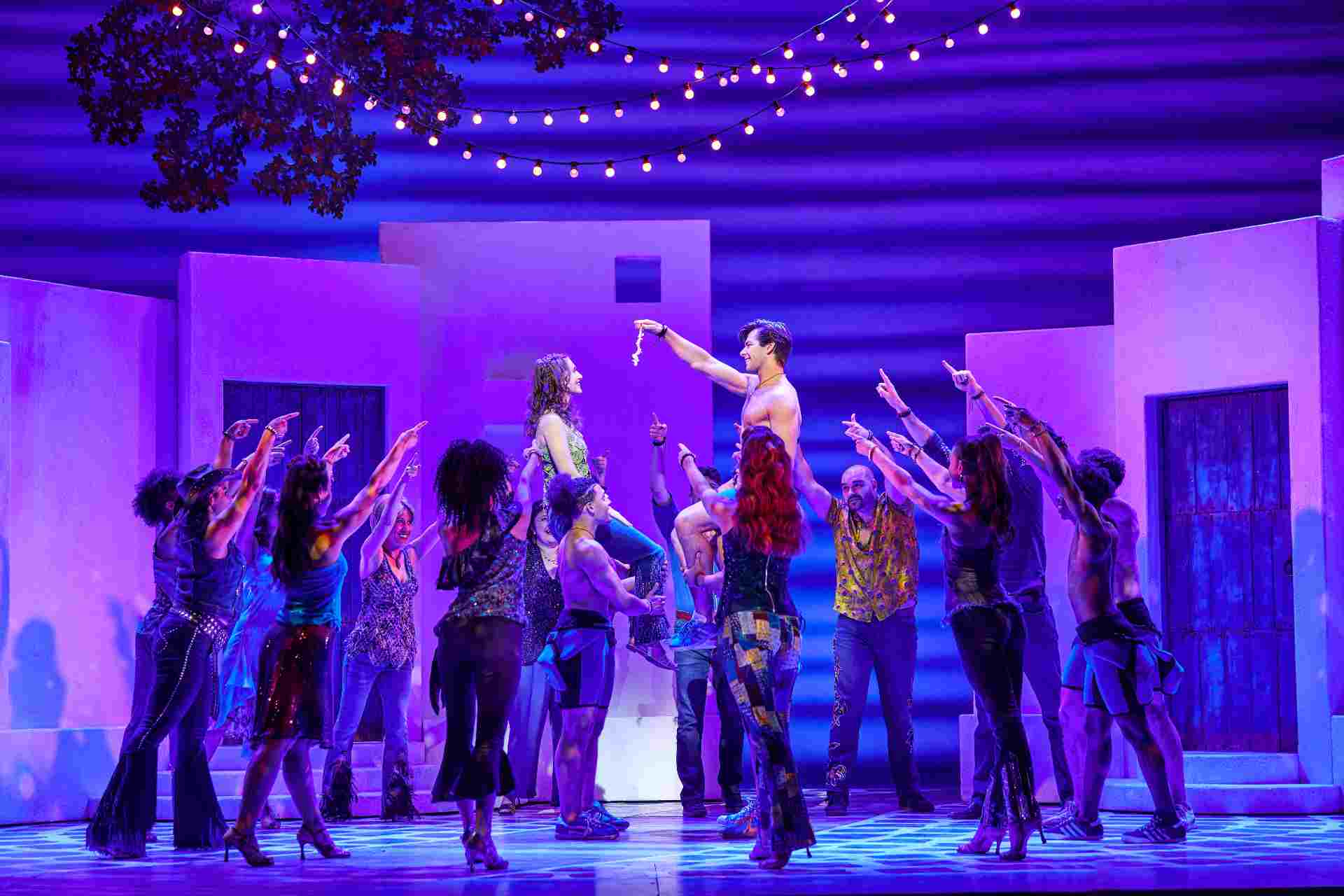 "Voulez-Vous" is a showcase of great chemistry between lead characters and high performance standards. | IMAGE: BASE ENTERTAINMENT
Some standout moments: "Voulez-Vous" delivers high-energy performances with strong vocals and tight choreography. "Slipping Through My Fingers" is a tender and emotionally charged moment. "Winner Takes It All" is heart-wrenching, and "S.O.S." brims with yearning and passion. An exuberant surprise post-curtain call (that's "post-credits scene" to you cinemagoers) on Opening Night on 19 Oct got everyone in the audience on their feet, warbling and wiggling with wild abandon – you're bound to do the same.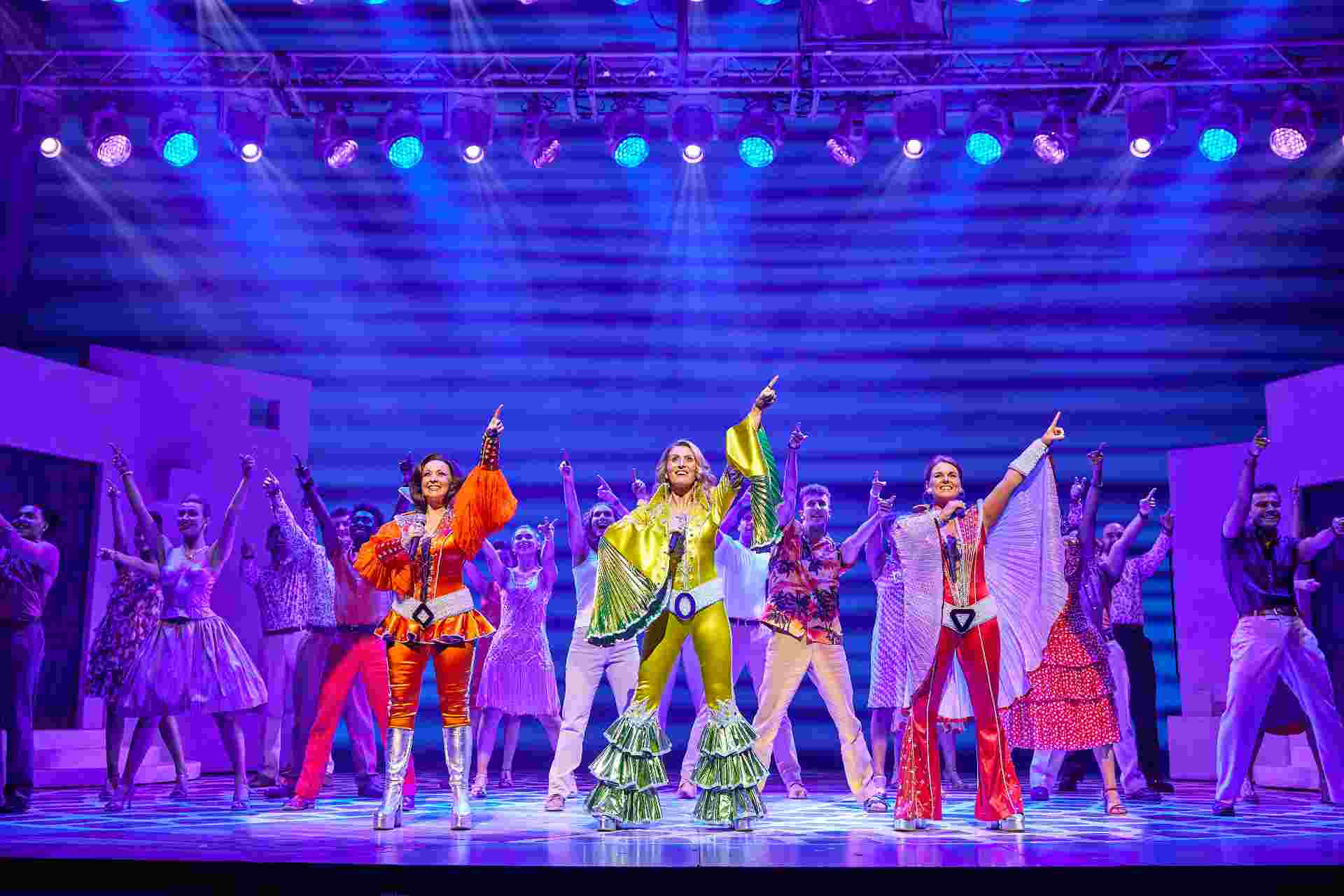 IMAGE: BASE ENTERTAINMENT
The musical is an unmissable, campy, and well-paced three-hour journey (20-min intermission included) through a catalogue of the Swedish pop supergroup's most infectious tunes. We can only say, thank you, ABBA, for the music – without a song or a dance, what, indeed, are we?
"MAMMA MIA!" runs until 5 Nov 2023 at the Sands Theatre, Marina Bay Sands. Tickets here or here.
---
Can't get enough of musicals? Here are more coming our way in the Lion City
"Into The Woods" by Pangdemonium Theatre Company
Stephen Sondheim's complex and enchanting musical intertwines classic fairy tale characters in a thought-provoking narrative exploring the consequences of wishes and the blurred line between happily ever after and reality.
Dates: 27 Oct to 12 Nov
Venue: Singtel Waterfront Theatre at Esplanade
Tickets and more info here.
"Snow White & the Seven Dwarfs" by Wild Rice
This light-hearted and satirical piece written by Alfian Sa'at and Elaine Chan returns 15 years after its world premiere and features Chua Enlai as the Queen and Nadya Zaheer as Snow White.
Dates: 16 Nov to 17 Dec
Venue: The Ngee Ann Kongsi Theatre @ Wild Rice, Funan
Tickets and more info here.
Madagascar The Musical by ABA Productions
Get ready to "Move It! Move It!" with this lively and entertaining stage production based on the popular DreamWorks animated film, which brings the beloved characters and their adventures to life through music, dance and awesome costumes.
Dates: 18 to 28 Jan 2024
Venue: Esplanade Theatre
Tickets and more info here.
Matilda The Musical by BASE Entertainment Asia
This captivating multi-award winning stage production by the Royal Shakespeare Company brings Roald Dahl's beloved children's book to life, and features an extraordinary girl with telekinetic powers, who outwits her neglectful parents and tyrannical headmistress.
Dates: 9 to 31 Mar 2024
Venue: Sands Theatre at Marina Bay Sands
Tickets and more info here.
For the latest updates on Wonderwall.sg, be sure to follow us on TikTok, Telegram, Instagram, and Facebook. If you have a story idea for us, email us at [email protected].