Spotify Spotlight: Four Guys And A Hit Tanglish Podcast You Should Tune In To, Stat
"I get by with a little help from my friends", the famous Beatles song goes. It might as well have been written for the boys of Vada Poche Tamil Podcast: K Bharath (26, a podcast producer), Yuvaraj Uthaman (28, a marketing manager), VS Jawhardeen (26, a project engineer) and Syed Sharif (30, a compliance officer), are the very definition of #friendshipgoals.
While the quartet comes from different backgrounds and careers, their chemistry and wicked sense of humour are clearly evident as the hosts of Singapore's top Tanglish (Tamil + English) podcast.
From tackling relatable topics within the Tamil community to engaging in spirited debates on everyday issues, this weekly audio show has garnered an audience beyond our borders, even reaching listeners as far away as India.
We spoke to the fun-loving guys to find out what makes them tick and why their show made the recent list of our favourite comedy podcasts.
How did you guys start out and what is the meaning of the term "Vada Poche"?

Yuva: "Vada Poche" was a famous line said by a prominent Tamil cinema comedian named Vadivelu. It translates directly as "The Vada is gone". We started as a group of friends who met through football, and ended up getting closer and learning that we had a shared sense of humour, and loved having debates on social structure, technology, and other relevant topics.
Hence, we wanted to start a podcast to share our conversations and entertain others while giving them food for thought.
During Circuit Breaker last year, Bharath and I randomly decided to record a podcast. It was an impromptu episode but done in Tanglish (English + Tamil). After which the other two hosts, Sharif and Jawhar, were roped in forming the full Vada Poche Tamil Podcast team.
Describe yourselves and how each of you works his magic in this podcast.

Yuva: One word best describes all four of us: fun. But as individuals, we bring different things to the table that help with the show's consistency. I have a strong command of English and am experienced in marketing. Hence, I handle all the copy for the show and social media platforms. I also plan the marketing strategies.
Sharif: I bring the creative aspect to our social media story and post execution. I have an eye for designing visually captivating stories and therefore take full creative control of these efforts.
Bharath: I have knowledge of the technical and operational side of podcasting. I take charge and keep up to date with any new trends in the podcast scene.
Jawhar: I handle the community management of the show through social media and am also in charge of the podcast's guest outreach efforts. I also help to produce the show's copy alongside Yuva.
What is the format of the show and what topics do you usually discuss?

Bharath: The show revolves around the group dynamics of all four hosts and aims to promote a sense of friendship and community with the hosts and listeners. We are one of you. Literally four ordinary people who walk alongside everyone else in normal life.
The show's format is light hearted and jovial with some thought provoking topics. We bring guests on to share their stories and journeys, which we hope inspires our listeners.
Our goal is to bring a smile to our listeners' faces, make them forget their problems for a while and give them some food for thought.
You explore profound topics such as mental health and relationships but managed to keep things humorous and relatable without being patronising or trivial. For newcomers to your podcast, what are some of your favourite episodes so far?
Yuva: For me, my favorite episodes were 20, a Halloween special (I really felt like I was in camp and sharing stories with friends; it made me feel very carefree yet absorbed in the stories) and 29, our first guest episode with a famous Tamil meme lord, Jalabulajals. He said that we all really stepped it up and made a damn good episode to share his story.
Sharif: My favourite episode was episode 27 where we took a trip down memory lane and analysed why the 90s was the best era. It felt great to talk about our childhoods as I don't get to do that often nowadays in normal conversations, strangely enough.

Bharath: My favourite episode was episode 6, the couples episode. To me, it brought out the romantic side of the hosts, who all have partners. Despite being the only single one in the group, I had a lot of fun hosting it. It was memorable for me as it showed another more sensitive side of the hosts, which was a joy to watch.

Jawhar: My favourite episodes were 13 to 16, the one where we roasted each host for one entire hour. This was released over a 4-week span. Despite the roasting, we also brought out the good side of each host - there was a balance to that.
Why is it important to have more Tanglish content in Singapore? And would people who don't speak Tamil appreciate it too?
Jawhar: We want to contribute to the Tamil-speaking community in Singapore in a relatable way for most people. Conversational Tamil in Singapore usually blends English and Tamil together. Hence, we felt that we had to stay true to ourselves and the rest of the population and be completely natural.
Sharif: There is a content gap for this type of content in Singapore, so we decided to help fill that up. This even enables non-Tamil speaking people to have a listen and roughly understand what our podcast is about. It's an opportunity for us to leverage on and connect with both Tamil and non-Tamil speaking audiences.
Who makes up your regular audience and how has the show resonated with them?

Bharath: We get a massive listenership mainly from India, Malaysia and Singapore. In fact, this was evident through our podcast rankings on Apple where we've been in the Top 10 both in Singapore and Malaysia. And in the Top 100 in India as well.
Yuva: We've had fans reaching out to us to share how they have been enjoying the show. One fan thanked us for making his day as he was overcoming a difficult phase in his life. He shared that he was able to relate to our conversations and felt like he was part of our clique. It is through these instances that we know we are making a difference in people's lives and putting a smile on their faces. This sort of feedback helps keep us grounded and motivated to produce more content.
How was your NS experience? Did it, in any way, influence your foray into doing a podcast?
Yuva: It helped me with regard to my communication skills and time efficiency. During NS, we are given limited time to effectively carry out tasks, so people need to be extremely efficient at fulfilling their duties. I learned how to do that during NS, and it has carried over into my podcasting as well.
We all have our day jobs and personal lives to manage in addition to the podcast. So, there is limited time to produce good content and manage all the follow-up tasks after the episode is released. The time-efficiency skills that I picked up during NS have helped tremendously in this regard.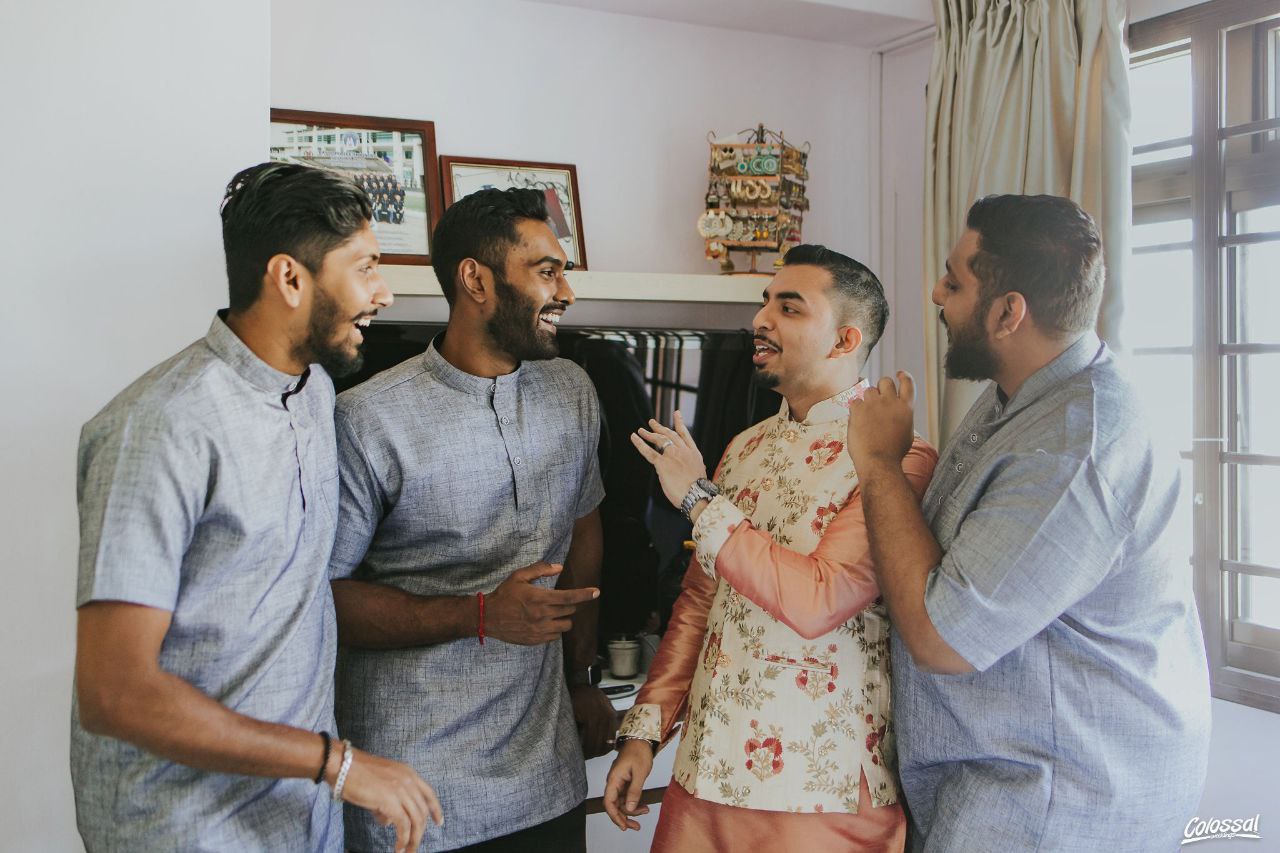 How do you guys plan on growing the podcast further?

Yuva: For now we have plans to get more domestic and overseas guests on our show. We also plan to step up the engagement with our fans and continue doing shows that resonate with them.
There are also some digital and marketing projects that are in the works. Stay tuned for those.
The focal point of the podcast will always be good content, our relationship with our Vada Poche Family, and our shared love for creating content.
For the latest updates on Wonderwall.sg, be sure to follow us on TikTok, Telegram, Instagram, and Facebook. If you have a story idea for us, email us at [email protected].