What Exactly Is Labour Day And Why Do We Celebrate It In Singapore?
While 1 May is just an additional day off for most of us, it is actually a significant milestone for our Little Red Dot. We break down the origins of Labour Day and why it is so important:
Labour Day - an origin story
If you think your boss holding you up for OT on Friday is mad, imagine the poor workers back in the 19th century. They had to suffer 16 hours a day under unsafe working conditions.
It's no surprise, then, that these workers started to protest and make demands for an 8-hour workday. Sadly, a bomb exploded at one of those protests in Chicago in 1886, killing and wounding both protestors and the police.
Three years later, a pan-national organisation called Second International declared 1 May as "International Worker's Day" to commemorate that incident. Since then, most countries around the world have observed "Labour Day" on that date to pay tribute to workers' contributions and achievements.
When did Labour Day come about in Singapore?
Labour Day officially became a public holiday in Singapore on 1 May 1960 – five years before we achieved independence in 1965. At the time, we were a self-governing state under the British.
It became an official day to honour everyone that worked hard to make Singapore a successful nation.
How is NTUC involved in this?
After WWII, blue-collared Singapore workers came together under registered unions to represent them for work issues. These unions were then organised under a bigger umbrella called a "trade union" (an association of workers for a particular trade), to nego for better pay, workers' rights, or to confront bad bosses.
Many trade unions have come and gone over the decades. In fact, only NTUC (National Trades Union Congress) remains. Made up of 58 affiliated unions, 7 affiliated associations, 12 social enterprises, and 6 related organisations, NTUC remains the heart of our Labour Movement, helping our country stay competitive and ensuring workers remain employable for life.
The annual May Day Rally
Organised by NTUC every year on Labour Day, the May Day Rally is typically attended by more than 1,500 unionists, workers, employers and Cabinet ministers to affirm their commitment to advance the interests of workers.
In the first May Day Rally held on 1 May 1960, the late Prime Minister Lee Kuan Yew delivered a speech about how Singapore's progress was closely tied to the relationship and confidence between the unions, employers, and the state – aka, tripartism (see below).
In 2015, Prime Minister Lee Hsien Loong re-emphasised this tripartite relationship in his May Day Rally:
"Through enormous effort, we've created an exceptional system and that system is tripartism. The government, the workers, the employers work constructively together on growing and upgrading our economy," he said.
"We may not agree all of the time but there's give and take because we trust one another and we can rely on one another to take a longer term view of our enlightened collective interests."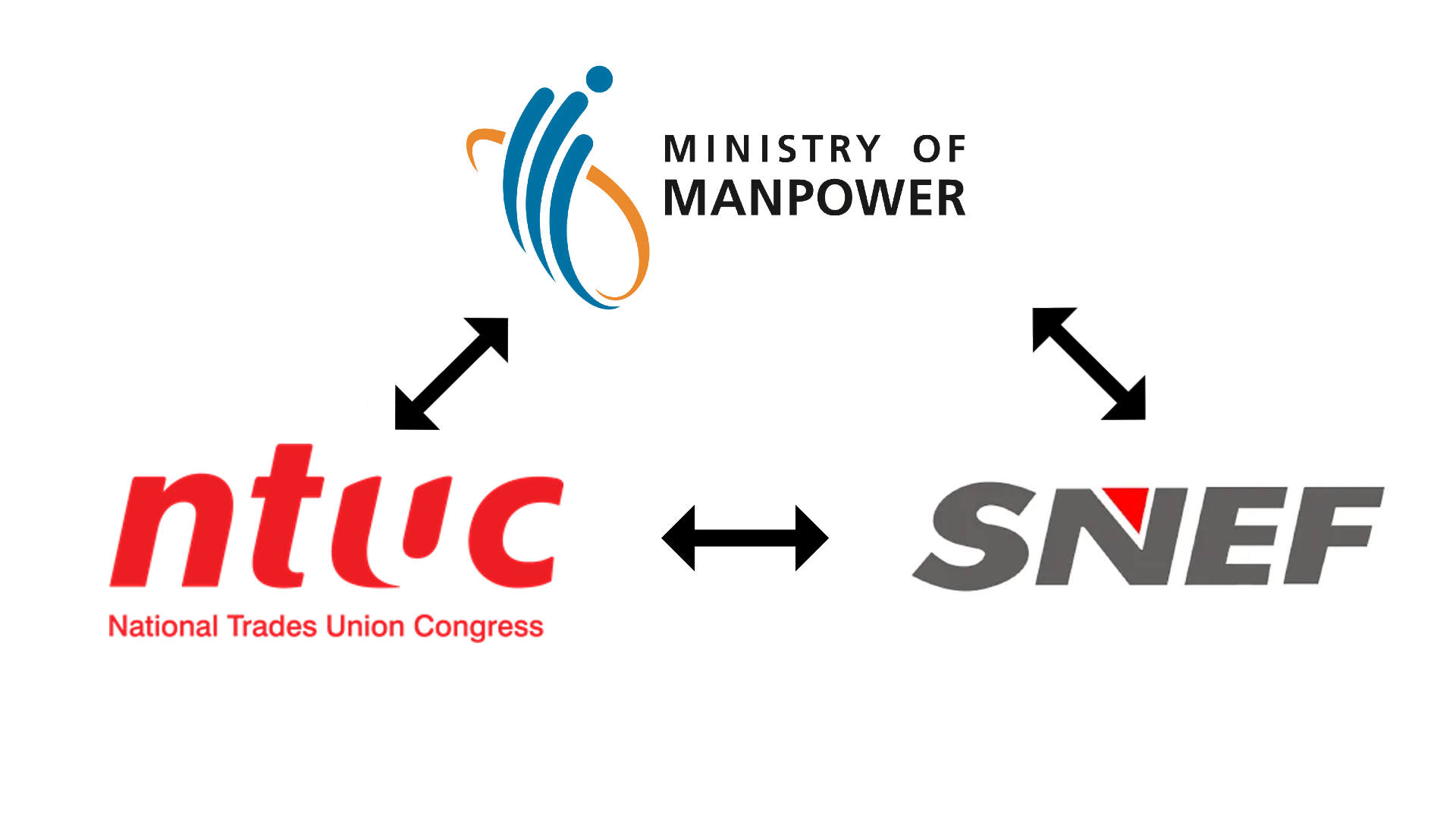 "Tripartism" - sounds cheem. What does it mean?
Tripartism in Singapore refers to the collaboration between the Ministry of Manpower (MOM), NTUC, and Singapore National Employers Federation (SNEF).
According to MOM's website, the combination of these three forces has helped to boost Singapore's economic competitiveness, promoted harmonious labour-management relations, and contributed to Singapore's overall progress.
Tl;dr tripartism in Singapore is key to Singapore's nation-building success.
How important is the Labour Movement?
In his May Day Rally 2021 (which also commemorated NTUC's 60th birthday), PM Lee closed by saying: "Ever since the Modernisation Seminar in 1969, a strong Labour Movement has been an essential partner in Singapore's progress. In many developed countries, union memberships have been steadily declining. But in Singapore, our Labour Movement has gone from strength to strength. And the numbers are going up."
He added that during the COVID-19 downturn in 2020, the numbers rose as Singaporeans knew they needed the union in a crisis.
"COVID-19 has reminded us again how vital a strong Labour Movement is," he said.
In 2022, he cited the additional challenges we've had to endure since coming out of the pandemic.
"We are emerging from the pandemic, into a world that has not only been altered by COVID-19, but threatened by significant security challenges. We can feel the headwinds, even as we sense the new opportunities opening up. For us, change and transformation is an unending task, as we continually reinvent ourselves to maintain our place in the world.
"But having fought COVID-19 together, we can be confident of overcoming these challenges, and making the most of all the chances that will come our way."
For the latest updates on Wonderwall.sg, be sure to follow us on TikTok, Telegram, Instagram, and Facebook. If you have a story idea for us, email us at [email protected].