Where To Buy Books In Singapore (Without Leaving Your House)
While Singapore has an abundance of bookstores, going out to shop for books can be a hassle, especially when you have to haul your heavy new stack of books back home.
Thankfully, books have become more accessible than ever, given the advent of e-commerce. And while Book Depository is unfortunately closing down on April 26, there are still plenty of ways you can order books online.

Here are some places where you can order your next read without ever leaving the couch.
1. Thryft
We interviewed the CEO of Thryft, Singapore's first sustainable online bookstore, in 2021. Since then, they've not only continued to host monthly book bazaars, but they've amassed a formidable number of titles, which include deals under $6. New and popular books are in short supply and sell out quickly, so you might want to check their website regularly if you're looking for something specific, but with more than 15,000 titles available online, you'll surely find an item or two to your liking.
Bonus: If you need a bit of offline retail therapy, you can head over to their pop-up, Second Story, where you'll find preloved books starting from $3.
This clearance bookstore has over 30,000 titles available online, in a variety of genres, and with some books up to 90% off. While the books are mostly in new condition, as clearance stock, they might have a little bit of wear and tear (think minor dents and scratches after months on the shelf). Still, it's a small price to pay given all of their discounts.
Want to buy books on a budget while supporting a good cause? Then check out Books Beyond Borders, which describes itself as a social business that supports educational opportunities in the developing world. Not only do they host regular weekend booxhibitions, where you can buy gently-used books to help support classroom projects in Nepal, but you can also shop online for titles that go for as low as $5.00 (offline, you can get them for as low as $3!). Plus, you get free local express delivery for orders above $25, so spend away.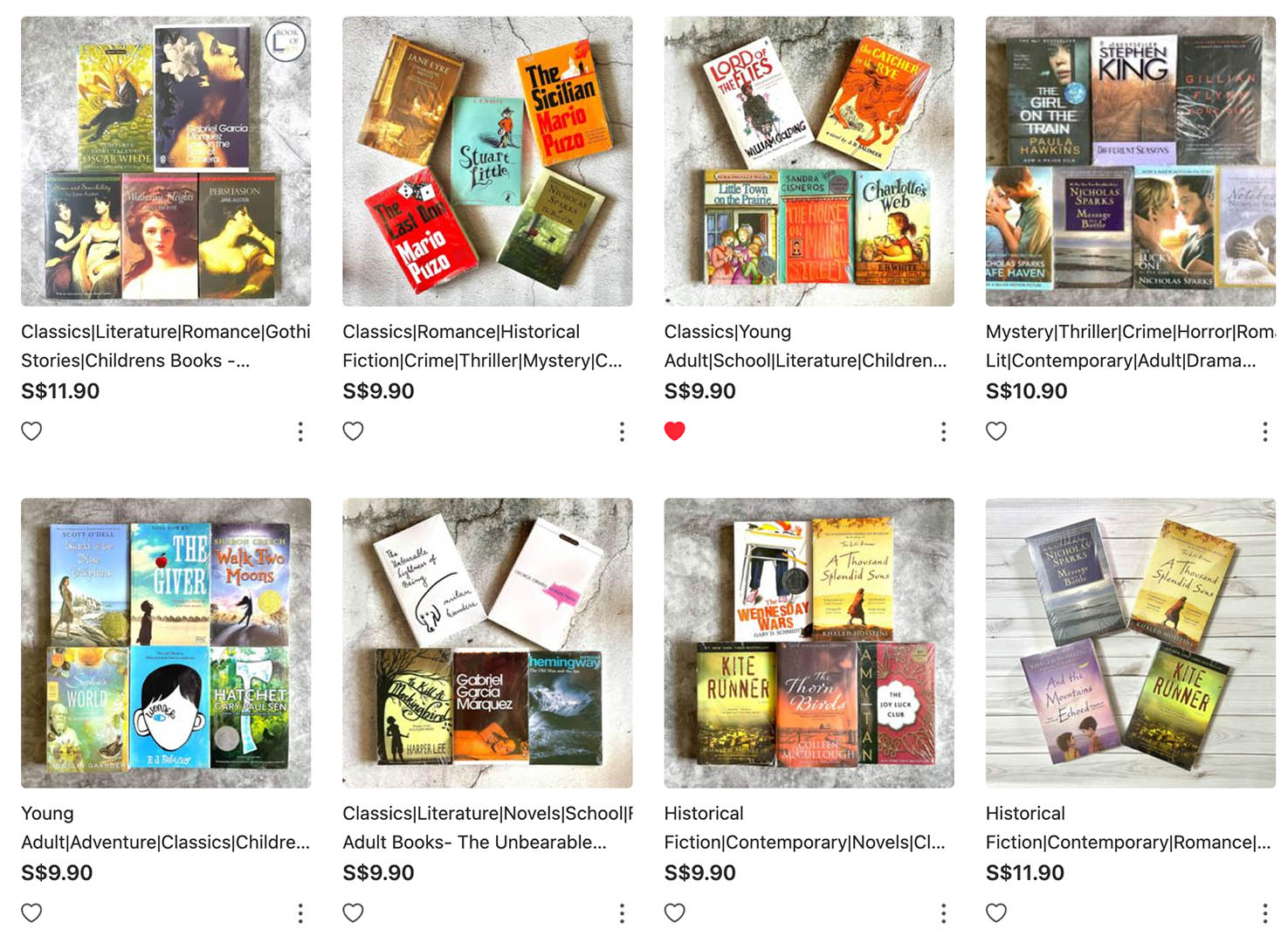 4. Carousell
This could be a whole article in and of itself, but it should come as no surprise that Carousell has over 100,000 listings of books, stationery, and magazines. You'll find plenty of sellers trying to offload their unwanted books – I recently nabbed an almost-new hardcover for $10, a huge steal considering that a brand-new copy cost $36 on BookDepository – but here are some other useful profiles you should follow:
Sellers coordinating group buys: You might need to wait a few weeks for the bundles to come in, but the discounts are total worth it. (For instance, a new paperback copy of TikTok bestseller The Love Hypothesis costs $18.95 at Kinokuniya, but $8 from this Carousell group buy.)
Carousell booksellers: These are people whose profiles are wholly dedicated to books, and who operate almost like indie online bookstores. Their listings are often organised by genre or by the condition of the books, and you'll get great prices and quick deliveries, since these are from local sellers. For example, a paperback, copy of Atomic Habits costs $26.15 on BookDepository and $29.91 at Kinokuniya, but only $12.90 on this Carousell bookstore.
This local online bookstore boasts over 15 million brand new imported US and UK titles across 4000 categories of books.
Your purchases are delivered within 6 to 9 working days with a flat delivery cost of $4.90 per order (all the more reason to order books in bulk), and your orders are trackable.
If you're thinking of picking up a book or two from here, now is a good time to do so, as you can enjoy 20% off books storewide all April.
6. Epigram
If you're looking for Singlit titles to enjoy, Epigram is the answer. Being both an independent publisher and a bookstore, Epigram focuses solely on local writers and their works.
Standard delivery time is 7 to 10 days, with free shipping with a minimum spend of $50.
7. Ethos Books
If you're looking for literature that broadens your horizons, Ethos Books is a good place to start.
As an independent local publisher of literary fiction, non-fiction, and poetry, Ethos Books spotlights emerging writers from diverse backgrounds, with an aim of fostering an environment in which the literary and arts community can thrive.
There's a flat $2.80 fee for orders costing $30 and under, with free delivery for orders over $30.
8. Blackwell's
Blackwell's is another UK-based book retailer that offers delivery to Singapore. Delivery costs are included in the books' prices, and you can expect your books to arrive within 10 to 15 business days. You don't need to worry about currency conversion either, as you can opt to browse with the prices listed in SGD.

9. Wordery
This UK-based book retailer carries over 10 million books across a wide range of genres. If you're looking to pick up a book ASAP, try browsing the "Ready to Go" books, which dispatch from their UK warehouse within 1 to 2 days of you placing an order.
The best part? Wordery offers FREE shipping worldwide, so you can shop for your next book without having to worry about delivery costs.
Want to purchase books in a socially conscious way? Better World Books is a global online bookseller that collects and sells new and used books online, matching each purchase with a book donation to someone in need. Each sale generates funds for literacy and education initiatives in the US, the UK, and around the world.
International shipping is free on orders above $15, with a flat fee of $1.49 on orders under $15, and you can expect delivery within 10 to 21 business days.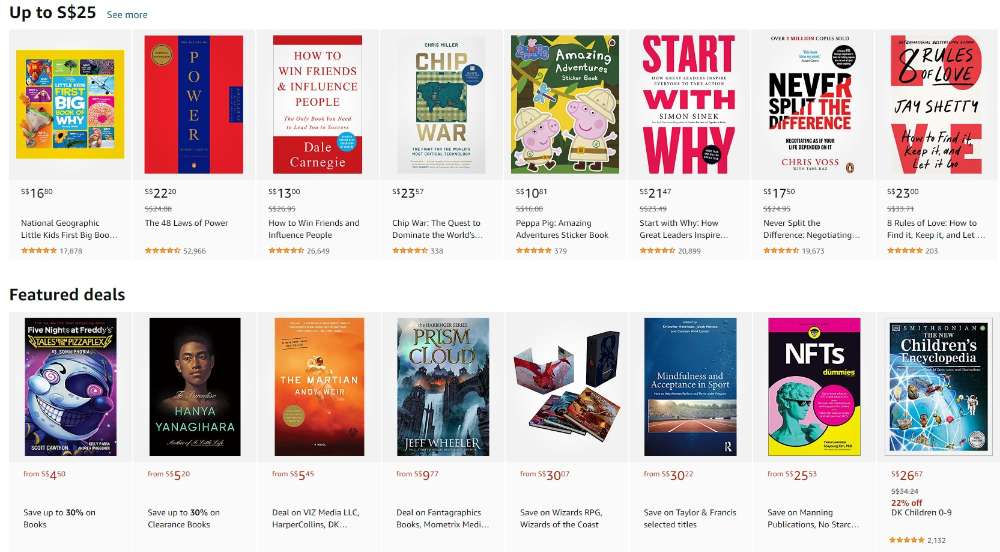 IMAGE: AMAZON.SG
11. Amazon Singapore
Amazon needs no introduction, of course, and now that we have our own Amazon sub-site, ordering books from Amazon is quicker than it used to be. If you can't find the book you're looking for elsewhere, Amazon is your best option.
For the latest updates on Wonderwall.sg, be sure to follow us on Facebook, Instagram and Telegram. If you have a story idea for us, email us at [email protected].