International Beer Day: Singapore Craft Beers That Offer Islandwide Delivery
If you ask us, every day is a good day for an ice-cold beer. But since International Beer Day falls on 6 August, here's another excuse to stock up on craft beers made right here on our little red dot.
These proudly homegrown craft breweries serve a kaleidoscope of pints that will keep you watered and happy till we can dine out and go to the gym again. The best part: they all offer islandwide delivery.

IMAGE: ALIVE BREWING CO.
While the pandemic was brewing, a financial analyst and chemical engineer began devising a craft beer business right here on home ground. The duo behind Alive Brewing Co have since launched numerous iterations such as a German-style light ale called One Night In Cologne and an IPA with 4.7 ABV called False Sense of Security.
The beers can be ordered from their online store and delivered within two working days for a flat shipping fee of $10 for orders below $85, with a minimum spend of $30. Prices start at $7 for a single bottle of One Night in Cologne.
Turning bread into beer sounds almost biblical, and it's exactly what this homegrown brewery does. Using unsold bread from bakeries, Crust Group founder and CEO Travin Singh has created offerings like Beerguette, a pilsner-style beer made from Tiong Bahru Bakery's overruns, and Kaya Toast Stout using surplus bread from Redmart. The company hopes to empower food service and retail businesses to upcycle their waste into high-value products.
The beers can be ordered from their online store for delivery within 5 working days, with a flat shipping fee of $10 for orders below $70. Prices start at $36 for 6 bottles of Breaking Bread Ale.
What began as a hobby for three Singaporean brothers has turned into Rye & Pint Brewery, which brews its beer in small batches before bottling and kegging them straight from the fermenter.
Apart from year-round offerings like the 5 percent ABV Sunday's Brew Pilsner and Trippin' Wheat Ale, the company produces seasonal specials like the sweet-spicy Lovin' Summer Hazy Session IPA and tangerine-spiked Mandarina Golden Ale.
The beers can be ordered from their online store for delivery within 3 working days, with a flat delivery fee of $15 for orders below $80. Prices for all beers start at $45 for 6 bottles.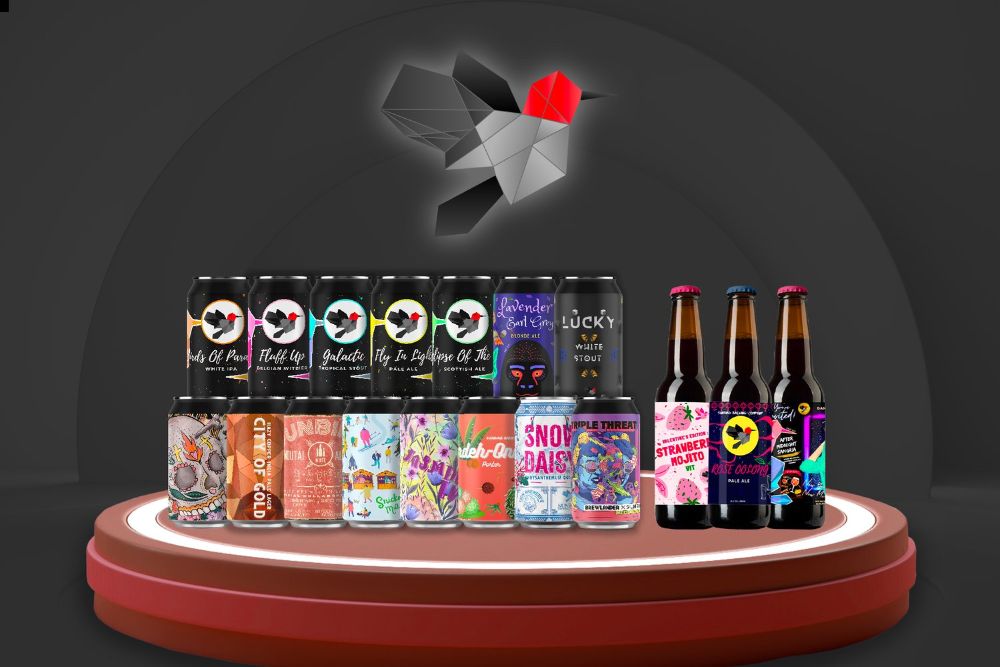 IMAGE: SUNBIRD BREWING COMPANY
Another brewery that launched at the height of the pandemic, Sunbird Brewing Company makes a core collection of craft beer styles that include pale ale Fly In Light, white IPA Birds Of Paradise, Scottish ale Eclipse Of The Sun, Belgian witbier Fluff Up and a tropical stout called Galactic.
Its Juniper India Pale Kolsch was crowned most creative and runner-up at Brew King Singapore 2023, which means you'll want to drop a couple of those in your cart along with the rest of your orders.
A shipping fee of $25 applies for next day delivery of orders below $85. Alternatively, you can opt for self-collection at the brewery for free. Prices start at $7.50 for a can of Sunset Groove Lager.

Self-collection at 5 Mandai Link, #05-05 Mandai Foodlink, S728654
Monday to Friday ,10am to 4pm
Need a cold one in a pinch? Homegrown craft beer company Trouble Brewing, also behind Singapore's first locally brewed hard seltzer, offers free same-day delivery for orders over $80. Either order a beer of your choice, or build your own box with Trouble Brewing's mixed case, which lets you choose from five styles of beer.
And if you're feeling patriotic ahead of National Day, try the Singapore Lager, a crisp and refreshing brew that goes perfectly with hawker food.
Prices start from $25 for a six-pack.
Wonderwall.sg does not support underage drinking, excessive drinking, binge drinking or any other unsafe drinking behaviour. Never drink and drive. Always drink responsibly.
For the latest updates on Wonderwall.sg, be sure to follow us on Facebook, Instagram and Telegram. If you have a story idea for us, email us at [email protected].