National Day Feasts: Grilled Delights And All-Day Happy Hour Oysters
If your way of celebrating 9 Aug is to indulge in the diverse and delectable culinary offerings that Singapore has to offer, then here's a medley of National Day-related dining specials that pay homage to the rich tapestry of Singaporean flavours and traditions.
Come, come, let's celebrate the Lion City's 58th birthday by digging in to these three yummy options:
Caffe Fernet
70 Collyer Quay, #01-05 Customs House, Singapore 049323
Date/Time: 9 Aug, 5-9pm
Cuisine: Contemporary new-Italian
Best for: Communal dining, free-flow booze, views of the State Flag Flypast and main fireworks display over Marina Bay
Looking for a shared, family-style dinner that comes with a three-hour unlimited "boozy beverage" option? Check out Caffe Fernet at Customs House located along the Fullerton Bay waterfront. Dig into their beloved Rendang Short Ribs (which makes a return this National Day), and delectable dishes such as Coal Kissed Hamachi and Otah & Prawn Tortellini served in a rich laksa butter sauce.
Vegetarian? No worries, there's a specially curated menu available.
Drinks-wise, the joint offers an exclusive Singapore Sling Slushie especially for the nation's 58th birthday as well as signature cocktails like Aperol Spritz, along with a variety of spirits, wines, and beers. Free-flow beverages are available from 5.30pm to 8.30pm.
Families with children aged six to 11 can opt for a discounted four-course kids menu priced at $55 nett. Kids below six dine without charge.
Menu and more information here. Purchase tickets here.
---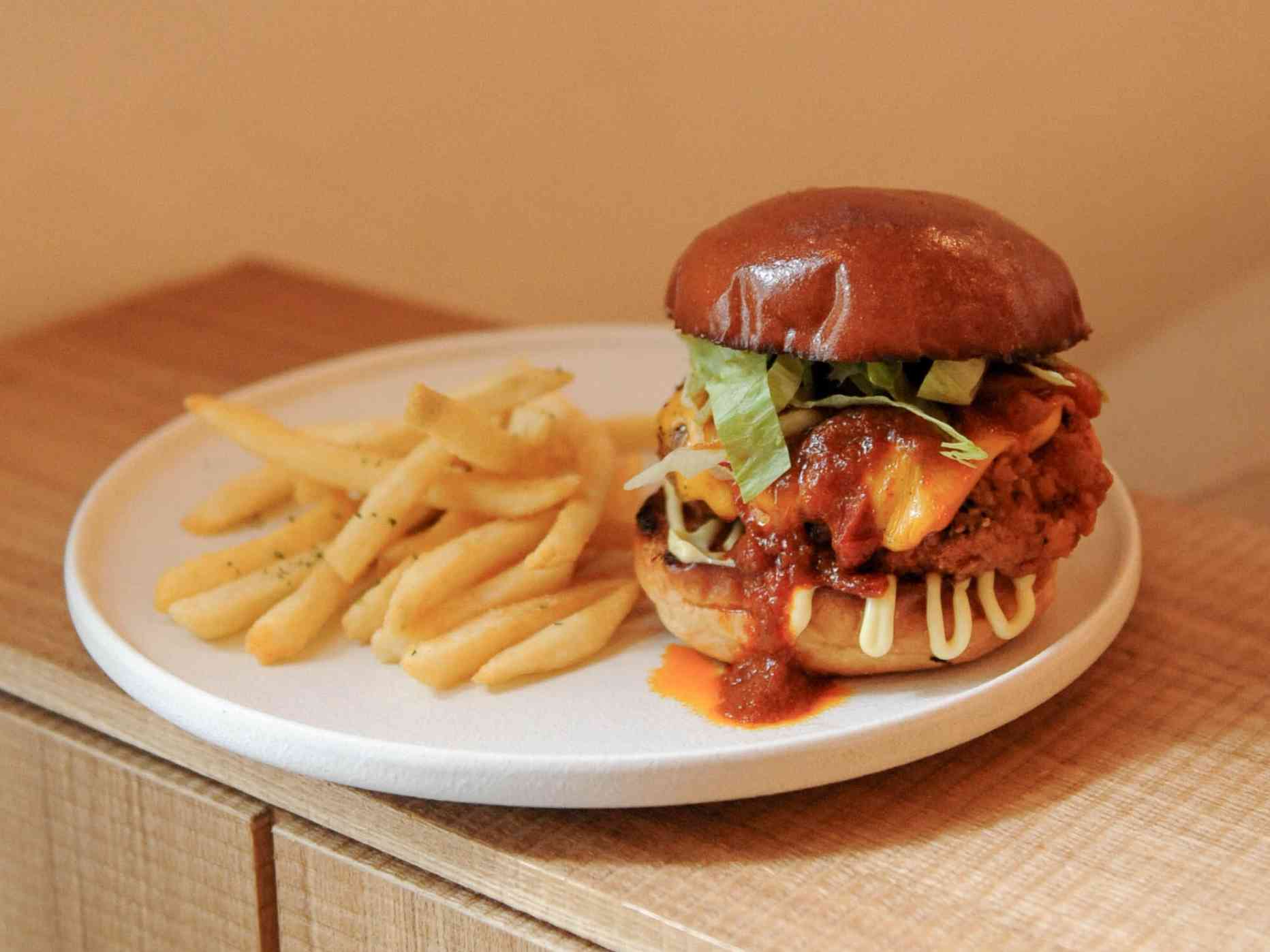 Rosemead's Goodness Between Buns menu comprises a trio of burgers, including this Spicy Fried Chicken Burger. | IMAGE: JIGGER & PONY GROUP
Rosemead
19 Cecil St, Singapore 049704
Date/Time: 8 to 12 Aug, 6-11pm (National Day specials); 8 Aug, 6-11pm (Goodness Between Buns); and 9 Aug, 11am-5pm (Goodness Between Buns)
Cuisine: A local spin on contemporary farm-to-table grill
Best for: Hearty, familiar comfort food with local flavours (National Day specials) and mouth-watering burgers (Goodness Between Buns)
Make a beeline for the Wild Tiger Prawns from Ah Hua Kelong, grilled and coated in a tangy and mildly spiced tamarind sauce, accompanied by a Californian salad boasting fresh greens sourced from the nearby BlueAcres farm.
If you prefer pasta, indulge in the Venus Clams cooked in white wine and tarragon, tossed with capellini in a rich "kam heong" base to give you that heady combo of chili, garlic, and dried shrimp.
Another must-try: the Spicy Roast Chicken grilled over an open flame and finished with a sweet-and-spicy "masak merah" glaze, and served with tortilla and pineapple salsa.
The Pandan Velvet Cake from Rosemead Bakery, paired with coconut sorbet, would be the perfect ending to a celebratory meal here.
Burger lovers, clear your schedule on 8 and 9 Aug for Rosemead's exclusive Goodness Between Buns menu, available only during public holidays. Choose from three juicy burgers served with crispy fries: classic favorites like the 45-Day Dry Aged Beef Burger or the Portobello Burger, and Rosemead's National Day special - the Spicy Fried Chicken Burger, featuring zesty "masak merah" onions, cheddar, lettuce, and succulent, crispy chicken thigh.
Menu and more information here. Make a reservation here.
---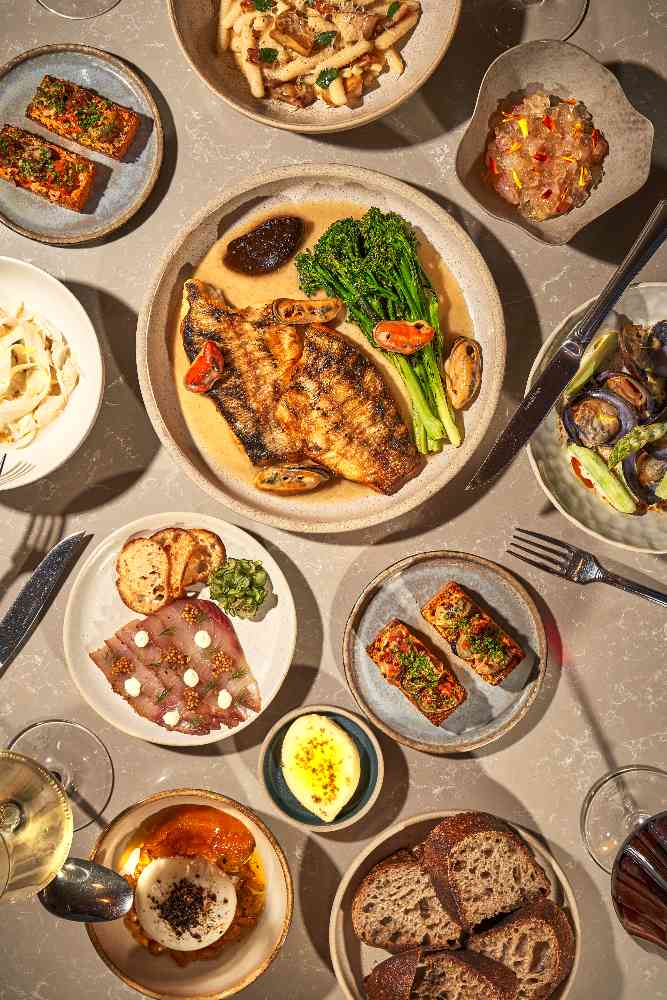 Under the sea, under the sea... is where all the delicious stuff comes from. | IMAGE: JIGGER & PONY GROUP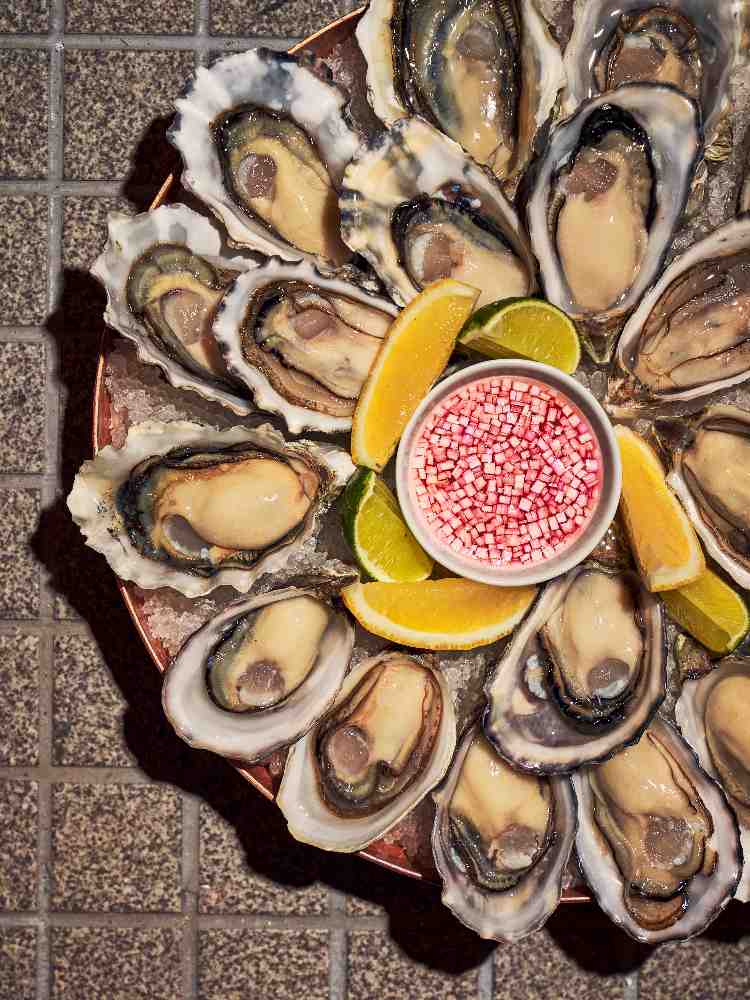 Who can resist All Day Happy Hour Oysters at just $4++ per pop? | IMAGE: JIGGER & PONY GROUP
Humpback
18-20 Bukit Pasoh Rd, Singapore 089834
Date/Time: 8 Aug, 5-11pm; and 9 Aug, 12-9pm
Cuisine: Modern seafood restaurant and wine bar
Best for: All-day Happy Hour oysters and irresistible wine promos
Looking to start the festive celebrations on the eve of National Day? Fresh seafood delights and a generous selection of wines await on 8 Aug.
Then, on the big day itself (9 Aug), indulge in All Day Happy Hour Oysters at $4++ (U.P. $8++) per piece. These carefully hand-picked oysters are sourced directly from Hama Hama Farm in Washington, USA, and swiftly delivered from the farm to the table within 36 hours to ensure the utmost freshness. For the perfect accompaniment, check out the Wine Wednesday promotion, which offers a delightful 20% discount on selected white wine bottles.
More information here. Make a reservation here.
For the latest updates on Wonderwall.sg, be sure to follow us on TikTok, Telegram, Instagram, and Facebook. If you have a story idea for us, email us at [email protected].