Nasi Lemak-Everything, Everywhere, All At Once, Please!
If you haven't heard the news, McDonald's fans – the Nasi Lemak burger is back on the fast food chain's menu! Time to cancel those dinner bookings and gather the crew for makan night.
The Nasi Lemak burger's comeback has got us wondering, what other "fusion" creations can we find inspired by this local favourite? We did some digging, and here are some Nasi Lemak-inspired treats with a twist that we've discovered right here in Singapore.
McDonald's Nasi Lemak Burger
It's been so long… how we've missed you so! The legendary McDonald's Nasi Lemak burger has finally returned after four long years. It's still the same perfect combination of a fat, juicy spicy fried chicken patty, fried egg; sliced cucumbers; and a distinctly lemak bun; but with a more savoury tasting sambal. Along for the ride are the new Bandung Frappé, Cocoa-nut Pie and Potato Wedges. Better get your fill, because who knows when it will ever come back again.
Nasi Lemak Indulgence Cake
Don't worry, it's not as scary as you think. It's a savoury "cake" made entirely of coconut rice, with sambal standing in for frosting, and topped with a generous serving of ikan bilis, peanuts, and/or petai - your call. There's enough here to feed the whole fam, plus ah ma and ah pa too!
Click here to order.
Eureka Nasi Lemak Gourmet Popcorn
These folks had a Eureka moment when they combined popcorn with a creamy santan taste and the explosive spice of sambal. Just the thought of it is enough to make our mouths water! The tin even comes packed with plenty of ikan bilis and peanuts. To top it all off, you can opt for the National Day combo, which includes Satay popcorn – a perfect snack while enjoying the National Day Parade.
Click here to order.
Ette Tea Company Nasi Lemak Tea
How about "drinking" your nasi lemak instead? Ette Tea's No. 829 Nasi Lemak genuinely smells like the real deal, and it's just one of their enticing hawker dish flavours. Take a sip of this aromatic Nasi Lemak tea blend of houjicha, genmaicha, coconut flakes, dried pandan, and dried chili.
Click here to order.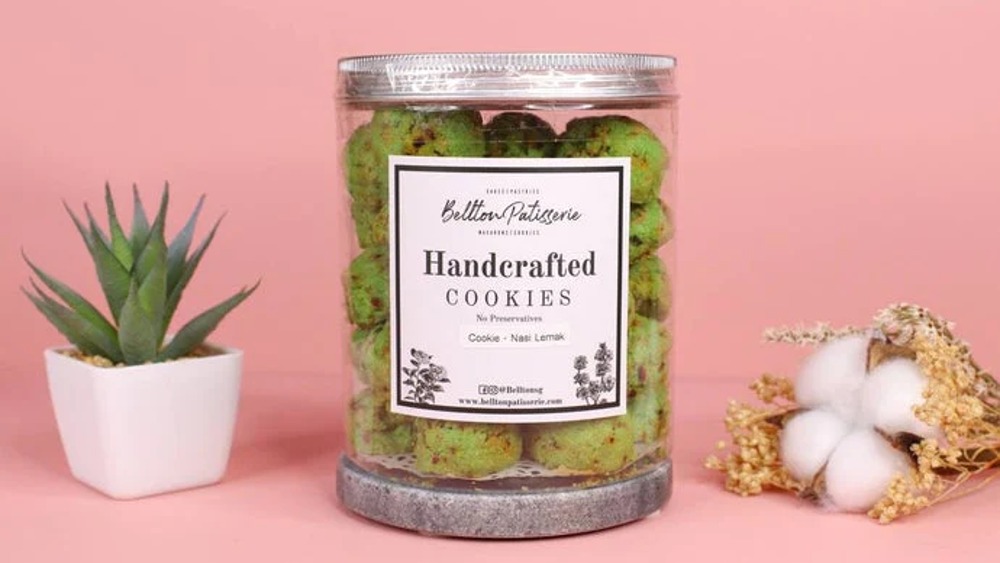 IMAGE: BELTON PATISSERIE
Bellton Patisserie's Nasi Lemak Cookies
Of course, we simply couldn't resist the allure of nasi lemak cookies. Bellton Patisserie's savoury snack is an irresistible combination of pandan, coconut, and ikan bilis, resulting in a blend of sweet and salty flavours that leave you wanting more.
Click here to order.
The Cookie Museum's Nasi Lemak Cookies
The Cookie Museum also offers their version of this delectable treat, crafted with coconut Cream Powder, filled with ikan bilis, chunks of peanuts, and a blend of spices. And with its cool tin design, it makes the perfect gift for friends overseas. They also have other local flavours like chicken rice, hae bee hiam, and shrimp laksa.
Click here to order.
For the latest updates on Wonderwall.sg, be sure to follow us on Facebook, Instagram and Telegram. If you have a story idea for us, email us at [email protected].