National-Day Inspired Food Specials: Local Flavours And Surprising Collabs
Besides the much-anticipated public holiday, there's one more thing that gets us hyped every NDP season – the National Day-inspired menus served up by our favourite restaurants in the lead-up to the big day in August. It's a culinary tradition that keeps getting better year after year, and we're looking forward to trying all the specials for our nation's 58th birthday. Grab your kakis, and let's feast our way into the festive spirit!
KFC Cereal Chicken
While stocks last
Last year, we had the satay crunch, and this year, KFC is taking us on a mouth-watering adventure with their Cereal Chicken! Get ready to experience the perfect blend of buttery, sweet, and savoury cereal bits on their finger-lickin' good fried chicken. With a delightful touch of chili leaves and curry bits, each bite will transport you to the heart of your neighbourhood tze char. Plus, the box even comes with a perforated portion, so you can shake out those extra cereal bits without any waste.
Mos Burger Sambal Klasik Chicken Burger
While stocks last
While we're all eagerly waiting for the famous Nasi Lemak burger from you-know-where, Mos Burger has taken the lead with their fiery Sambal Klasik Chicken Burger. And they've got a rice burger version too! Mos Burger's rice "buns" can be a little delicate, so it's safer to dabao this delicious creation. Expect an explosion of sambal goodness with anchovies, lavishly drizzled over their thick chicken patty and topped with a scrumptious fried egg. It's a spicy treat that packs a punch!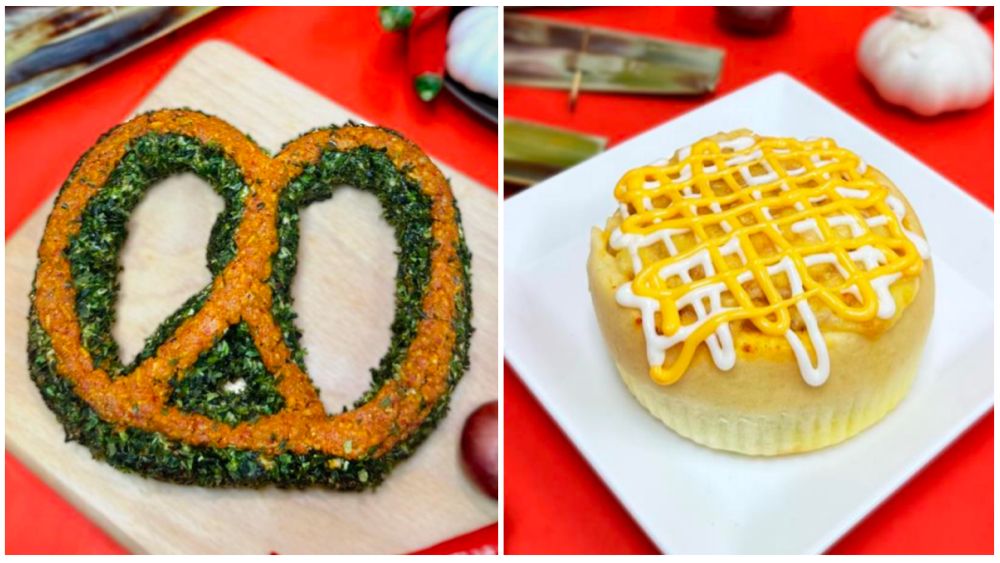 IMAGE: AUNTIE ANNE'S SINGAPORE & RROOLL
Auntie Anne's and rrooll Otah Seaweed Pretzel and Cheezy Otah Roll
While stocks last
This one you really otah try leh! Auntie Anne's and rrooll are teaming up with Lee Wee & Brothers for a truly Singaporean snack this National Day. Auntie Anne's Otah Seaweed Pretzel brings together the aromatic and spicy flavours of Lee Wee & Brother's signature otah paste with the delightful umami taste of seaweed. Meanwhile, rroll's Cheezy Otah Roll combines the same otah with gooey melted Mozzarella cheese. For dessert lovers, rroll's Crunchy Ovomaltine Roll is a dream come true.
25 Degrees
Until end-Aug 2023
25 Degrees are well-known for their really tasty beef burgers, so we're intrigued (and very curious) about their take on iconic local fare. Prepare your taste buds for a sweet-and-savoury explosion as you sink your teeth into tempura soft shell crab drenched in luscious chilli mayo and homemade chilli crab sauce. And that's not all - you can even choose to have it served with fried or steamed mantou buns. Pair it with their new Kaya Toast Milkshake, flavoured with a touch of matcha, and you've got the perfect Singaporean feast!
Swensen's
Until end-Aug 2023
Swensen's National Day menu is back! Sink your teeth into their Nasi Lemak burger, or if that's not enough, they're also serving up Dry Laksa Linguini, topped with not one but two big king-sized prawns. For fans of salted egg yolk chicken, that's on the menu too. And don't forget to try their new Pandan Kaya Cloud, an aromatic pandan-infused drink adorned with toasted coconut flakes and delightful brown sugar jelly balls.
For the latest updates on Wonderwall.sg, be sure to follow us on Facebook, Instagram and Telegram. If you have a story idea for us, email us at [email protected].