These Are The Kueh We'll Be Eating This National Day
In his seminal book The Way of Kueh, Christopher Tan writes that "the word 'kueh' probably comes from Zhangzhou, a Southern Min dialect from Fujian Province", whose peoples were among the first Chinese to settle in Maritime Southeast Asia. That doesn't mean that "kueh" is the original name of our favourite local treats though.
In another landmark book, The Food of Singapore Malays, author Khir Johari writes that "penganan" was once "the more widely used term for referring to these sensuous delights".
Whether you know them as kueh, kuih, gou, kwee or, if you are totally old-school, penganan, kueh (we'll stick with this version for the sake of uniformity) is a unifying treat. It conjures more patriotic vibes than Nathan Hartono and his Milo van did.
Celebrate the Republic's 58th birthday with these delicious morsels that make up Rempapa's Kueh Heritage Gift Box. | IMAGE: REMPAPA
Kueh as a national treasure came to mind when the press release for Rempapa's Kueh Heritage Gift Box landed in our inbox. In celebration of National Day, the restaurant, helmed by chef and food culture icon Damian D'Silva, is offering a selection of exquisite kueh, as well as two local snacks that seem to be disappearing from our hawker centres: Epok epok sayur and roti John.
What do we know about these local treats apart from that they are super delicious? Admittedly, not much. So we decided to get a National Day conversation started around all the fun facts that we have since gleaned about them.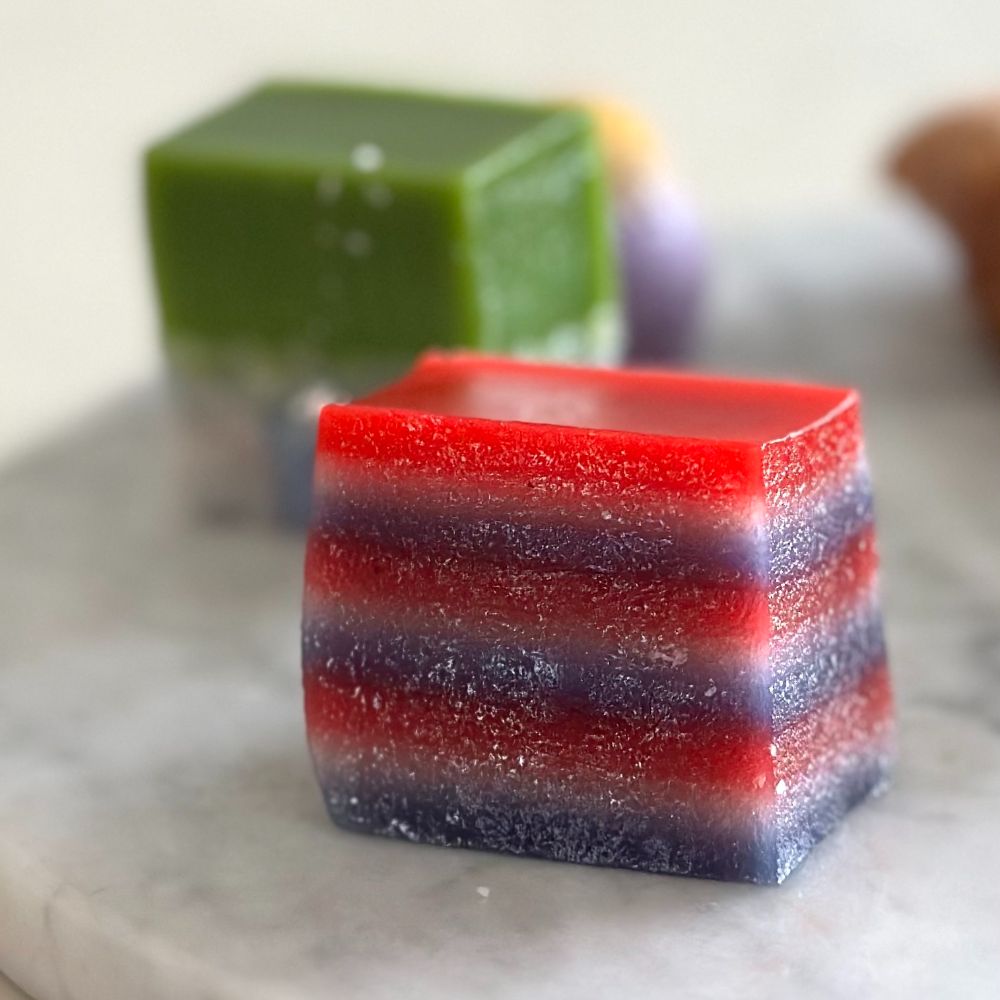 Much patience is required when making this beloved kueh. | IMAGE: ANNETTE TAN
To start: Kueh Lapis Kukus
This is the definitive kueh of our childhoods. We could never pass Bengawan Solo as young tots without pointing our chubby fingers at them and pleading, "Please! I want that rainbow kueh!".
Kueh lapis kukus is also commonly known as kow teng kueh, kow chan kueh and jiu ceng gao, all of which translate to "nine-layered cake". Made with a combination of rice flour and tapioca flour, this kueh requires patience as the batter must be divided into several portions and tinged with various shades of food colouring before they are steamed layer by layer.
According to The Way of Kueh, these coconut-enriched delights are likely Chinese in origin as different versions abound in Southern China.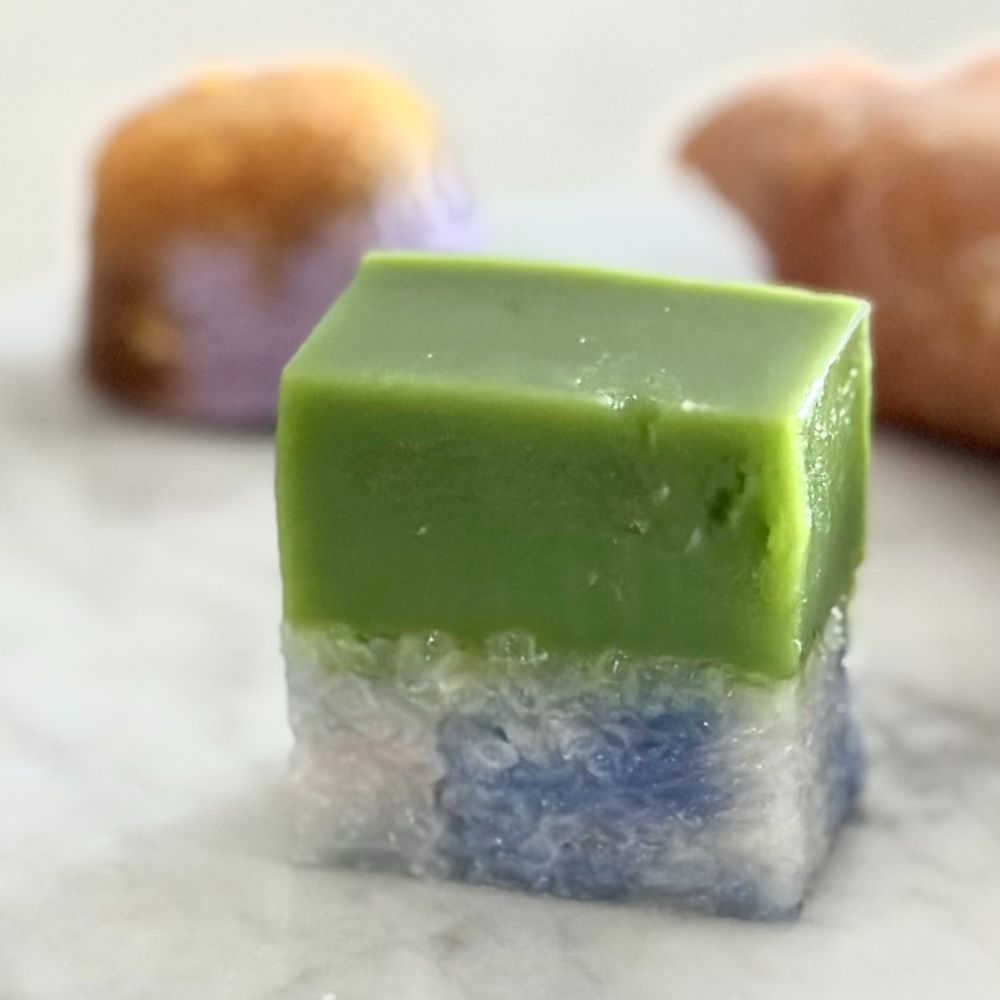 The appeal of Kueh Salat crosses generations. | IMAGE: ANNETTE TAN
Everybody loves Kueh Salat
With origins in Indonesia, kueh salat is also known as puteri (princess) salat and seri muka (pretty face) in Malay, in reference to its smooth, shiny surface. It comprises a layer of pressed coconut-infused glutinous rice below a wobbly layer of jade-hued kaya. Ever the lily gilders, the Peranakans differentiate their version with alluring streaks of blue pea flower-tinted rice.
The kueh salat available at restaurants and shops like Rempapa, The Coconut Club, Candlenut and Mrs Kueh have come a long way from their traditional renditions. These days, the top layer of kaya is distinctly smooth, soft and almost curd-like, which has won kueh salat a new generation of fans.
Pretty little bundts: Puteri Ayu
Translated from Bahasa Indonesia, puteri ayu means "pretty princess". It's safe to say then that like most kueh, this one originated in Indonesia and made its way across Singapore and Malaysia. Fresh out of the steamer, this pandan-scented rice flour cake with a crown of lightly salted grated coconut is intoxicating. We are totally incapable of devouring just one.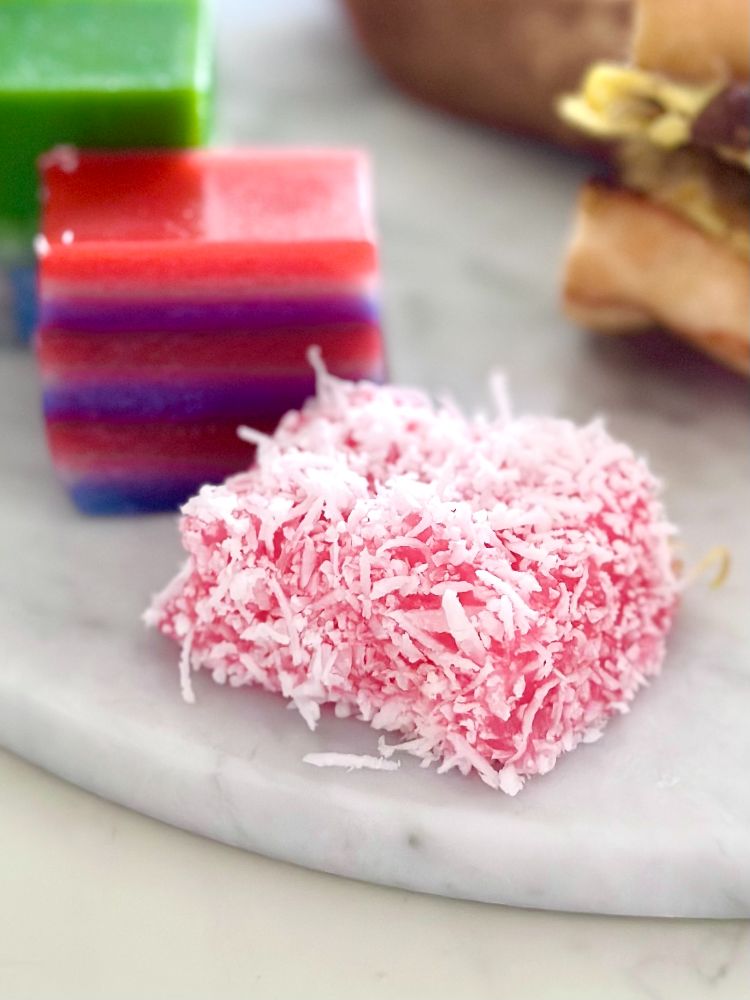 Kuih Sago Ros: dangerously addictive. | IMAGE: ANNETTE TAN
Dangerously delicate: Kuih Sago Ros
Fluffy as a cloud and all too easy to eat, kuih sago ros is common throughout Malaysia and made from sago pearls that are infused with rose syrup and/or essence and steamed. Once cooled and set, they are given a light coat of grated coconut. Resistance, dear fellow kueh patriots, is futile.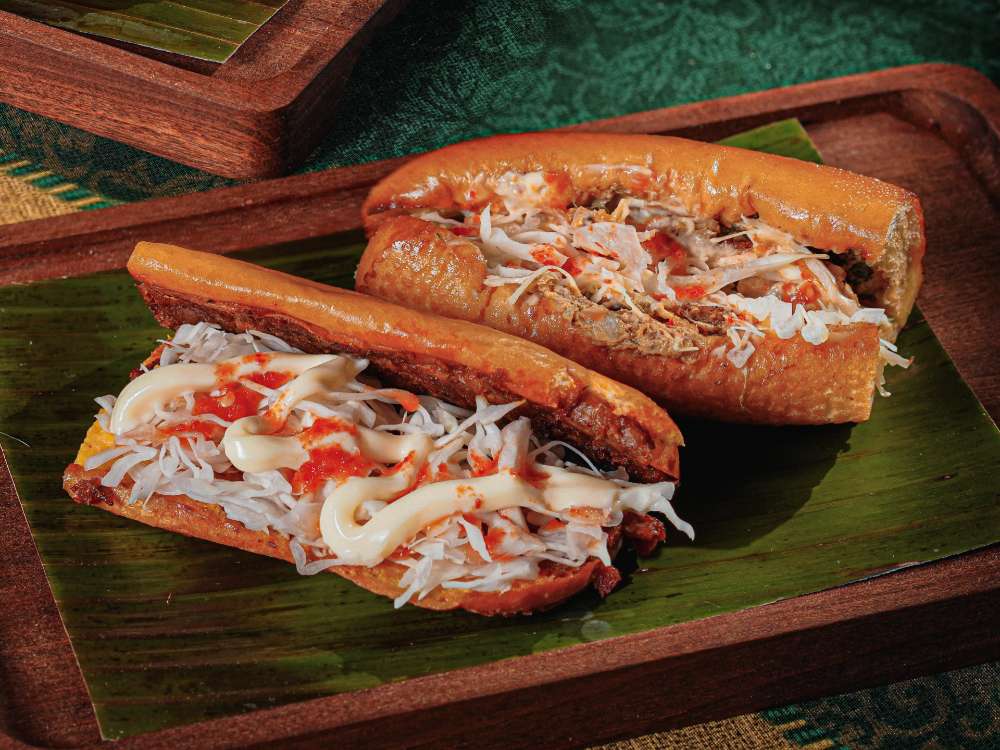 Limited-edition Roti John from Rempapa. | IMAGE: REMPAPA
Not kueh, but still shiok: Roti John
John who, you ask? John, as in all the ang mohs back in sepia-toned 1960s Singapore. According to a 1988 article in The Straits Times, local legend has it that an Englishman asked a Malay hawker in Sembawang for a hamburger. The hawker obliged with a concoction of minced mutton and onions tucked between two halves of a French loaf (what we now know as "baguettes").
No cheese? No problem. There's always telur. So in went some beaten eggs. The hawker was overheard saying to the customer, "Silakan makan roti, John" ("Please eat this bread, John"). It wasn't a hamburger, but roti John went on to enjoy a long and prolific run as one of Singapore's beloved hawker treats.
Rempapa's limited edition Roti John is priced at $10 each.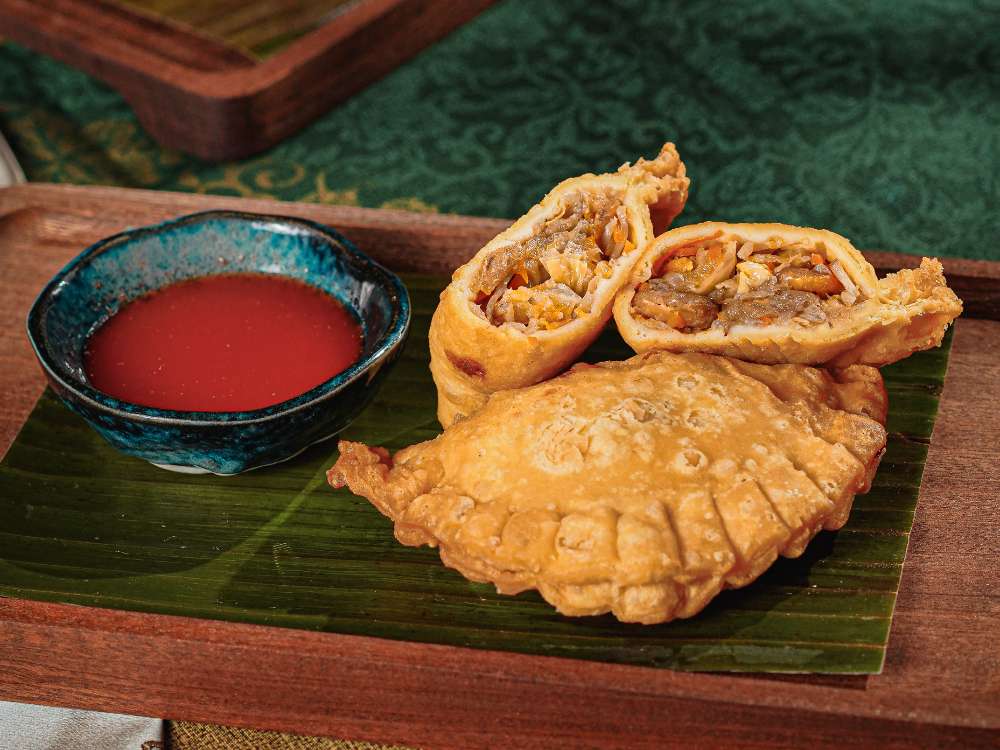 Like the Roti John above, Rempapa's Epok Epok Sayur is available only from 7 to 13 Aug 2023. | IMAGE: REMPAPA
Eat your vegetables: Epok Epok Sayur
We are more epok epok kentang (potato) than epok epok sayur (vegetable) kinda folk, but chef Damian D'Silva would love if we could rediscover the joys of the latter. Essentially the Malay name for our beloved curry puffs, epok epok are descendants of the Portuguese empanada or British Cornish pasties, both half—moon-shaped savoury hand pies that are common throughout most of the world.
Rempapa's version ($8 for three) is packed with a filling like that of popiah, with a mix of sauteed cabbage, carrots, bangkwang, taugeh, taukwa and dried prawns.
Rempapa's Roti John and Epok Epok Sayur are available for dine-in only from 7 till 13 August. The Kueh Heritage Gift Box is available online at $18 for an assortment of 12 pieces.
For the latest updates on Wonderwall.sg, be sure to follow us on TikTok, Telegram, Instagram, and Facebook. If you have a story idea for us, email us at [email protected].