Get So-fish-ticated With This One-Day-Only 5-Course Salmon Dinner
Looking for a unique dining experience that celebrates sustainability and culinary finesse? Local specialty grocer Little Farms will be presenting a one-night-only five-course salmon dinner on 11 May that not only meets those criteria but is also sure to impress, and satiate your passion for this Omega-3-rich fish.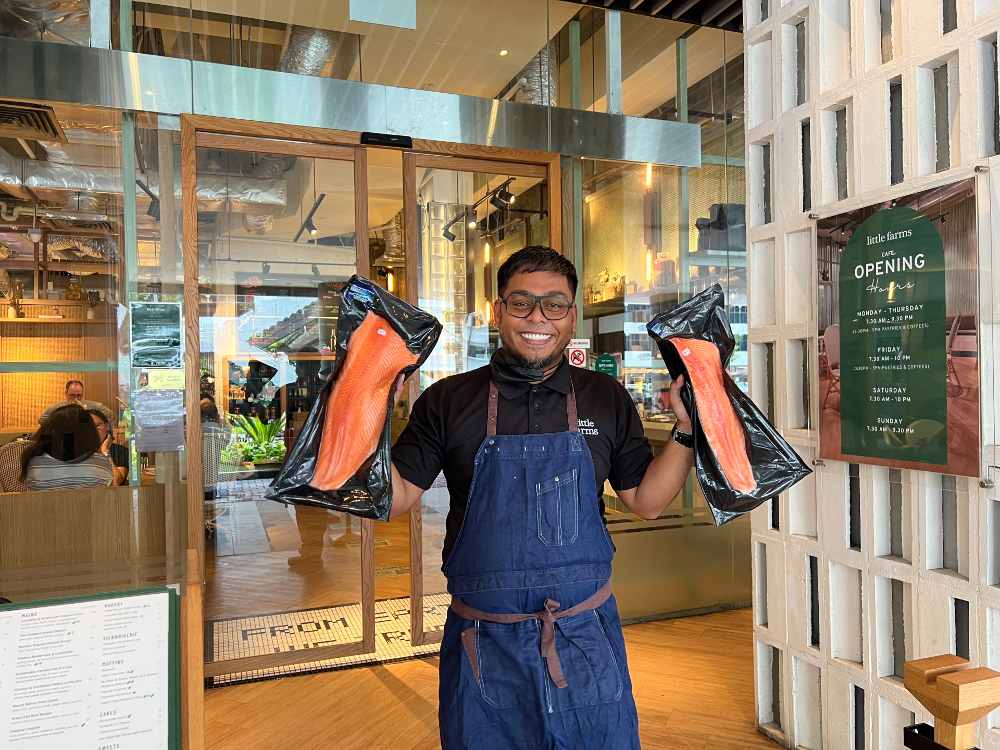 Chef Rizan, head chef of Little Farms Café, has been cooking with Akaroa salmon for about a decade.| IMAGE: LITTLE FARMS
The limited-edition menu ($128++ with drink pairing; $108++ without alcohol) available at Little Farms Café Valley Point is the brainchild of Head Chef Rizan Zalani of Little Farms Café, who has almost a decade of experience preparing Akaroa Salmon, a type of King Salmon that is sustainably raised in the cold, clear waters of Akaroa Harbour in New Zealand.
His five-course feast showcases the versatility and delicate flavours of this fish, prepared in an Asian-influenced European style. And if you fancy a "show" before you tuck in, make sure you catch Chef Rizan at 6pm giving a "live" demo of how to fillet a whole salmon.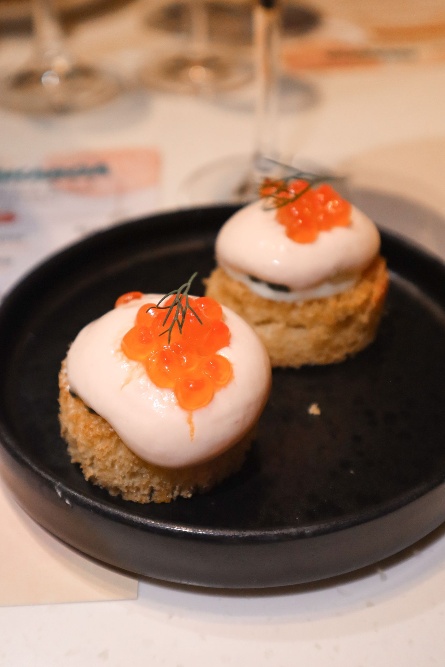 The menu starts with an amuse-bouche, "Smoked Salmon Mousse", that features goat cheese, pickled cucumber, and ikura on an airy and light brioche. | IMAGE: LITTLE FARMS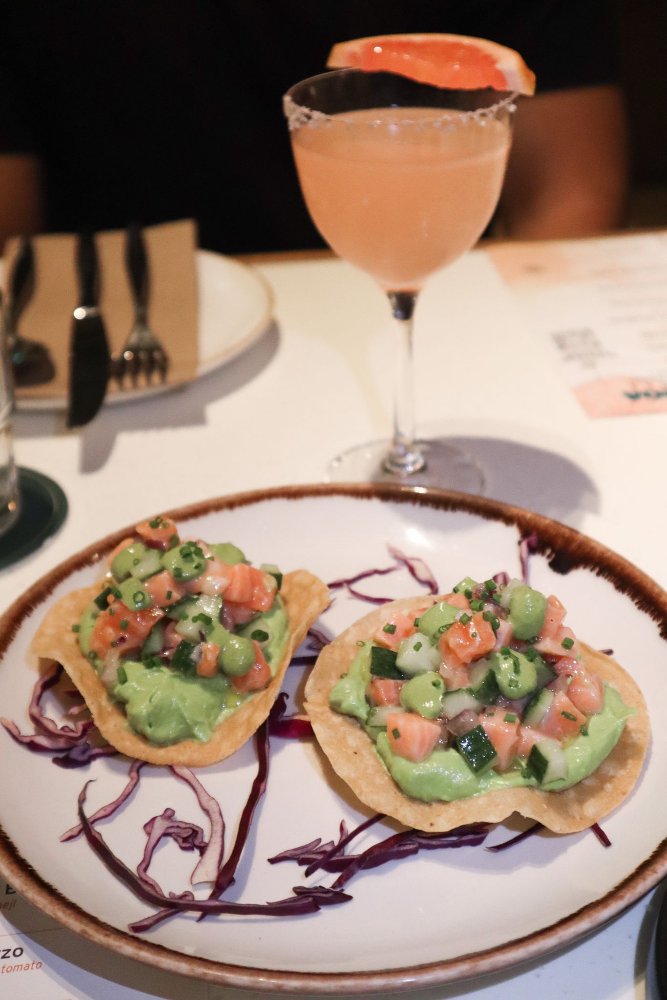 The first course is the Mexican-inspired "Salmon Tartare Tostada, with Little Farms' signature avocado adding an extra layer of creaminess, plus pickled shallots and Serrano peppers for that slight kick of heat. | IMAGE: LITTLE FARMS

What really sets this dinner apart is the emphasis on sustainability and minimising waste. The menu utilises every part of the fish so nothing is thrown away. Take the Japanese-inspired umami Salmon & Mushroom Soy Broth, for example. The broth is made by boiling the Akaroa Salmon head and bones for four hours, creating a rich, satisfying flavour that pairs perfectly with a chilled sweet umeshu.
Next comes the Hot Smoked Salmon Orzo, a comforting and velvety dish. The bone broth base is finished with herb oil, adding an extra layer of flavour.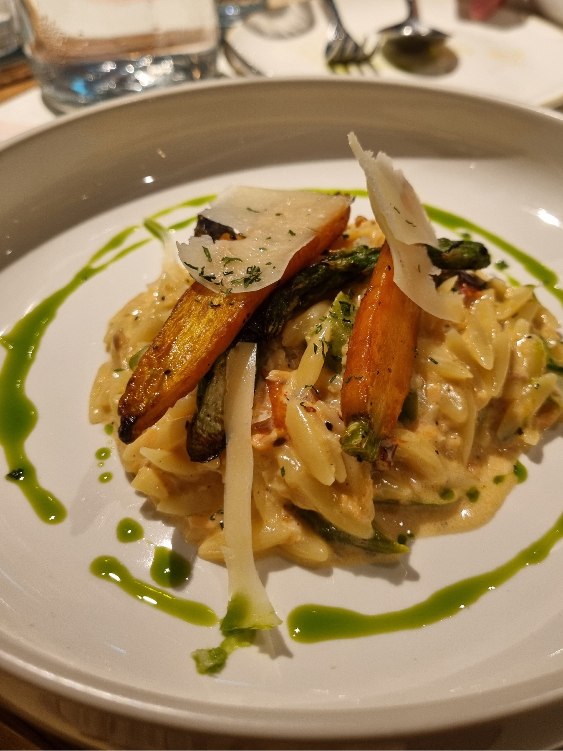 The comforting "Hot Smoked Salmon Orzo" makes up the third course - savour the velvety bone broth base that's elevated by a flavourful herb oil finish. | IMAGE: LITTLE FARMS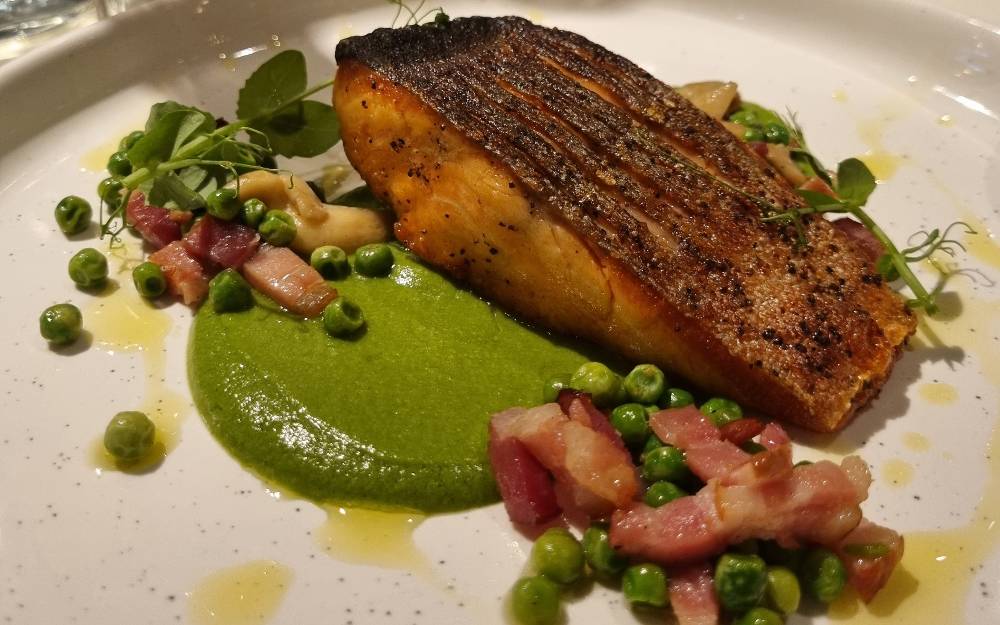 The fourth course, Pan Roasted Salmon Fillet" is paired with pancetta and pea purée. | IMAGE: LITTLE FARMS
The self-taught chef showcases his talent for allowing each ingredient to shine through in every dish. The vibrant flavours of the zesty Mexican-inspired Salmon Tartare Tostada are complemented by the earthy and bittersweet Grapefruit Paloma, which refreshes the palate.
The penultimate course, Pan Roasted Salmon Filet, is another standout dish, with salmon cooked to perfection, and served with a side of pea purée and crispy salmon skin that adds a satisfying crunch.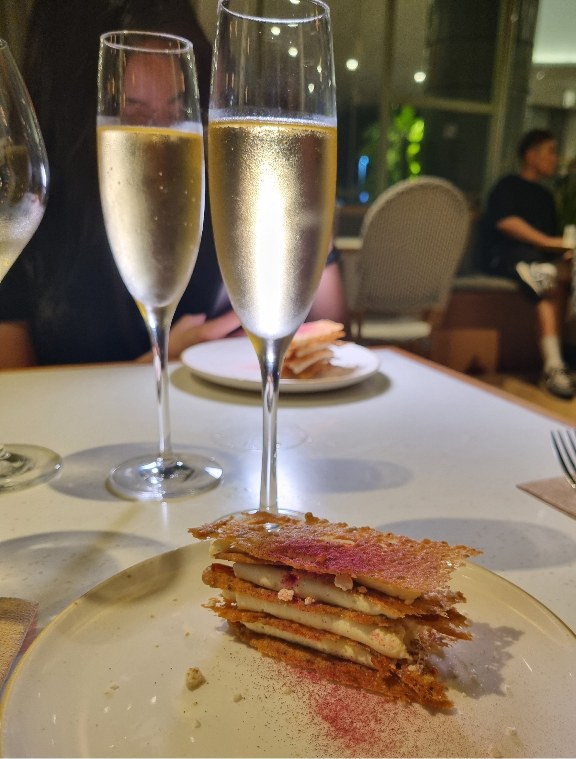 Dessert comes in the fishy form of "Salmon Skin Mille Feuille". | IMAGE: LITTLE FARMS

The dinner culminates in a deliciously sweet Salmon Skin Mille Feuille, a unique dessert created by Pastry Head Chef Mabel that features layers of salmon meat meringue, miso caramel, and crispy salmon skin feuille.

There are limited seats available, and you can make your reservation here.
---

The freshest salmon in Singapore
Can't make it to the Akaroa Salmon 5-course dinner? Fret not. Little Farms also offers fresh and smoked Akaroa Salmon in-store or for delivery. Plus, here are a few other online grocers in Singapore that are salmon specialists who can deliver to your doorstep:
Sasha's Fine Foods
Sasha Conlan is a passionate foodie and mother of three. After moving to Singapore in 2008, she started her own business importing high-quality food staples from New Zealand and Australia. Sasha's business has grown from a small home operation to a thriving online food company with a team of 35 staff and a fleet of trucks delivering fresh and delicious food across the island, including salmon.
Dish the Fish
Jeffrey Tan and Angeline Ong, a husband-and-wife duo, offer sustainably sourced seafood like fresh salmon at their physical store at Jalan Riang as well as online. They cater to environmentally-conscious customers by vacuum-packing all orders and delivering them in a cold truck to ensure optimal freshness. Their website also includes a blog that helps customers learn about the fish they are buying, and provides cooking tips and recipes.
Fisk
This local online seafood delivery service is part of Snorre Food Singapore. Their parent company has been supplying various hotels, airlines, and restaurants across our city-state for 30 years. By working with local fishermen from all over the world, they can offer a wide range of air-flown salmon and other seafood products. They're committed to never freezing their catch, so you know you're getting the freshest seafood possible.
For the latest updates on Wonderwall.sg, be sure to follow us on TikTok, Telegram, Instagram, and Facebook. If you have a story idea for us, email us at [email protected].