Inspired By The Asian Flat Croissant, Here Are Some Other "Relatable" Names For Southeast Asian Foods
2020 has just started, and there's already a food item whose name could give the Kentaco a run for its money.
We're referring to the Asian Flat Croissant, the delicacy formerly known as roti prata. Coined by Southeast Asian food website Nyonya Cooking, this westernised moniker makes the dish way more appetising to people who only ever eat pancakes and granola for breakfast.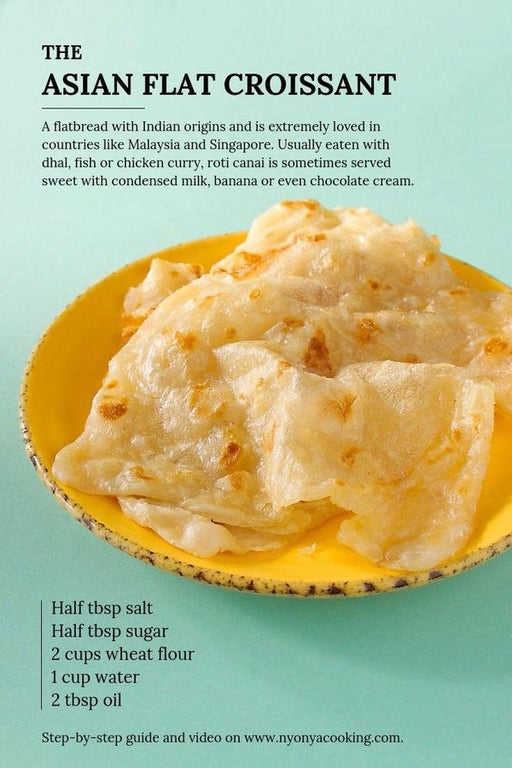 In the spirit of making our Asian cuisine sound more "fun" and "relatable", as per Nyonya Cooking's marketing strategy, here are some relatable new names for our regional food staples:
Nasi Lemak

Southeast Asian dry coconut risotto with smelt anchovies and prawn puree
Bak Chor Mee
Oriental Pork Tagliatelle with with braised chantarelles, ground liver, and crispy bits

Popiah
Fresh Teochew Burrito
Rojak
Asian fruit salad with sweet and sour glaze
Char Kway Teow
Southeast Asian soy sauce ragu with deep-fried pork croutons
Kaya Toast & Soft-Boiled Eggs
Deconstructed Asian-style eggs benedict with coconut jam and brioche
Tau Huay
Silky soy panna cotta

Ice Kacang
Asian rainbow snow cone topped with chilled jellies
You Tiao
Savoury Chinese donut sticks

Biryani
Spicy Indian Basmati Jambalaya

Claypot Rice
Chinese paella with caramelised sausage and porcini
Dim Sum
Deep-fried tapas, Cantonese-style
Curry Puff
Oven-baked Indian strudel with sardines and potatoes
Cai Fan
Asian grain bowl with 1 protein and 2 greens, drizzled with brown marinade
As they say in croissant land, bon appétit!
Note: This is a work of satire. We would as likely recommend these labels as we would recommend that Jamie Oliver call risotto ai frutti di mare "Italian Dry Mui Fan".