Traditional Treats With A Twist: Baked Mooncakes To Try This Year
Blink and it's mid-autumn festival again. So we're back with a shortlist of mooncake options in case you simply cannot make up your mind amid the mooncake melee. Now, just because you're a traditionalist doesn't mean you can't try the classics in a brand new way. Sure you can stick to the basic lotus seed paste mooncakes with one or two salted egg yolks in the middle, but if you want to mix it up a little, these mooncakes stay true to their origins but have just enough of a twist to make them appealingly interesting. Order them early and you'll be privy to discounts too.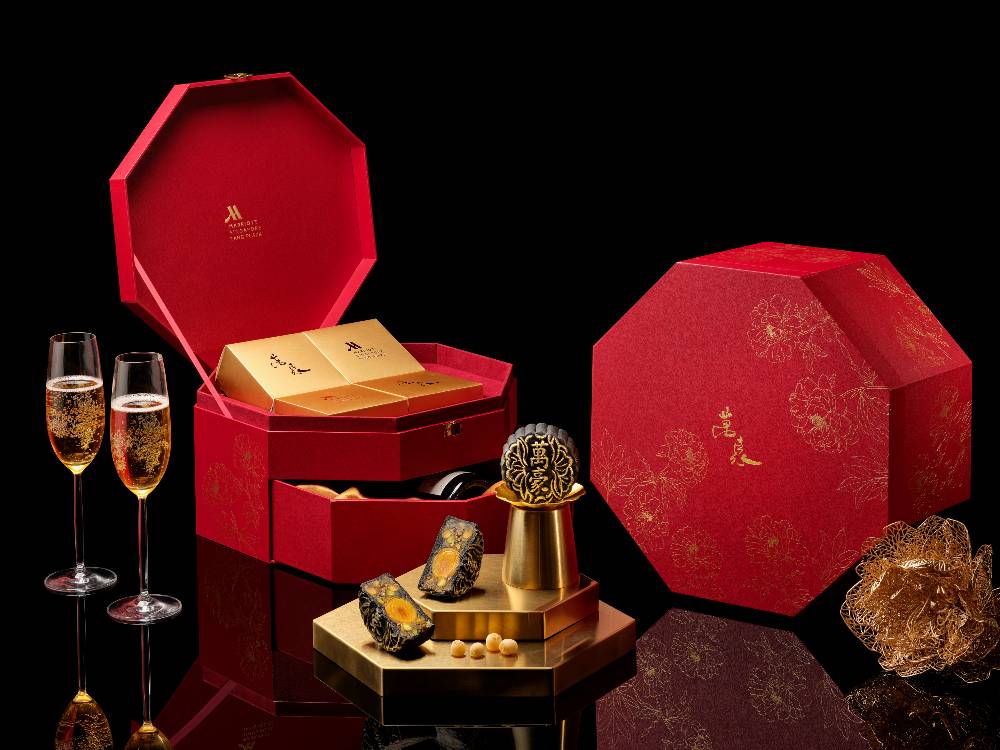 Golden Black Truffle Baked Mooncakes with Parma Ham, Pistachios and Single Yolk. | IMAGE: SINGAPORE MARRIOTT TANG PLAZA
Zhng-ed with truffles
If you're a traditionalist but want to luxe it up, check out Singapore Marriott Tang Plaza Hotel's Golden Black Truffle Baked Mooncakes with Parma Ham, Pistachios and Single Yolk ($98 for a box of four). It's a rich, heady twist on the traditional lotus paste mooncake. Also new to the hotel this year is an Imperial Long Jing Tea with Walnuts ($86 for a box of four) rendition.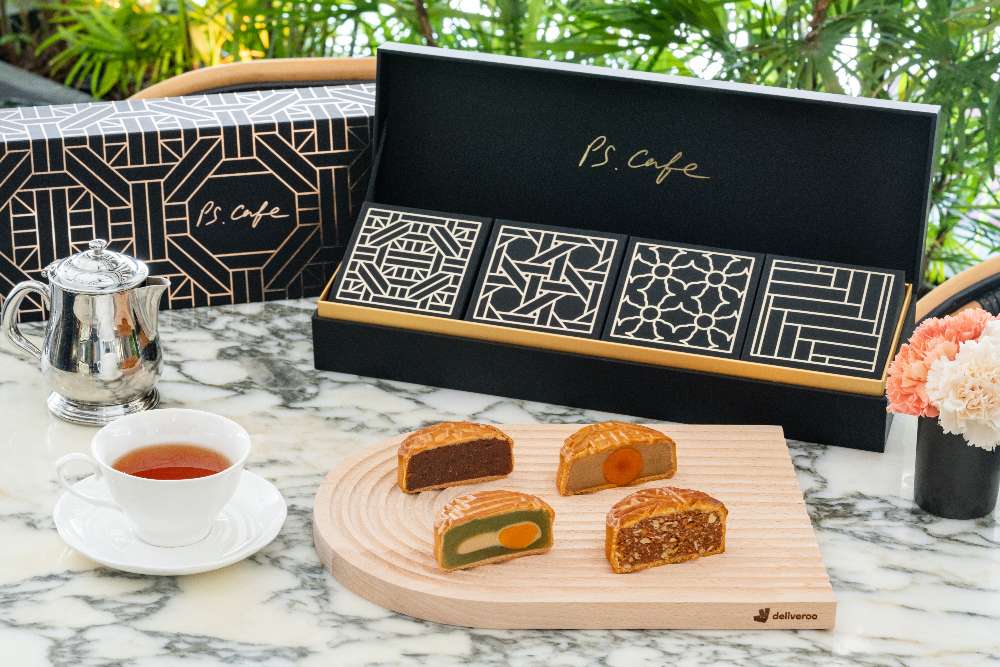 IMAGE: PS.CAFÉ
PS. They have mooncakes
For its first foray into mooncakes, PS.Café has created flaky Cantonese-style baked mooncakes in flavours that would be familiar to fans of its stylish cafes: White Truffle, Sticky Date, Superfood and Verandah. The White Truffle-infused mooncake comes with a single salted egg yolk, while the Sticky Date mooncake features honeyed dates and brown sugar mochi. If you're a fan of PS.Café's superfood salad, you'll like its mooncake rendition with pine nuts, sunflower seeds, walnuts, melon seeds, almonds and candied orange peel. The Verandah Mooncake has a fragrant coconut-pandan filling with a salted egg yolk centre. The mooncakes come as a set of four ($98), with a choice of black or red packaging. If you order via Deliveroo before 3 September, you'll get a free plating board.
Mala bak kwa? Yes, please!
Alas, you can't just buy a whole box of Feng Shui Inn's Mala Mixed Nuts Mooncake with Bak Kwa. They come as part of a set of four baked mooncakes ($98) which include Black Sesame with Macadamia and Tangerine, Smoked Dates and Green Tea, and Low-sugar White Lotus Paste with Double Yolk. As its name implies, the Mala Mixed Nuts with Bak Kwa mooncake sees mala-infused nuts floating in a lotus seed paste with smoky bits of bak kwa. Heaven.
Don't bail on the flake
Sometimes, oldies are goodies, especially if they come in the form of these classic Thousand Layer Yam Mooncakes ($40 for two, $76 for four) from Cantonese restaurant Yan. Available plain or with a salted egg yolk nestled in its centre. New to Yan's line-up this year is a Baked Lychee White Lotus Mooncake ($42 for two, $78 for four) that's worth a gander.
Love these oolong time
You can drink tea with your mooncakes or have tea in your mooncakes if you get these from Jade at The Fullerton Hotel Singapore. Launched this year, the Jade Signatures Tea Series ($86) comprises a quartet of flavours, namely Assam Tea with Lemon, Mung Bean and Raisin; Tie Guan Yin with Orange and Apricot; Green Tea with Multigrain Brown Sugar; and Hongyu Black Tea Lotus Seed Paste with Pomelo, Red Date and Pine Nuts. If you like 'em large, order The Fullerton 15 Treasures Premium Gift Set ($218) at the centre of which is a giant baked mooncake filled with white lotus seed paste and eight egg yolks. It is encircled by 14 smaller baked mooncakes in different flavours like black sesame, red bean, pandan and osmanthus.
For the latest updates on Wonderwall.sg, be sure to follow us on TikTok, Telegram, Instagram, and Facebook. If you have a story idea for us, email us at [email protected].