They Get The 'Bald' Rolling To Raise Awareness Of Childhood Cancer
Most Singaporean men would have experienced shaving all their hair off at least once in their lives: during national service. At the kick-off event on 30 April for Hair for Hope (HfH) 2023 – an advocacy and fundraising campaign by Children's Cancer Foundation (CCF) that celebrates its 20th anniversary this year – three men took the step to do so again on their own accord for a cause close to their hearts.
Clement Choo, a 28-year-old childhood cancer survivor, was diagnosed with Acute Lymphoblastic Leukaemia at the age of 16. He experienced hair loss when he had to undergo chemotherapy but with the support of his family, friends, and community, he was able to win his battle with cancer. This year, Clement has been chosen as a 2023 HfH ambassador and wants to use this opportunity to pay it forward.
Meanwhile, long-time HfH supporter Norman Tan, 42, has shaved his head 10 times in memory of his father, who passed away from colon cancer in 2003, and remains passionate about advocating for the cause. He believes that every time he shaves his head, it speaks a powerful truth to children with cancer – that they're not alone, and that their families will be helped by the funds raised from this event.
Jetstar Asia CEO Barathan Pasupathi, 55, has been a volunteer with CCF since the early 90s, and now serves on its Board of Directors. He has seen first-hand how much children with cancer and their families need community support, and he hopes to rally greater support through his involvement.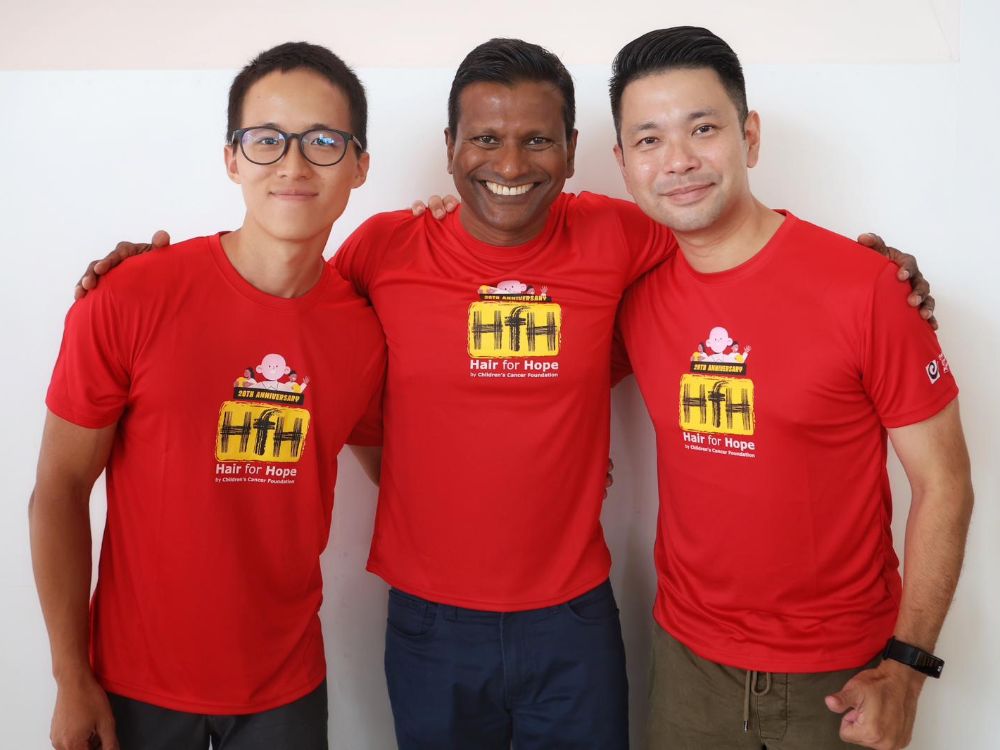 (From left) Clement is an HfH 2023 ambassador, Barathan serves on the CCF Board of Directors, and Norman shaves his head in memory of his father who passed away from colon cancer. | IMAGE: CHILDREN'S CANCER FOUNDATION

The trio were among 300 shavees who were present at Kong Meng San Phor Kark See Monastery to commemorate the occasion, and to get the "bald" rolling for the three-month-long campaign to encourage more support from the community for children and families impacted by childhood cancer. The campaign will culminate in a two-day event at VivoCity on 29 and 30 July.
Fun fact: HfH is hoping to set a new national record in the Singapore Book of Records for the largest hair-shaving campaign, with 70,000 shaven heads over 20 years. Will you have a close shave for a good cause and play a part in making history, too? You can support Hair for Hope 2023 by registering as a shavee, making a donation, or becoming a sponsor by signing up here.
Meanwhile, we caught up with Clement, Barathan and Norman moments after their ceremonial shaving to learn more about their personal experiences with cancer and their motivations for being part of this worthy cause.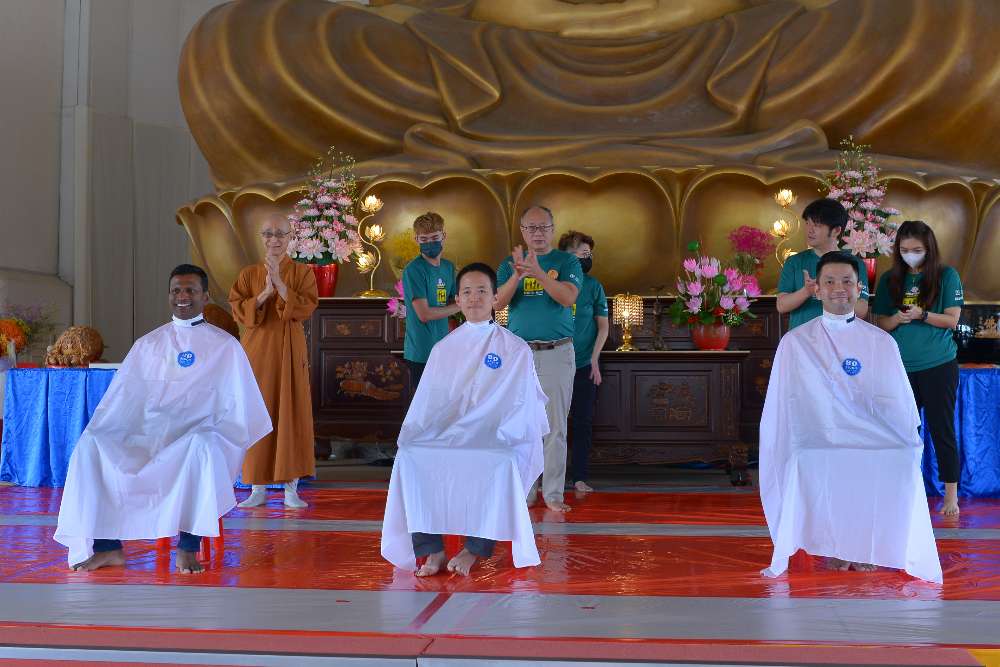 Hair for Hope 2023 kicked off at Kong Meng San Phor Kark See Monastery at Bright Hill Road. | IMAGE: CHILDREN'S CANCER FOUNDATION
Hey guys, ok a warm-up question: How does the act of hair-shaving at Hair for Hope compare to shaving your heads for NS?
Clement (who was an Admin Supervisor in NS): It's always refreshing reliving your experience in NS. This time round, it's also for a good cause – and it's voluntary!
Norman (who was a Platoon Sergeant): While shaving for NS is an obligation to the country, [shaving for HfH] is an obligation to the little children who are suffering from cancer. It is also to show them that they are not alone. We are here for them, and I'm really glad that so many people are here to shave for this cause.
Barathan (who was an Artillery Officer): NS is a national commitment. We all shaved our heads for the defence of our country. We're here [at Hair for Hope] in solidarity with the children and families in light of childhood cancer. It's about being kind and caring, so I'm happy to be here with my fellow shavees. A lot of people out there are doing their part to tell children it's okay to be bald and to generate awareness and support for the Children's Cancer Foundation.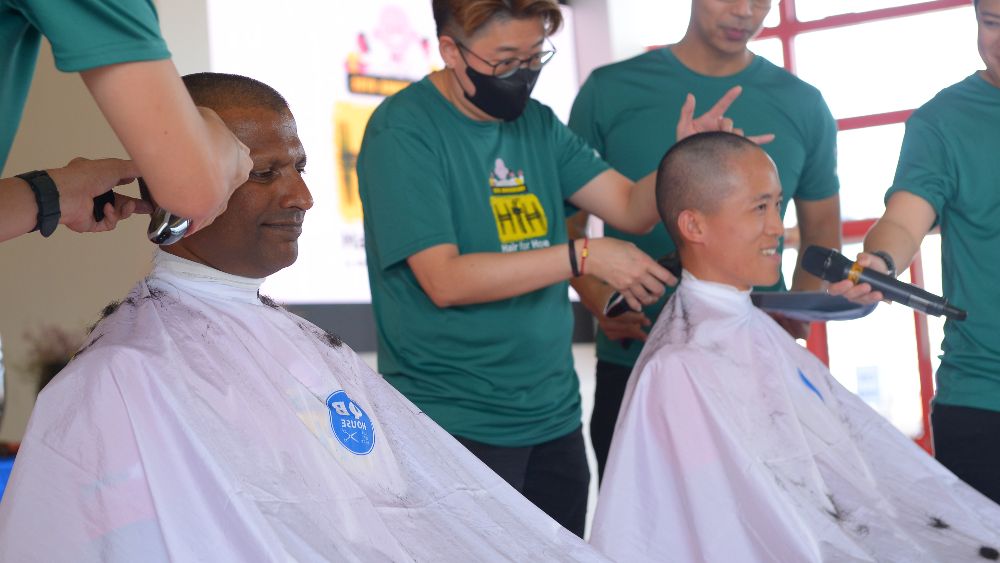 Barathan (left) and Clement getting their heads shaved. | IMAGE: CHILDREN'S CANCER FOUNDATION
What are your personal experiences or connections with cancer?
Clement: I lost my eyebrows [during chemotherapy] so it was a bit weird. Shaving today is just a reminder that I've things to be thankful for.
Norman: The reason I started doing this ten years ago was because my father actually died from colon cancer 10 years ago, so I know how difficult it is not only for the patients, but the caregivers as well. The caregivers are the ones who go through a lot. By supporting this charity event, we can actually show support to caregivers as well.
Barathan: Two years ago, my wife's liver failed and I stepped forward to be an organ donor. In the process of undergoing treatment, my wife also lost her hair. Today, she is much better and we've received a lot of support from the community and everyone around us. It's about us getting the ball rolling this year – and we'll be bringing a village behind us. It's about spreading a message of kindness, gratitude and journeying together as one village and community of Singapore.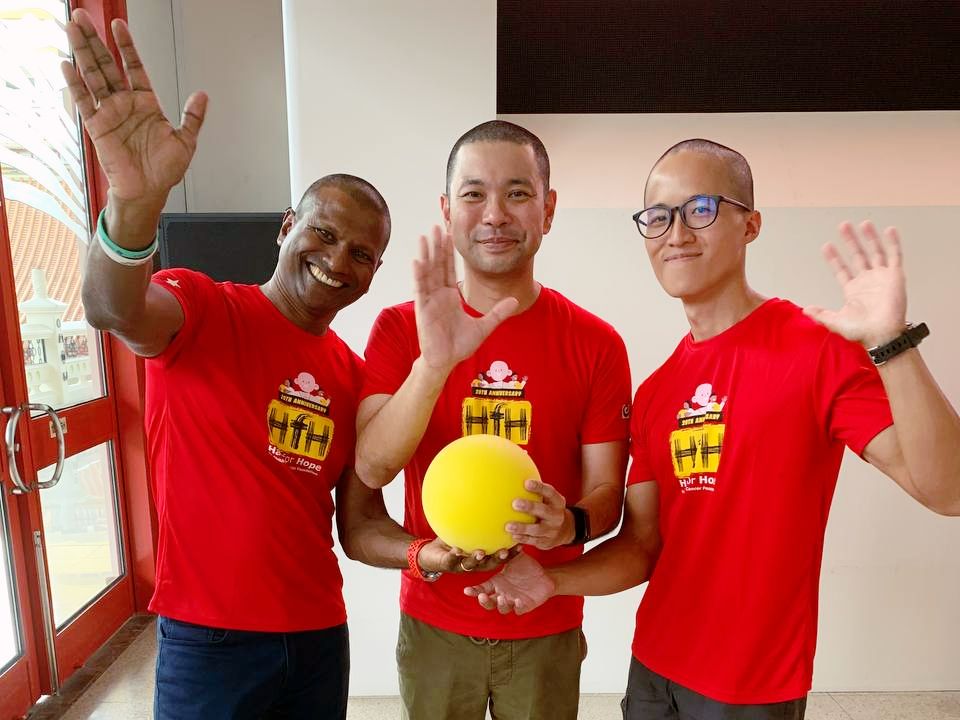 Getting the "bald" rolling to inspire hope and raise awareness of childhood cancer. | IMAGE: FARHAN SHAFIE
What "bald statement" do you wish to impart by having your heads shaved for Hair For Hope?
Clement: [Having a bald head is] a very visual thing. When you see people walking around without hair, you might start to question it. It's about raising awareness that there are people around us who are going through treatment. It's important to know that while you're healthy now, in a few years, you might not be. So do your best in life and seize the day. Don't get caught up in things that waste your time and energy.
Norman: It's basically a visual aid so that people will second guess on the streets whether they're serving NS or recovering from illness. Also, to let the children know we are always here for them.
Barathan: For me, especially in my role, I go to a lot of conferences. I'm going to a conference with 500 leaders and they'll be asking me "What happened to you?" So for me to be able to touch on a leadership level is a very powerful message. Awareness is very important. Also, solidarity with the children and families.
For the latest updates on Wonderwall.sg, be sure to follow us on TikTok, Telegram, Instagram, and Facebook. If you have a story idea for us, email us at [email protected].