From NSF With Music & Drama Company To Full-Time Artiste And NDP Performer
The Music & Drama Company (MDC) celebrates its golden jubilee this year – that's 50 years of not only boosting the morale of Singapore Armed Forces troops (the raison d'être of the organisation established in 1973 by then-Defence Minister Dr Goh Keng Swee), but also showing unwavering support for major events like National Day as well as nurturing a multitude of talents who did their national service there.
Think: entertainers Dick Lee, Gurmit Singh and JJ Lin, jazz musician Jeremy Monteiro, director Jack Neo, bespoke kebaya maker Heath Yeo (who was in the wardrobe department), rapper Sheikh Haikel, and, more recently, artists like Sezairi Sezali, Yung Raja, Nathan Hartono, Shigga Shay and Dominic Chin), among other gifted hosts, choreographers, dancers, singers, musicians and show production team.
Now, add to this stable Kevin Brendan – another face, name, and voice to emerge from this veritable gift that keeps on giving. The singer, actor, emcee and show producer will appear in Act 1 of the National Day Parade 2023 Show alongside hip hop artist and producer LINEATH, gliding onto the Padang with other artists on giant "origami boats" that represent the different cultures arriving on the shores of the melting pot that is Singapore.
We speak to the 27-year-old about this opportunity of a lifetime; what prompted him to go from doing his national service (NS) with MDC to becoming a full-time artiste there; and how 18 years of being in the performing arts singing in church and schools never truly prepares you for being on a stage as large as NDP.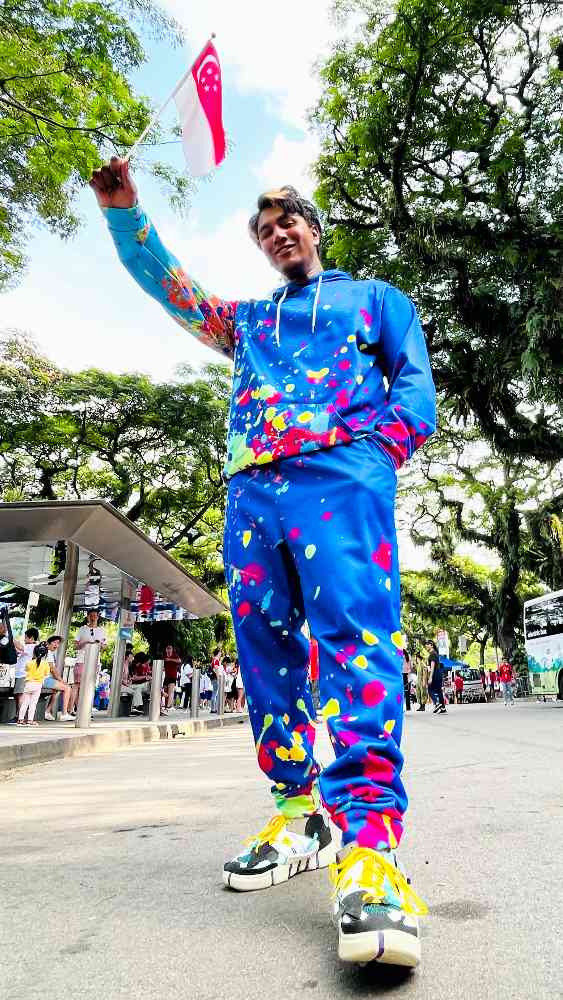 Kevin will be appearing alongside hip hop artist LINEATH in Act 1 of the NDP 2023 Show. | IMAGE: SIM DING EN
This isn't your first participating in NDP – tell us more, and how it feels to take on the role in NDP 2023.
In 2015, I was a dancer, actually. I was part of a Tamil contingent. The second time was in 2019, when I was [doing my NS] with MDC. Sometimes, MDC supports the NDP show by understudying certain performers. Yung Raja was part of that NDP 2019 show, but there was a day when he couldn't make it, so I had to be his stand-in. And now, it's kind of come full circle. This year, I'm finally myself and I'm singing! And it's my voice you hear! It's me you see on the screen! So yeah, it's pretty magical!
What's it like performing in a show of this magnitude?
I think no matter how much you perform, nothing really prepares you for a crowd like this. First of all, it's the sheer number of people. Second of all, it's all people who want to be here and are so excited to be here. As a performer, you really feel that energy – it's insane!
But you've had 18 years of experience in the performing arts! What makes being in NDP so different and special?
When you perform shows, you're so concerned about what you are giving to the audience, right? Here, it's even more the case. We are really particular about what we are doing and why we are doing it, because we're telling these stories that people know so well. And having people relate to them in such a passionate way is really important. And being able to be on this stage and connect through these stories that all of us know together, it's immaculate.
You did your NS with MDC. What were some of the positive aspects of your NS experience that prompted you to become a full-time artiste with MDC?
So I was just talking to my other MDC peers who are doing their NS as well. And I guess I am packing in a different way for my version of an outfield. And, you know, while other people are doing the "norm" or what you would expect from national service, I'm here getting ready for shows, I'm going for sound checks – I'm serving my country in a different way.
And for me, that kind of made sense of things. Performing arts is a career as well – it's more than the glitz and the glam. You're telling stories. So I guess I fell in love even more with the performing arts. So of course, why wouldn't I join full-time, right? When the opportunity came, I was like, yes! I'm gonna be here. I want to be here!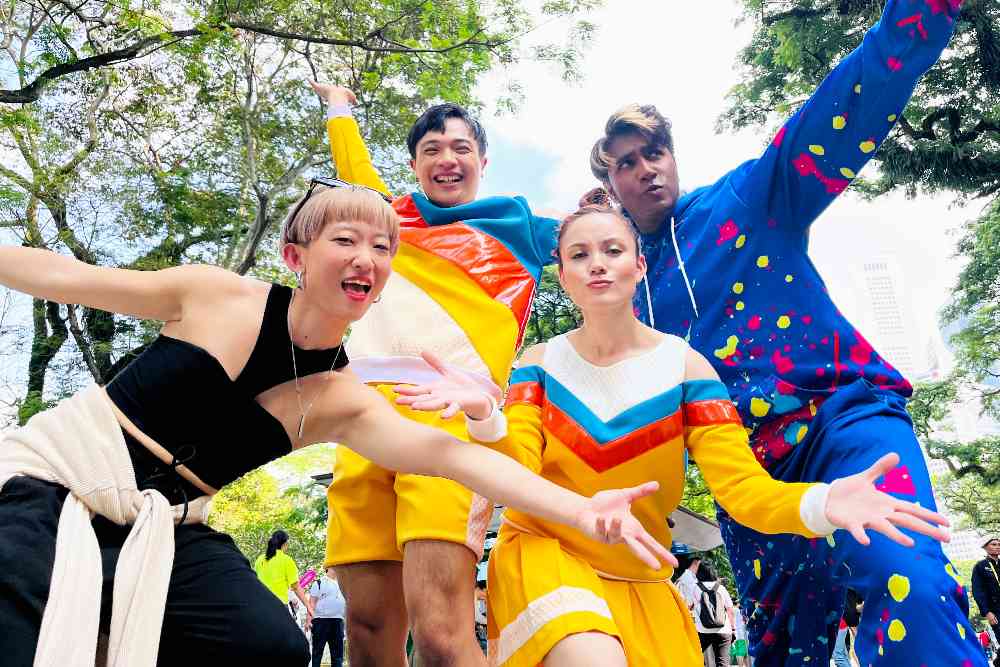 Kevin with (from left) Lum Lum Lee, Afiq Noorazwa and Shauna Santa Maria - dancers and choreographers from MDC who are also involved in this year's NDP. | IMAGE: SIM DING EN
As an artist, what kind of opportunities has being part of NDP given you?
We spend so much time together, the whole cast and crew. Two months ago, we were all strangers. I didn't know Sarah Wee [frontwoman of local band 53A] personally, and now we are walking together to the Padang, and like, hanging out and sharing about our various crafts as well.
I do my own music and I release my own singles. So, being able to talk [to other artists] about the industry here in Singapore, and building a community that you can actually be part of, that's really nice. You always hear about "oh there's a community", and now I have the opportunity to meet these people, talk to these people, and see all of us have the same struggles, the same endeavours, the same dreams.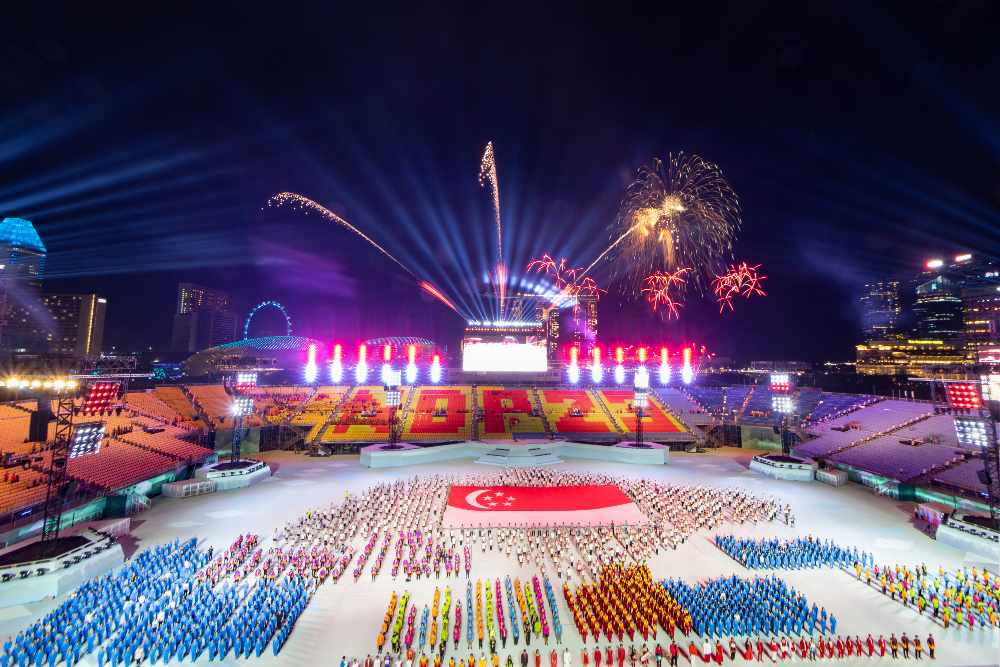 IMAGE: NDP 2023 EXCO
It must be such a special year for you - playing a part in Singapore's 58th birthday celebrations and celebrating MDC's golden jubilee!
I'm so grateful to be part of a commemoration of 50 years of uplifting people, lifting spirits and telling stories, and bringing that morale to the National Day Parade as well! And being able to see it on everybody's faces? Fantastic.
What have all the rehearsals and training been like?
I think I've been training my entire life, leading up to this point. And you know, you're going to need the training to be part of NDP! You're gonna need to have some sense of how you're going to engage with the thousands of people there.
But when it comes to this year's NDP show in particular, we've been working on this for about three months. And that's just for me. I'm sure there are people who are part of this show who have been training and working on this ever since the last NDP ended. It's a long journey, but we're here!
Before the big day on 9 Aug, you can also catch MDC performing at the Active SG Toa Payoh Sport Centre and Active SG Woodlands Sport Centre on 5 and 6 Aug as part of the Singapore Heartland Festivals 2023.
For the latest updates on Wonderwall.sg, be sure to follow us on TikTok, Telegram, Instagram, and Facebook. If you have a story idea for us, email us at [email protected].