Turn The Rhythm Up: Celebrating S'pore's 58th And Music & Drama Company's 50th
1973. What a year of milestones it was for Singapore: On 4 Feb, the first modern Chingay Parade was held in Singapore; on 6 Apr, the Singapore Red Cross was incorporated; and on 27 Jun, the Singapore Zoological Gardens (which was renamed Singapore Zoo in 2005) was officially opened by then-Deputy Prime Minister and Minister for Defence Dr Goh Keng Swee.
That same year, Dr Goh also established the Music and Drama Company (MDC) to strengthen the morale of soldiers in the Singapore Armed Forces through live entertainment.
Over the years, not only has MDC nurtured numerous personalities (including entertainers Dick Lee, Gurmit Singh and JJ Lin, jazz musician Jeremy Monteiro, director Jack Neo, and, more recently, Sezairi Sezali, Yung Raja, Nathan Hartono, Shigga Shay and Dominic Chin), it has also shown its unwavering support at the National Day Parade (NDP) through its gifted hosts, choreographers, dancers, singers, musicians and show production team.
To commemorate this double celebration – Singapore's 58th birthday and MDC's Golden Jubilee – we speak to three of the over-40 MDC talents involved in this year's NDP, which will be held at the iconic Padang.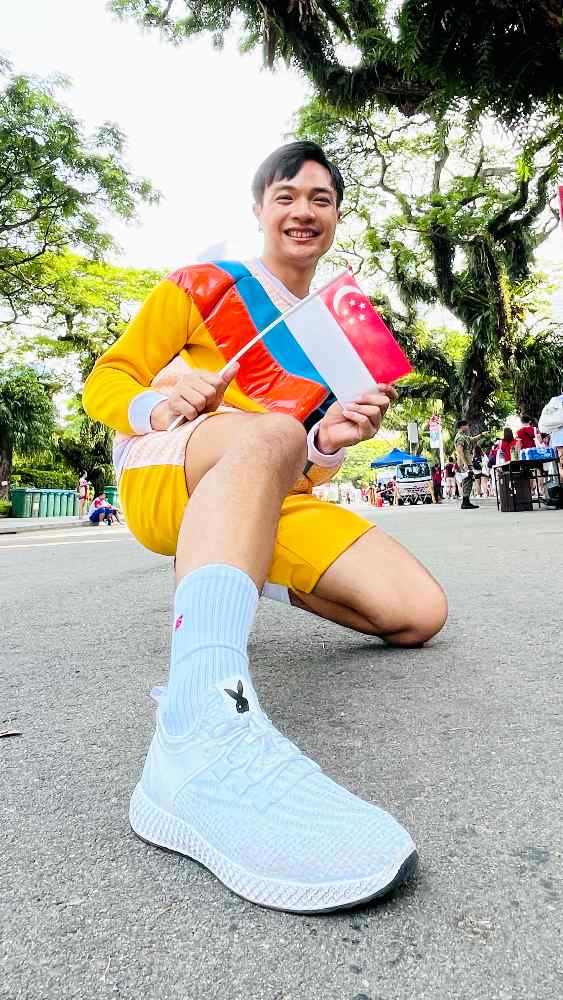 IMAGE: SIM DING EN
Afiq Noorazwa
Role in NDP 2023: Show choreographer (Act 3) and performer
"I grew up doing NDP because my parents are also performers, so they somehow found ways to rope us into the whole production and performance aspect," says Afiq, who began dancing at the age of five. "I always knew that I was a creator at heart!"
It's the MDC dancer's seventh time participating in NDP, but this year, not only is he performing, he also co-choreographed Act 3 of the Show segment with fellow MDC artiste Krisha.
"We've never done something like this in our entire career with MDC, so it is an honour and a privilege to be trusted with [this responsibility]," he enthuses, adding that working with participants from Wushu academy Martial House and Temasek Polytechnic was one of the highlights, as he had to creatively find a median movement vocabulary between martial arts and dance.
More importantly, the 30-year-old says that MDC's support of such a major event is "a level-up not only to our artistry, but also in the ways we can contribute to performances on a national level".
---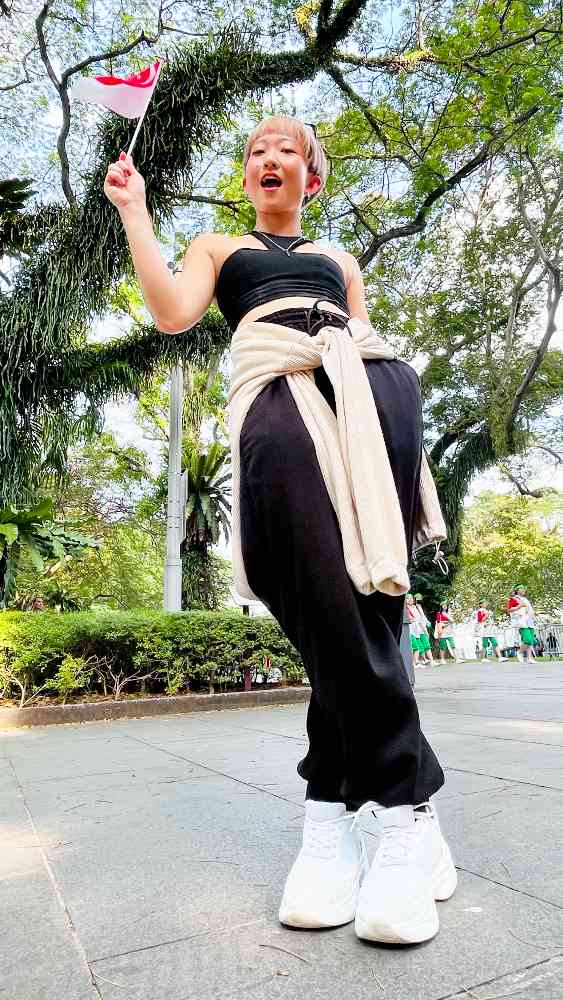 IMAGE: SIM DING EN
Lum Lum Lee
Role in NDP 2023: Show choreographer
One of the biggest challenges for an NDP Show choreographer is undoubtedly working with varied talents. "We want to highlight different unique strengths, so we try to have moments where we can showcase [the performers'] own styles," says Lum Lum. "At the end of the day, it's all about moving the audience and making sure they have a good time!"
Watching the senior performers in NDP is what moves Lum Lum. "They remind us of the joy of having fun on stage!" says the 33-year-old MDC artiste. "We've been on stage for many, many years, and sometimes we forget [about enjoying ourselves], but watching them just smiling and cheering and taking photos together, we're like, wow – we aspire to be like that!"
One of Lum Lum's most rewarding experiences with MDC: entertaining the SAF troops on Recruits' Night at the Basic Military Training Centre on Pulau Tekong.
"They're one of my favourite crowds, to be honest – we get a big response from them!" she says. "As performers, we really love it when what we do has an impact and evokes a certain emotion."
---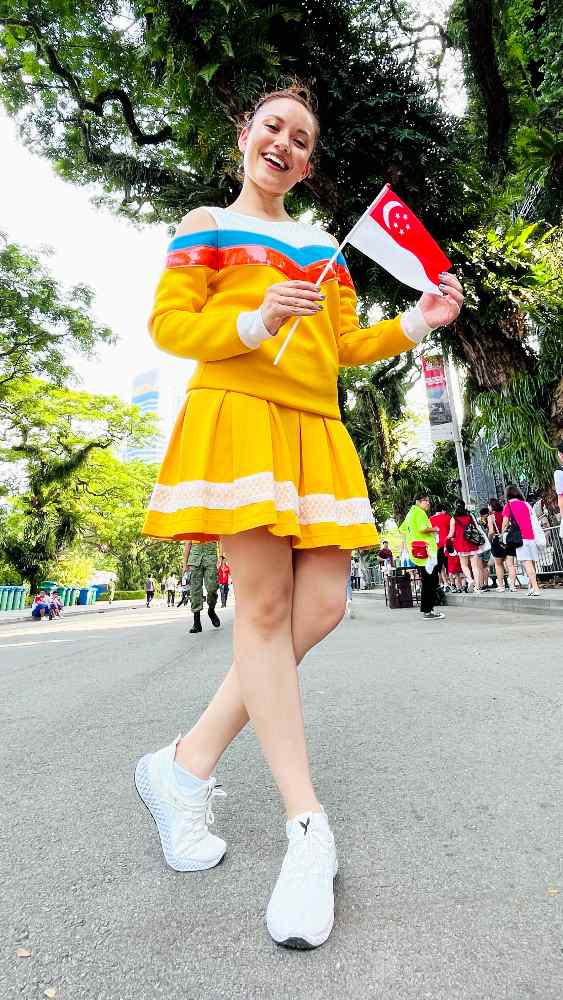 IMAGE: SIM DING EN
Shauna Santa Maria
Role in NDP 2023: NDP theme song MV choreographer and performer
MDC artiste Shauna is the choreographer of the music video (MV) for this year's NDP theme song, "Shine Your Light", performed by 53A, The Island Voices, lewloh, Olivia Ong, Shigga Shay, Iman Fandi, and Lineath, among others.
"It was a very collaborative effort with everybody on set – the production team and all the artists as well. There was a great community vibe!" says Shauna. "I'm very thankful for the opportunity because I got to work with a lot of great talent."
The 33-year-old MDC artiste says that the experience helped her grow as a performer because working on the production of an MV demands a different skill set from that of doing a live performance in front of a massive audience.
Like Lum Lum, Shauna is also grateful for the opportunity to entertain SAF troops with MDC. "It's very heart-warming to be able to do what you love to do (which is performing, expressing ourselves and presenting our art), but also to uplift [the recruits] and boost their morale," she says. "It's such a wholesome feeling!"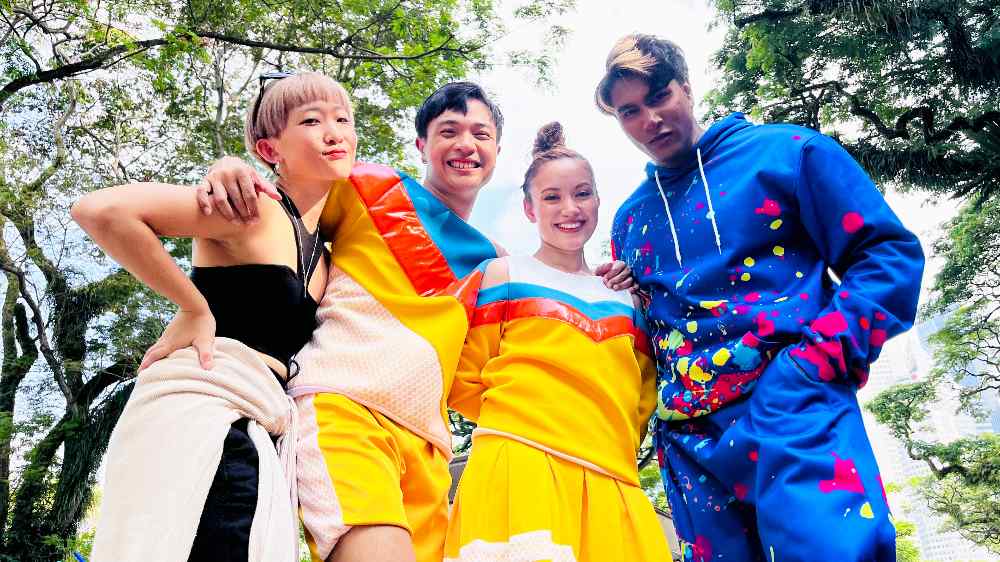 (From left) MDC artistes Lum Lum, Afiq, Shauna and singer Kevin Brendan. | IMAGE: SIM DING EN
You can catch MDC performing at the Active SG Toa Payoh Sport Centre and Active SG Woodlands Sport Centre on 5 and 6 Aug as part of the Singapore Heartland Festivals 2023.
For the latest updates on Wonderwall.sg, be sure to follow us on TikTok, Telegram, Instagram, and Facebook. If you have a story idea for us, email us at [email protected].