Spectacle In The Sky: RSAF's Enhanced Aerial Showcase Set To Make NDP 2023 Superfly
Get ready for a double whammy of festivities this National Day as Singapore gears up to celebrate not only its 58th birthday but also the 55th anniversary of the Republic of Singapore Air Force (RSAF).
This year's National Day Parade (NDP) will take place at the Padang, the very site where the first NDP was held back in 1966. In a testament to its historical significance, the Padang was officially gazetted as Singapore's 75th National Monument at last year's NDP.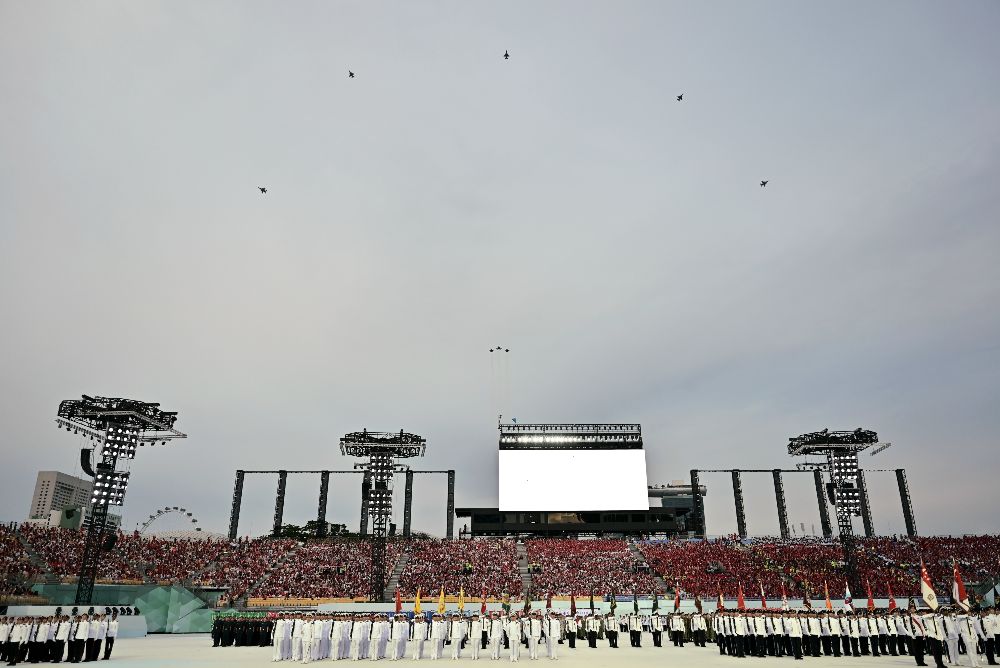 IMAGE: NDP 2023 EXCO
At the Padang
This year, expect a Parade and Ceremony segment comprising 34 physical marching contingents involving more than 1,700 participants as well as an impressive display of Total Defence Parade assets across the Singapore Army, the Republic of Singapore Navy, the RSAF, the Singapore Police Force, and the Singapore Civil Defence Force.
Commemorating RSAF55 with an enhanced Aerial Display
Plus, look to the sky for an extra-tok kong treat, courtesy of the RSAF's enhanced Aerial Display that promises to be a highlight of the event. The commemorative airshow celebrating RSAF55 will feature a thrilling line-up of four aerobatic manoeuvres (what the RSAF calls "profiles"), showcasing not only the prowess and skill of our RSAF pilots, but also their commitment to protect our home.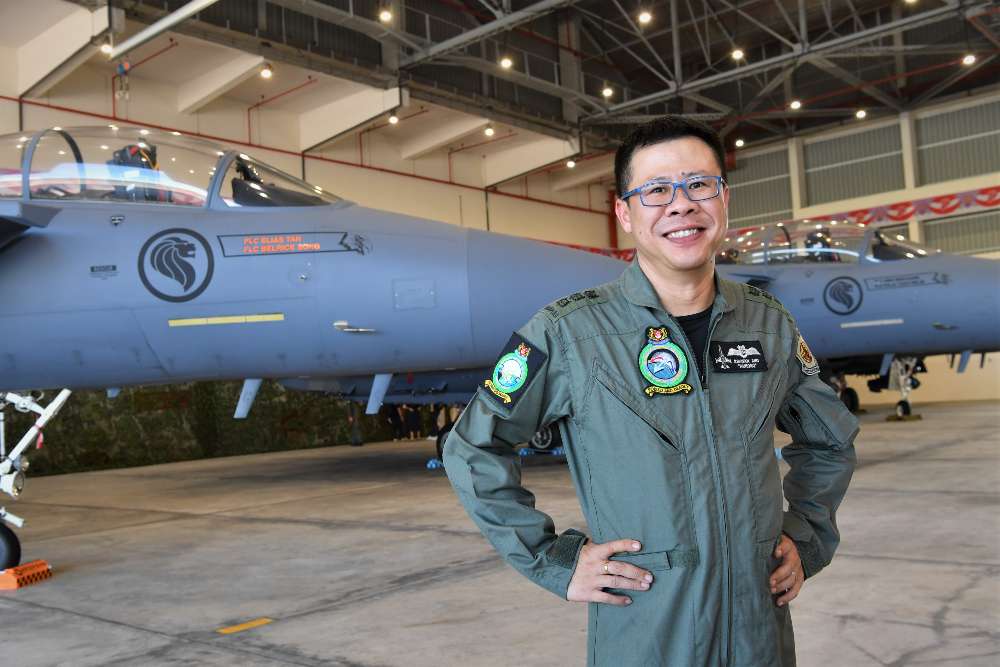 Chairman Air Participation Committee (APC) Colonel Jonavan Ang. | IMAGE: NDP 2023 EXCO
"The intent of putting up this show is to showcase some of the RSAF's newest capabilities and to show Singaporeans how much [the RSAF has] transformed from how we started to what we are today," says COL Jonavan Ang, 45, Chairman APC, adding that this enhanced Aerial Display aims to give Singaporeans the confidence that the RSAF is "very capable of defending what we hold dear in Singapore".
The four profiles will appear at the Padang in this chronological order: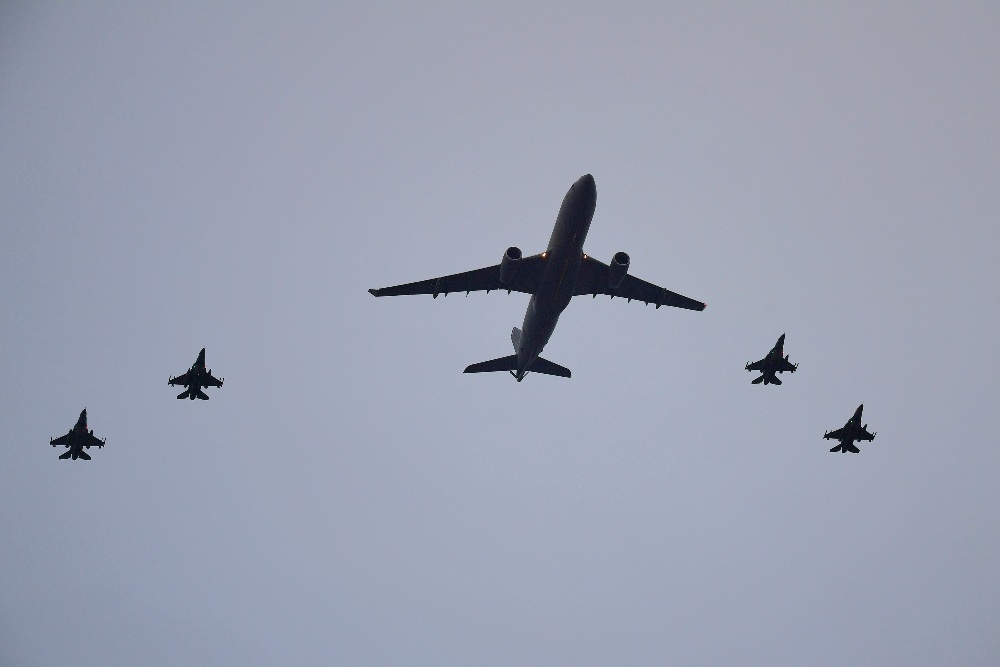 IMAGE: NDP 2023 EXCO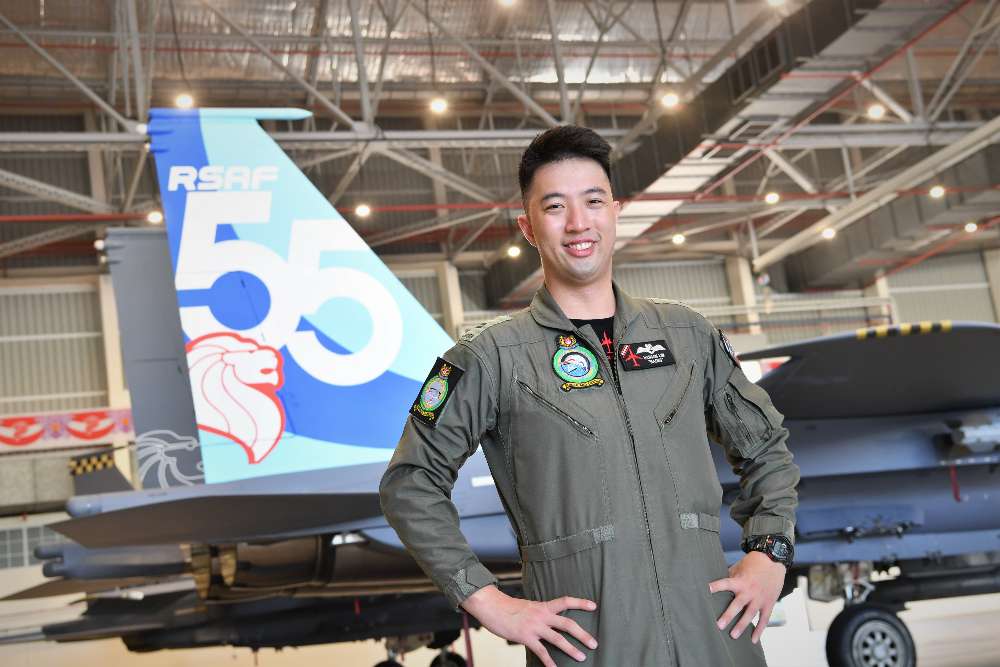 A330 MRTT pilot LTA Hanson Lim. | IMAGE: NDP 2023 EXCO
PROFILE 1: Fixed Wing Formation Flypast
Among the heart-stopping aerial displays to watch out for are the Fixed Wing Formation Flypast, where a fleet of aircraft – comprising an A330 Multi-Role Tanker Transport (MRTT) with two F-16D+ fighter aircraft on each wing – will soar through the skies in precision formation, leaving trails of national pride in their wake.
"Being a bigger aircraft, we're not as manoeuvrable as fighter aircraft," says 25-year-old LTA Hanson Lim, one of the MRTT pilots, adding that plenty of ground planning and carefully calculated formulas are required to ensure the aircraft flies within the Singapore air space.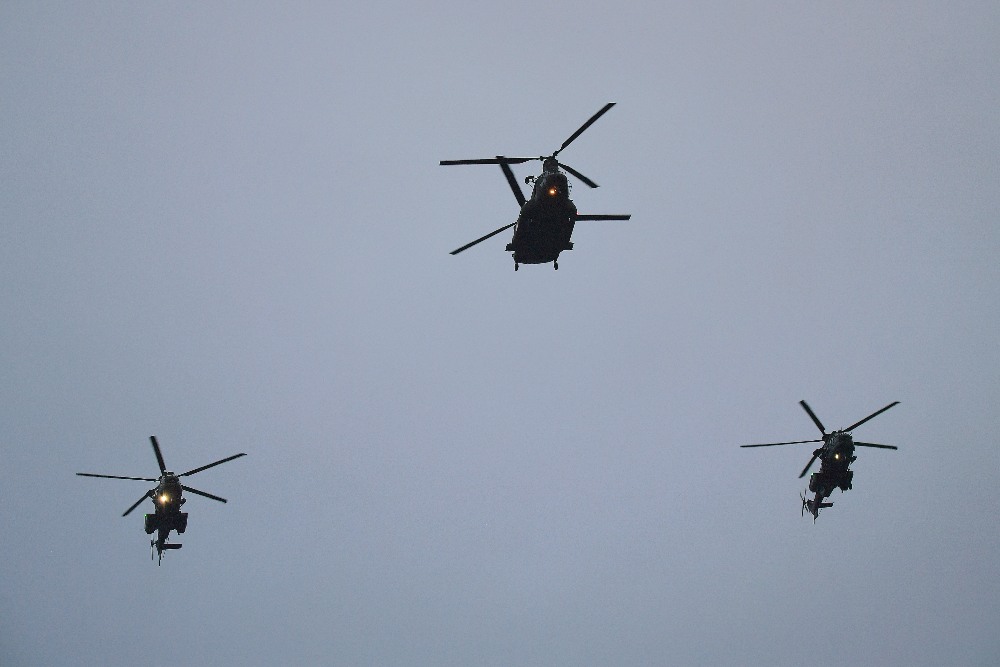 IMAGE: NDP 2023 EXCO
PROFILE 2: Helicopter Formation Flypast
The excitement is set to continue with the Helicopter Formation Flypast that will feature a CH-47F Heavy Lift Helicopter leading a "Vic" formation (which looks like an arrowhead) completed by two H225M Medium Lift Helicopters which will be making their debut at this year's NDP.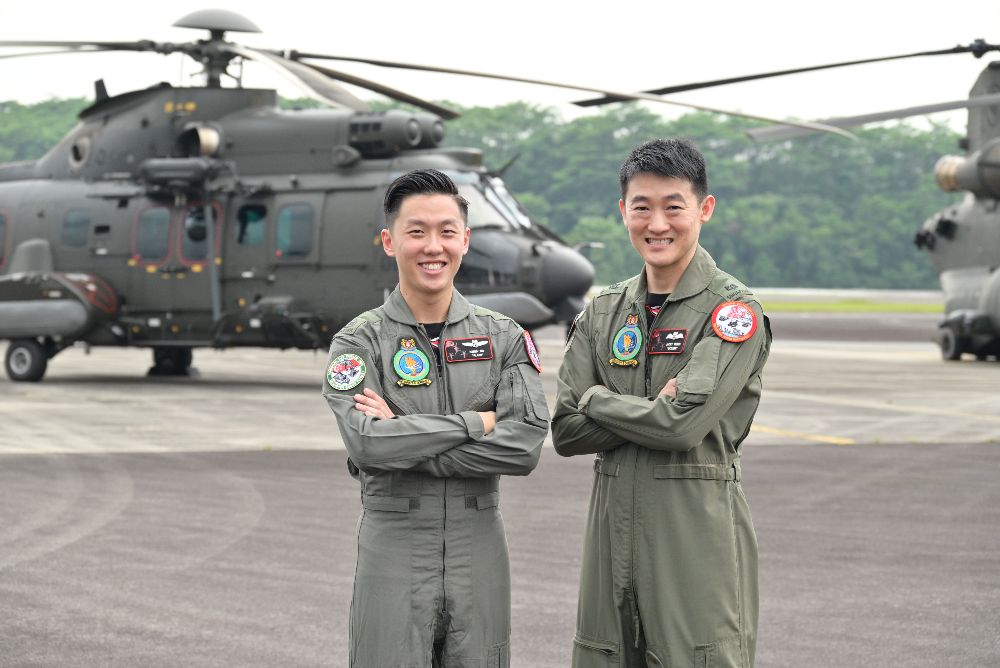 H225M Air Crew Specialist, Third Warrant Officer Kenny Ng (left) and NSman H225M pilot, Major (NS) Yeong Zhen Jie (aka Jacky). | IMAGE: NDP 2023 EXCO
Serving as the first NSman pilot of the H225M is MAJ (NS) Yeong Zhen Jie (aka Jacky).
"The training requires significant dedication and commitment to be able to fulfil the flying training," says MAJ (NS) Jacky, 39, who spent about four months undergoing training to ensure a smooth conversion from the Super Puma (which he used to fly) to the H225M. This required much personal sacrifice on his part to juggle RSAF commitments with his professional work (he is a product manager in the AI machine-learning industry) and family time.
CH-47F pilot Lieutenant Jasvinderpal Singh (left) and CH-47F Air Crew Specialist, Second Warrant Officer Manivannan. | IMAGE: NDP 2023 EXCO
The view of the Padang from the CH-47F. | IMAGE: NDP 2023 EXCO
Meanwhile, flying the CH-47F, one of the RSAF's newest assets, is 29-year-old LTA Jasvinderpal Singh (aka Jasvin), who says the best thing about being in the pilot's seat as the lead of the Helicopter Formation Flypast is getting an entire view of the Padang before any of his comrades do, not to mention being able to take in the sight of the beautiful setting sun, and the assurance of loved ones watching below.
"Coming back from the show centre, I have to fly past the Bukit Panjang estate where I stay," says LTA Jasvin. "That is where I know my wife is always looking out the window to see me fly past. And every time I go home, there'll always be some Insta-stories on social media about me flying past, and text from my friends within the area!"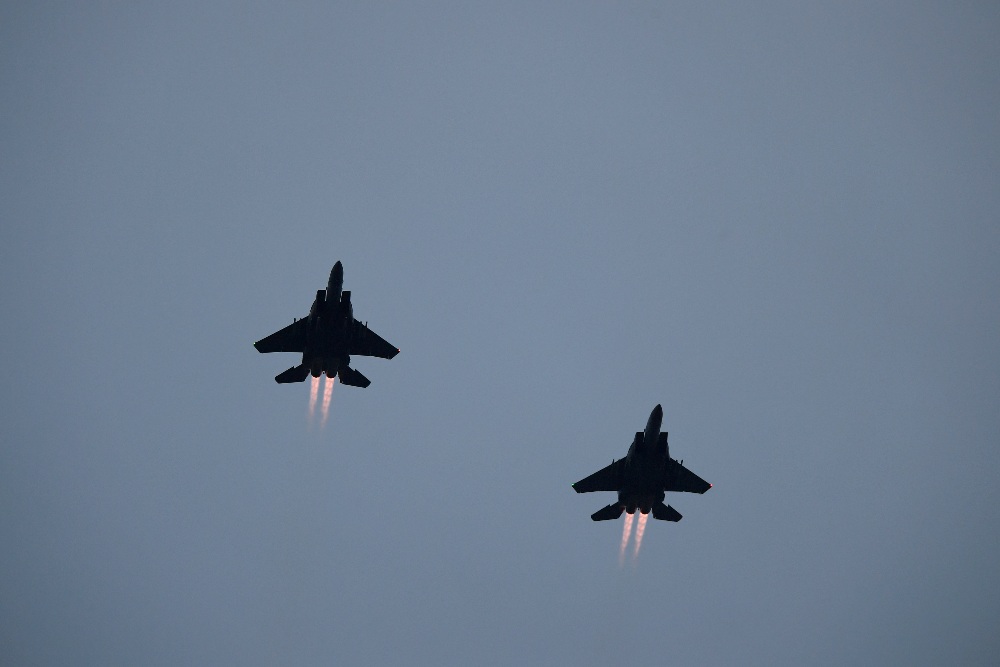 IMAGE: NDP 2023 EXCO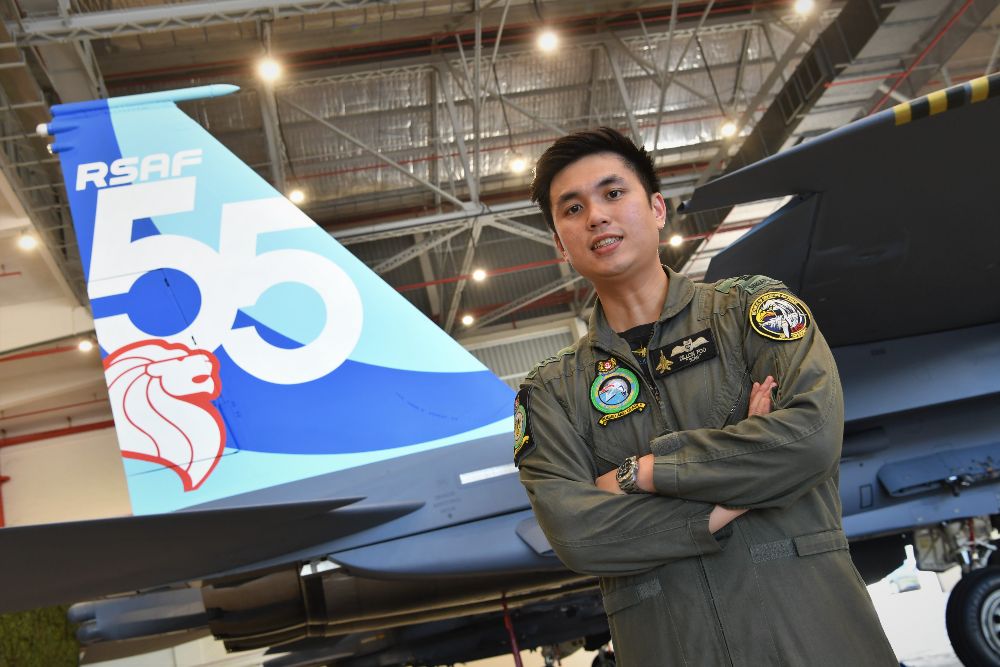 F-15SG Weapon Specialists Officer CPT Dillon Foo will be piloting this F-15SG with the special RSAF55 tail flash which commemorates the RSAF's 55th anniversary. | IMAGE: NDP 2023 EXCO
PROFILE 3: Dual High G Turn
Then, brace yourself for this adrenaline-pumping moment: the pilots of two F-15SG fighter jets will execute a Dual High G Turn, defying gravity and pushing their aircraft to the limits. When performing this manoeuvre, the pilots will experience high gravitational forces up to nine times the force of gravity – that's akin to nine times of your body weight pressing down on you.
"Mission planning is definitely important because there is no room for error in terms of timing as well as having aircraft flying within close proximity to one another," says CPT Dillon Foo, an F-15SG Weapon Specialists Officer who was in charge of planning, designing and co-ordinating the Dual High G Turn and the Cross Turn + Vertical Climb profiles.
The 30-year-old will be piloting the RSAF55 F-15SG which displays a special tail flash and two phrases: "Defending our skies" and "Securing our future".
"It's symbolic that we're able to carry this message into the Padang this year," he adds. "And, in line with the theme of NDP 2023, 'Onward as One', it underlines the importance of the RSAF to be ready always, 24/7, to defend our skies even as we progress together as one nation to secure our future."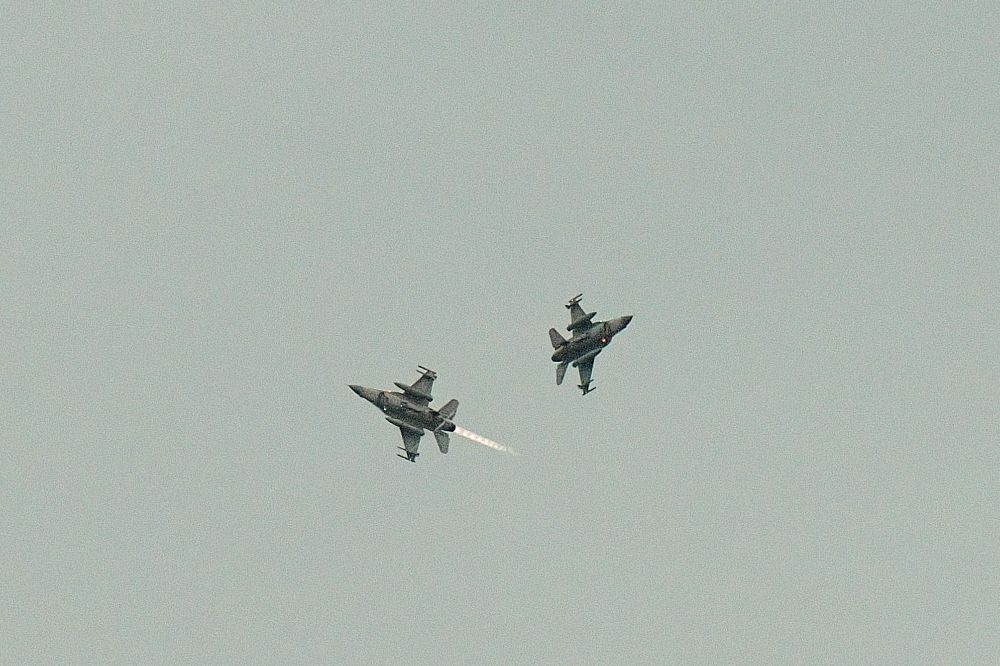 IMAGE: NDP 2023 EXCO
PROFILE 4: Cross Turn + Vertical Climb
Finally, the Cross Turn + Vertical Climb will surely leave spectators at the Padang in awe as two F-16D+ fighter aircraft showcase their agility with a daring crisscrossing manoeuvre that the RSAF will perform for the first time at the NDP. Simultaneously, an F-15SG will fly straight towards and cross the intersection point of the two F-16D+.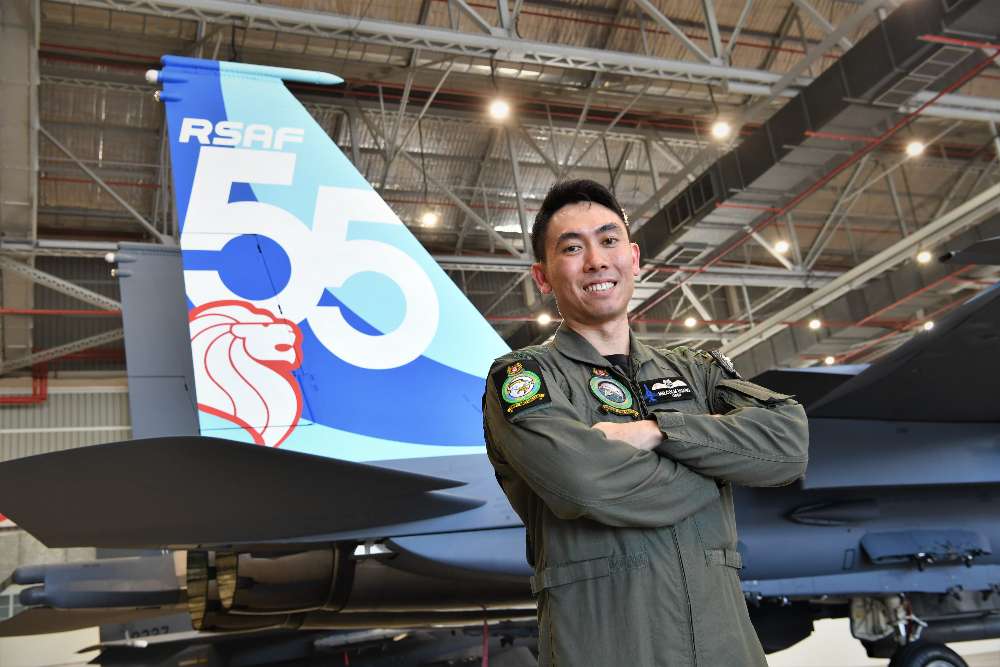 F-16D+ pilot and new dad Major Melcolm Huang. | IMAGE: NDP 2023 EXCO
The biggest challenge in this manoeuvre is synchronisation, according to F-16D+ pilot MAJ Melcolm Huang, a father of a six-month old baby boy.
"Every rehearsal, we fly past where I stay in Pasir Ris. So my wife and my kid will be on the balcony waiting for us to fly by. My wife will be taking photos and recording videos – hopefully one day, we will get to show him those images and inspire his future!" says 35-year-old MAJ Melcolm. "It's an honour to fly in this year's NDP for him and for the next generation."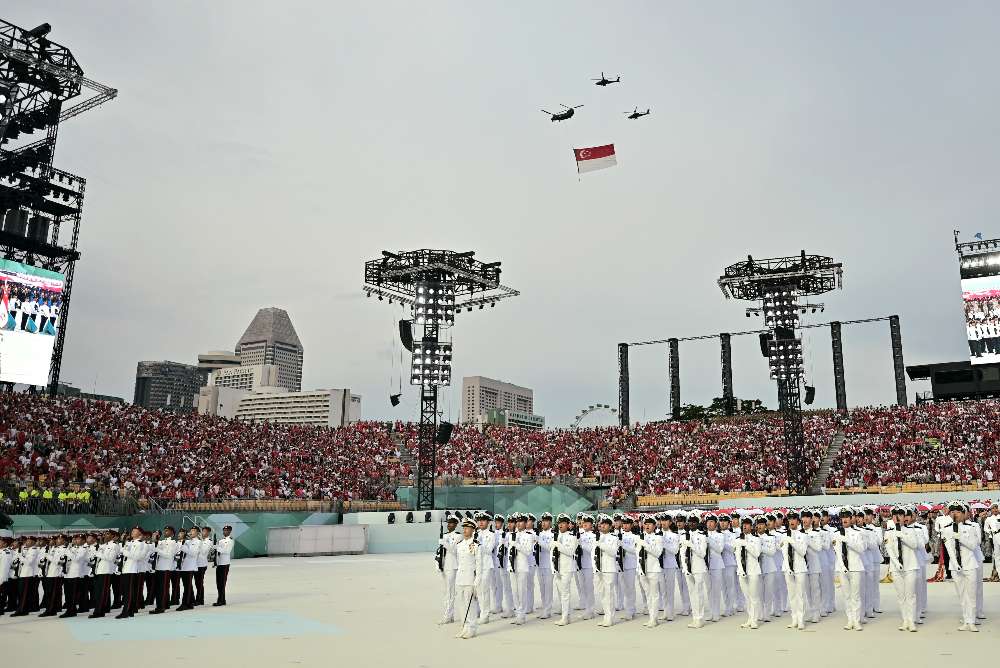 A moment many Singaporeans look forward to, especially if you've secured tickets at the actual parade – the State Flag Flypast. | IMAGE: NDP 2023 EXCO
Expect crowd favourites
Yes, expect some "greatest hits" during the pre-parade and Parade and Ceremony segments.
Before the parade begins, the RSAF's C-130 transport aircraft will drop off the Red Lions over the Padang.
Then, in the Parade and Ceremony segment, a CH-47SD Chinook helicopter, escorted by two AH-64D Apache Attack Helicopters, will fly the State Flag past the Padang as "Majulah Singapura" is sung.

CH-47 pilot, Lieutenant Colonel Rajpal Singh. | IMAGE: NDP 2023 EXCO
Timing, ground preparation and air coordination are everything, says LTC Rajpal Singh, 39, the pilot of the lead CH-47SD in the State Flag Flypast segment.
"The clear challenge is making sure that the State Flag escorted by two AH-64D helicopters arrive at the show centre on time – and that is when the President arrives as the National Anthem is being played. We cannot afford to arrive too early or too late," says LTC Rajpal, who is extremely grateful for the support from his family.
"My wife and I are both very involved parents, and depending on our work schedules, we take turns to do the heavy lifting at home. For this year especially, I guess it helps a lot that my son and daughter are extremely proud of the fact that Papa is flying the flag!" he adds.
And to commemorate the momentous occasion of RSAF55, an enhanced "Salute-To-The-Nation" will feature a bomb-burst manoeuvre over the Padang by five F-16D+ fighter aircraft, followed immediately by three F-15SGs whooshing by.
---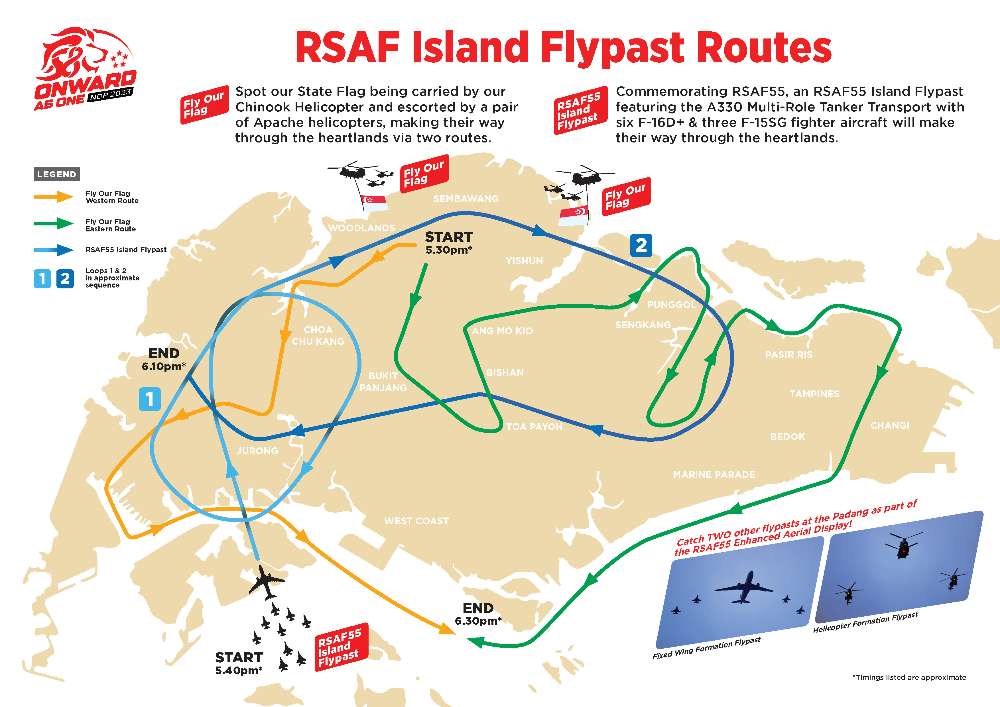 IMAGE: NDP 2023 EXCO
In the heartlands
If you can't secure tickets to NDP this year, fret not. Get your cameras and phones ready, look out your windows, and keep your eyes on the skies on 29 Jul and 9 Aug as RSAF aircraft and the State Flag make their way into the heartlands.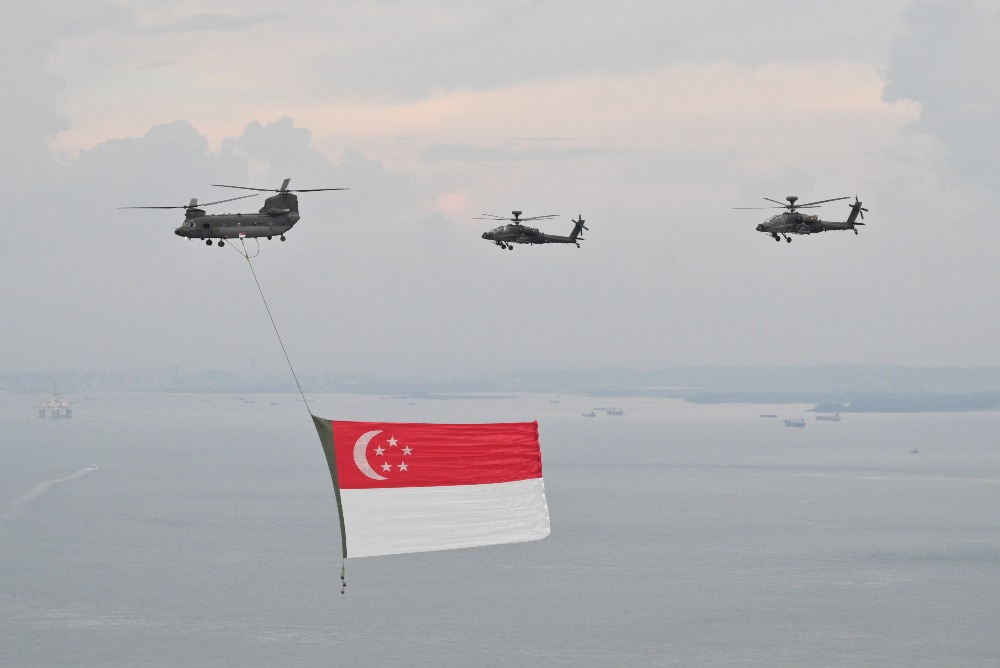 When fully rigged, the State Flag weighs about 1,250kg, inclusive of the steel cables and ballasts that keep the flag straight and steady. | IMAGE: NDP 2023 EXCO
"Fly Our Flag"
Aircraft involved: Two CH-47SD Chinook Helicopters (escorted respectively by a pair of AH-64D Apache attack helicopters) will carry the State Flag into Singapore's heartlands – one taking an Eastern Route, and another, a Western Route.
Routes: The Eastern Route will cover locations including Yishun, Toa Payoh, Sengkang, Punggol, Pasir Ris, Tampines, and Marine Parade, while the Western Route comprises locations such as Bukit Panjang, Woodlands, Choa Chu Kang, Jurong, and West Coast.
Catch them on: 29 Jul and 9 Aug
Timing: 5.30pm to 6.30pm
"The flag is our national symbol, so we will never let it fly alone," says LTA Matthew Lim, 27, a co-pilot of one of the AH-64D Apache attack helicopters involved in the State Flag Flypast and Fly Our Flag segments.
"The Apaches, being attack helicopters, will always protect our national symbol, and that's the significance of having two Apaches escorting the flag."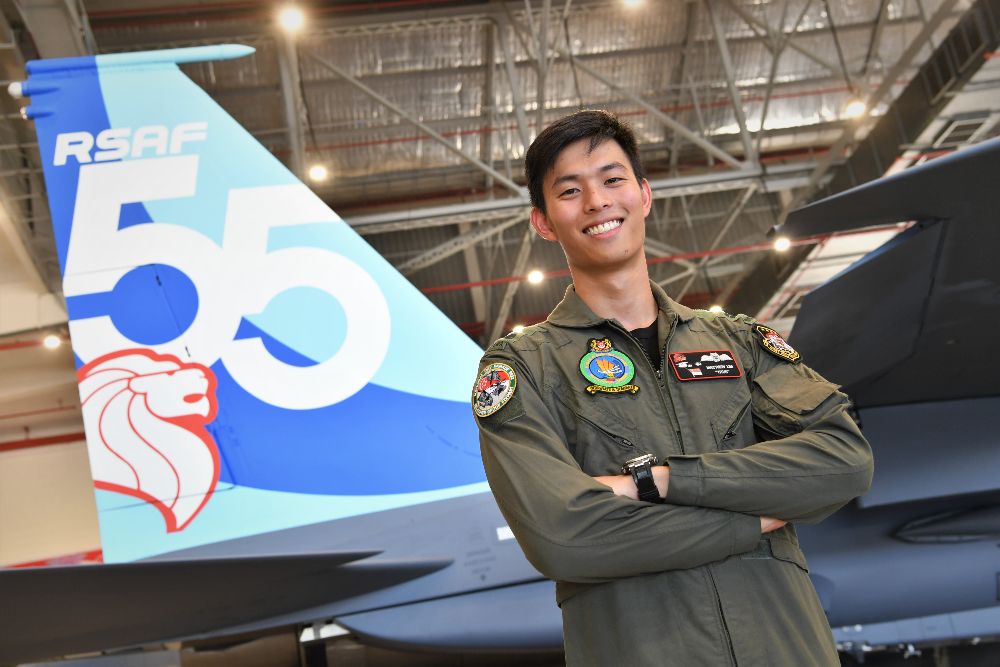 LTA Matthew Lim is a co-pilot of one of the AH-64D Apache Attack Helicopters involved in the State Flag Flypast and Fly Our Flag segments. | IMAGE: NDP 2023 EXCO
"RSAF Island Flypast"
Aircraft involved: Leading the RSAF Island Flypast will be the MRTT, followed by six F-16D+ in an impressive tight triangle known as a Delta Formation. Behind them, three F-15SGs will fly in a striking "Vic" formation (see the infographic above).
Route: This awesome display will cover locations such as Jurong West, Woodlands, Toa Payoh, Tampines, and Bedok.
Catch them on: 29 Jul and 9 Aug
Timing: 5.40pm to 6.05pm
Bonus: If you have a pair of binoculars or your eyesight is damn kilat, you just might spot the distinctive RSAF55 tail flash on the RSAF55 F-15SG.
For more information on NDP 2023, click here.
For the latest updates on Wonderwall.sg, be sure to follow us on TikTok, Telegram, Instagram, and Facebook. If you have a story idea for us, email us at [email protected].