This Year, Get Ready To Watch – And Smell! – An Unforgettable NDP Show
This year's National Day Parade show segment – which will be hosted by Eswari Gunasagar, Fauzie Laily, Hazelle Teo and Joakim Gomez – aims to celebrate not only the diversity and resilience that define our Singaporean identity, but also Singaporeans' shared sentiments.
"The theme for this year's NDP, 'Onward as One', was inspired by our collective feelings of hope, optimism and gratitude, as we emerge from a challenging period and move forward, towards a shared future as one people," says renowned filmmaker Royston Tan, who has excitedly stepped into the role of NDP Creative Director for the second time; the 46-year-old made his NDP debut in 2020.
"The first time, because of Covid, we were unable to do the mass display, and had to downsize it for an indoor show, so I felt the journey wasn't complete for me," Royston recalls. "I've dreamt of doing a very, very big show, and I'm very thankful that the show Chairman gave me this opportunity."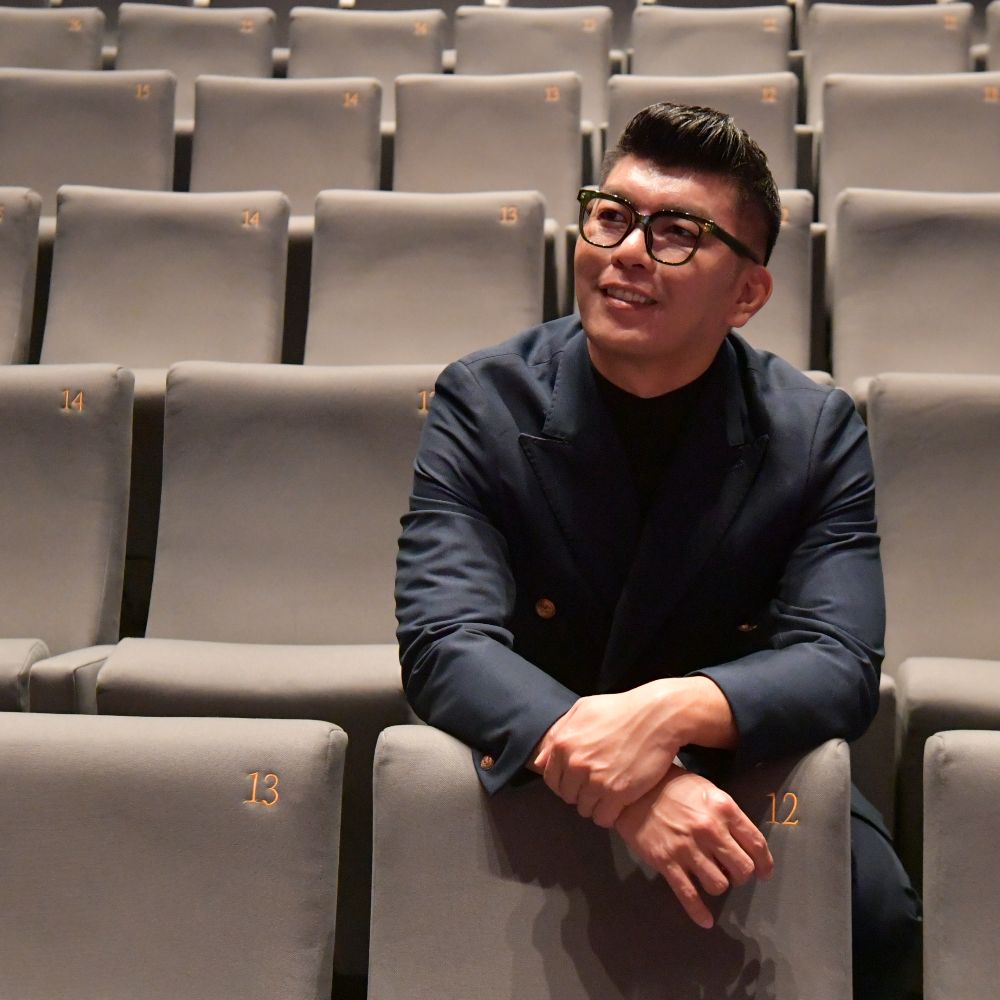 This will be the second time that film-maker Royston Tan steps into the role of NDP Creative Director. | IMAGE: NDP 2023 EXECUTIVE COMMITTEE
ICYMI this year's NDP will take place at the historic Padang, the site of the first NDP held in 1966. Gazetted as Singapore's 75th National Monument at last year's parade, the Padang holds significant historical importance and serves as a fitting backdrop for this year's festivities.
A notable highlight of this year's NDP show segment is a debut outing by Team Nila, the national volunteerism movement spearheaded by Sport Singapore, who will open the show with a graceful display featuring 116 volunteers and 58 pairs of illuminated doves. Symbolising Singapore's 58 years of peace and prosperity, this performance is set to be a poignant and visually stunning moment.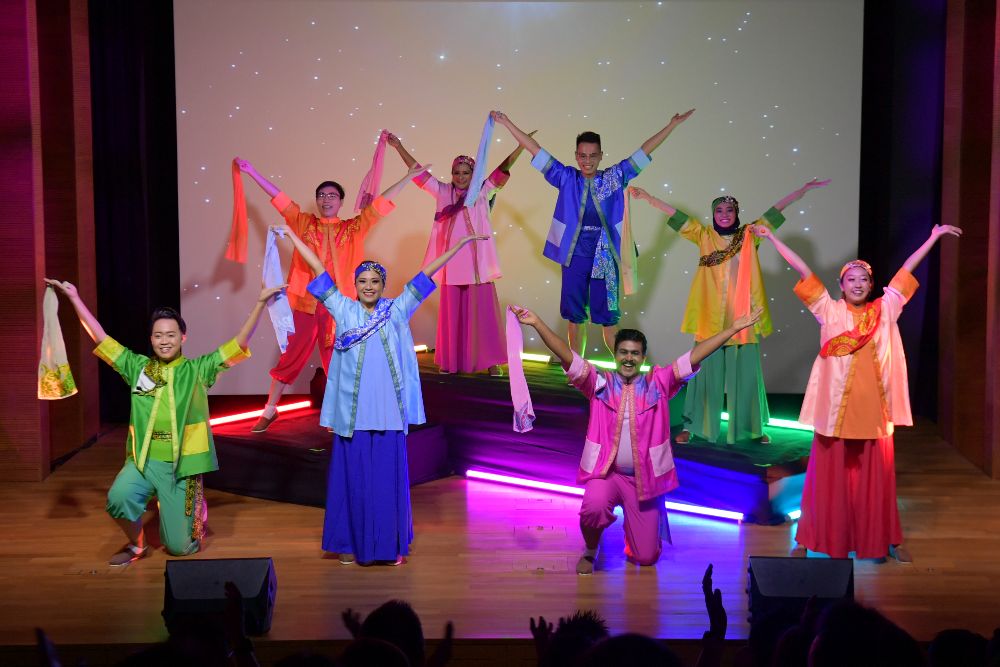 Act One will feature 320 performers from People's Association in a high-energy segment celebrating the Republic's multi-racial and multicultural society. | IMAGE: NDP 2023 EXECUTIVE COMMITTEE
Iman Fandi (in red dress) will be joined by 600 performers from SOKA Gakkai Singapore Women's Division and 12 dancers from Dance Inspiration in Act Two. | IMAGE: NDP 2023 EXECUTIVE COMMITTEE
All four "live" acts will be brought to life by a line-up of 43 artistes, including Izhaan Iskandar, Lew Loh, Iman Fandi, Shigga Shay, Olivia Ong, 53A, Green Drumming, and The Island Voices as well as a whopping 2,400 performers. In addition, expect a combined pre-parade performance by 470 students from Bedok View Secondary School, Deyi Secondary School, East Spring Secondary School, and Victoria Junior College.
Interwoven among the performances are three short films that highlight the dreams, passions, aspirations, and societal contributions of 19 inspiring Singaporeans, including 26-year-old track-and-field golden girl Shanti Pereira, 33-year-old furniture designer Ahmad Habshee, 35-year-old urban farmer Christopher Leow, and 96-year-old WWII survivor Goh Siew Eng, whose story of survival during the Japanese Occupation particularly moved Royston.
"After watching the interview with her, it made us realise that whatever we have now should not be taken for granted," he says.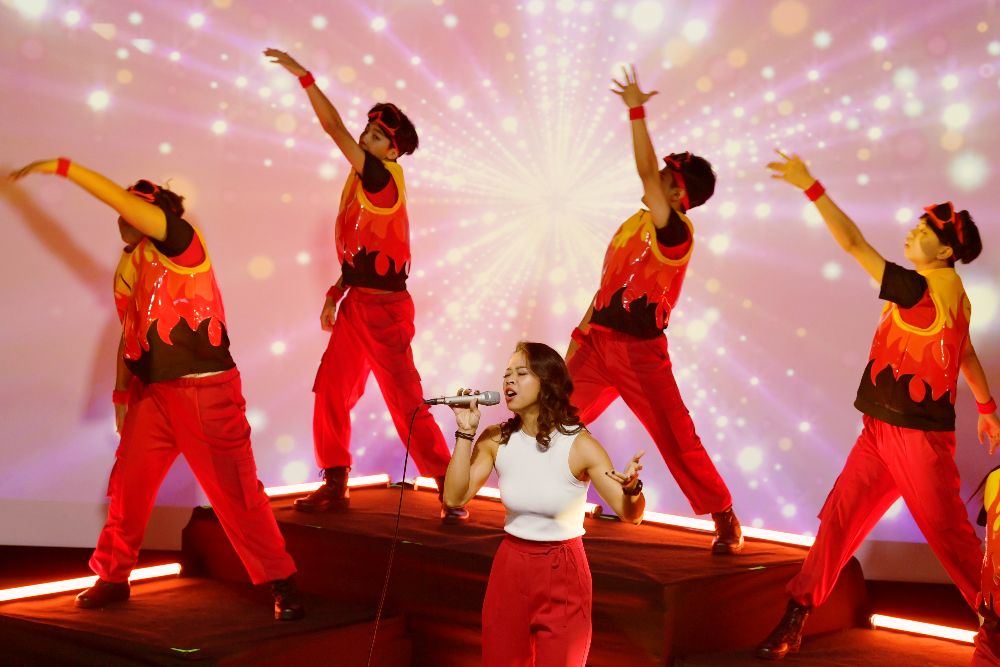 Lead vocalist Sara Wee (in white top) from local pop-rock band 53A will take the stage in Act 3 together with 180 dancers from Martial House, Music and Drama Company, and Temasek Polytechnic. | IMAGE: NDP 2023 EXECUTIVE COMMITTEE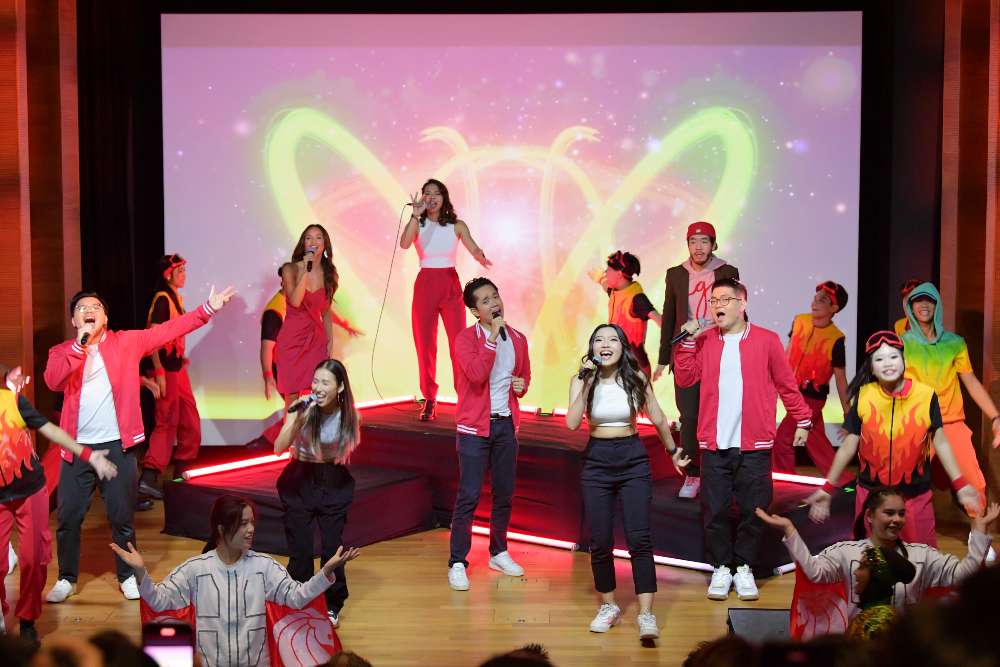 In Act 4, The Island Voices will lead the whole jingbang for a rousing finale. | IMAGE: NDP 2023 EXECUTIVE COMMITTEE
To elevate the visual appeal of the "live" performances, floor projections will be used at the Padang for the first time since 2015. These projections will create mesmerising 3D effects and serve as visual overlays to complement the performances, enhancing the viewing experience for both the "live" and home audience.
In a first for NDP, the show audience will quite literally smell the show! Royston reveals that when the "flowers" on stage blossom in Act 2, spectators may get a whiff of a "Tembusu" scent that's been specially created for NDP 2023.
Finally, let's not forget those who won't be on stage but are just as important to the show: more than 400 students from tertiary institutions will contribute as audience motivators, makeup artists, and content creators, further enhancing the overall NDP experience. Ups lah!
By the end of this spectacle, we're pretty sure you'll be overcome by the breath-taking display of talent, emotion, togetherness and national pride – and no doubt Azuan Tan-ing your little heart out.
For the latest updates on Wonderwall.sg, be sure to follow us on TikTok, Telegram, Instagram, and Facebook. If you have a story idea for us, email us at [email protected].