Pachyderm Passion: She Went From TV Production To Elephant Care
The Singapore Zoo celebrates its Golden ZOObilee this year, marking five decades of animal conservation thanks to the unwavering dedication of its volunteers, local students, and animal care staff.
From its humble beginnings with just two dozen keepers in 1973, the wildlife park now has over 100 animal caretakers who work tirelessly to act for nature, protect wildlife, and help shape its growth as a renowned zoological institution.
Among these dedicated individuals is Junior Animal Care Officer (Elephants) Lee Tzu Ying. A former TV producer and a Master's degree holder in animal behaviour and welfare, Tzu Ying now takes care of the five female elephants at the Singapore Zoo, including the matriarch of the herd, Komali.
Fresh off a special presentation of the "Elephants of Asia" show to commemorate the Golden ZOObilee, we speak to Tzu Ying to uncover the quirky personalities and unique traits of these gentle giants. She also tells us more about the zoo's shift from traditional methods to "full protected contact", ensuring a safe and enriching environment for both the animals and their caretakers.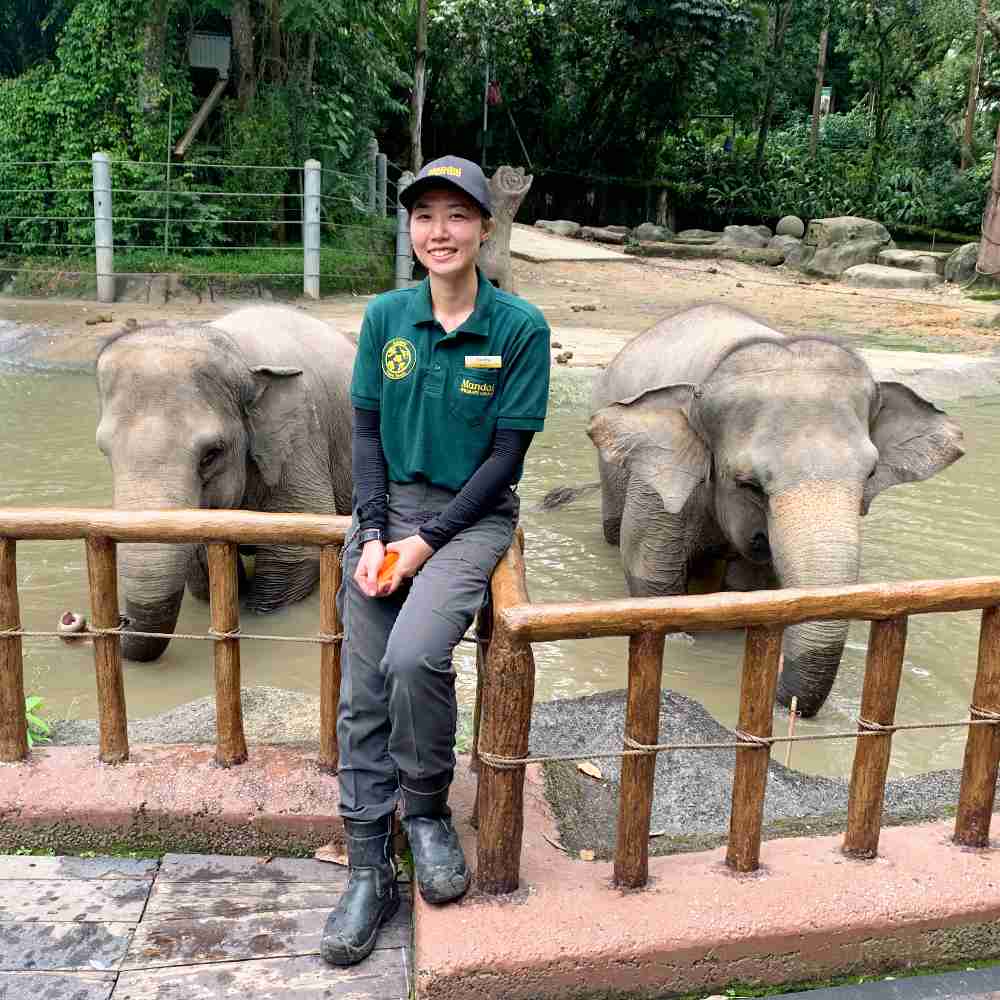 Tzu Ying has been caring for the elephant herd at Singapore Zoo since August 2021. | IMAGE: MANDAI WILDLIFE GROUP
What inspired you to switch careers from being a TV producer to working with elephants?
I started my career as a TV producer at Channel News Asia. When it was time for my contract renewal, I had a serious think about my future as a 24-year-old. I realised I had a love for animals, so I went to Scotland to study animal behaviour. Funnily enough, I didn't visit the zoo much as a child, and my family wasn't really into animals.
While I was in Scotland, I did an internship at the Highland Wildlife Park. It is my number-one favourite place in the whole world. It was there that I fell in love with the idea of taking care of wild animals at a zoo. Lucky for me, when I arrived, it was the same time as the first baby polar bear to be born in the UK in 25 years. I witnessed the whole process of how the keepers cared for the mom and the baby. It was amazing. I knew in my heart that working with animals was my calling. From that moment, I couldn't imagine doing anything else.
How did you end up working with the elephants at Singapore Zoo after your internship?
Being a Singaporean, I returned home after my internship in Scotland. And naturally, since I wanted to work with animals, I applied to the Singapore Zoo. I started taking care of rhinos and tapirs, but it was when I started training the elephants that I realised how much I loved it. You aim to get the elephants to cooperate willingly, to do things like body and health checks. They're so intelligent that the training is challenging, but it's also very rewarding because you've got to really win them over and get them to do what you want of their own free will.
Do you remember your very first experience at the Singapore Zoo?
When I was in Primary 5, I came to the zoo to play with the caterpillars at the Fragile Forest. It's such a fond memory for me. I have this thing for little marshmallow caterpillars. I love holding them in my hand and playing with them. Even now, whenever I get a chance to visit, I always tell the keepers that I want to play with the caterpillars.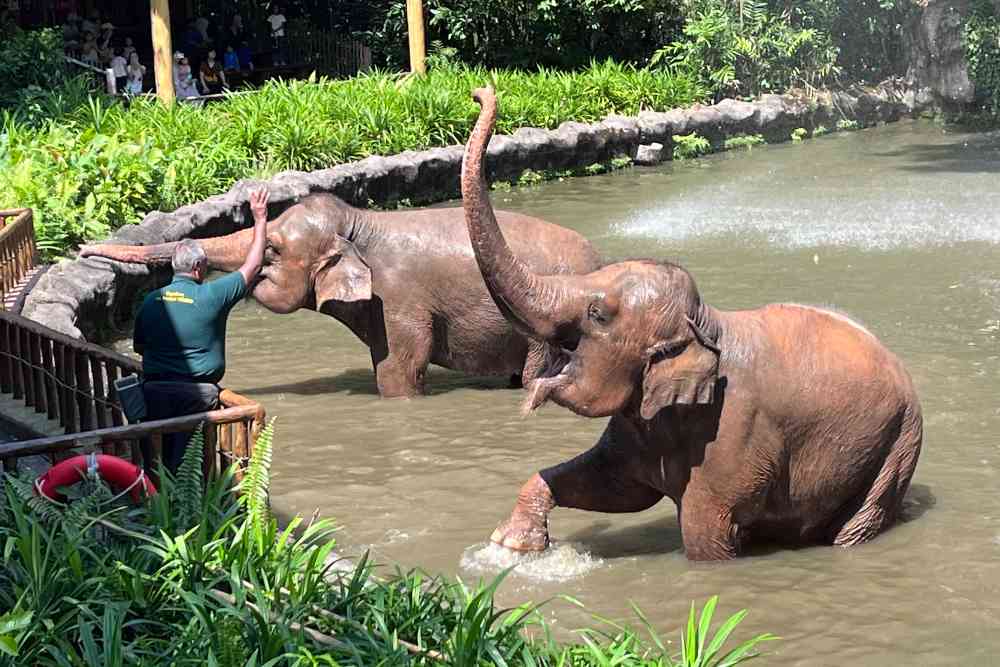 IMAGE: SIM DING EN
The elephant presentation was so fun and educational! What's the most memorable moment you've had while taking care of these magnificent creatures?

I always love telling this story that happened last year at the Night Safari: Chawang is the Night Safari mascot and he's the biggest elephant we have. He's got these majestic, beautiful tusks, and his favourite food is durian. One day, I decided to treat him to a whole durian as a snack. But he dropped it, and this tiny macaque came running down from the roof and grabbed the durian. This macaque was so small that it could barely carry the durian properly.
Chawang tried to grab it back, but it hissed at him, and Chawang got scared and backed off. Then Chawang looked at me and started whining. It was quite interesting to hear a grown elephant weighing 4,500kg whining at me. I had to go back to the store to get him another durian. So don't worry, he definitely got his snack! I really wish I had taken a video of what happened.
You mentioned during the "Elephants of Asia" show that elephants have different personalities and quirks. How do you handle those in your care?
It's important for us to know them as individuals and understand their likes and dislikes. It's not just the five elephants here; even when I worked at the Night Safari, I had to remember each elephant's preferences. For instance, Komali is the discipline mistress and matriarch. If you don't give her the respect she deserves, she'll be like, "Hey, who do you think you are? Have you forgotten my 50-plus years here?" Komali is a bit picky too. She dislikes dirt and unpleasant smells. Sometimes if guests feed her with mosquito repellent on their hands, she won't eat the food. And if rain and sand get on her leaves, she refuses to eat until I wash them off. She's the queen here!
Elephants have a very human-like personality, and you can see it in their interactions with each other. Take Aprilla, the youngest. She's like a typical youngest child, a bit spoiled and always wanting to be first in everything. When there are new toys, she must be the first to play with them. If you scold her, she gets upset and sulks in the corner. You can clearly see her lower her head. On the other hand, Intan is like a caring older sister. She will sayang Aprilla, give her chance.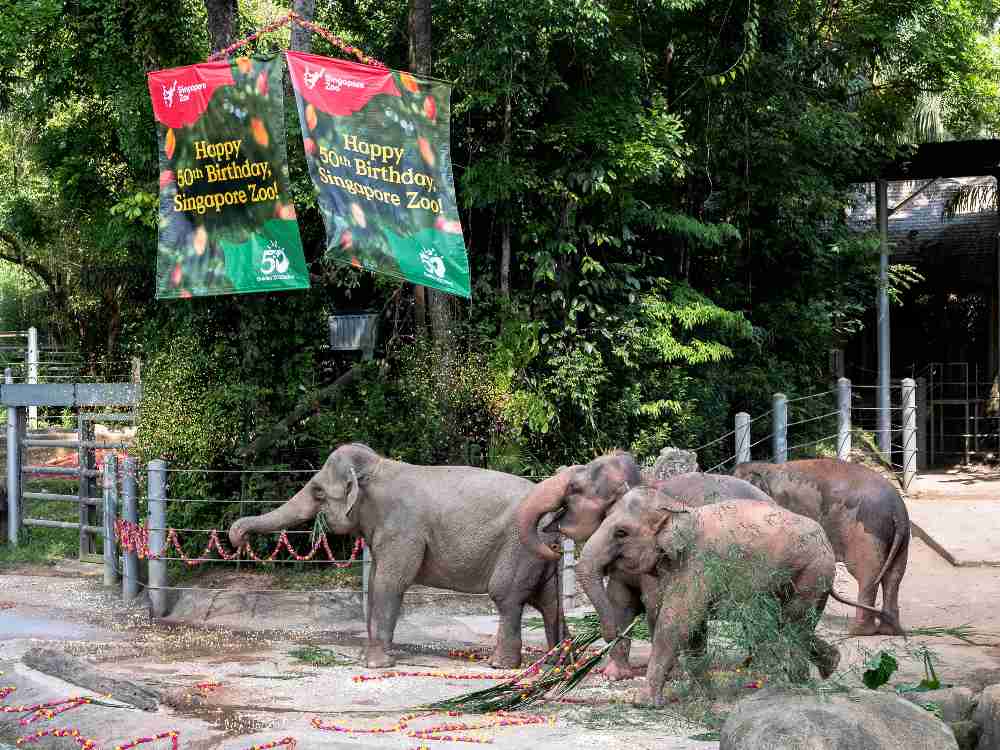 IMAGE: SIM DING EN
One of the things that really sets the Singapore Zoo apart on the international stage is our deep respect for the animals. For instance, they are managed with "full protected contact". Can you elaborate?
Traditionally, especially in many parts of Asia, elephants are managed through free contact. This means you go in with the elephants, work with them, and train them to do what you want. Over time, we realised that this can be quite dangerous because elephants are much larger than us. Unfortunately, the methods used for protection are not very pleasant for the elephants. That's why we transitioned to what we call "full protected contact". This means that whenever we interact with the elephants, there's always a barrier between us. It serves as a safety measure for both us and the elephants. If at any point they don't want to do something we ask, they have the choice to walk away.
The elephants choose to participate in the training sessions. When they successfully complete a training task, they receive plenty of rewarding treats. However, if they don't feel like doing it, they are free to leave. Sometimes people ask why only one or two elephants come down for feeding. We explain that it's because they have the freedom to choose. Of course, we bribe them a bit by offering their favourite snacks.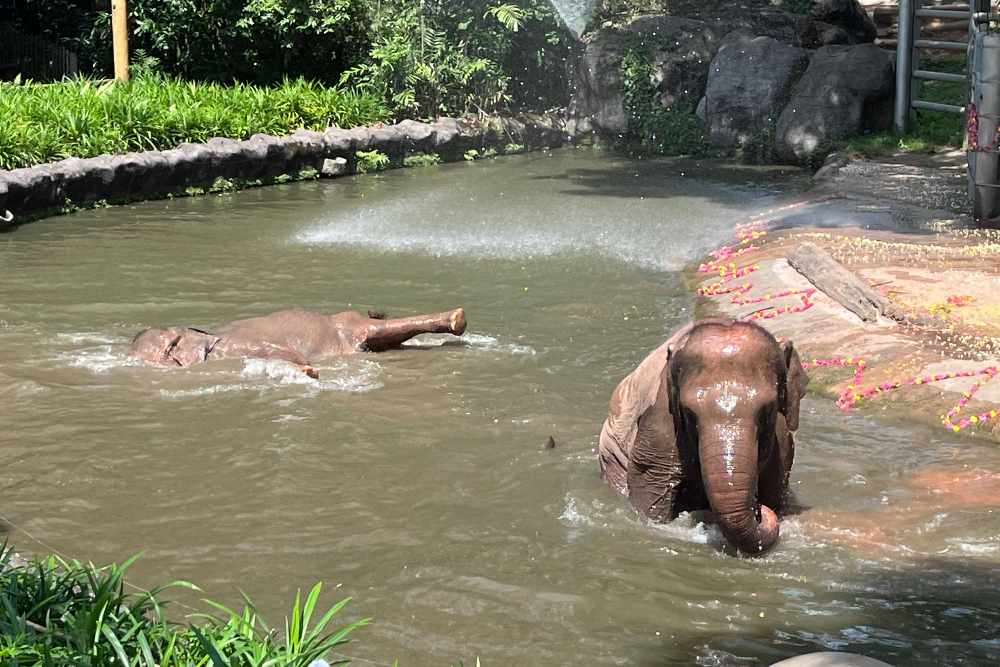 IMAGE: SIM DING EN
What advice you would give to someone who wants to pursue a career similar to yours?
You should try everything wherever you can and be open to different roles. Many of the volunteers here start as operations staff or even photographers. They gain insight into what it's like to work here, and eventually pursue careers as zookeepers or educational staff. You really have to be here to learn what it's like.
What does the Singapore Zoo's Golden ZOObilee celebration mean to you?
Fifty years may seem long, yet it's also relatively short. Many of our senior animals have been with us since the beginning. When we reflect on the past 50 years, we can see how much we have evolved and improved as a modern zoo. We've transformed from being solely an entertainment facility to incorporating education and outreach programmes. We also support projects abroad. Reaching this milestone is truly significant. Perhaps in another 50 years, our zoo will transform once again. Hopefully I'll be around for that!
For the latest updates on Wonderwall.sg, be sure to follow us on Facebook, Instagram and Telegram. If you have a story idea for us, email us at [email protected].