Artists Behind The Art: 3 Zookeepers, 1 Amazing Golden Jubilee Artwork
If you're planning to swing by the Singapore Zoo for its Golden ZOObilee celebrations, keep your eyes peeled for a realistic and very detailed artwork of wildlife. Located near the park entrance, the black-and-white piece is an absolute stunner!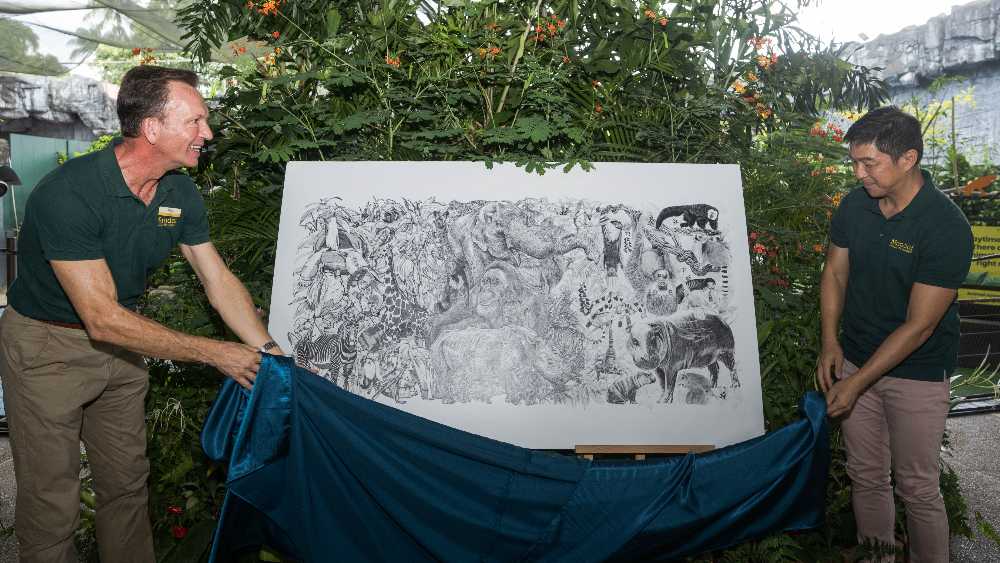 The artwork was unveiled on 21 Jun 2023 by Group CEO of Mandai Wildlife Group Mike Barclay (left) and Deputy Chairman of Mandai Park Holdings Tan Chuan-Jin. | IMAGE: MANDAI WILDLIFE GROUP
Titled "A World With Wildlife Is A Better World", the piece was drawn by three staff from the Animal Care team - Junior Keepers Lim Jia Ning and Krystofer Loh as well as Senior Keeper Joe Ong.
Measuring 1.8m by 1.1m, this visual feast showcases iconic Singapore Zoo residents such as Ah Meng the Sumatran Orangutan, Komali the Asian Elephant, and Jubilee the Rothschild's Giraffe. The artists also drew species that they personally take care of, such as the Linne's Two-toed Sloth, the Malayan Sun Bear, and the Giant Prickly Stick Insect.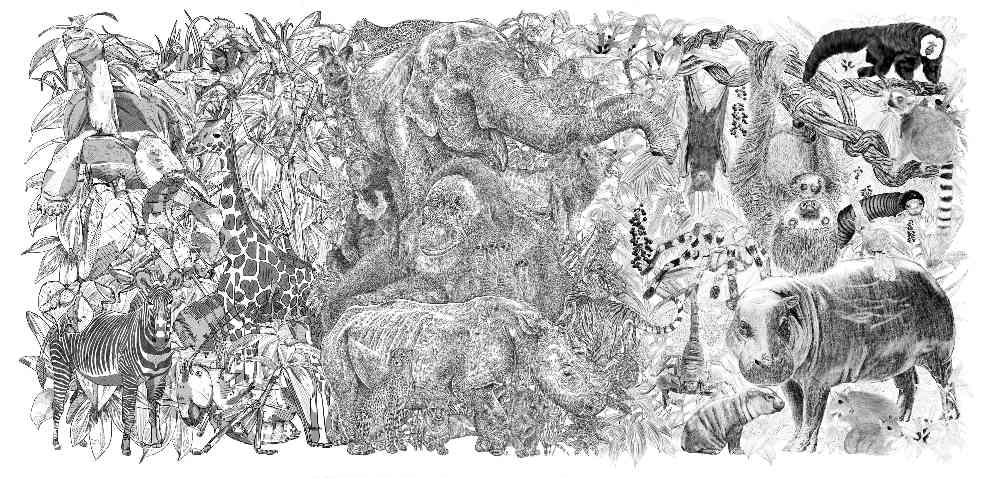 "A World With Wildlife Is A Better World". | IMAGE: MANDAI WILDLIFE GROUP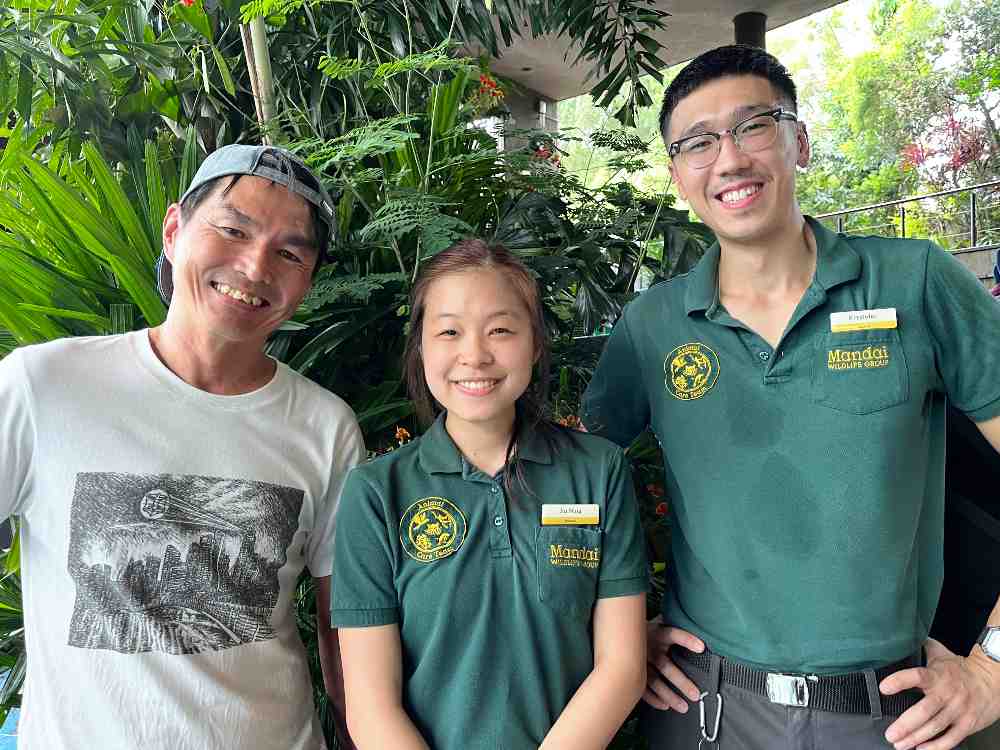 (From left) Senior Keeper Joe Ong, and Junior Keepers Lim Jia Ning and Krystofer Loh, who worked on the artwork. | IMAGE: SIM DING EN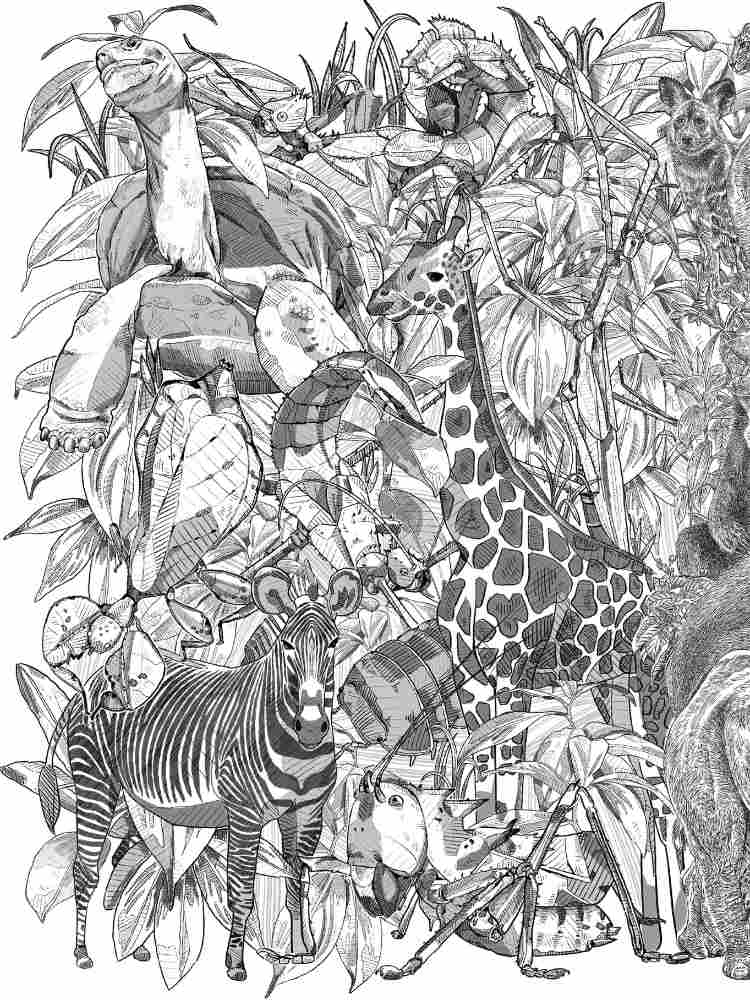 Jia Ning was in charge of the left section of the artwork. | IMAGE: MANDAI WILDLIFE GROUP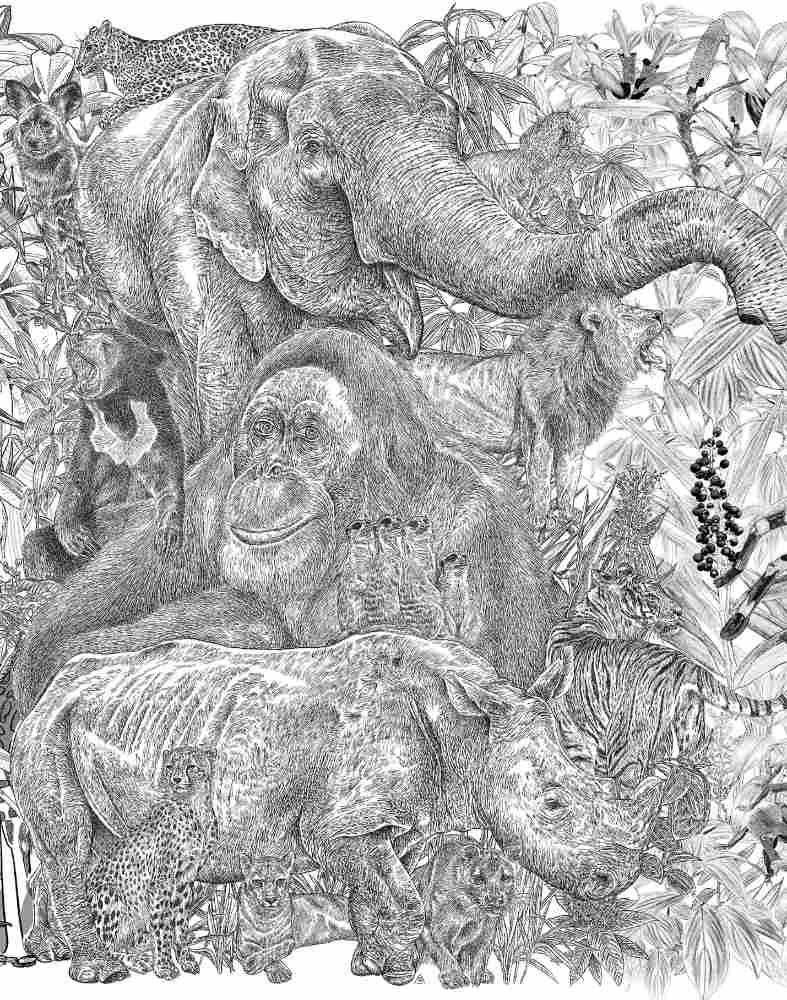 Joe, who was the first to start work on this piece, concentrated on the middle section of the artwork. | IMAGE: MANDAI WILDLIFE GROUP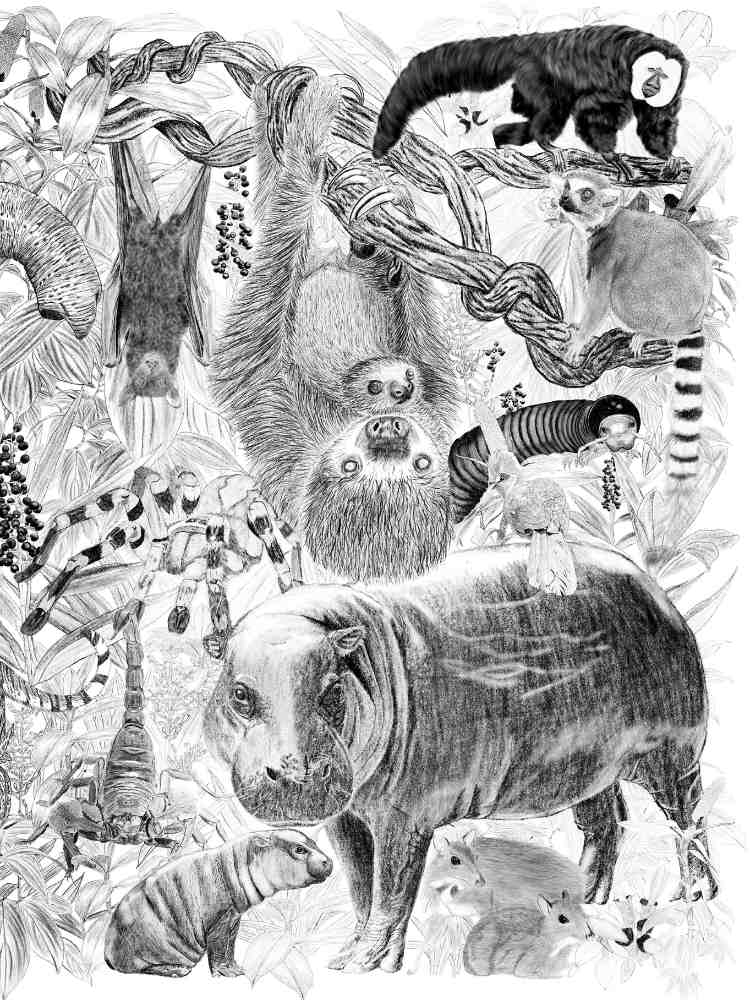 Krystofer was assigned the right section of the artwork. | IMAGE: MANDAI WILDLIFE GROUP
Jia Ning, who works with invertebrates, has been with the Singapore Zoo for five years, starting off as a volunteer, before working at the wildlife park part-time, and then caring for the animals full-time. The 26-year-old nonchalantly proclaims that she has never been scared of invertebrates. "I grew up opposite a forest, so I've been used to catching bugs since I was a kid," she says, adding that her earliest memories of the zoo were of seeing Inuka (the first polar bear born in the tropics; it died in 2018), and getting scolded by her parents for refusing to leave even though the zoo was about to close. The Ngee Ann Polytechnic graduate holds a Diploma in Animation and 3D Arts; you can follow her artistic journey on Instagram.
Meanwhile, Krystofer, who also takes care of invertebrates, joined Mandai at the onset of the Covid-19 pandemic. The 31-year-old has been with the wildlife park for three years. As a kid, this animal lover would visit the zoo with his parents and siblings every weekend, and head straight to the reptile section where his favourite cobras and anacondas were. "I would just stare at them for a long time," he recalls. Check out the self-taught artist's work on his Instagram.
We speak to Jia Ning and Krystofer to learn more about the one-of-a-kind art piece they worked on together with Joe to commemorate the Singapore Zoo's 50th anniversary.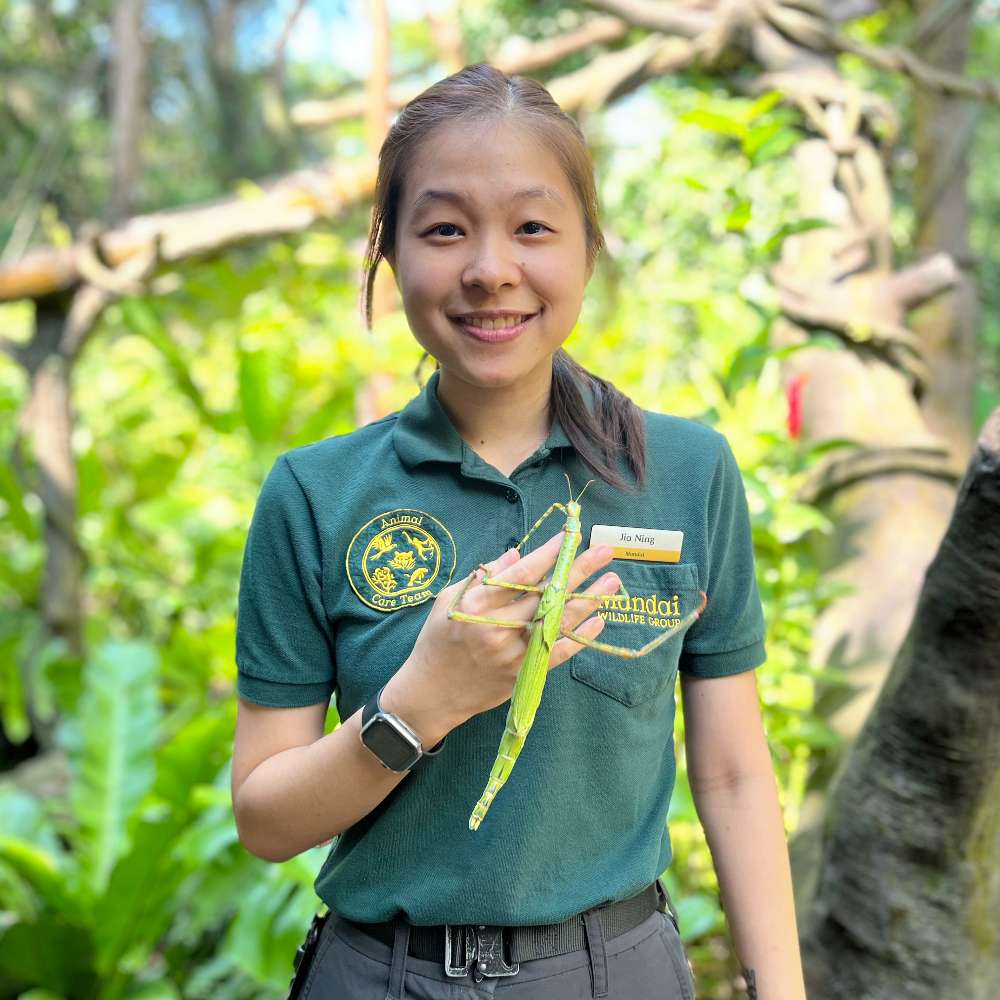 For the Golden ZOObilee artwork, invertebrates keeper Jia Ning worked on the giant tortoise, zebra and giraffe. | IMAGE: SIM DING EN
Who was responsible for drawing each animal on this art piece?
Krystofer: I was in charge of drawing the sloth and the pygmy hippos, and then the rest were the animals that we worked with. This included a few animals from the aviary in the Fragile Forest, as well as some tarantulas and scorpions.
Jia Ning: There were eight animals that we were told to include in the artwork because they are part of the ZOObilee trail. Since Joe and I were the first two called in to do this, we had the first opportunity to choose which animals we wanted to draw. I chose the giant tortoise, the zebra, and the giraffe. I had previous experience volunteering at Herbivores, where I worked with giraffes and zebras, and when I joined as a full-time staff, I also worked with the giant tortoise. So I decided to draw these three animals.
Who came up with the first sketch?
Jia Ning: Joe did - because he was the only one who did it traditionally [with pen on paper]. He had to get it more or less done before they could scan the artwork and pass it on to the two of us, so we could continue working on it [digitally]. We wanted the different sections to seamlessly connect. So, once we finished our parts, we added plants and other elements to fill any gaps, and ensure it looked cohesive. We didn't want anything to look out of place.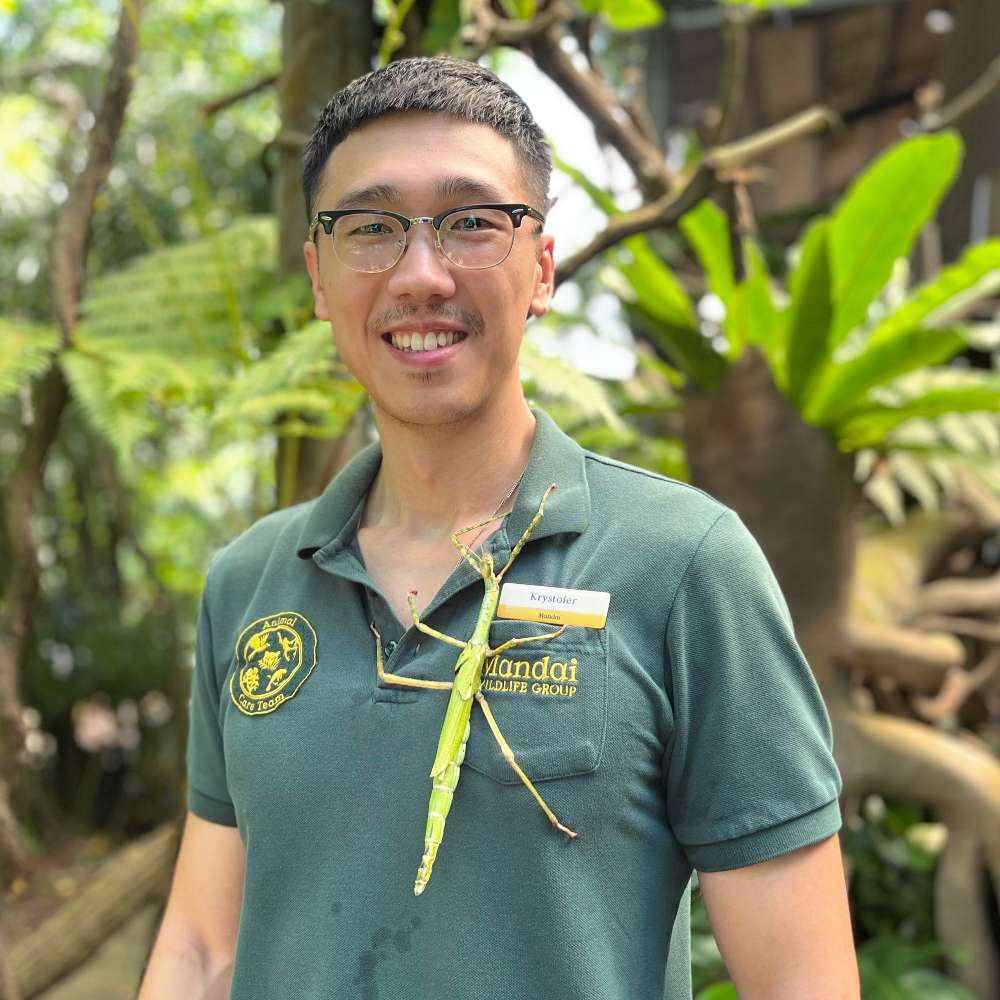 Invertebrates keeper Krystofer spent about 100 hours working on his portion of the artwork. | IMAGE: SIM DING EN
How long did it take to complete the entire art piece?
Krystofer: Well, for me, it took quite a while. My art style leans more towards the realistic side, so I spent a bit more time on the shading and details. It took around 100 hours in total.
Jia Ning: I worked on it for about 60 hours. We spread it out over a few days whenever we had some free time. We would often work on it during our lunch breaks.
How do you feel about the completed piece?
Jia Ning: Oh, it's really, really nice! It turned out even better than I expected. Our art styles are slightly different, so we tried to create something that was similar to Joe's art style. He's a popular artist in the zoo, and everyone recognises his style. We wanted to follow his style but also add our own touch to it.
For the latest updates on Wonderwall.sg, be sure to follow us on TikTok, Telegram, Instagram, and Facebook. If you have a story idea for us, email us at [email protected].