This Restaurant Boss Employs The Marginalised, No Questions Asked
Breaking the cycle of re-offending is tough when you're left to your own devices. Social entrepreneur Daniel Teh knows this only too well.

Once an at-risk youth, who had brushes with the law, he combed the streets for delinquent teenagers and convinced them to work for him when he founded his food & beverage social enterprise, PopeJai Thai in 2012.

Eight years on, the casual dining Thai restaurant partners with community services and agencies, and now hires from across eight different beneficiary groups including people with special needs, physical disabilities and mental health issues, at-risk youths as well as the disadvantaged.
Today, the 31-year-old has also become a mentor and friend to his tribe of beneficiaries from over the years.
And his PopeJai social enterprise has grown to include two other brands: Tao Chew, a traditional Nanyang coffee and tea brewing service that trains beneficiaries to become coffee/tea brewers for events as well as PopeJai Cares, its community social arm that organises monthly social activities and initiatives such as 'Dine for a Cause'.
Here in Wonderwall.sg's series featuring everyday heroes making a difference in people's lives, PopeJai Thai's executive director and founder, Daniel Teh talks about the importance of inclusivity and the power of empowerment.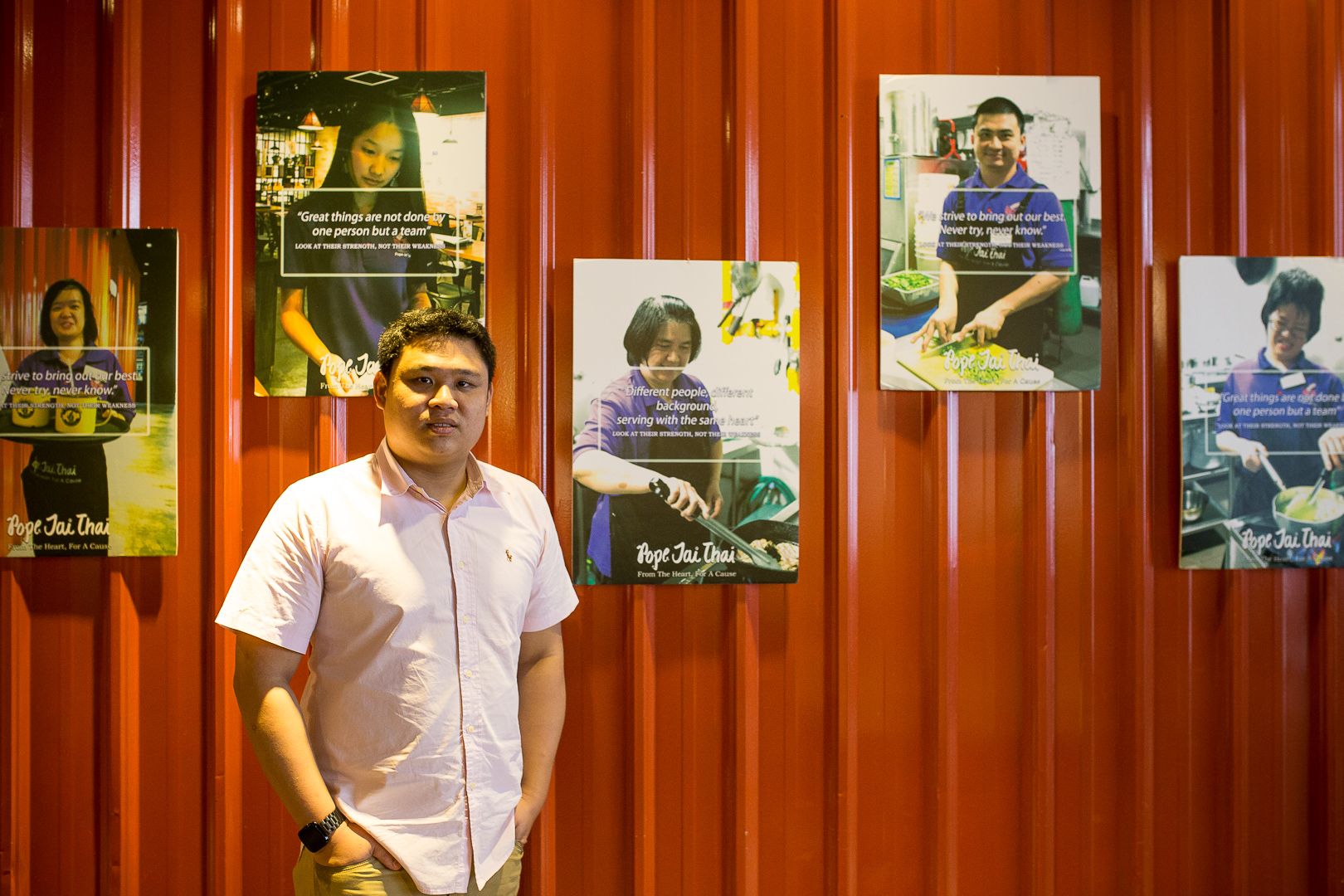 Running a social enterprise hiring marginalised individuals surely isn't a walk in the park. What kind of challenges do you face and how do you overcome them?
People might think that those with special needs or from disadvantaged groups are not task-oriented and are incapable of doing a good job but that's not true. Not only are they capable of getting the job done, they have the resilience to do the job well.
For example, I've an employee who's physically disabled – with only one arm but he's able to cut the vegetables very well. And when we had difficult customers complaining that our food was taking too long to be served, we improvised. An SOP (standard operating procedure) was created: all orders (food and drinks) have to be out of the kitchen within 10 minutes.
Were there detractors along the way and how do you stay motivated?

There'll always be naysayers who'll ask, "How can PopeJai profit?" As with everything in life, there're always ups and downs in running a business. I'm motivated by my faith and my staff; whenever I'm feeling down or going through a difficult situation, I'm reminded of their situations, which are far more challenging than mine.

I used to be gangster and had brushes with the law as a result because I had nobody to guide me. And the cycle will never break if we don't do anything about it. So this is my way of giving back to the community; to help and lead others onto the right path. What I'm doing, really, is not to shelter them but to empower them by teaching them values and new skills so that they can break the cycle. That's what keeps me going.
Also, many people think that a Thai restaurant must have a Thai chef but my chefs are all locals hired from various marginalised groups. I taught them to cook the dishes by breaking down the recipes into easy steps to learn, and they'd prepare everything from scratch.

We even have incident reports for employees to fill up when they make mistakes. It applies to everyone so if they can't write, they'll draw and if they can't do both, they'll share with me and I'll fill in the reports for them. I truly want to empower my staff to take ownership in everything that they do.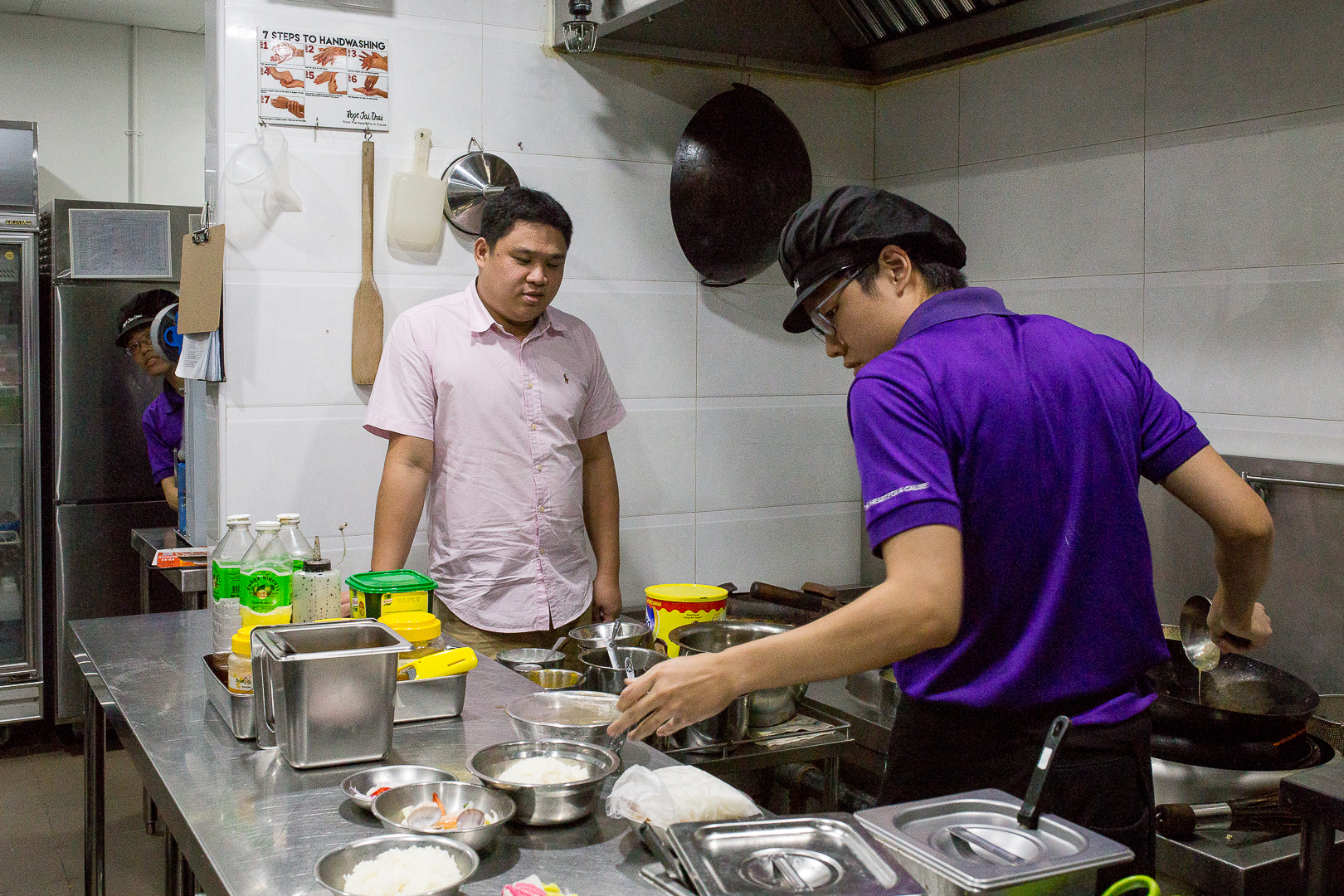 So, anyone from the marginalised groups can just walk in and ask for a job without any requirements?

At PopeJai, we will never reject anyone who comes in asking for a job. We've no criteria when it comes to hiring; no resumes required and we don't conduct interviews. As long as the applicants fall under the eight groups of beneficiaries, they will get a job. No doubt this is a risk I'm taking but it's one that I'm willing to take. What I look for is their attitude, capability and resilience. We provide on-the-job trainings for them, and depending on their needs, training aids will be given to help them overcome the barriers to learning. My belief is this: focus on their strength, not their weaknesses. Then assign the appropriate tasks to them. In fact, we're the first and only SME in Singapore to run a business with 90% workforce made up of marginalised individuals.
How do you commit to ensuring sustained employment for your employees and new hires?

For about two years now, employees, who have had trainings and experiences, will be "placed out" to other enterprises where they can get a different exposure to work with others as well as to learn new skills. This way, they are encouraged to step up as well as give other beneficiaries the chance to work at PopeJai Thai. But if the new work arrangements don't work out for any reasons, I do give them the option to come back to PopeJai.
I always tell my staff, "Don't be a frog in a well (a Chinese proverb about not to hide in your comfort zone), go out and get more exposure. Yes, PopeJai will always be your family but go out and share the values that you've learnt." That's also how we can encourage inclusivity in the workplace.
How has running a social enterprise shaped or transformed your personal life?

It has stretched the capacity of my heart to be more gracious and to have the compassion to see the good in everyone. It has taught me a lot of values. I used to be very arrogant; never knew what being humble means or what people with special needs means. In fact, I used to bully them. This journey has completely transformed me.