Glowing Marvels: Gardens By The Bay's Mid-Autumn Festival Lantern Spectacle
It's been a busy and exciting weekend, with this year's F1 Grand Prix lighting up the Marina Bay area across 3 days. But did you know that Gardens by the Bay (GBTB) was illuminated by its own light-up all weekend as well?
Friday (15 September) marked the start of GBTB's Mid-Autumn Festival celebrations, which kicked off with a mass lantern walk. 5,000 lanterns were given out to members of the public to carry during the lantern walk, with a dragon dance leading the way.
Missed the opening festivities? Fret not. GBTB's Mid-Autumn Festival celebrations run until 1 October, so you have plenty of time to head down and enjoy the gorgeous lantern sets.
There are a total of nine spectacular lantern sets, each of which was inspired by the rich tapestry of Chinese mythology, legends and cultures. These lantern sets are also linked to the central theme "Garden of Blooms", which commemorates the deep connections between people and joyous reunions between family and friends.
Here's what you can look forward to seeing at GBTB:
---
Main lantern sets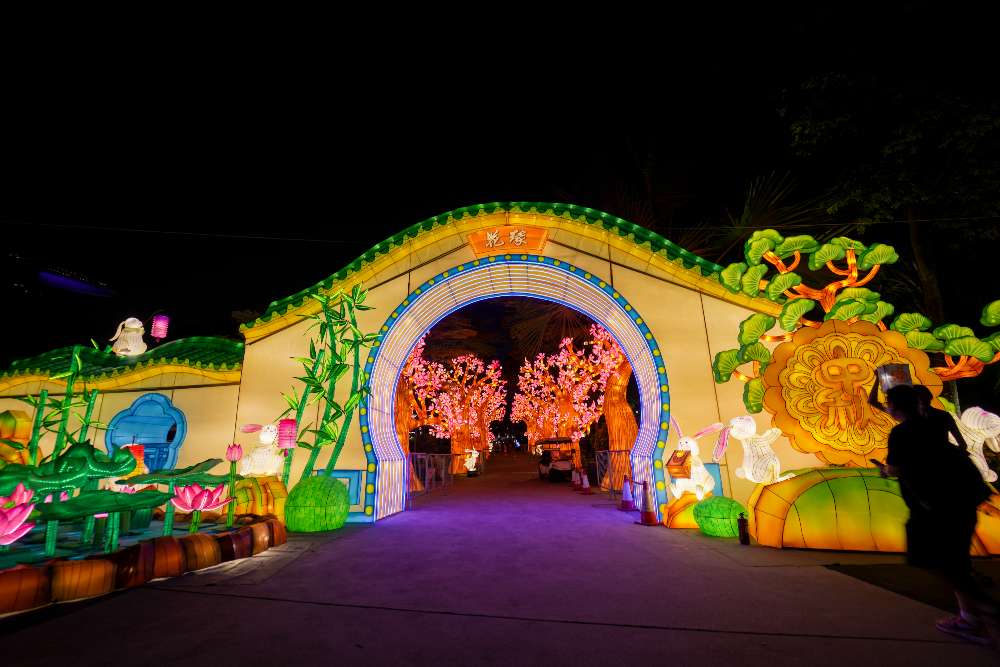 IMAGE: GARDENS BY THE BAY
Garden of Blooms
The eponymous Garden of Blooms lantern set features a 7m tall Moon Gate (a traditional Chinese architectural feature that symbolises completeness as well as the reunion and cohesiveness of family), and opens to a boulevard lined with 12 peach blossom trees symbolising springtime and romance.
Location: Golden Garden at Main Entrance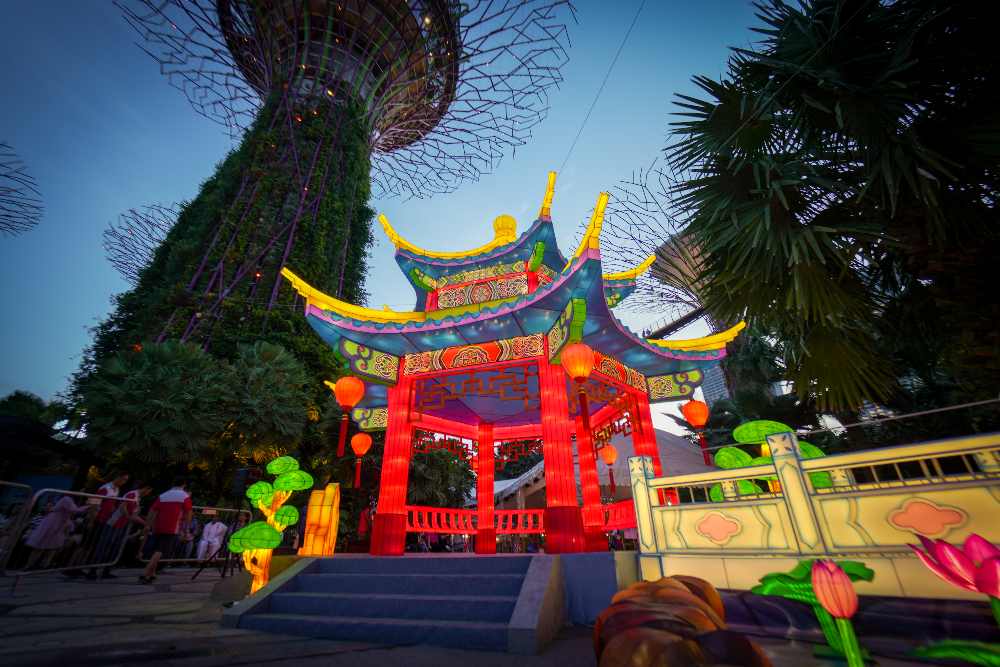 IMAGE: GARDENS BY THE BAY
Pavilion
For the first time, GBTB's Mid-Autumn festivities include a lantern set that doubles as a performance stage.
This 17m by 9m set features other common elements of a Chinese garden including plants, flowers and decorative rocks, as well as water elements like a pond and a bridge.
In addition, from Fridays to Sundays during the duration of the festival, free cultural performances featuring music and dance will be staged there.
Location: Supertree Grove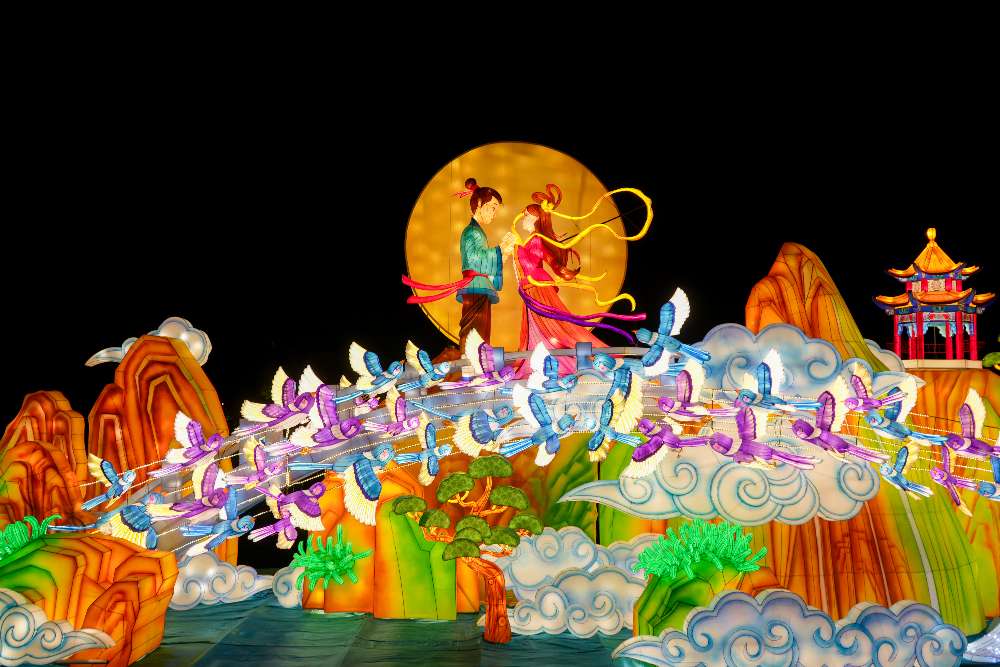 IMAGE: GARDENS BY THE BAY
Magpie Bridge
Inspired by the Chinese mythological tale of the Cowherd and the Weaver Girl, this 20m by 8m lantern set floats on water and depicts a flock of 38 magpies forming a bridge with their wings to reunite two separated lovers.
The story goes that the romance between the mortal Cowherd and the fairy Weaver Girl was forbidden by the heavens, and they were separated by the milky way and forbidden to meet.
Moved by their love, a flock of magpies would form a bridge to reunite the lovers once a year on the seventh day of the seventh lunar month (also known as the Chinese Valentine's Day).
Location: Dragonfly Lake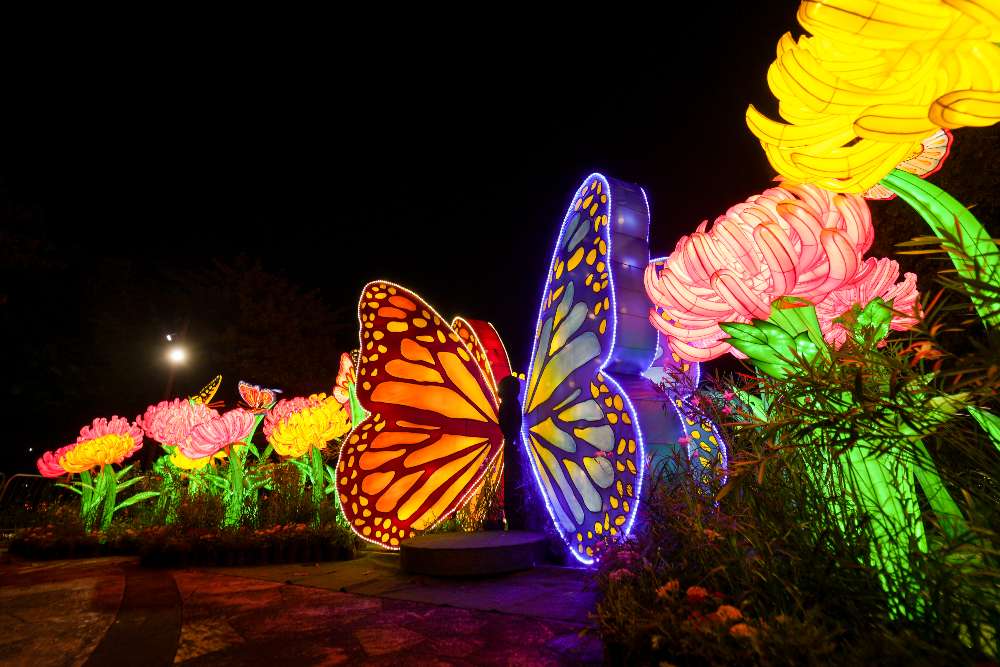 IMAGE: GARDENS BY THE BAY
The Butterfly Lovers
Here's another lantern set based on star-crossed lovers. Inspired by one of the four great folktales of China, this lantern set reimagines a scene in the poignant romance between protagonists Liang Shanbo and Zhu Yingtai, separated lovers who are reunited in death and transformed into a pair of butterflies that will never be apart again.
Location: Near Floral Clock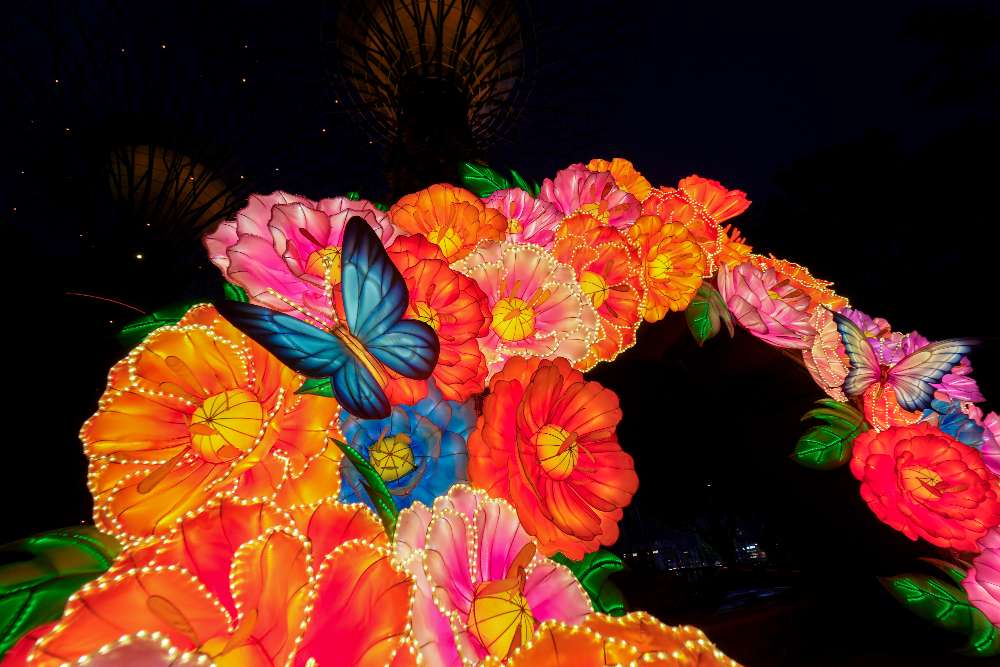 IMAGE: GARDENS BY THE BAY
Colourful Blossoms
This floral arch consists of over 20 lantern peonies, paying tribute to the gorgeous blossom regarded as the King of Flowers in Chinese culture. The peony is revered for its elegance and beauty, while also symbolising wealth, honour, love and prosperity.
Location: Supertree Grove
---
Lanterns from Around the World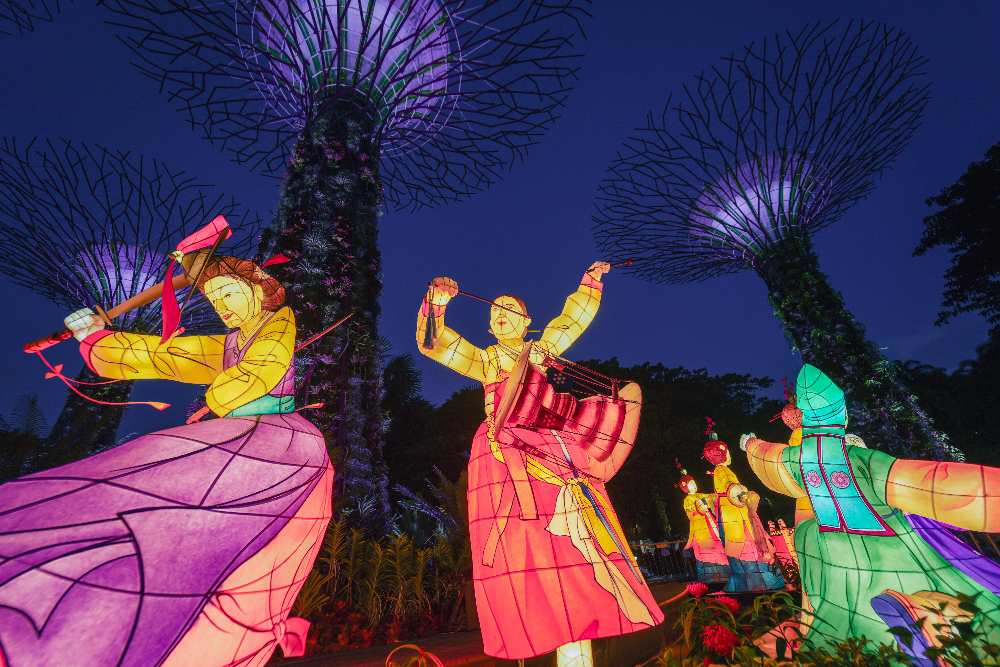 IMAGE: GARDENS BY THE BAY
Blooming in Dance
Presented in collaboration with the Embassy of the Republic of Korea in Singapore, this lantern set depicts four types of traditional Korean dances – Dance of Love, Sword Dance, Janggu Dance and Seonyurak Court Dance.
Location: Supertree Grove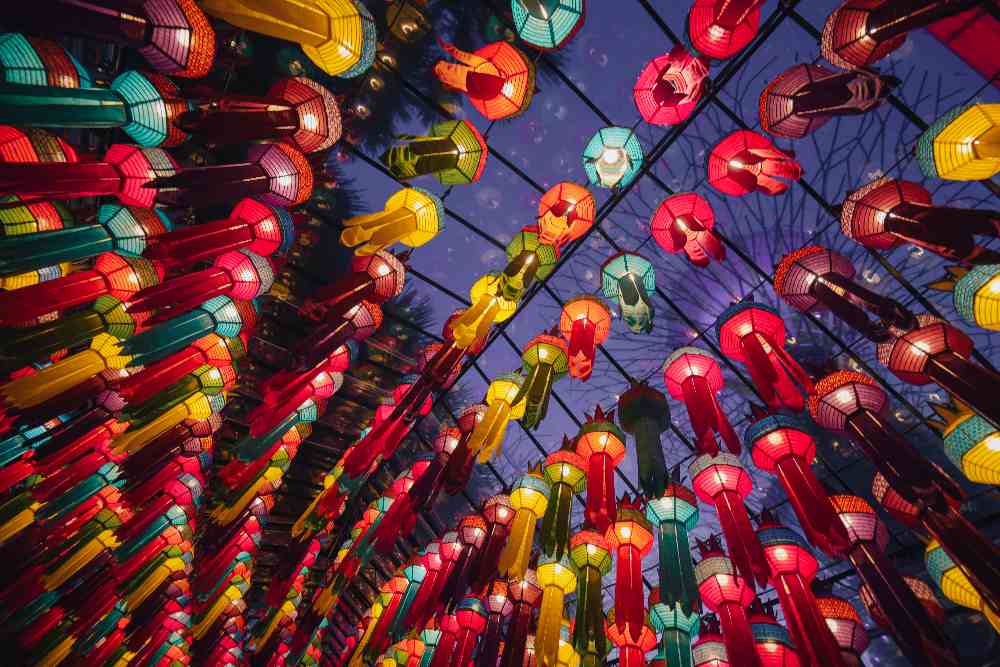 IMAGE: GARDENS BY THE BAY
Traditional Lanna Lanterns
In another first for GBTB, the Gardens is partnering with the Royal Thai Embassy to present a lantern set inspired by the Lanna Kingdom that reigned in Thailand 700 years ago.
This lantern set consists of an archway which brings to mind the Lanna architecture style, decorated with colourful traditional lanterns representing spiritual devotion (also known as Shan lanterns).
Location: Supertree Grove
---
Community Lanterns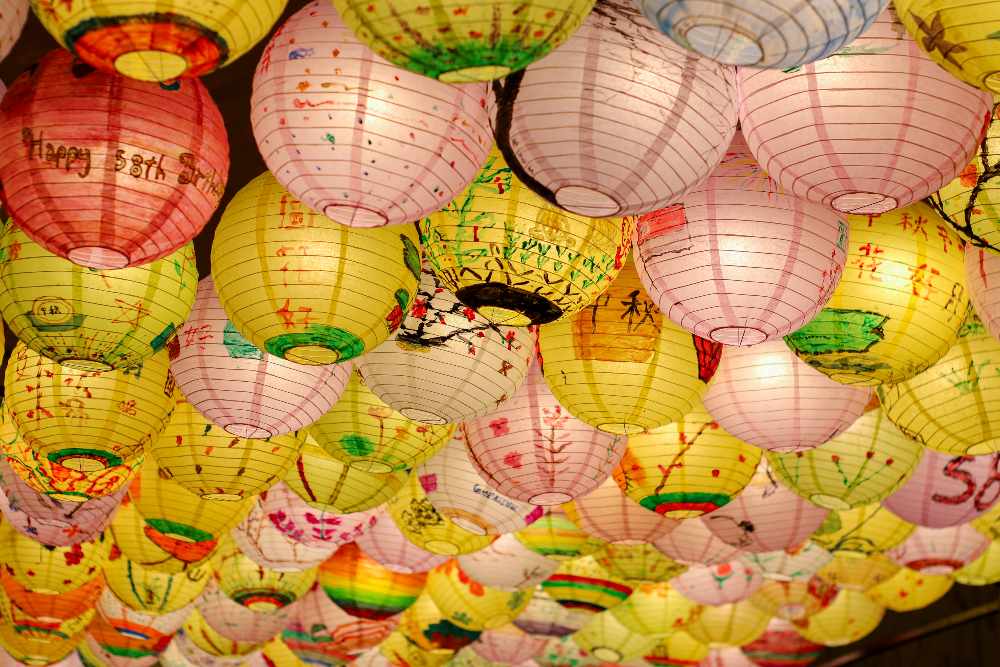 IMAGE: GARDENS BY THE BAY
Colonnade of Lights
This vibrant showcase of over 1,000 exquisite paper lanterns, designed and painted by people from various walks of life, lights up the walkway along Supertree Grove.
Location: Supertree Grove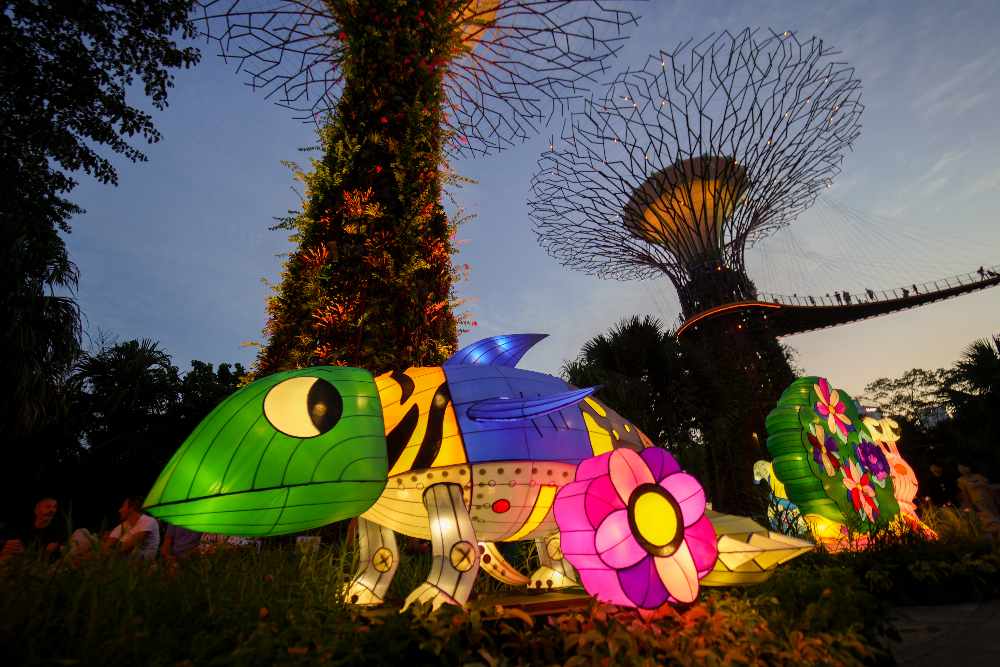 IMAGE: GARDENS BY THE BAY
Our Secret Garden
This lantern set is a collaboration with non-profit ART:DIS and aims to showcase the talents of artists with disabilities to the wider public. You're invited to step into a Secret Garden filled with whimsical animals created by five autistic students from ART:DIS's Digital Art programme.
Location: Supertree Grove
For the latest updates on Wonderwall.sg, be sure to follow us on TikTok, Telegram, Instagram, and Facebook. If you have a story idea for us, email us at [email protected].