Malls Of Singapore: All These Have Urban Farms On Their Rooftops
We're on a mission to uncover what makes shopping malls in Singapore truly one-of-a-kind. Forget the typical weekend bargain hunting run, these places are packed with exciting experiences that'll keep you coming back for more.
In the bustling heart of Singapore's concrete jungle, a green revolution has taken root. Shopping malls on our Little Red Dot are not just spaces for retail therapy; they are also becoming thriving hubs for urban agriculture.
Christopher Leow, an urban farmer and an advocate for sustainable food production, believes that rooftop farming holds immense promise for Singapore's future. The 35-year-old sheds light on the bountiful produce typically cultivated on a mall's rooftop farm: From fruit trees like mango and banana to vegetables such as brinjal and kang kong, not to mention culinary herbs like peppermint, the possibilities are limitless. The abundance of sunlight on a mall's rooftop grants farmers greater freedom in choosing what to cultivate, ensuring a diverse and sustainable yield.
Reflecting on his experiences with rooftop farming, Christopher highlights a crucial takeaway: "Rooftop farming has a huge potential to become a decentralised hub for food production to help with food security whilst reducing pressure on commercial farms. Transforming existing landscapes into urban farms by adjusting plant selections and letting people manage such farms is a good idea. These farms can also have stacked functions, for instance, bringing the community together through activities and the sharing of harvests and knowledge."

Even in the heart of our bustling city, sustainability and nature can coexist harmoniously. Here are three malls that have recognised the importance of local produce and connecting shoppers with nature.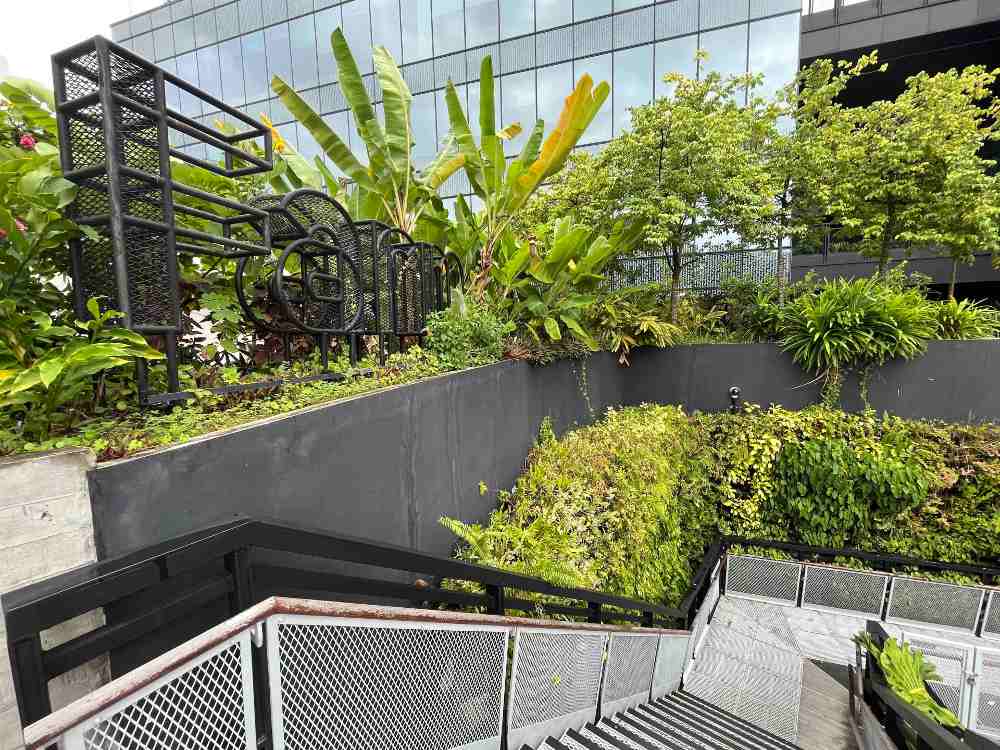 IMAGE: NICHOLAS YONG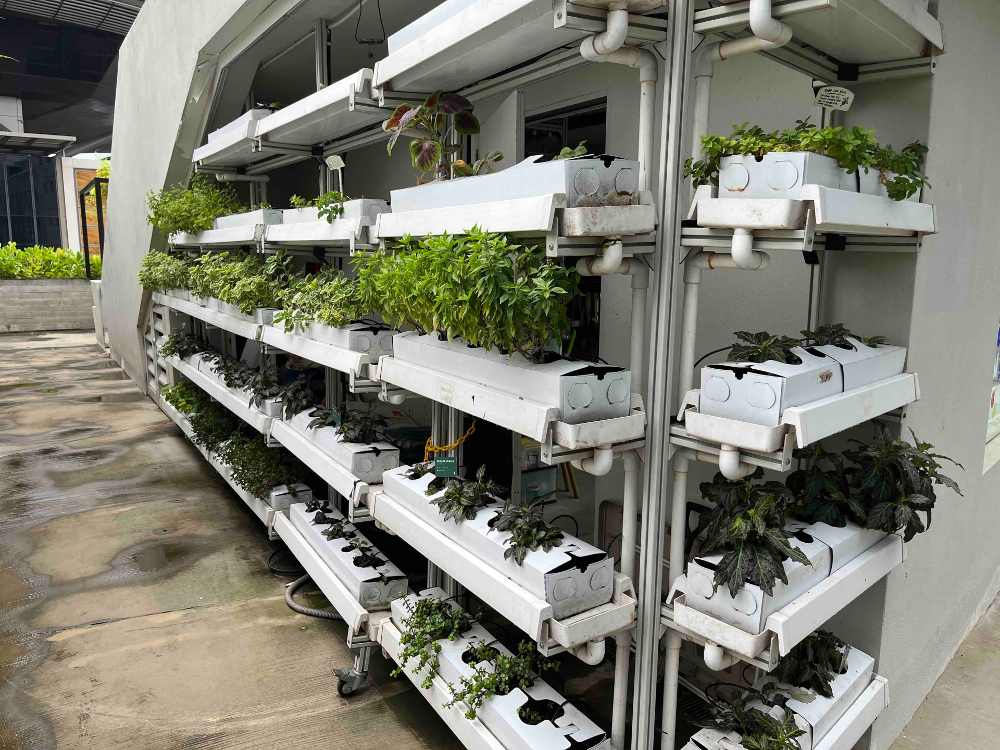 IMAGE: NICHOLAS YONG
1. FUNAN MALL
The urban farm at Funan Mall is one of the few that is open to the public, and it holds the distinction of being the first to be seamlessly integrated into a shopping mall from its inception. To find it, simply head up to level 4 where Godmama is located, and you'll spot a staircase leading straight up to the farm.
Open during regular mall hours, the space is a draw especially if you're looking to chill out and take photos against the backdrop of vibrant foliage. This farm, managed by Edible Garden City, is evolving into a community space where volunteers of all ages can join in farming activities. Beyond volunteer sessions, this farm offers workshops and tours focused around sustainability, making it an educational and engaging experience.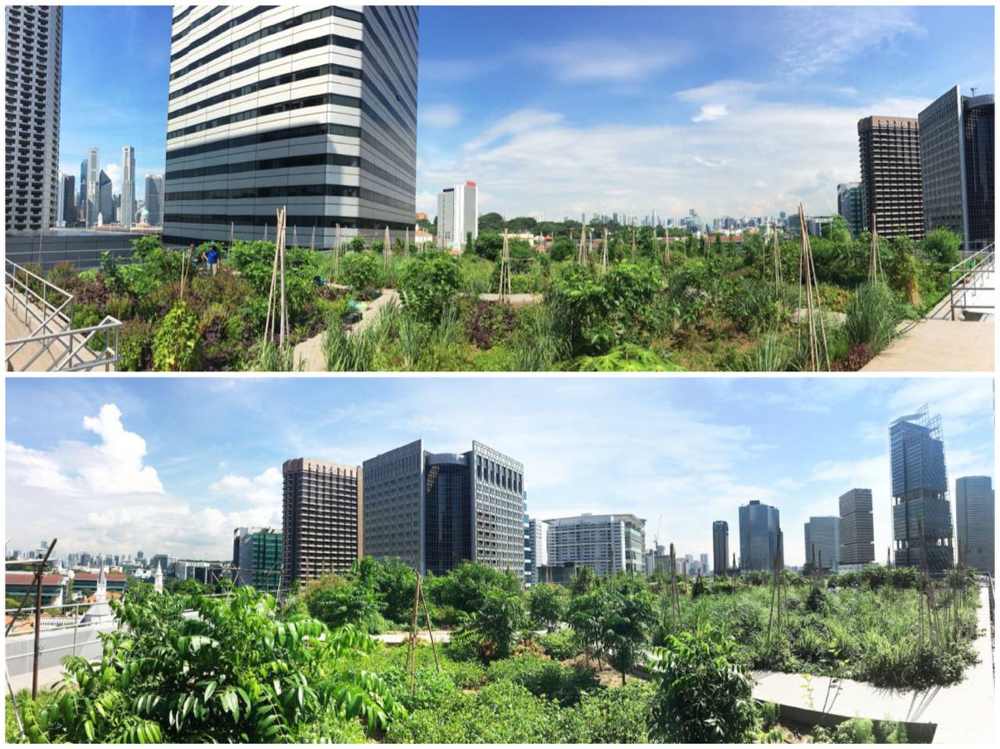 IMAGE: EDIBLE GARDEN CITY
2. RAFFLES CITY SHOPPING CENTRE

Raffles City Shopping Centre holds a secret on its rooftop – a thriving farm that remains hidden from public view. Once a bougainvillea plot, it has transformed into a hub that supplies fresh produce to restaurants and households.
Being completely exposed to the elements with no shade, the team at Edible Garden City has optimised this space for crops that thrive under such conditions. Here, you'll find a bounty of sun-loving plants, including cranberry hibiscus, moringa, sweet potato, buah long long, eggplant, and more.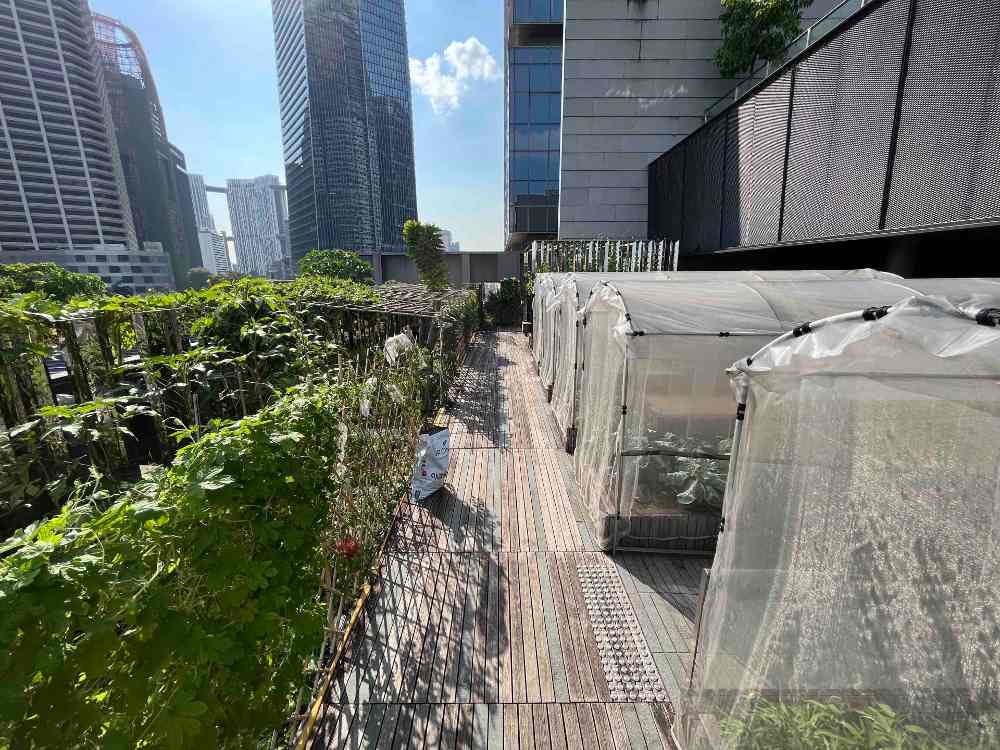 IMAGE: NICHOLAS YONG
IMAGE: NICHOLAS YONG
3. OUE DOWNTOWN GALLERY
Tucked away inside OUE Downtown Gallery, there's another secret garden right in the heart of CBD. This commercial space by Edible Garden City is home to a spacious 5,000sqft edible garden, working quietly to supply herbs, flowers, and salad greens for the restaurants right here in the building.
To get to this green haven, take the lift to level 5 (note that the escalator does not provide access to the farm). As you explore this green oasis, you'll encounter a treasure trove of over 50 local plant varieties. From aromatic pandan and fragrant Thai basil to zesty chillies and nutritious pinto peanuts, the farm is a great example of how you can grow just about anything on a mall rooftop, despite being surrounded by concrete.
For the latest updates on Wonderwall.sg, be sure to follow us on TikTok, Telegram, Instagram, and Facebook. If you have a story idea for us, email us at [email protected].