Malls Of Singapore: Eco-Fabulous Retail Therapy
We're on a mission to uncover what makes shopping malls in Singapore truly one-of-a-kind. Forget the typical weekend bargain hunting run, these places are packed with exciting experiences that'll keep you coming back for more.
In a world where "sustainability" and "carbon footprint" are the new buzzwords, a new breed of shopping destinations has quietly sprouted. These aren't your ordinary malls; they're eco-friendly havens that blend going green with retail therapy, improving energy, water and waste efficiency to ensure they have as little impact as possible on our environment.
City Square Mall
City Square Mall is Singapore's first green shopping mall. It has been awarded the Green Mark Platinum Award by the Building and Construction Authority (BCA) multiple times, a testament to the mall's commitment to eco-friendliness.
Its ingenious use of natural sunlight, thanks to its glass roof, optimises natural daylight, and LED lighting illuminates the mall's façade, keeping energy consumption in check.
The mall's crown jewel is its 49,000sqft urban park, ""City Green", which is integrated seamlessly into the shopping complex. This lush sanctuary also has a roof that harnesses solar energy and harvests rainwater.

Even the NTUC FairPrice supermarket here is in on the green act, with biodegradable plastic bags, energy-efficient refrigerators, and a dedicated "green checkout" for shoppers who bring their own bags.
The Star Vista
Venturing into The Star Vista, you'll find yourself in our city-state's first naturally cooled open-air mall. You won't be sweating your way through your shopping adventure, as this mall is designed with a permeable building shell that encourages natural airflow, reducing the need for air-conditioning.
More than half of its tenants are restaurants, which aren't enclosed but semi-al fresco, so you can enjoy a delicious, sheltered makan while enjoying the breeze. You'll also encounter abundant greenery, carefully planted to cool you down as you shop.
Westgate
At Westgate, nature and shopping co-exist. The mall is covered in greenery, with palm trees lining a naturally ventilated atrium on the ground level, creating a serene atmosphere. Vertical green walls adorn both the interior and exterior here.
The mall's glazed glass exterior and special "wind corridors" cleverly utilise the breeze, reducing the reliance on energy-draining air-conditioners. See if you can spot a massive fiddle-leaf tree in this mall, spanning the width of an escalator.
The Seletar Mall
The Seletar Mall's clever design ensures maximum natural sunlight, minimising the need for artificial lighting during the day. The mall also features energy-efficient air-conditioning systems, and escalators that automatically reduce speed when not in use.
Waste management and recycling initiatives are also part of its daily operations. Private meters monitor major water usage systems, and collected rainwater is put to good use for landscape maintenance.
The mall's commitment to going green is evident through collabs with other sustainability-driven groups and initiatives. Partnerships (with Cloop for clothes and textile donations as well as Sport Singapore for collecting old shoes for recycling) showcase its dedication to making the world greener.
---
Malls that are green in the "nature" sense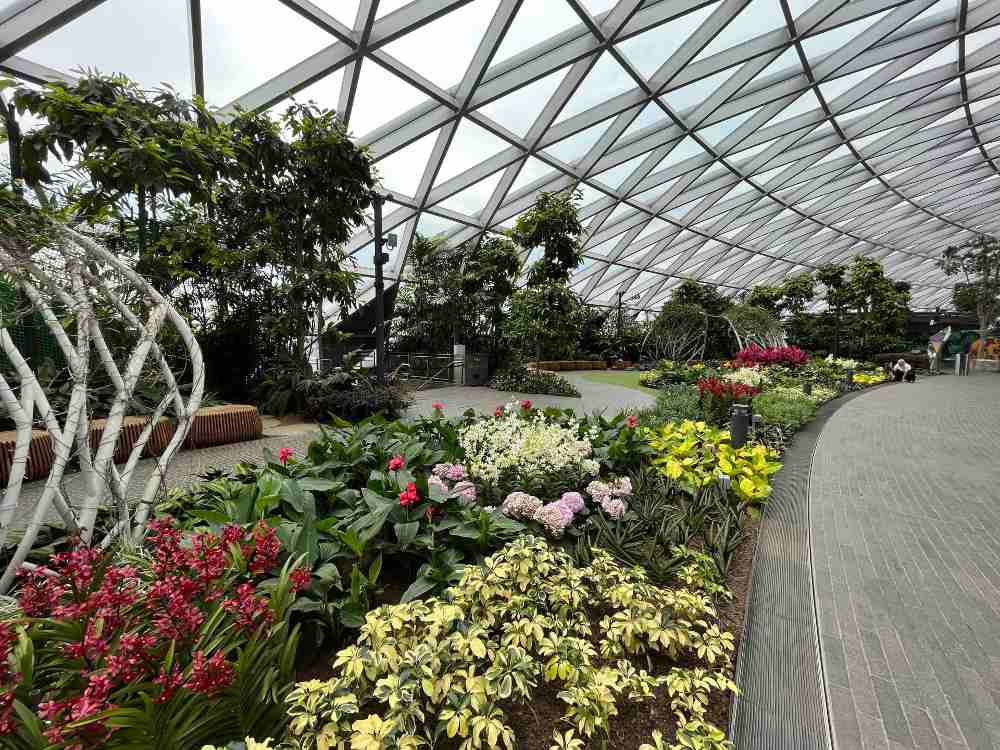 IMAGE: NICHOLAS YONG
If you're as intrigued by urban green spaces as we are, don't forget to check out our previous articles on Singapore malls with rooftop farms and beautiful parks, that ensure a good balance of green and grey in Singapore's concrete jungle.
For the latest updates on Wonderwall.sg, be sure to follow us on TikTok, Telegram, Instagram, and Facebook. If you have a story idea for us, email us at [email protected].